28 October 2019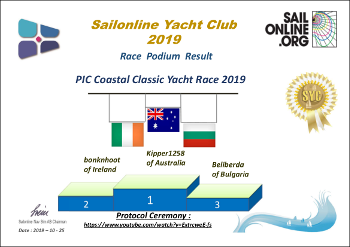 click on results image to see larger
GOOD ONYA Kipper1258!!!
Maith an fear bonknhoot!! Честито beliberda!
Race Leaderboard
Reports



Commentary
Time truly seems to have flown since Coastal Classic time 2018 but it was fun to be back in Auckland once more for this year's annual race up the East Coast of New Zealand's North Island to Russell. The 2019 race saw excellent winds for our virtual 60ft trimarans, but for the mixed fleet in reality, conditions were more than a little sporting!! Here's an image of Starlight Express with Edwin Delaat aboard - remember the "youngster" who used to race and sail with our late and much missed NZL_yachtyakka? He now crews on some of the biggest and best in Pacific racing!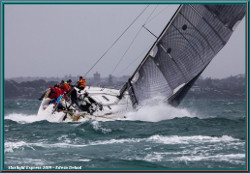 A report on the real race from Sailworld can be found here and, of course, the full results are posted on the race's homepage here.
The brisk winds made for a speedy race, with our winner, Kipper1258, arriving in 6h 6m 27s, the speediest time to complete this course in Sailonline's history – knocking 1h 50m 45s off bonknhoot's previous course record, also in a 60ft trimaran in 2017. The start was easily DC-able and for those of us manually steering away from Auckland, things were pretty straightforward as far as The Hen and Chickens. Many copied the real fleet and hugged the coastline but those with the wisdom to sail further offshore, as you can read in bonknhoot's report, made the right decision. Cape Brett was reached relatively easily and the "second half" of the race saw many and various tactics used to reach the finish.
With a fleet of 140 racing, flying the flags of 34 nations, there was stiff competition for the podium with 18 boats arriving within the first 10m, but only our top three could claim those precious podium places, with a mere 56s between the three of them! Congratulations, guys – a truly excellent race!


Races
Next Race: 00d 00h 00m
---
Current Races:
Yates Cup TIMED Race 2019
Welcome to a replication of the shortened 2017 edition of this Category 3+ race from Auckland around the Hauraki Gulf which, on this occasion is being run in the form of a TIMEDRACE.
Also, we are pleased to introduce you to a brand-new arrival in the Sailonline boathouse, namely the MC 38. Be sure to check out its "Particulars".
Race #1306
RE-REGISTER HERE to race again after finishing a run.
Race #1306
INFOfrom brainaid.de
MC 38 Particulars
WX Updates:
0430 / 1030 / 1630 / 2230
Ranking:
TRQ4-TRCH-SUPSOL-SYC
ALT. CLIENT:Classic
Race starts: Dec 10th 12:00 Registration will open soon
GO TO RACE
Fisherman's Friend 2019
A 272nm race in First 40s around the main fishing ports and grounds off Devon and Cornwall. The Western Approaches can be anything but predictable at any time of the year, but in December, with wild weather hurling itself across the Atlantic, and the occasional calm, you will need to be prepared for everything, so pack your foulies!
Race #1304
INFOby brainaid.de
First 40.7 Particulars
WX Updates:
0430 / 1030 / 1630 / 2230.
RANKING: SYC
ALT. CLIENT:Classic
Race starts: Dec 07th 14:00 Registration Open!
GO TO RACE
Christmas(W) to Christmas(E) Island 2019
Welcome to Sailonline's race to Christmas!
5,827nm in Volvo 70s provides a sailing adventure for the run up to the festive season. Our race takes us from Christmas Island in the Indian Ocean to Christmas Island in the Pacific – how many of you knew there were two?! Many routing options so please have fun! Fair winds!
Race #1303
INFO by brainaid.de
Volvo 70_v4 Particulars
WX Updates:
0430 / 1030 / 1630 / 2230
RANKING: OCCH-OCQ4-SUPSOL- SYC
PRIZE: SMPF
ALT. CLIENT: Classic
Race starts: Nov 26th 16:00 Registration Open!
GO TO RACE
SYC Ranking
Series
Mobile Client
SYC members have the benefit of access to our mobile/lightweight web client!