Online Sailracing!
Sailonline.org is owned and operated by Sailonline NavSim AB, a not for profit, community-owned company.
Sailonline's mission is to offer a superior internet-based sailing and navigation simulation to the global sailing community, whilst ensuring a future of growth and continuous enhancement to benefit its users through financial viability and long term vision.
Sailonline is free for everyone to play and is supported by SYC Memberships.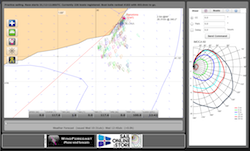 Create your account
News from the blog
Welcome!
Now login with our guest account to view currently running races: Username: guest - Password: guest
PLEASE ONLY REGISTER YOUR OWN USERNAME AND PASSWORD IF YOU INTEND TO RACE.
All times on Sailonline are in UTC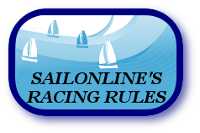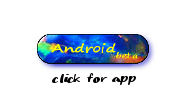 Course summary: Brisbane to Keppel Tropical Yacht Race 2015
Boats: VO60 'Spirit of Mateship'
Distance: 348 NM
Estimated duration 1.50 to 3 days
The Brisbane to Keppel Tropical Yacht Race is an irl race run by Tyger's old club, the Royal Queensland Yacht Squadron and this year Sailonline is continuing its buddy relationship with the club following the Sail Noumea Race in June.
Now in its 9th year, the race has become a major feeder race for yachts heading to Hamilton Island for Race Week in August. The Maxi100s are absent this year due to Wild Oates XI, Ragamuffin100 and Rio100 competing in the Transpac Race from Los Angeles to Hawaii. This only makes the competition at the front of the fleet more intense with some familiar names such as the VO70 "Black Jack", the PR66 "Alive" last seen in the Melbourne to Vanuatu Race in 2014 and our buddy-up partner, the VO60 "Spirit of Mateship"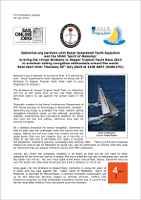 Press Release
Once around Breaksea Spit at the top of Fraser Island, watch out for small reefs and islands. Many years ago a well known yachtsman from Sydney parked his Admiral's Cup yacht on the coral reef surrounding Lady Elliot Island. SOLers fond of stopping for bbq will have plenty of opportunities and the irl race boats must stay south of Lady Elliot, Polmaise Reef and Great Keppel Island to avoid "doing a Vestas".
PredictWind models forecast the prevailing trade winds to be blowing, SSE – SE at between 15 to 25 knots It should be a quick trip this year.
The Sailonline race will start on Thursday, 30 July at 0100utc and is now open for practice.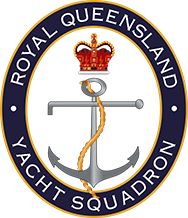 .
A commemorative poster will be awarded to the top 20 finishers in the virtual Brisbane to Keppel Race in order to acknowledge our buddy-up with 'Spirit of Mateship' and the cause they represent.
This poster has been designed by SOLer Jawz and will follow the same theme as the poster developed for the Sail Noumea Race. This will be the second in a series of three races Sailonline will do with 'Spirit of Mateship', the third race will be announced later in the year and will also include a poster award.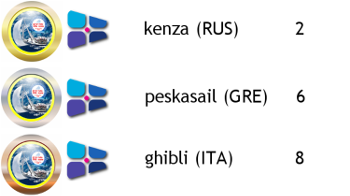 click on results image to see larger
ПОЗДРАВЛЯЮ kenza!!! ΣΥΓΧΑΡΗΤΗΡΙΑ peskasail!!! CONGRATULAZIONI ghibli!
Series Leaderboard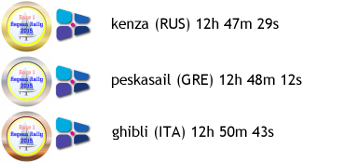 Race Leaderboard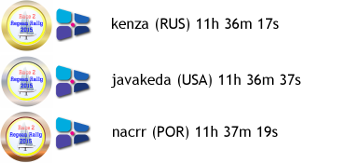 Race Leaderboard
When Sailonline was first approached to buddy-up for the first time with the Aegean Rally, it was at fairly short notice so, in view of all the circumstances, everyone involved on all sides, especially the Technical Teams, are to be congratulated for bringing both fleets together in our virtual race. Sailonline's new HIRES weather is another excellent technical achievement – this is the first time it has been used for anything other than a sprint, and it has really come into its own. There were some alterations to the original sailing plan, and so Sailonline raced the two main courses with the real fleet. What was particularly pleasing was to see just how well the virtual and real fleets raced with each other – so much so that everyone arrived together at the finish of Race 1. SOLers learn quickly, so having seen the "locals" hug the shore in Race 1, it was no surprise to see that happening in Race 2 and, again, it is a tribute to the technical sophistication of Sailonline's interface that we all felt that we really were racing alongside the real yachts. Thanks to participation in social media, many excellent photos of both races are available, and a sense of interactivity was palpable. Ευχαριστώ to everyone involved and congratulations to our podiums!
Reports



Welcome to Kristiansand on Norway's southern coast. In an area of Norway inhabited since prehistory, the town of Kristiansand is particularly beautiful, designed and laid out in the 17th century in Renaissance style. Style is definitely not lacking in this year's Festival of Tall Ships from 25-28 July. Sailonline's fleet has been resting and relaxing here and enjoying Norwegian hospitality, but soon the race will be on again. The real ships will be competing with us for line honours into Aalborg in Denmark. Just a short race but a crucial and final chance to do well in this year's Sailonline Tall Ships Series.
The Sailonline race will start on Tuesday, 28 July at 1500utc and will be opening for practice shortly.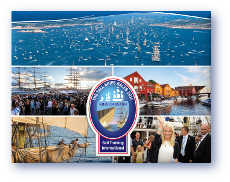 Festival Dates: 25-28 July 2015
Festival Dates: 1-4 August 2015
.
Sailonline's Tall Ships Series 2015
Races
Next Race: 00d 00h 00m
---
Current Races:
Beru to Bora Bora
Most of us know very little about the islands of the Pacific and even less about how they came to be populated. The original migrations started from Indonesia and reached as far as Hawaii and beyond, so this race of 2219nm from Beru Island in Kiribati to Bora Bora in Tahiti, designed by SOLer Dingo represents a segment of a much larger migratory route. We will be sailing Seacart 30s - the modern equivalent of the original outriggers.
Race #855
Chart from brainaid.de
Seacart 30 INFO
WX Updates: 0430 / 1030 / 1630 / 2230
Ranking: OCCH-SUPSOL-OCQ3-SYC
ALT. CLIENT: Classic
Race starts: Aug 04th 22:00 Registration Open!
GO TO RACE
Canna to Eigg RTI SPRINT 2015
Welcome back to Europe for a Round-The-Island(s) sprint around three of the Small Islands in Scotland's Inner Hebrides.
Race #854
Chart from brainaid.de
Platu 25 INFO
WX Updates: 0430 / 1030 / 1630 / 2230
Ranking: SPRCH - SUPSOL – SRQ3 - SYC
ALT. CLIENT:Classic
Race starts: Aug 02nd 08:00 Registration Open!
GO TO RACE
Brisbane to Keppel Tropical Yacht Race 2015
When the winter weather turns cool in southern Australia sailors head into the warmer tropics. Every year in August sailors from all over the world make their way to The Great Barrier Reef for the big winter regattas at Hamilton Island, Airlie Beach and Magnetic Island. What better way to get there than to race to the reef. So join SOL in the 2015 Brisbane to Keppel Tropical Yacht Race in VO60s. It might be winter downunder but all you will need is shorts and t-shirts.
Race #843
Chartby brainaid.de
VO60 POLAR
WX Updates: 0245 / 0845 / 1445 / 2045
Ranking: SYC
ALT. CLIENT:Classic
Race starts: Jul 30th 01:00 Registration Open!
GO TO RACE
The Tall Ships Races 2015 - Race 2 - Kristiansand to Aalborg
Welcome to the last of the four events in Sailonline's 2015 Tall Ships Series. This is the second of this year's European Tall Ships Races - a race of 265nm from Kristiansand in Norway to Aalborg in Denmark NOTE:Starts and Finishes in tall ships racing are offshore to avoid conflict with shipping and shipping lanes.
Race #841
Chart by brainaid.de
90m Barque POLAR
WX Updates: 0430 / 1030 / 1630 / 2230
RANKING: Tall Ships - SYC
ALT. CLIENT: Classic
RACE CLOSE:Wednesday, 5 August at 1500utc
Race starts: Jul 28th 15:00 Registration Closed
GO TO RACE
SYC Ranking
Series
Mobile Client
SYC members have the benefit of access to our mobile/lightweight web client!