Online Sailracing!
Sailonline.org is owned and operated by Sailonline NavSim AB, a not for profit, community-owned company.
Sailonline's mission is to offer a superior internet-based sailing and navigation simulation to the global sailing community, whilst ensuring a future of growth and continuous enhancement to benefit its users through financial viability and long term vision.
Sailonline is free for everyone to play and is supported by SYC Memberships.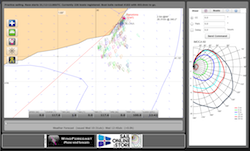 Create your account
News from the blog
Welcome!
Now login with our guest account to view currently running races: Username: guest - Password: guest
PLEASE ONLY REGISTER YOUR OWN USERNAME AND PASSWORD IF YOU INTEND TO RACE.
_____________________________________________________________
SOL's Countdown Clock counts down to the next race to start. This is not always the first race at the top of the races column as that is in date order.
Remember to check all races in the Races column to make sure you don't miss out on a race start!
_____________________________________________________________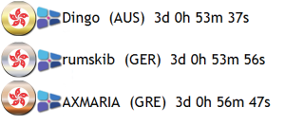 GOOD ONYA Dingo!!! HERZLICHEN GLUCKWÜNSCH rumskib!! Συγχαρητήρια AXMARIA! click on results image to see larger
The running of the 2014 Rolex China Sea Race was the second time Sailonline has partnered with Royal Hong Kong Yacht Club and again it was an excellent race, with the virtual and real fleets sailing very much in contention with each other, bringing a real sense of participation to the virtual platform. In the real fleet, yacht FreeFire was the virtual fleet's most direct competitor and this post shows how well the Sailonline fleet's performance matched reality.
Provisional Results by Division
A total of 223 boats flying 38 different national flags registered for the Sailonline race (discounting the 34 real boats that appeared on-screen) with 4 finishers out of the 8 HK racers who started. Sailonline's fleet had an excellent race, and our podium three are to be congratulated on taking the highly coveted top spots - 22 boats arrived in the first 10 minutes, with less than a minute separating the first five! BRAVO guys.... nice work!
Analysis of our Winner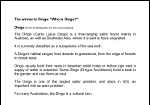 by SOLer SCARABOCCHIO
_____________________________________________________________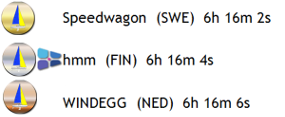 click on results image to see larger
GRATTIS Speedwagon!!! ONNEKSI OLKOON hmm!! GEFELICITEERD WINDEGG!
Race Leaderboard
Jakob, one of the two co-founders of Sailonline (SOL), has a birthday on 18 April, so, every year on the weekend closest to this date, SOL celebrates with a Birthday BBQ Race and opens the tricky Swedish archipelago to a new season's racing by racing from Revengegrudet to Jakob's home waters.
This year's race was one of the quicker ones with winds light but stable which made for a highly competitive event. Our podium are to be congratulated on their success on battling against all-comers to take the top three spots - only 2 seconds separated #1 from #2 and #2 and #3 and 35 boats arrived within the first 10 minutes, so it was a close-run thing indeed! BRAVO guys!
______________________________________________________________

click on results image to see larger
HERZLICHEN GLÜCKWUNSCH outlaw!!!CONGRATULAZIONI ita10267!! GOOD ONYA Dingo!
Race Leaderboard
The third leg of our race in the steps of Peter Blake and yacht Steinlager was a fascinating hop from Fremantle, on Australia's W Coast to Auckland, New Zealand. The choices of route were wide open - through Bass Strait, S of Tasmania, through Cook Strait even - and the legendary conditions off the southern coast of Australia lived up to their reputation, making decisions tricky with many SOLers doubling back to head through the Bass Strait, while those who, perhaps, prefer some bunk-time, headed round Tasmania. In the end the fleet met up again off Cape Reinga and the run down to Auckland was comparatively straightforward - although several took the opportunity for bbqs in the Hauraki Gulf!
Many are still on course at time of writing - this leg will remain open for sailing as long as is reasonable but as always your rank at race close will be preserved.
Very many congratulations are due to our podium - it is said that "the devil is in the detail" and it is as true in yacht-racing as anywhere. Our three victorious skippers leading the SOL fleet to Auckland are to be admired for the way in which they won here. To see how it is done, compare your track with theirs at hmm's SOL Race Data Centre
_____________________________________________________________
Races
Next Race: 00d 00h 00m
Current Races:
Scandinavian Tour 1 - Finland
Jepsom invites you to the first of three legs in the "three-different-boats competition" he designed for SOL in 2011. This is a 631nm race in cold water in small but fast IMOCA 60s. We sail - hopefully without ice!! - from Hamina, south-east Finland all the way up to Kemi close to the Swedish border.
Race #679
NOR from brainaid.de
IMOCA 60 INFO
WX Updates: 0430 / 1030 / 1630 / 2230
Ranking: STCS-SYC
ALT. CLIENT Classic
Race starts: Apr 24th 16:00 Registration Open!
GO TO RACE
Flinders Island TIMED Race
This TIMED RACE takes us around Flinders Island, an Aussie paradise between Tasmania and the mainland. However we won't have time to admire the flora and fauna as we rocket round in our V070_V4s on the 106nm loop. Thanks to NZL_Scotsman for the course.
RE-REGISTER HERE to race again after finishing a run
Race #672
NOR from brainaid.de
VO70v4 INFO
WX Updates: 0430 / 1030 / 1630 / 2230.
RANKING: TRCH-SYC
ALT. CLIENT: Classic
RACING
REGISTRATION CLOSE: April 29 at 2100utc
RACE CLOSE: April 30 at 0900utc
Race starts: Apr 23rd 21:00 Registration Open!
GO TO RACE
Cape Town - Abu Dhabi
A challenging race across 5,227nm of the Indian Ocean from Cape Town, South Africa, to Abu Dhabi, UAE. Keep your VO70 safe from pirates off the Somali coast, don't beach on your way through the Hormuz Strait and you will find a truly warm welcome awaiting you in Abu Dhabi!
Race #680
NOR from brainaid.de
VO70 v4 INFO
WX Updates: 0430 / 1030 / 1630 / 2230
Ranking: OCCH-SYC
ALT. CLIENT Classic
RACING
Race starts: Apr 21st 09:00 Registration Open!
GO TO RACE
Sailonline RTW 2014 - Leg 3 - Australia to New Zealand
Welcome to the third leg of Sailonline's race in the footsteps of Steinlager's Whitbread RTW Race of 1989/1990 - this Leg is from Fremantle, Australia to Auckland, New Zealand - 3,013nm
Race #669
NOR from brainaid.de
Steinlager 2 POLAR
WX Updates: 0430 / 1030 / 1630 / 2230
RANKING: SYC-SRTW
ALT. CLIENT: Classic
RACING
RACE CLOSE:Saturday, 26 April at 0600utc
Race starts: Apr 04th 06:00 Registration Closed
GO TO RACE
SYC Ranking
Series
Mobile Client
SYC members have the benefit of access to our mobile/lightweight web client!