Online Sailracing!
Sailonline.org is owned and operated by Sailonline NavSim AB, a not for profit, community-owned company.
Sailonline's mission is to offer a superior internet-based sailing and navigation simulation to the global sailing community, whilst ensuring a future of growth and continuous enhancement to benefit its users through financial viability and long term vision.
All Sailonline boats and their properties are purely virtual and do not necessarily reflect real world data.
Sailonline is free for everyone to play and is supported by SYC Memberships.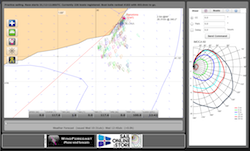 Create your account
News from the blog
Welcome!
Now login with our guest account to view currently running races: Username: guest - Password: guest
PLEASE ONLY REGISTER YOUR OWN USERNAME AND PASSWORD IF YOU INTEND TO RACE.
All times on Sailonline are in UTC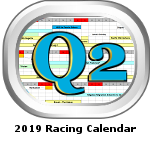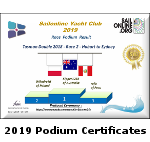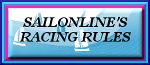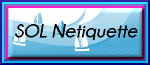 GDPR - General Data Protection Regulations
- Sailonline wishes to reassure all SOLers that it is aware of the regulation changes in relation to the protection of personal data. Sailonline cares about your privacy and will continue to let you control the personal information you provide.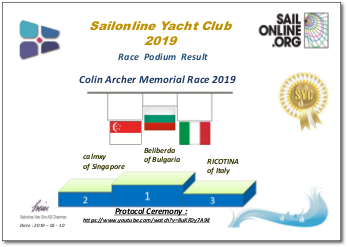 click on results image to see larger
ЧЕСТИТО Beliberda!!!
CONGRATULATIONS calmxy!! CONGRATULAZIONI RICOTINA!
Race Leaderboard
Reports

Commentary
The Wadden Zee is a tricky place to get out of, and if you don't follow the buoyed channel, chances are you will come to grief, as quite a number of the competitors in SOL's virtual Colin Archer found out to their cost. Once out into the open Noord Zee, it seemed a straightforward fetch to Larvik beckoned, although, under the Norwegian coast a patch of light air was moving about a bit, and in the end, this proved the undoing of quite a number. Tricky stuff!
Great praise indeed then is due to our eventual winner Beliberda and his fellow podium-placers, calmxy for the first time (read how he did it!), and very steady-eddy RICOTINA. Super well done, all!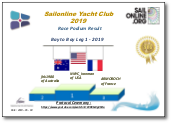 click on results image to see larger
CONGRATULATIONS NNYC_Ironman!!!
GOOD ONYA jhk1980!! FELICITATIONS ARMOROCH!
Race Leaderboard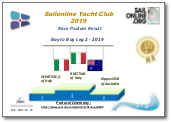 click on results image to see larger
CONGRATULAZIONI RICOTINA!!!
CONGRATULAZIONI WINSTON_4!! GOOD ONYA Kipper1258!
Race Leaderboard
Commentary
For the second year in a row, our Bay to Bay races through Australia's Great Sandy Strait produced six different names across the two podiums, attesting once again how tricky these races, around a series of cans with treacherous shoals and beaches all around, are. However, when the chips were down for the counter towards the Q2 Sprint Series, it was the Italian Navy, like others taking a route south west round Woody Island, that were to the fore.
But all our podium placers deserve congratulations, as the racing was as close and fierce as ever! Very well done, guys!!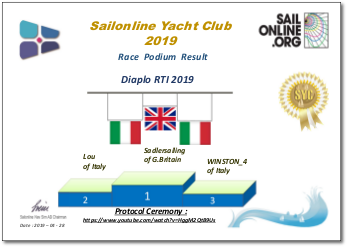 click on results image to see larger
CONGRATULATIONS Sadlersailing!!!
CONGRATULAZIONI Lou!! CONGRATULAZIONI WINSTON_4!
Race Leaderboard
Commentary
So far this year, our sprints are proving popular, with this latest one seeing ninety-odd SOLers make the finishing line, after a fairly trying four-and-a-half hour race. If racers had been feeling frustrated negotiating the light airs of the Puget Sound elsewhere on planet SOL, there was to be no let-up here in the Ionian Sea. A triangular course meant that it was always likely that there would be some upwind work and so it proved, with the second leg from Erikouso to Othonio pretty much straight into it.
Undoubtedly judging how hot to sail into a wind backing steadily across the course and when to tack will have had much to do with the eventual outcome, although with Lou back and immediately on the podium, good cornering will also have played its part. However, in the end, it was Sadlersailing who emerged victorious, but by only three seconds from the aforementioned Lou. Impressive stuff!

Races
Next Race: 00d 00h 00m
---
Current Races:
Jubilant Race 2019
Yacht Jubilant crewed by SOLers and chums, will be racing round the Eddystone Lighthouse this weekend, in the second of her two qualifiers for the 2019 Irish Rock Race and invites Sailonline to join her in this 230nm event.
Race #1257
INFO from brainaid.de
J30 Particulars
WX Updates:
0430 / 1030 / 1630 / 2230
Ranking: None
ALT. CLIENT:Classic
Race starts: May 25th 08:30 Registration Open!
GO TO RACE
Tokyo to San Francisco 2019
Welcome to a quick 4500nm jaunt in our 60ft Trimarans.
Don't forget to stow a bonito and some miso and something to drink for this transpacific race from Tokyo to San Francisco in hopefully good weather and good wind.
PRIZE: SMPF
Race #1251
INFO from brainaid.de
60ft TrimaranParticulars
WX Updates:
0430 / 1030 / 1630 / 2230
Rankings: OCCH-OCQ2-SUPERSOL-SYC
ALT. CLIENT: Classic
Race starts: May 15th 17:00 Registration Open!
GO TO RACE
Golden Globe Race 2018 - Leg 2 Storm Bay to Les-Sables d'Olonne
Welcome to Leg 2 of Sailonline's virtual version of the 2018 Golden Globe Race. After a brief respite in Storm Bay, Tasmania, of a minimum of 90 minutes after arrival, we are now racing across the Pacific, round Cape Horn and home to Les-Sables d'Olonne.
DO NOT START TOO EARLY
If you raced Leg 1 then you MUST wait 90 minutes before starting this leg. The penalty for starting Leg 2 before finishing Leg 1 is NO RANKING. The penalty for starting Leg 2 within 90 minutes of finishing Leg 1 is 5x the time you started too early.
Race #1181
INFO by brainaid.de
Rustler 36 PARTICULARS
WX Updates:
0430 / 1030 / 1630 / 2230
Ranking: GGR
ALT. CLIENT:Classic
Race starts: Sep 15th 12:00 Registration Open!
GO TO RACE
SYC Ranking
Series
Mobile Client
SYC members have the benefit of access to our mobile/lightweight web client!