Online Sailracing!
Sailonline.org is owned and operated by Sailonline NavSim AB, a not for profit, community-owned company.
Sailonline's mission is to offer a superior internet-based sailing and navigation simulation to the global sailing community, whilst ensuring a future of growth and continuous enhancement to benefit its users through financial viability and long term vision.
All Sailonline boats and their properties are purely virtual and do not necessarily reflect real world data.
Sailonline is free for everyone to play and is supported by SYC Memberships.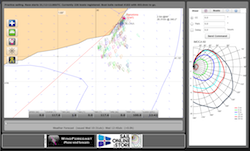 Create your account
News from the blog
Welcome!
Now login with our guest account to view currently running races: Username: guest - Password: guest
PLEASE ONLY REGISTER YOUR OWN USERNAME AND PASSWORD IF YOU INTEND TO RACE.
All times on Sailonline are in UTC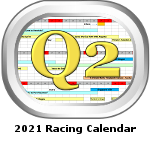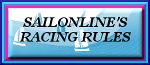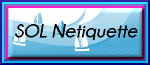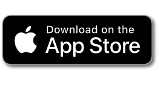 GDPR - General Data Protection Regulations - Sailonline wishes to reassure all SOLers that it is aware of the regulation changes in relation to the protection of personal data. Sailonline cares about your privacy and will continue to let you control the personal information you provide. More info here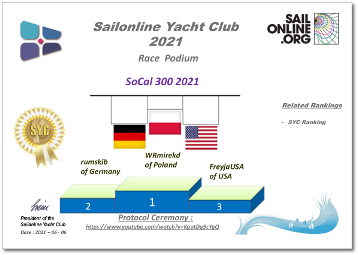 click on results image to see larger
GRATULACJE WRmirekd!!!
HERZLICHEN GLÜCKWUNSCH rumskib!! CONGRATULATIONS FreyjaUSA!
Race Leaderboard
Commentary
It is hard to believe that it is already the sixth running of a virtual SoCal 300! In 2016, San Diego Yacht Club (SDYC) co-organisers of the SoCal300, part of California Offshore Race Week first worked with Sailonline to bring virtual and real fleets together in competition. What a great association! Often, however, local wx conditions can mean that not all goes strictly to plan and, sadly this was the case this year, with a tricky start and a super-slow race forecast, resulting in several in the real fleet simply having to retire. Such setbacks to best-laid-plans, however, help reinforce how virtual sailing, as realistic as that on Sailonline, can open a window onto the world of decision-making in real racing, where practicalities as well as wind and sea conditions come into play.
The race this year was predicted to be the slowest on record and although the start was pretty smart, once through through the channel between Santa Rosa and Santa Cruz Islands on the way to the NOAA Buoy, both fleets headed offshore in search of better winds (see pic 1 below). A day later (see pic 2 below) and the real fleet, with advantage perhaps not just of local knowledge but also prevailing tides/currents, appeared to diverge from the bulk of the virtual fleet of Santa Cruz 52s, and ended up making better progress and arriving in San Diego some time ahead!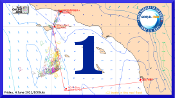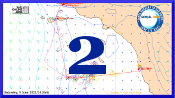 Sailonline's fleet this time saw boats flying the flags of 28 different countries take part and our congratulations must go to our podium three, representing Poland, Germany and USA, for an excellent result. While it was impossible to arrive in a record time, given the conditions (see the real results here), for the three of them to arrive within 3m 24s of each other is impressive. Congratulations guys!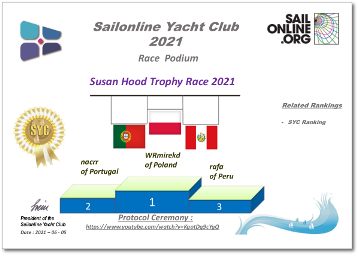 click on results image to see larger
GRATULACKJE WRmirekd!!!
PARABÉNS nacrr!! FELICIDADES rafa!
Race Leaderboard
Reports


Commentary
For some months Sailonline had been working with LOOR (Lake Ontario Offshore Racing) to offer racers three virtual events, representative of the racing available on Lake Ontario. Excitement was building for the first ever race of this new partnership but, unfortunately, as with so much since January 2021, the #COVID19 pandemic had other plans. So it was that at 0100utc on the morning of Saturday 5 June (2000EST on the Lake) a virtual-only version of the classic Susan Hood Trophy Race was raced.
The race itself looked pretty straightforward – with winds appearing relatively stable - unusually so, according to locals familiar with the course and the Lake. Such stable winds, of course, made for a particularly tricky race where trade-offs between manoeuvring and performance loss really came into the mix. As local Canadian racer Scooby said "The wind was consistent, strong enough that there weren't any of the holes so often encountered in this race - especially at Burlington where many have sat for five or six hours. The weather modelling was a great feature, really capturing the feel of being on water. Having the boat course determined by the forecast was my downfall, but that is not a SOL issue, more a napping issue from a first time SOLer!".
Sailonline would like to thank LOOR for trusting us with this first of three races in 2021 and for this new partnership – long may this association continue. For regulars on Sailonline it was a real delight to see such a healthy participation from Canada. A total of 22 Canadian-flagged boats took part in a registered fleet of 129, flying the flags of 27 nations - from now on, sailing on Lake Ontario will be known around the world! Competition for the top spots was fierce, with 20 boats arriving within 10m of the winner.
Congratulations to everyone who took part and completed the race and especially to Sailonline's podium representing Poland, Portugal and Peru.




Thirty years ago two female sailors from Royal Melbourne Yacht Squadron (RMYS) were inspired to create a women's only regatta after attending the New Zealand Women's regatta. Their goal was to encourage women to get involved in the sport of sailing. This goal is still very much at the heart of the Australian Women's Keelboat Regatta held annually at RMYS.
In 2019 the regatta attracted 40 boats and just under 300 competitors from around Australia and overseas making it the largest women-only keelboat regatta in the world. Non-local competitors generally borrow local boats unless they are close by (i.e. within 200nm). For the 2020 30th anniversary the target was even bigger with plans for 50-60 boats and 400+ competitors, but thanks to the COVID-19 pandemic the event was cancelled, and so was born the "29.5th AWKR" hosted by Sailonline (SOL)!
The entries were flowing in strongly for the 2021 30th anniversary but just two weeks before the event Melbourne was plunged in to a 7 day snap lockdown and it was decided that the event should be POSTPONED until later in the year. Again, Sailonline are delighted to have been again asked by RMYS, to offer Australia's women and all-comers, the opportunity to compete in an online one-day version of the event, helping to promote women in sailing further. So this year the "29.9th AWKR" is being hosted by SOL on June 12th which would have been the opening day of the regatta.
Sailonline's race will open for pre-race practice shortly and it is all free to participate.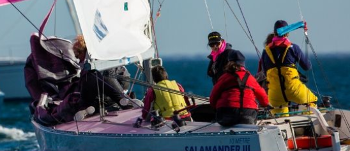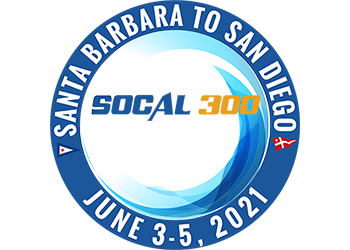 Sailonline is delighted to announce that, we will again be partnering with the prestigious San Diego Yacht Club (SDYC) for the 2021 running of the SoCal 300 race. SDYC has been racing in reality in the waters off San Diego for 130yrs and in 2016 it became the first USA West Coast yacht club to bring virtual sailing navigation to its members and the west coast sailing community.
As is tradition, the SoCal 300 is the third and final ocean race of this year's California Race Week and sees the fleet race a slalom course from Santa Barbara to San Diego, starting on 3 June. Sailonline plans to bring on-screen the tracks of the real fleet so that we can see how competitive our virtual Santa Cruz 52s will be against the mixed fleet entered this year.

Sailonline's virtual SoCal 300 race will open for pre-race practice on Sunday, 30 May.
Current Entry List



Races
Next Race: 00d 00h 00m
---
Current Races:
Virtual AWKR Race 2021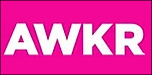 The Australian Women's Keelboat Regatta celebrates and promotes women's sailing in Australia and each year includes a 27nm round the cans race in Port Phillip Bay. This year the Regatta is being postponed due to #COVID19 measures, but Sailonline's Virtual AWKR Race 2021 in First 27s is going ahead - prepare for some excellent Australian competition!
Race #1377
INFO
by brainaid.de
First 27
PARTICULARS
WX Updates:
0430 / 1030 / 1630 / 2230
Ranking: SYC
Race starts:
Jun 12th 01:00
Registration Open!
GO TO RACE
Kaneohe to Kiritappu 2021
It's time to say goodbye to Hawaii and head to leg 3 of the PAC6 Pacific Ocean racing championship. Ahead of us is 3108 nm across the northwest Pacific Ocean from Kaneohe Bay to Kiritappu, Japan. Our Maxi Trimaran's are still undergoing the necessary repairs, so leg 3 we will be racing VO70. Fair winds and see you at the finish line of Kiritappu.
Race #1475
INFO by brainaid.de
VO70_v4 PARTICULARS
WX Updates:
0430 / 1030 / 1630 / 2230
Ranking: SYC - PAC6
Race starts: Jun 08th 22:00 Registration Closed

GO TO RACE
ESRW Honolulu to Port Noumea 2021
Time to stow all warm weather gear as this outing we undertake the 3350nm fourth leg of our fabulous equatorial round the world race (ESRW) from Honolulu across the equator to Port Noumea in our Steinlager 2. We did tell you to bring lots of sunburn cream for this series!
PRIZE: SMPF
Race #1473
INFOby brainaid.de
Steinlager 2 PARTICULARS
WX Updates:
0430 / 1030 / 1630 / 2230
Ranking: ESRW-OCQ2-OCCH-SUPERSOL-SYC
Race starts: Jun 06th 21:00 Registration Open!

GO TO RACE
Vinland Rally 2021


Welcome back to virtual cruising. This time our cruise starts from Reykjavik, Iceland and after calling in at Taliisaq and Nanortaliq in Greenland, and Cartwright Harbor in Labrador, we finish at L'Anse aux Meadows Historic Site, an archaeological site that may well prove to be Leif Erikson's 1001 AD Markland settlement, evidencing Viking arrival in N America. You may start at any time after 1700utc on 20 May, to arrive in l'Anse aux Meadows by 2300utc on 26 June.
Race #1470
INFO by brainaid.de
Santa Cruise 52 PARTICULARS
Passport Cruise 40 PARTICULARS
WX Updates:
0430 / 1030 / 1630 / 2230
RANKING: NONE
Race starts: May 20th 17:00 Registration Open!

GO TO RACE
SYC Ranking
Series
Mobile Client
SYC members have the benefit of access to our mobile/lightweight web client!