Online Sailracing!
Sailonline.org is owned and operated by Sailonline NavSim AB, a not for profit, community-owned company.
Sailonline's mission is to offer a superior internet-based sailing and navigation simulation to the global sailing community, whilst ensuring a future of growth and continuous enhancement to benefit its users through financial viability and long term vision.
All Sailonline boats and their properties are purely virtual and do not necessarily reflect real world data.
Sailonline is free for everyone to play and is supported by SYC Memberships.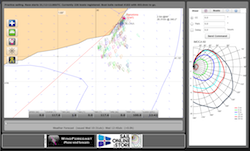 Create your account
News from the blog
Welcome!
Now login with our guest account to view currently running races: Username: guest - Password: guest
PLEASE ONLY REGISTER YOUR OWN USERNAME AND PASSWORD IF YOU INTEND TO RACE.
All times on Sailonline are in UTC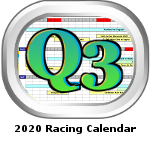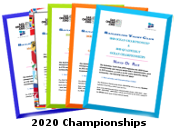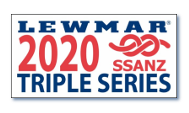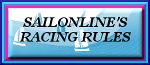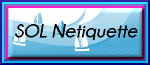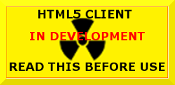 GDPR - General Data Protection Regulations
- Sailonline wishes to reassure all SOLers that it is aware of the regulation changes in relation to the protection of personal data. Sailonline cares about your privacy and will continue to let you control the personal information you provide.

On behalf of Sailonline's Management Team I wish to inform all SOLers and our Partner Yacht Clubs and sailing associations, with whom Sailonline runs many virtual buddied events, that Robert Neilson of Australia ( aka Tyger ) has resigned from his marketing role within the SOL Management Team.
Rob has been the Sailonline counterpart to our Partners since 2013 ... continue here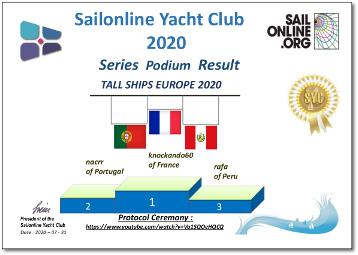 click on results image to see larger
FELICITATIONS knockando60!!!!
PARABÉNS nacrr!! FELICIDADES rafa!!
Series Leaderboard
Race Results Blogposts

Race 1 – Lisbon to Cadiz
Race 2 – Cadiz to Sagres
Race 3 – A Coruña to Dunkirk
Reports

Commentary
Sailonline's tall ships racing this summer has been divided into two series, Tall Ships Races Europe and Sailonline's Tall Ships Races Asia, and it is the first of these that has now concluded. We have raced our Clipper ship around the shores of Portugal, Spain and France and, for the first time, due to the global #COVID19 pandemic, the real ships against whom we would usually compete on-screen were, for the most part, resting in their home ports. Our wonderful partner, Sail Training International, undaunted by the major alteration to plans by managing the pandemic response, promoted this first series of races on their website and as a consequence, Sailonline racers ("SOLers") not only had more competition but also gained a sense of the camaraderie and friendly rivalries that exist between the crews of the real ships! Truly the most upbeat, entertaining and informative series of tall ships races!
Despite taking to Sailonline like the proverbial ducks to water, our new racers were, like most of us, no match for the three stalwart, race-winning SOLers who took our series podium. Many congratulations to the three of them – most worthy podium place takers! Bravo!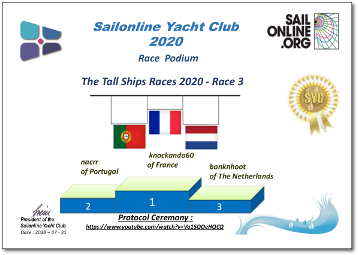 click on results image to see larger
FELICITATIONS knockando60!!!
PARABÉNS nacrr!! GEFELICITEERD bonknhoot!
Race Leaderboard
Reports



Commentary
The third and final race of the #VTSR2020 (Virtual Tall Ships Races 2020) was always going to be a test of endurance, particularly with the first leg including the crossing of the Bay of Biscay. Before we started, though, there was more than a little debate on why the finish was called "Dunkirk" when it was a very long way indeed from Dunkirk, offshore another country! The answer? Dunkirk was the originally intended destination Host Port of the real Tall Ships, had they raced in reality, but due to traffic restrictions in the English Channel/La Manche as well as ensuring safe navigation, the real tall ships would have motored on to Dunkirk after finishing the race.
The Bay of Biscay was interestingly modest with no major storm churning up its usual "washing machine" effect but, as ever, more than a little canny navigation was needed to be close to the front on reaching the Ushant mark. The run up the English Channel/La Manche was, typically tall-ship, requiring long ranging tacks across the body of water – it truly is a good thing that the volume of shipping visible on AIS is not a factor we needed to consider! Our fleet, flying the flags of 37 different nations made good progress and the finish saw a sizeable group of 20 ships arrive within the first 10mins of the winner.
Our podium three, all seasoned SOLers (racers on Sailonline) kept the finish a super-tight affair with 25s and 24s respectively separating 1st from 2nd and 2nd from 3rd. Beautiful sailing, guys!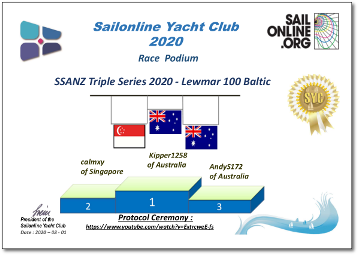 click on results image to see larger
GOOD ONYA Kipper1952!!!
CONGRATULATIONS calmxy!! GOOD ONYA AndyS172!
Race Leaderboard
Reports



Commentary
Race 2 of the 2020 SSANZ Triple Series is always the longest these days and ranging, as it does, around Waiheke Island and the entire Hauraki Gulf it is a brilliantly challenging race. The race this year was entertaining indeed, with a tidy group of racers flying the flags of 28 different nations taking part, some for the first time in these waters! Zigging and zagging around Auckland's islands is a fun pastime for Sailonline's racers but it can come as a little surprise for those new to them. The real race experience can been seen in this excellent YouTube video from LiveSailDie.
Our direct competitors of the three-race series by directly competing against the sailors of the Young 88 Owners Association – these days Young 88s sail in their own Division.
The SSANZ Results show that the best corrected time for the Young 88 start, S/Y Mindbender was 6h31m17s (elapsed: 8h28m09s) while our winner, nacrr, arrived at the finish in 6h42m18s which were Sailonline's Young 88s also subjected to correction would mean that nacrr did best of all! Our podium three with just 2s separating 1st from 2nd and 28s separating 2nd from 3rd was again keenly fought for! Congratulations to all three!



Races
Next Race: 00d 00h 00m
---
Current Races:
Sailonline's Tall Ships Asia 2020 - Race 1



Welcome to the first of two Tall Ships races in Asia from Ho Chi Minh City Bay, Vietnam, to Pulau Natuna Besar, Indonesia, some 400nm away. Our destination is in the Riau Island group which has been settled by fishermen for many centuries but now found to be a source of natural gas. At the time tall ships were sailing there, these islands were considered a safe refuge in the South China Seas.
Race #1380
INFO by brainaid.de
Class B Tall Ship Particulars
WX Updates:
0430 / 1030 / 1630 / 2230
RANKING: TSA - SYC
ALT. CLIENT: Classic
Race starts: Aug 13th 06:00 Registration Open!
HTML5 Client (beta) GO TO RACE
Iceberg Dodge TIMED Race 2020
Progressive climate change since this 34nm race designed by NZL_Scotsman was first run in 2014 may have eased our access to these fjords but watch out for growlers.  This is a TIMEDrace, and you can expect storms and calms, so choose your start time with care. Sailing in little J-80's, 5:01:11 hours is the previous best time to beat. God hastighed!
RE-REGISTER HEREto race again after finishing a run
Race #1378
INFOby brainaid.de 
J-80 Particulars
  WX Updates:
0430 / 1030 / 1630 / 2230. 
RANKING:
TRCH-TRQ3-SUPSOL-SYC
ALT. CLIENT: Classic
RACE CLOSE: Sunday,
August 23 at 23:00:00 UTC.
Race starts: Aug 10th 12:00 Registration Open!
HTML5 Client (beta) GO TO RACE
Round White Island 2020
This classic New Zealand race is run each year and takes the yachts from Auckland and, after rounding Channel Island, down south to the Bay of Plenty, around the active volcano on White Island, and back to Auckland. Racing RC 44s, who will be first to complete SOL's 292nm course?
Race #1374
INFO by brainaid.de
RC 44 Particulars
WX Updates:
0430 / 1030 / 1630 / 2230
RANKING:
SYCQ3 - SYCCH - SUPSOL – SYC
ALT. CLIENT: Classic
RACE CLOSE: Saturday,
August 15 at 2300 UTC.
Race starts: Aug 07th 20:00 Registration Closed
HTML5 Client (beta) GO TO RACE
Maryland to Alaska 2020
Inspired by Matt Rutherford's single-handed Red Dot Expedition around the Americas in 2012, SOLer Renegade proposed a half around from Maryland over the North into the Pacific and back through the Panama Canal, in 5 legs, 5 years later. Leg 2 across the North West Passage proved to be particularly challenging and so to create a proper Ocean Race, SRC has combined Leg 2 with Leg 1 to give you a race of at least 4000nm from Maryland to Alaska in our magnificent 90ft Monohull.
PRIZE: SMPF
Race #1366
INFOby brainaid.de
90ft Monohull Particulars
WX Updates:
0430 / 1030 / 1630 / 2230
Ranking:
OCCH - OCQ3 - SUPSOL - SYC
ALT. CLIENT: Classic
Race starts: Aug 04th 20:00 Registration Closed
HTML5 Client (beta) GO TO RACE
SYC Ranking
Series
Mobile Client
SYC members have the benefit of access to our mobile/lightweight web client!