Online Sailracing!
Sailonline.org is owned and operated by Sailonline NavSim AB, a not for profit, community-owned company.
Sailonline's mission is to offer a superior internet-based sailing and navigation simulation to the global sailing community, whilst ensuring a future of growth and continuous enhancement to benefit its users through financial viability and long term vision.
All Sailonline boats and their properties are purely virtual and do not necessarily reflect real world data.
Sailonline is free for everyone to play and is supported by SYC Memberships.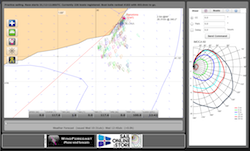 Create your account
News from the blog
Welcome!
Now login with our guest account to view currently running races: Username: guest - Password: guest
PLEASE ONLY REGISTER YOUR OWN USERNAME AND PASSWORD IF YOU INTEND TO RACE.
All times on Sailonline are in UTC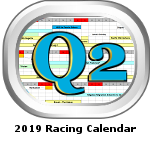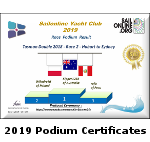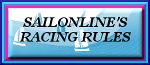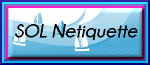 GDPR - General Data Protection Regulations
- Sailonline wishes to reassure all SOLers that it is aware of the regulation changes in relation to the protection of personal data. Sailonline cares about your privacy and will continue to let you control the personal information you provide.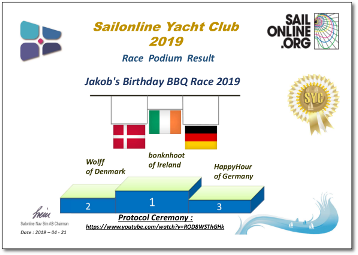 click on results image to see larger
MAITH AN FEAR bonknhoot!!!
TILLYKKE Wolff!! HERZLICHEN GLÜCKWUNSCH HappyHour!
Race Leaderboard
Reports


Commentary
Once a year Sailonline celebrates the birthday of one of its founders, a professor of marine architecture who, with one of his students, decided to create a navigation simulator to test the performance of boat polar designs- the result was Sailonline! Although Sailonline is now owned by its community, we never forget our origins and in April we always race a mad slalom in the archipelago of islands close to Stockholm.
The winds were unusually stable this year which, arguably, should have meant it was a simple race to sail but… with such a wide choice of routes from Revengegrundet toJakob's Home, via Lokholmen, it wasn't as easy as it looked! The race is always a game of two halves – the first, the run to Lockholmen offers a chance to head offshore and avoid the rash of islands, the second heading inshore to the finish. It is often after Lokholmen that the final top finishers make themselves known.
Congratulations to everyone who took part and especially to our to our amazing podium! With 14 racers arriving in the first 60 seconds to take the top three spots was impressive indeed!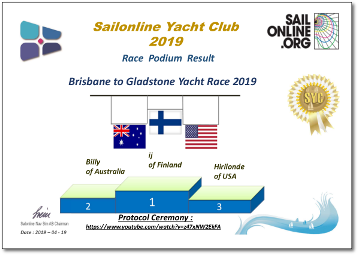 click on results image to see larger
ONNEKSI OLKOON ij!!!
GOOD ONYA Billy!!CONGRATULATIONS Hirilonde!
Race Leaderboard
Reports

Timelapse Video

Commentary
2019 is the second year that Sailonline has been the official virtual "buddy" for the Brisbane to Gladstone Yacht Race with the Queensland Cruising Yacht Club (QCYC), and it has been another success. From race start and the superb livestream and commentary – if you didn't catch it live, why not watch it now here - to having the real fleet on-screen as direct competition, this truly was an interactive affair.
SOLers flying the flags of 31 different nations took part in the race, and because of this global nature of our racing, our exit from Brisbane was made easier by an essential reduction in the number of marks to be passed correctly by the real fleet to stay in-channel. Why essential? Simply because the only sure way to be able to pass all the real marks would be to be at the helm and that is just not doable for the majority of our racers! We still had major turns at Redcliffe and Tangalooma which were challenging enough! The run up the coast to Gladstone was one of tactics for the front runners – the two reports from our podium tell the story!
Our podium three, from Finland, Australia and the USA, are to be congratulated for bagging the top spots! Nicely done guys!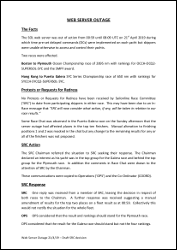 Races
Next Race: 00d 00h 00m
---
Current Races:
Pacific NW Inshore 2019
Welcome to a 137nm SOL Classic, from Seattle to Vancouver, past historic Port Townsend, home of the famous wooden boat festival, then on past Whale Watch Park where there is often a pod of orca whales to be seen, continuing on round and through the beautiful San Juan Islands Nature Reserve and then up into the Strait of Georgia for a finish in English Bay. Enjoy it all!
Race #1229
INFO at brainaid.de
Elan 410 PARTICULARS
WX Updates:
0430 / 1030 / 1630 / 2230
Ranking: SYC
ALT. CLIENT:Classic
Race starts: Apr 25th 21:00 Registration Open!
GO TO RACE
Hong Kong to Puerto Galera 2019
Welcome all to SOL's fourth race in this year's twelve race SYC Championships, and to another prestigious buddy-up with RHKYC for their inaugural Hong Kong to Puerto Galera ocean race. 650nm as the red-footed booby flies, and for our Santa Cruz 52's just a quick dash with the sheets more than likely well-eased.
Race #1227
INFOby brainaid.de
Santa Cruz 52 Particulars
WX Updates:
0430 / 1030 / 1630 / 2230
Ranking:
None
ALT. CLIENT:Classic
RACE CLOSE: Thursday,
April 25 at 2300 UTC.
Race starts: Apr 17th 04:20 Registration Closed
GO TO RACE
Boston to Plymouth TransAt 2019
Sailonline first raced between Plymouth and Boston in 2008, but it was in 2009 that the course was reversed, creating our classic Boston to Plymouth route. Usually sailed as a TIMED TransAt, this time we are racing as a fleet. Crossing the North Atlantic in N Hemisphere Spring can be a challenging enterprise and now, in this era of increasing climate instability, traditional routes may not prove to be the best! Have fun deciding your strategy!
Race #1245
NORfrom brainaid.de
90ft Monohull Particulars
WX Updates:
0430 / 1030 / 1630 / 2230.
RANKING: None
ALT. CLIENT: Classic
Race starts: Apr 15th 20:00 Registration Closed
GO TO RACE
Golden Globe Race 2018 - Leg 2 Storm Bay to Les-Sables d'Olonne
Welcome to Leg 2 of Sailonline's virtual version of the 2018 Golden Globe Race. After a brief respite in Storm Bay, Tasmania, of a minimum of 90 minutes after arrival, we are now racing across the Pacific, round Cape Horn and home to Les-Sables d'Olonne.
DO NOT START TOO EARLY
If you raced Leg 1 then you MUST wait 90 minutes before starting this leg. The penalty for starting Leg 2 before finishing Leg 1 is NO RANKING. The penalty for starting Leg 2 within 90 minutes of finishing Leg 1 is 5x the time you started too early.
Race #1181
INFO by brainaid.de
Rustler 36 PARTICULARS
WX Updates:
0430 / 1030 / 1630 / 2230
Ranking: GGR
ALT. CLIENT:Classic
Race starts: Sep 15th 12:00 Registration Open!
GO TO RACE
SYC Ranking
Series
Mobile Client
SYC members have the benefit of access to our mobile/lightweight web client!