Online Sailracing!
Sailonline.org is owned and operated by Sailonline NavSim AB, a not for profit, community-owned company.
Sailonline's mission is to offer a superior internet-based sailing and navigation simulation to the global sailing community, whilst ensuring a future of growth and continuous enhancement to benefit its users through financial viability and long term vision.
All Sailonline boats and their properties are purely virtual and do not necessarily reflect real world data.
Sailonline is free for everyone to play and is supported by SYC Memberships.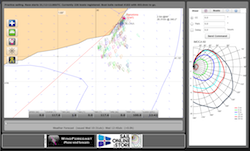 Create your account
News from the blog
Welcome!
Now login with our guest account to view currently running races: Username: guest - Password: guest
PLEASE ONLY REGISTER YOUR OWN USERNAME AND PASSWORD IF YOU INTEND TO RACE.
All times on Sailonline are in UTC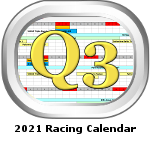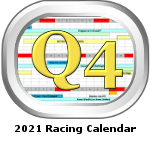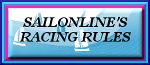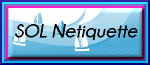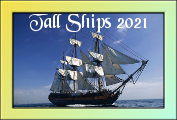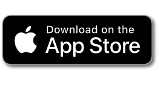 GDPR - General Data Protection Regulations - Sailonline wishes to reassure all SOLers that it is aware of the regulation changes in relation to the protection of personal data. Sailonline cares about your privacy and will continue to let you control the personal information you provide. More info here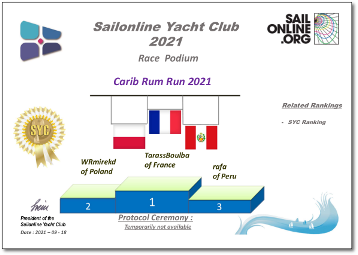 click on results image to see larger
FELICITATIONS TarassBoulba!!!
GRATULACJE Wrmirekd (DavyScoundrelDunkin)!! FELICIDADES rafa!
Race Leaderboard
Commentary
In 2010 Sailonline "discovered" International Talk Like a Pirate Date and having planned a route through the Caribbean from one rum distillery to another, it was decided to join the two into a fun race where SOLers who were members of SYC (or joined during the race) could change their boatnames into piratical ones and so began the tradition of racing at least one race a year using as much pirate lingo as possible! The race is always a prize one and, surprisingly for the first time ever, Sailonline's winner has not responded to an invitation to provide a postal address to receive the 2021 prize! The SYC membership extensions that are also part of this event have, of course, been awarded.
Your author was unable to be present for much of the race but sailing Sailonline's beautiful multi-masted superyacht, Falkun, the course raced well and there was, as is typical for all Sailonline races, strong competition for the winning spots. Our winner arrived 2m 23s ahead of the second place taker who was a fine 6m 4s ahead of the third finisher after a race that saw a typical mix of Caribbean conditions. Here's to 2022!
Pirate Names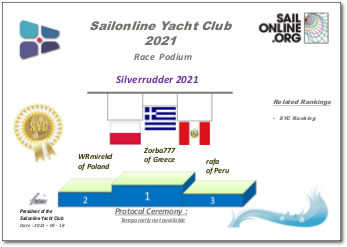 click on results image to see larger
ΣΥΓΧΑΡΗΤΉΡΙΑ Zorba777!
GRATULACJE WRmirekd!! FELICIDADES rafa!!!
Race Leaderboard
Reports

Commentary
As this year's Silverrudder was quite an exhausting affair of more than 36 hours virtual sailing in much lighter forecast winds than actually prevailed across the IRL Funen circuit, which the first First 27s got round in slightly less than 21 hours, it has taken a little longer for our competitors to recover, but when they did, a very fine report indeed (under the button above) was received by your editor from the eventual winner by the smallest of margins (8 seconds), Zorba777. Read it for a tack-by-tack account of how he did it.
Well done to Zorba777 then, but also to WRmirekd, who very generously donated a special and useful prize of a Gerber Multi-tool in memory of our great friend, competitor and organizer, Bimmer, who would surely have been here, both on the virtual water and on the Svendborg quayside, had he not sailed away to the great sea in the sky earlier this year.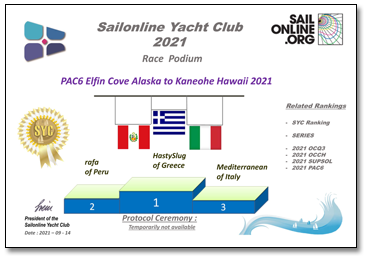 click on results image to see larger
ΣΥΓΧΑΡΗΤΉΡΙΑ HastySlug!!!
FELICIDADES rafa!! CONGRATULAZIONI Mediterranean!
Race Leaderboard
Reports


Commentary
From race start it was clear that the most difficult part of the race would be passing through the doldrums and early indications were that a longer more westerly course might give the fastest doldrums passage. In fact the more direct route prevailed but not without some close racing across the fleet. Well done to the podium!!
Two insightful reports from our podium SOLers are recommended reading!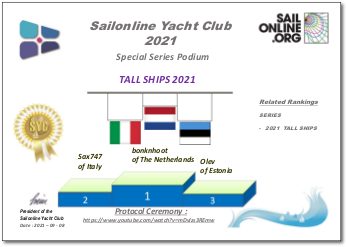 click on results image to see larger
GEFELICITEERD bonknhoot!!!
CONGRATULAZIONI Sax747!! PALJU ÕNNE Olev!
2021 Tall Ships Series Leaderboard
Reports

Commentary
Again this year, the COVID19 pandemic thwarted the organizational plans of Sail Training International, the main organizer of the annual 'Real-World' Tall Ships Races, whose virtual partner we are. To the great disappointment of the sailing world, in the end, all races were cancelled and the task of keeping the spirits of the crews of big sailing ships up rested on our virtual races. We raced all 7, with an average of 127 skippers in command of our virtual Clipper 240 and Barque 90m vessels. Each of the planned races turned out to be very interesting. The Chat records testify to this. Changes in forecast wind directions required fox-wits and a sixth sense. It was a very demanding series of races, virtual but in an atmosphere of friendship, fun and mutual understanding.
The adopted scoring formula for the 6 best out of 7 races held meant that until the last race from Lisbon to Cadiz it was difficult to predict places on the podium. The unsuccessful last race by the favourites bonknhoot and Sax747 caused a lot of confusion in the final classification. Three skippers scored the same number of points and were contenders for second place. In the end, bonknhoot was the winner and Sax747 and Olev took the next podiums. WRmirekd finished first on the rug behind the podium 😊. You can read about what happened at the various stages of the individual races in the wonderful report written by the winner of this year's series, bonknhoot. Congratulations to the winners and thanks to all participants for great fun.
We sincerely hope that Sail Training International will be able to return to hosting these beautiful Tall Ships Races again in 2022.

Races
Next Race: 00d 00h 00m
---
Current Races:
ESRW6 Singapore to Kuwait 2021
Join us as we embark on our final leg(6) of the fabulous ESRW round the equator race series, this time onboard the speedy 90 foot Monohull as we wind our way out of the Malacca Strait and across the Indian Ocean 3000nm to Kuwait. It'll be steamy all the way!
PRIZE: SMPF
Race #1508
INFOby brainaid.de
90 foot Monohull PARTICULARS
WX Updates:
0430 / 1030 / 1630 / 2230
Ranking: ESRW-OCQ4-OCCH-SUPERSOL-SYC
Race starts: Oct 01st 03:00 Registration Open!

GO TO RACE
Isla del Sol RTI 2021
Scanning the globe for special sprint locations, our intrepid course designer Renegade came across Isla del Sol. Interesting! But where is it? Turns out SOL's island is in the middle of the world's highest navigable body of water, Lake Titicaca, so obviously we just had to race there. You'd think at 3812m above sea level, the place would be windy, but not so, and not particularly cold either, so enjoy this shortish 26nm RTI in "how-did-we-get-them-here?" Fox 9.50s.
Race #1486
INFO by brainaid.de
Fox 9.50 PARTICULARS
WX Updates:
0430 / 1030 / 1630 / 2230
Ranking:
SPRQ3 - SPRCH - SUPSOL - SYC
RACE CLOSE: Wednesday,
September 29 at 2300 UTC.
Race starts: Sep 25th 16:00 Registration Closed

GO TO RACE
Brisbane to Noumea 2021
G'day and welcome to Brisbane for the start of our well known tropical waters race – 835nm across the Coral Sea from Brisbane to Noumea on our First 47.7!
Race #1505
INFOby brainaid.de
First 47.7PARTICULARS
WX Updates:
0430 / 1030 / 1630 / 2230
Ranking: SYC
Race starts: Sep 24th 01:00 Registration Open!

GO TO RACE
CCA Delivery Cruise 2021 - Newfoundland to Newport RI


Welcome back to virtual cruising. This time our cruise starts from Conception Bay, Newfoundland and finishes in Newport RI. You may start at any time after 1800utc on 29 August, to arrive in Newport RI before 1800utc on 30 September.
Race #1503
INFO by brainaid.de
Santa Cruise 52 PARTICULARS
Passport Cruise 40 PARTICULARS
WX Updates:
0430 / 1030 / 1630 / 2230
RANKING: NONE
Race starts: Aug 29th 18:00 Registration Open!

GO TO RACE
SYC Ranking
Series
Mobile Client
SYC members have the benefit of access to our mobile/lightweight web client!