Online Sailracing!
Sailonline.org is owned and operated by Sailonline NavSim AB, a not for profit, community-owned company.
Sailonline's mission is to offer a superior internet-based sailing and navigation simulation to the global sailing community, whilst ensuring a future of growth and continuous enhancement to benefit its users through financial viability and long term vision.
Sailonline is free for everyone to play and is supported by SYC Memberships.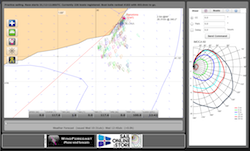 Create your account
News from the blog
Welcome!
Now login with our guest account to view currently running races: Username: guest - Password: guest
PLEASE ONLY REGISTER YOUR OWN USERNAME AND PASSWORD IF YOU INTEND TO RACE.
All times on Sailonline are in UTC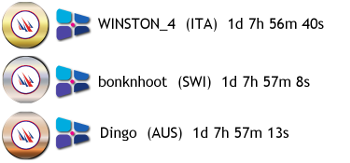 click on results image to see larger
CONGRATULAZIONI WINSTON_4!!! CONGRATULATIONS bonknhoot!! GOOD ONYA Dingo!
Race Leaderboard
When SOLer Chaos first mentioned The Vineyard Race in 2010 and Sailonline approached the organisers for permission to race the course under the official name and at the same time, it was beyond dreaming to think that in 2014 not only would we still be associated with the prestigious Stamford Yacht Club but that we would also be exchanging information and updates via social media and our winners would receive Mount Gay Rum sponsor baseball caps from the real race! This year saw a virtual fleet of Santa Cruz 52s, representing 39 nations, taking on the Vineyard challenge and our winners are to be congratulated for their masterclass in sailing for victory. BRAVO!!
Here are their race reports:



This just in from SOLer Chaos: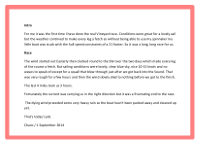 Official results
Vineyard blog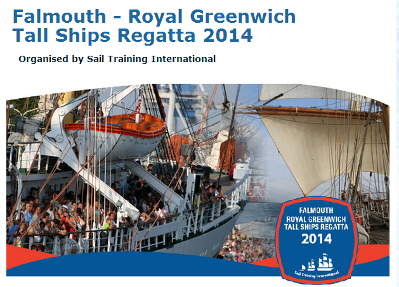 Sailonline's summer of tall ships sailing is coming to a close, but what a grand finale is on hand. Welcome to what will probably be the UK's finest ever festival of tall ships, the Falmouth Royal Greenwich Tall Ships Regatta 2014, organised by Sail Training International. Hosted in two venues, Sailonline, as the virtual race partner of Sail Training International, will race from one to the other!
Falmouth, Cornwall in the SW of the UK mainland - 28-31 August:


to
Greenwich, the London home of maritime Britain - 5-9 September:

The real ships will race from Falmouth to the Isle of Wight and then simply have to make the festival opening in Greenwich in early September. Sailonline will race around the south coast of Britain, from Falmouth to the entrance of the River Thames and our ship of choice this time is the Barque 90m. There will be huge interest in this race in the UK, so do please remember to share in race chat any links or images you encounter.
Fair winds to all in this, Sailonline's fourth and final event of the Tall Ships Series 2014!
Keep an eye on the real fleet via its official race tracker:



RACE INFO:
Over Labor Day weekend (29-31 August ) the Stamford Yacht Club, Connecticut, USA, will be welcoming Sailonline back for the 80th running of the iconic 238-mile Vineyard Race. Run at the end of the summer sailing season this classic takes racers from the western part of Long Island Sound out to Massachusetts and back. Because of the configuration of Long Island Sound and the time of year, racers can face complex wx conditions along with strong tidal currents. Sailonline will again be giving the real racers stiff competition to see who rounds the Buzzards Bay buoy first. Sailonline will be sailing the traditional Vineyard course in Santa Cruz 52s, even if conditions require the real race to stay within the Sound.
Since the first Vineyard Race in 1932 there have been many celebrated entrants - the record time for the race is held by Stamford Yacht Club's Reichel/Pugh 66, Blue Yankee, with 20 hours, 20 minutes and 15 seconds set in 2007. This year has an excellent entry list so there is always hope that this record may yet be broken.
SOLer Chaos, pictured below in his Pogo, 806, is racing in the Double Handed PHRF division scheduled to be in the first start.
Prizes for Sailonline Podium
The organisers of The Vineyard Race 2014 have just announced that the Sailonline Podium will win Mount Gay Rum ball caps!
Current Entry List
Vineyard Blog
Area Webcam Map
In-race Tracker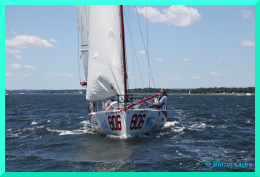 click to see larger image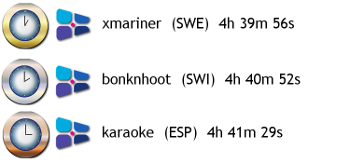 click on results image to see larger
GRATTIS xmariner!!! CONGRATULATIONS bonknhoot!! FELICIDADES karaoke!
Race Leaderboard
The 2014 TIMED Race Championship is keeping everyone on their toes. The ability to not only discern when to start but also be available to do so is proving crucial for there to be any chance of success. Those who can't race at the optimal time can, however, still enjoy matchracing each other and dream of future successes.
Our podium for this Asian TIMED race are to be congratulated for grabbing the top spots – as you can read from their reports below, it wasn't simply a matter of cold calculation - well done guys and thank you for your report!
Here is what our podium have to say:



Races
Next Race: 00d 00h 00m
---
Current Races:
Tristan TIMED Race 2014
We take a 68nm tour of this remote outpost in the South Atlantic. The gales may come and go but the sea is everlasting. This is a TIMED race designed by NZL_Scotsman
RE-REGISTER HERE to race again after finishing a run
Race #738
NOR from brainaid.de
TP52 INFO
WX Updates: 0430 / 1030 / 1630 / 2230
Ranking: TRCH-SYC
ALT. CLIENT:Classic
Race starts: Sep 03rd 17:00 Registration will open soon
GO TO RACE
Sailonline RTW 2014 - Leg 6 - Fort Lauderdale - Southampton
Welcome to the sixth and final leg of Sailonline's race replicating the record round-the-world race of yacht Steinlager between 1989 and 1990 - this Leg is from Fort Lauderdale, USA to Southampton, England - 3,797nm
Race #730
NOR from brainaid.de
Steinlager 2 POLAR
WX Updates: 0430 / 1030 / 1630 / 2230
RANKING: SYC-OCCH-SRTW
ALT. CLIENT: Classic
RACING
Race starts: Sep 01st 18:00 Registration Open!
GO TO RACE
Falmouth Royal Greenwich Tall Ships Regatta 2014
Welcome to the fourth and final race of Sailonline's 2014 Tall Ships series. You will be sailing in the wakes of history as you race your Barque 90 the 286nm from Falmouth in Cornwall to Greenwich near London NOTE:Starts and Finishes in tall ships racing are offshore to avoid conflict with shipping and shipping lanes.
Race #731
NOR from brainaid.de
Barque 90m INFO
WX Updates: 0430 / 1030 / 1630 / 2230
RANKING: TALLS-SYC
ALT. CLIENT: Classic
RACING
Race starts: Aug 31st 15:00 Registration Open!
GO TO RACE
The Vineyard Race 2014
The Stamford Yacht Club welcomes Sailonline to its 80th running of The Vineyard Race. The course runs from Stamford to Buzzard's Bay Light near Martha's Vineyard Island and back again, leaving Block Island to starboard. Sail against the real fleet in your Santa Cruz 52.
Race #735
NORfrom brainaid.de
Santa Cruz 52 POLAR
WX Updates: 0430 / 1030 / 1630 / 2230
Ranking: SYCCH-SYC
ALT. CLIENT:Classic
RACING
RACE CLOSE:Tuesday, September 2 at 1600utc
Race starts: Aug 29th 16:00 Registration Closed
GO TO RACE
SYC Ranking
Series
Mobile Client
SYC members have the benefit of access to our mobile/lightweight web client!