Online Sailracing!
Sailonline.org is owned and operated by Sailonline NavSim AB, a not for profit, community-owned company.
Sailonline's mission is to offer a superior internet-based sailing and navigation simulation to the global sailing community, whilst ensuring a future of growth and continuous enhancement to benefit its users through financial viability and long term vision.
Sailonline is free for everyone to play and is supported by SYC Memberships.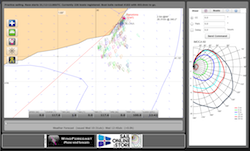 Create your account
News from the blog
Welcome!
Now login with our guest account to view currently running races: Username: guest - Password: guest
PLEASE ONLY REGISTER YOUR OWN USERNAME AND PASSWORD IF YOU INTEND TO RACE.
All times on Sailonline are in UTC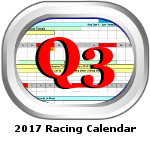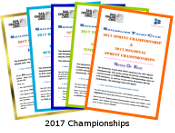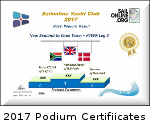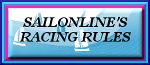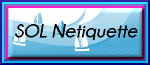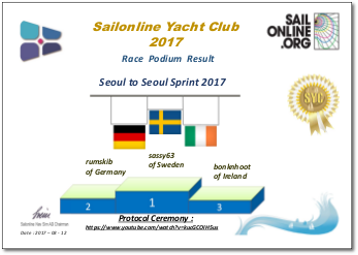 click on results image to see larger
Race Leaderboard
GRATTIS sassy63!!!
HERZLICHEN GLÜCKWUNSCH rumskib!!
MAITH AN FEAR bonknhoot!
Commentary
A long course, light winds and an elegant 40-footer from a decade or two ago contrived to turn this sprint into a weekender. Given, excepting of course the pre-announcement of long standing in the quarterly calendar, that this race appeared with short notice on the home page, this was perhaps no bad thing. It gave people a chance to catch up if they were late for the start, and indeed some notable recoveries were recorded.
However, our podium three – all sailing in the dark – were on the line from the get-go, and after many arduous hours of DC setting and steering by hand, it was sassy63 who just pipped rumskib, with bonknhoot coming in third after trying and failing with a more southerly route. Congratulations, chaps!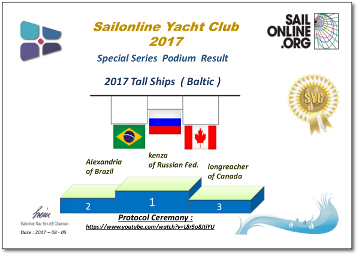 click on results image to see larger
Поздравляю kenza !!!
PARABÉNS Alexandria!! CONGRATULATIONS longreacher!
Series Leaderboard
Race Results Blogposts



Commentary
We have come to the end of our Tall Ships racing in Europe for 2017 and we owe a big "thank you" to Sail Training International for another year of excellent buddy-racing. Bringing Class A ships on-screen and tracking their progress is a real bonus for Sailonline's racing, creating as it does a real sense of interactivity with the real ships and the festivals they are taking part in.
For possibly the first year, there seemed to be a real recognition of the way in which tall ships perform – set against our usual repertoire of mono- and multi-hull yachts, these grand ladies of the oceans, representing an era of maritime exploration, remind us of the difficult conditions faced by those early navigators. As we lolled, almost becalmed at times, we could begin to understand the frustrations this must have caused on-board in an era without satellite communications, where voyages lasted not just weeks but months.
Many congratulations to our wonderful podium – to win any tall ships race on Sailonline is a pretty remarkable achievement, but to finish on the podium at the end of a series is just excellent. Very well done guys!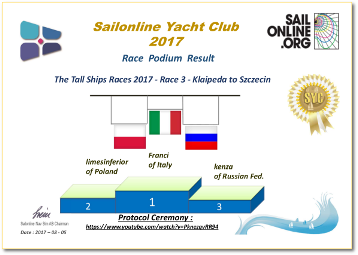 click on results image to see larger
CONGRATULAZIONI Franci!!!
GRATULACJE limesinferior!! Поздравляю kenza !
Race Leaderboard
Images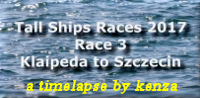 Reports

Commentary
This was Sailonline's third race in the three BalticTall Ships Races in Europe. The course from Klaipeda to the finish well-offshore Szczecin with a leave-to-port mark some miles from Kaliningrad looked pretty straightforward. With a kindly southerly or northerly breeze it could be a reach all the way – perfect conditions for our barkies. Of course ideal conditions are rarely found on water, whether you are racing a dinghy, a catamaran or a replica square rigger and so it was that the majority of the fleet found themselves "zipper-tacking" their way to the finish! The real ships had a time limited event to ensure that they made it in time to the festival in Szczecin but our virtual Barques had to pursue the course to its finish! Some took quite circuitous routes, inspecting the wee inlets of Finnish and even Swedish coastlines, while others boldly bbq-ed on the Baltic's southern shores!
Our podium three, most noble skippers of Class A virtual tallships, sailed supremely well, as can be seen in the fabulous timelapse of the event by SOLer kenza. CONGRATULATIONS to you on proving that when the going gets tough, the tough start winning! Good job, guys!


Races
Next Race: 00d 00h 00m
---
Current Races:
Red Dot Leg 4a - the Panama Canal
Rather than rounding S America as Matt Rutherford did in his single handed circumnavigation of the Americas, SOLer Renegade is offering us a short-cut via the Panama Canal. This TIMED race will NOT count towards the series result, but we hope you will enjoy attempting to gain Sailonline's Ditch Honours Badge
Re-register here to race again after finishing a run.
Race #1046
INFO by brainaid.de
SuperMaxi 100 Particulars
WX Updates:
0430 / 1030 / 1630 / 2230
RANKING: None
ALT. CLIENT: ClassicRACE CLOSE: Wednesday, 23 August at 2300utc
Race starts: Aug 10th 18:00 Registration Open!
GO TO RACE
Lisboa TIMED race 2017
This will be the fourth time that Sailonline is hosting this race, designed by psail, and this time we are going to race with our 60' Trimaran.
This is a TIMEDrace, which means you get multiple chances to try out the performance of the trimaran.
Re-register hereto race again after finishing a run
Race #1070
INFOby brainaid.de
60' Trimaran Particulars
WX Updates:
0430 / 1030 / 1630 / 2230
Ranking:
TRCH-TRQ3- SUPSOL-SYC
ALT CLIENT: Classic
RACE CLOSE: Sunday, August 20 at 23:00 UTC
Race starts: Aug 10th 10:00 Registration Open!
GO TO RACE
Rendezvous 2017 - Tall Ships Regatta - Halifax to Le Havre
Welcome to the third and final ocean race in this year's Rendezvous Tall Ships events. Racing our Clippers back to Europe our course from Halifax to Le Havre is 2471nm of classic TransAt. NOTE:Starts and Finishes in tall ships racing are well offshore to avoid conflict with shipping and shipping lanes.
Race #1033
INFO by brainaid.de
Clipper Particulars
WX Updates:
0430 / 1030 / 1630 / 2230
RANKING: Tall Ships - SYC
ALT. CLIENT: Classic
PRIZE: SMPF
Race starts: Aug 01st 20:00 Registration Open!
GO TO RACE
SYC Ranking
Series
Mobile Client
SYC members have the benefit of access to our mobile/lightweight web client!