Online Sailracing!
Sailonline.org is owned and operated by Sailonline NavSim AB, a not for profit, community-owned company.
Sailonline's mission is to offer a superior internet-based sailing and navigation simulation to the global sailing community, whilst ensuring a future of growth and continuous enhancement to benefit its users through financial viability and long term vision.
All Sailonline boats and their properties are purely virtual and do not necessarily reflect real world data.
Sailonline is free for everyone to play and is supported by SYC Memberships.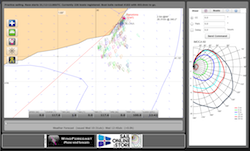 Create your account
News from the blog
Welcome!
Now login with our guest account to view currently running races: Username: guest - Password: guest
PLEASE ONLY REGISTER YOUR OWN USERNAME AND PASSWORD IF YOU INTEND TO RACE.
All times on Sailonline are in UTC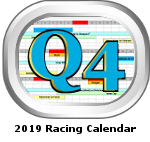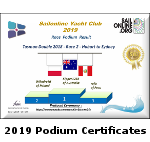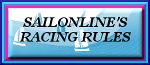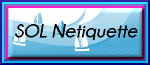 GDPR - General Data Protection Regulations
- Sailonline wishes to reassure all SOLers that it is aware of the regulation changes in relation to the protection of personal data. Sailonline cares about your privacy and will continue to let you control the personal information you provide.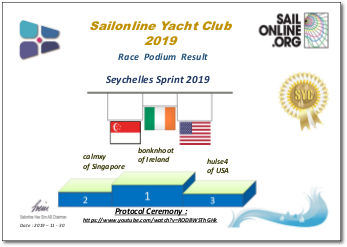 click on results image to see larger
MAITH AN FEAR bonknhoot!!!
CONGRATULATIONS calmxy!! CONGRATULATIONS hulse4!
Race Leaderboard
Reports

Commentary

Well, this, the second last sprint of 2019, turned out to be a fast and furious affair, with boats needing to 'hop' from soak to hot at points to be decided at their discretion on the downwind legs, and from low and fast to high and pinched upwind, all due to the very radical polar of our vintage Mini6.5. Exciting, enervating action then, as can be gleaned from podium-placer Hulse4's memory download above, and indeed from Bimmer's timelapse production below.
Nobody managed not to make a mistake or two, so that it was those mistakes or rather the severity of them that determined the outcome, which saw bonknhoot just pipping calmxy for the podium by a mere 5 seconds, with hulse4 holding on to third under considerable pressure from the ever-consistent WINSTON4. Well done, all!!!!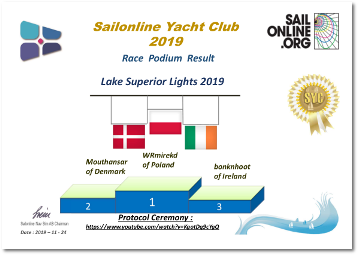 click on results image to see larger
GRATULACJE WRmirekd!!!
TILLYKKE Mouthansar!! MAITH AN FEAR bonknhoot!
Race Leaderboard
Images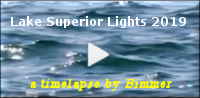 Reports



Commentary
Since we first raced on Lake Superior and experienced the grand tour of its famous lighthouses (the "Lights") in 2009, Sailonline has experienced a wide range of wind conditions here – from fickle, light and shifty to "blowing a hoolie" – but rarely do we get what might be considered Goldilocks weather but, we must have earned the favour of the wind gods of North America, because this year's race really was blessed with good winds. From the start it was a matter of decided on snaking through the Apostles or heading out across the Lake and, as you will read in the excellent reports from our podium, below, how this decision was made by our winners!
There was fierce competition right from the start with the good winds really energising the fleet and the excellent Timelapse Video (by Bimmer) shows just how the race played out. Many congratulations to our podium three who beat the rest of our fleet, flying the flags of 33 different nations, arriving within moments of each other and only just ahead of their competition!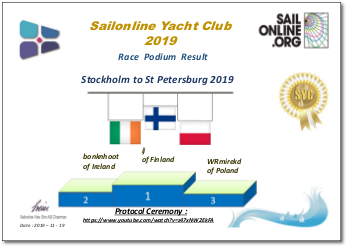 click on results image to see larger
ONNITTELUT ij!!!
MAITH AN FEAR bonknhoot!! GRATULACJE WRmirekd!
Race Leaderboard
Reports


Commentary

A moderate breeze coming up from the south gave the 130-odd starters of this year's race to St Petersburg some warmth for comfort. A little up and a little down here and there proved to be the fastest route to a tack point some time in the middle of the night for a lay to the turning mark at Saarema, but judging when to tack proved even more crucial than the wiggles and the waggles and it was ij who got to the bottom first.
Despite some interesting variations in the routes chosen from Saarema to St Petersburg (read all about it in two excellent reports from the podium above, and see how it unfolded in Bimmer's timelapse below), in the end it was ij who held on to his lead to score his fourth P1 in this year's SOL Championships. Superior SOLing, ij!!

Races
Next Race: 00d 00h 00m
---
Current Races:
Caspian Chilov Chiller 2019
So here we are on the shores of the Caspian Sea in December. Ice is breaking up along the beach and the sheets grind over each other. Further North,the sea is wholly frozen over. Undaunted, clad in thermal suits, balaclavas, ski gloves and insulated Dubarry's, and with the space heater on down below, we invite you to venture out for a brisk 28nm race in Linjett 33s, round Chilov island and back home to Gurgan harbour. Don't dawdle!
Race #1300
INFOby brainaid.de
Linjett 33 Particulars
WX Updates:
0430 / 1030 / 1630 / 2230
Ranking:
SPRCH - SRQ4 - SUPSOL - SYC
ALT. CLIENT: Classic
Race starts: Dec 14th 18:00 Registration will open soon
GO TO RACE
Yates Cup TIMED Race 2019
Welcome to a replication of the shortened 2017 edition of this Category 3+ race from Auckland around the Hauraki Gulf which, on this occasion is being run in the form of a TIMEDRACE.
Also, we are pleased to introduce you to a brand-new arrival in the Sailonline boathouse, namely the MC 38. Be sure to check out its "Particulars".
Race #1306
RE-REGISTER HERE to race again after finishing a run.
Race #1306
INFOfrom brainaid.de
MC 38 Particulars
WX Updates:
0430 / 1030 / 1630 / 2230
Ranking:
TRQ4-TRCH-SUPSOL-SYC
ALT. CLIENT:Classic
Race starts: Dec 10th 12:00 Registration Open!
GO TO RACE
Fisherman's Friend 2019
A 272nm race in First 40s around the main fishing ports and grounds off Devon and Cornwall. The Western Approaches can be anything but predictable at any time of the year, but in December, with wild weather hurling itself across the Atlantic, and the occasional calm, you will need to be prepared for everything, so pack your foulies!
Race #1304
INFOby brainaid.de
First 40.7 Particulars
WX Updates:
0430 / 1030 / 1630 / 2230.
RANKING: SYC
ALT. CLIENT:Classic
RACE CLOSE: Friday, 13 December at 2300utc
Race starts: Dec 07th 14:00 Registration Closed
GO TO RACE
Christmas(W) to Christmas(E) Island 2019
Welcome to Sailonline's race to Christmas!
5,827nm in Volvo 70s provides a sailing adventure for the run up to the festive season. Our race takes us from Christmas Island in the Indian Ocean to Christmas Island in the Pacific – how many of you knew there were two?! Many routing options so please have fun! Fair winds!
Race #1303
INFO by brainaid.de
Volvo 70_v4 Particulars
WX Updates:
0430 / 1030 / 1630 / 2230
RANKING: OCCH-OCQ4-SUPSOL- SYC
PRIZE: SMPF
ALT. CLIENT: Classic
Race starts: Nov 26th 16:00 Registration Open!
GO TO RACE
SYC Ranking
Series
Mobile Client
SYC members have the benefit of access to our mobile/lightweight web client!