Online Sailracing!
Sailonline.org is owned and operated by Sailonline NavSim AB, a not for profit, community-owned company.
Sailonline's mission is to offer a superior internet-based sailing and navigation simulation to the global sailing community, whilst ensuring a future of growth and continuous enhancement to benefit its users through financial viability and long term vision.
All Sailonline boats and their properties are purely virtual and do not necessarily reflect real world data.
Sailonline is free for everyone to play and is supported by SYC Memberships.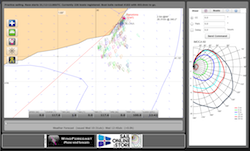 Create your account
News from the blog
Welcome!
Now login with our guest account to view currently running races: Username: guest - Password: guest
PLEASE ONLY REGISTER YOUR OWN USERNAME AND PASSWORD IF YOU INTEND TO RACE.
All times on Sailonline are in UTC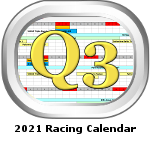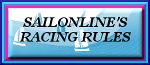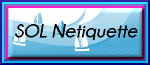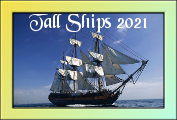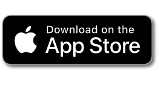 GDPR - General Data Protection Regulations - Sailonline wishes to reassure all SOLers that it is aware of the regulation changes in relation to the protection of personal data. Sailonline cares about your privacy and will continue to let you control the personal information you provide. More info here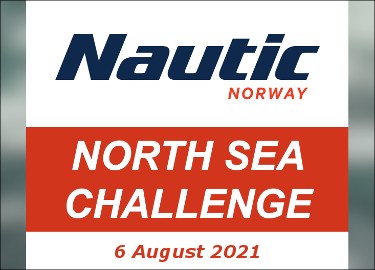 Sailonline is delighted to announce its partnership in a second event with Vestlandseilkrets this time the first ever North Sea Challenge, incorporating rally cruising, from offshore Bergen, the Marstein Lighthouse will again be our starting point, to and round the Troll A Oil Platform. The Troll A platform is one of the biggest and most impressive of oil platforms located in the North Sea and, consequently, the rounding for the real racers will be particularly spectacular!
Sailonline will be racing its Sunfast 3600 and, as ever, doing its virtual best to beat the real fleet viewable here
Sailonline's race will open to allow practice on-course on Sunday 1 August at 1200utc. The techniques for sailing on Sailonline are the same for all races so all Vestlandseilkrets members, friends and family are invited to start racing for free on Sailonline today!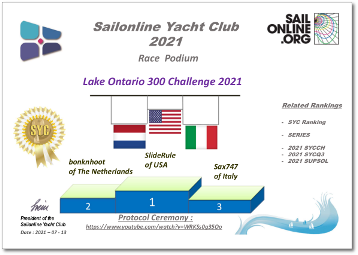 click on results image to see larger
CONGRATULATIONS SlideRule!!!
GEFELICITEERD bonknhoot!! CONGRATULAZIONI Sax747!
Race Leaderboard
Reports




Commentary
For the second time in 2021 Sailonline returned to Lake Ontario to race in association with LOOR (Lake Ontario Offshore Racing) but this time, with Canada open for sailing it was intended to be a sail-off against the real racers in the LO300. Unfortunately, the USA decided to close its waters to the race which meant that the virtual participants could take advantage of the difficult wind conditions to use the entire Lake for their race. Despite this, the extraordinary wind conditions prevailing throughout the race meant that even the top racers, in reality and on Sailonline, were truly challenged to be competitive. No nail-biting finish of seconds between racers this time – do read the excellent reports linked above to see real and virtual racing perspectives on the event!
Many congratulations must of course go to our eventual podium three representing USA, Netherlands and Italy – very well sailed guys! To arrive at the front of a fleet of 113 boats representing 24 nations, including 11 from Canada, in conditions such as these was a tribute to endurance and skill.

Timelapse by calmxy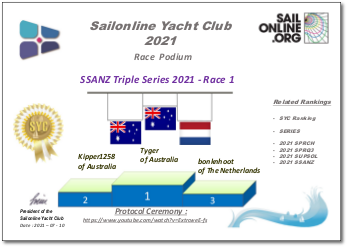 click on results image to see larger
CONGRATULATIONS Tyger!!! CONGRATULATIONS Kipper1258!!
GEFELICITEERD bonknhoot!
Race Leaderboard

Commentary
Ten real Young 88s and 84 virtual ones hit the line at respectively 11.20 and 11.15 local time on Saturday morning, July 10, for Race 1 of the 2021 SSANZ Triple Series on a downwind course in light to moderate airs out the Motukorea Channel, and our Australian friends Tyger and Kipper1258 showed at the front of the fleet straightaway, timing their gybe for the Motutapu shore nicely. A long and pleasant reach out to Motuora Island saw little change in the rankings, but, as always, various virtual vessels came to grief hugging the coast as they negotiated the island's rounding. Back in the Real World , the weather too was benign and the 'craic' mighty! A second long reach, now back to Motutapu proved trickier than the reach out, and some subtle changes in angle had bonknhoot coming into the battle for the virtual podium places. But nothing was certain until the line was crossed as can be seen in calmxy's excellent timelapse production, under the filmstrip below, and even then it took a little while before the server could return the precise order of finish.
And the virtual winner was? Tyger, absolutely roaring around the course in a time of 07:09:34, pipping Kipper1258 by a whole 2 seconds, and Babe, the first Young88 home on the real water, by a more serious 49-odd minutes. Terrific Tyger, but nothing like a good forecast that holds perfect for the day!

Timelapse by Calmxy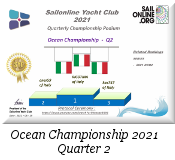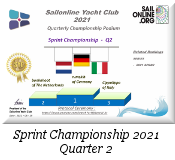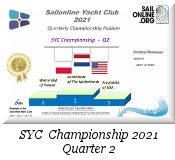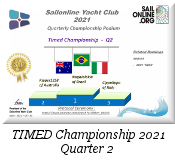 2021 Q2 SRC Review
As predicted the Q2 calendar offered many more open Ocean races although some competitors have commented on our too frequent visits to the Pacific. The Pacific Ocean just happens to be the largest open water Ocean and whilst we have a few more Pacific races to complete the six race Pacific Series we then have an Equatorial SOL Round the World race to leave the Pacific to the west.
In addition, we had a range of coastal races in Q2 including a very sad race to take home, in a Viking Longship, our great friend and staunch Danish SOL supporter Bimmer who died suddenly in early May. In his journey home from Copenhagen to Svenborg, helmed by OPS colleagues, he was escorted and followed home by 145 fellow sailors in a suitable tribute to his life and his efforts for SOL. RIP.
Now moving on to the Quarterly Series winners and podiums please continue reading here
Q2 Championship Results and Prizes

Races
Next Race: 00d 00h 00m
---
Current Races:
ESRW5 Port Noumea to Singapore 2021
For this fifth leg of the ESRW series, we depart the Pacific Ocean and head through a series of tropical seas along the 3937nm between Port Noumea and the busy port of Singapore in our Maxi Trimarans. As a change up to the last leg, there could be a variety of routing options through the many islands and straits that lie between the start and finish lines!
PRIZE: SMPF
Race #1492
INFOby brainaid.de
Maxi Trimaran PARTICULARS
WX Updates:
0430 / 1030 / 1630 / 2230
Ranking: ESRW-OCQ3-OCCH-SUPERSOL-SYC
Race starts: Aug 04th 19:00 Registration Open!

GO TO RACE
Fremantle to Bali 2021
It is time for a revival of one of Australia's iconic races, the 1427 nm long "Fremantle to Bali" race, and it's considered to be a true test of seamanship.
Last raced in 2018 using Finngulf 43s, we will do it this year in Super Maxi 100s which are considerably faster!
Race #1495
INFOby brainaid.de
Super Maxi 100 PARTICULARS
WX Updates:
0430 / 1030 / 1630 / 2230
Ranking: SYC
Race starts: Jul 28th 03:00 Registration Open!

GO TO RACE
Sailonline's Baltic Tall Ships Races 2021 - Leg 3 - Mariehamn to Szczecin



Welcome to the third race of Sailonline's 7-race Tall Ships Series 2021 which is also the final of three virtual Tall Ships races in the Baltic Sea - a race of 250nm in Clippers from Mariehamn, Finland to Szczecin, Poland.
NOTE: Starts and Finishes in tall ships racing are always offshore to avoid conflict with shipping and shipping lanes.
Race #1494
INFO by brainaid.de
Clipper 240 PARTICULARS
WX Updates:
0430 / 1030 / 1630 / 2230
Ranking: TallShips - SYC
RACE CLOSE: Wednesday, 4 August at 2300utc
Race starts: Jul 25th 14:00 Registration Open!

GO TO RACE
Kiritappu to Elfin Cove 2021
We leave the famous wetlands of Kiritappu with their beautiful summer wildflowers and head 2938nm across the northern Pacific in our Volvo70s for this fourth leg of the 2021 PAC6 series. Our destination is Elfin Cove, Alaska. Let's hope one of the twenty odd inhabitants will be there to greet us at the bar!
PRIZE: SMPF
Race #1487
INFOby brainaid.de
Volvo70v4 PARTICULARS
WX Updates:
0430 / 1030 / 1630 / 2230
Ranking: PAC6-OCQ3-OCCH-SUPERSOL-SYC
RACE CLOSE: Saturday,
July 31 at 2300 UTC.
Race starts: Jul 11th 19:00 Registration Closed

GO TO RACE
SYC Ranking
Series
Mobile Client
SYC members have the benefit of access to our mobile/lightweight web client!