Online Sailracing!
Sailonline.org is owned and operated by Sailonline NavSim AB, a not for profit, community-owned company.
Sailonline's mission is to offer a superior internet-based sailing and navigation simulation to the global sailing community, whilst ensuring a future of growth and continuous enhancement to benefit its users through financial viability and long term vision.
Sailonline is free for everyone to play and is supported by SYC Memberships.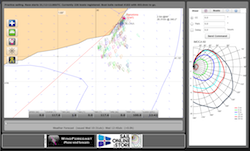 Create your account
News from the blog
Welcome!
Now login with our guest account to view currently running races: Username: guest - Password: guest
PLEASE ONLY REGISTER YOUR OWN USERNAME AND PASSWORD IF YOU INTEND TO RACE.
All times on Sailonline are in UTC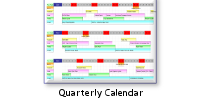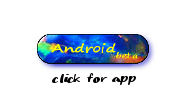 Sailonline is pleased to join Neenah-Nodaway Yacht Club (NNYC) again this year in hosting the annual Lake Winnebago Race in Wisconsin, USA.
NNYC is kicking off it's 151st season of promoting the sport of sailing on Lake Winnebago, making it one of the oldest yacht clubs in the USA. It is winter on Lake Winnebago, but there is plenty of sailing action, with local ice boating events and helping to prepare for the World Ice and Snow Yachting Championships in February at Fond du Lac.
NNYC members will be on hand in the chat area during the Sailonline race to share information about the local area, winter and share stories of both summer and winter sailing on Lake Winnebago. Also, please check in at NNYC's Facebook Page to say hello and get additional information about the club and the lake.
The Sailonline race will open for practice on Tuesday, January 27, and race start is at 1500utc on Saturday, January 31, 2015.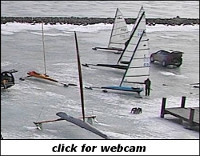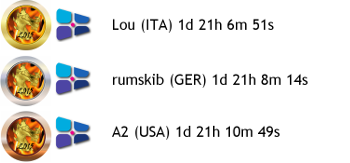 click on results image to see larger
CONGRATULAZIONI Lou!!! HERZLICHEN GLÜCKWUNSCH rumskib!! CONGRATULATIONS A2!
Race Leaderboard
There is something magical about this time of year in the northern hemisphere and tales of fire festivals in ancient times really resonate in this modern era when festivals such as Lerwick's Up Helly Aa bring light and camaraderie to long winter nights. The hint of light returning, of new beginnings and ending of the old is all encapsulated in these events. Sailonline has, for several years now, partnered with Promote Shetland to bring a hint of this ancient magic to our racing screen – this year was no exception and not only are our podium three to be congratulated on navigating their way through this great course to finish first in Lerwick, but also a big thank you must go to those who shared in the 60 North TV livestream event on 27 January.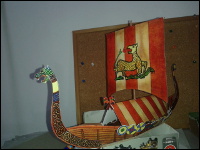 Not to be outdone by what was happening in reality in Lerwick, a few SOLers were themselves readying for "galley-burning". Stoertebaeker (who was unable to be home in time), Rod and GREATSKUA are among these. Most notable was GREATSKUA a "mad spanish soler did an insane galley burning in honour of all the Shetland vikings of Up Helly Aa festival" (his own words). See his excellent videos of his own fire festival here:

GREATSKUA Video 1
GREATSKUA Video 2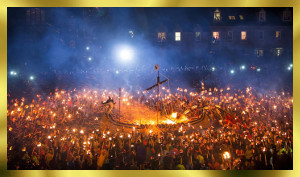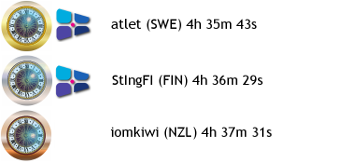 click on results image to see larger
GRATTIS atlet!!! ONNEKSI OLKOON StIngFI!! CONGRATULATIONS iomkiwi!
Race Leaderboard
The Kerguelen course was first created in October 2013 when there was a "need for speed" for a TIMED race and the perennially strong yet changeable winds of the Southern Oceans proved most attractive. The course around the suitably named "Desolation Islands" can be challenging and not always predictable, so that the extra time offered in this first TIMED race of the 2015 Championship could easily lull the unwary into thinking there would always be a chance for success. There were, in fact, several opportunities for good runs but only one for an optimal time, so our podium three are to be congratulated on finding the sweet starting time and beating their competition to the top positions! Bravo guys.
Reports


Races
Next Race: 00d 00h 00m
---
Current Races:
Lake Winnebago NNYC Race 2015
Welcome to 151st race of the Neenah-Nodaway YC. This is a 50nm race over near-frozen waters of Lake Winnebago. Starting at Neenah on the Northwest corner of the lake, we proceed anticlockwise along the shore, passing the harbors of Oshkosh, Fond du Lac, Pipe and High Cliff before returning to Neenah.
Race #786
Chartby brainaid.de
J-80 INFO
WX Updates: 0245 / 0845 / 1445 / 2045
Ranking: SYC
ALT. CLIENT:Classic
Race starts: Янв 31st 15:00 Registration Open!
GO TO RACE
SWR2014-2015 Leg 3 - Abu Dhabi to Sanya
Welcome to the third of nine legs of the 2014-2015 Sailonline World Race in a 65 foot ocean racer! We sail from Abu Dhabi to Sanya, a leg with many obstacles and varying winds. Without a doubt one of the toughest courses to sail.
Race #787
Chart from brainaid.de
OD65v3 POLAR
WX Updates: 0430 / 1030 / 1630 / 2230
Ranking: SWR1415-OCCH-SUPSOL-OCQ1-SYC
SOL Classic Client
Race starts: Янв 03rd 17:00 Registration Open!
GO TO RACE
SYC Ranking
Series
Mobile Client
SYC members have the benefit of access to our mobile/lightweight web client!