Online Sailracing!
Sailonline.org is owned and operated by Sailonline NavSim AB, a not for profit, community-owned company.
Sailonline's mission is to offer a superior internet-based sailing and navigation simulation to the global sailing community, whilst ensuring a future of growth and continuous enhancement to benefit its users through financial viability and long term vision.
Sailonline is free for everyone to play and is supported by SYC Memberships.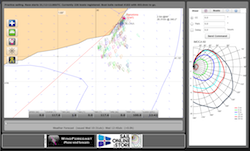 Create your account
News from the blog
Welcome!
Now login with our guest account to view currently running races: Username: guest - Password: guest
PLEASE ONLY REGISTER YOUR OWN USERNAME AND PASSWORD IF YOU INTEND TO RACE.
All times on Sailonline are in UTC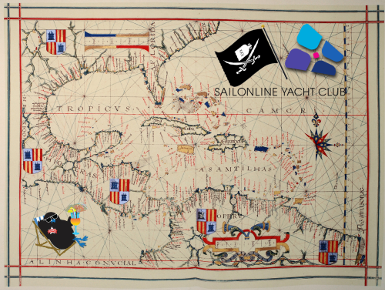 Nautical chart of Portuguese cartographer Fernão Vaz Dourado (c. 1520 - c. 1580), part of a nautical atlas drawn in 1575 and now kept in the British Museum, London
AHOY SOLers! Welcome to Sailonline's Carib Rum Run 2014! This will be the fourth time that SOLers have raced around the rum distilleries of the Caribbean in hurricane season! Always held close to International Talk Like a Pirate Day (September 19) the Carib Rum Run is our way of entering into a virtual festival of rum and pirates!! This year, too, sees the first ever Bart's Bash and our very own MustangMark has registered for the event:


The Carib Rum Run is always a PRIZE race and this year the prizes are as follows:
Bart's Bash Tees - the first three SYC Members across the Line will win an official Bart's Bash Tee (organised via SCARABOCCHIO)
SYC Membership - 3m SYC Membership/extension to the winner, 2m SYC Membership/extension to second place, and a 1m SYC Membership/extension to third place.
Win a Carib Rum Run Mug the winner will receive a unique mug to commemorate victory (organised via RainbowChaser)

JOIN THE SYC AND RACE IN PIRATE DISGUISE:
SYC Members only may change or modify their SOL boatname to something more piratical for the duration of this race! All info is here Such a boatname change for this one race will not change your login credentials or affect your SYC rankings. You may join SYC at any time!
Useful Links:
Talk Like a Pirate.com
How to Talk Like a Pirate
Get a Pirate Name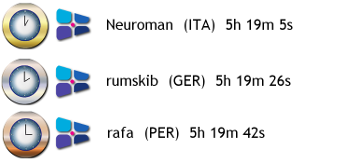 click on results image to see larger
CONGRATULAZIONI Neuroman!!! HERZLICHEN GLÜCKWUNSCH rumskib!!! FELICIDADES rafa!
Race Leaderboard
With two timed races each month and the 2014 TIMED Race Championship counting the best 20 out of 24 races, our series podium looks as if it is beginning to take shape. Never say never, though, but one or two SOLers should, perhaps, start to think about buying polish and cloths to look after the real trophy cup that will be awarded to the winner of this championship!
Tristan da Cunha, as isolated as it is in reality, makes it ideal for Sailonline to catch those Southern Ocean breezes and our podium three, arriving within 37s of each other, but, as you will read from their reports, sailing in very different circumstances, are to be congratulated on their success.
Here's what they each had to say about their Tristan timed race: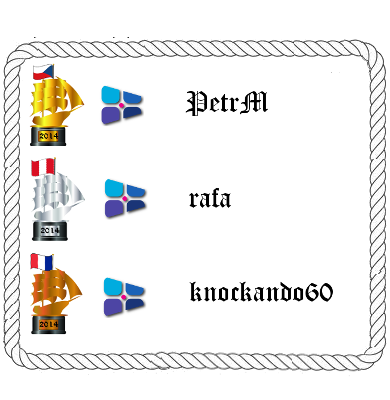 click on results image to see larger
GRATULUJEME PetrM!!! FELICIDADES rafa!! FELICITATIONS knockando!
Series Leaderboard
Sailonline's summer of tall ships sailing has come to a close, the Parade of Sail of the real ships in the Falmouth Royal Greenwich Regatta has taken place, and if you look at AIS you can see the ships are all scattering to the four winds. It has been an extraordinary season of tall ship sailing – yet again dividing racers into the "love" or "hate" camps. Being able to experience the nav performance of a tall ship is a real privilege - those who have sailed the real ships confirm that Sailonline is very realistic in this respect - and our thanks go to Sail Training International for helping to keep alive the spirit of tall ships racing.
Our race podiums have all demonstrated a talent for tall-ship sailing and our series podium has given us a masterclass in what it takes to succeed. Here is what PetrM has to say:

Remind yourself of how it all went here:
Falmouth Royal Greenwich Regatta
Bergen to Esbjerg Race
Fredrikstad to Bergen CiC
Harlingen to Fredrikstad Race
Fair winds until the next time Sailonline sails an historical vessel!
Races
Next Race: 00d 00h 00m
---
Current Races:
Carib Rum Run 2014
Rum is a pirate's drink. September 19 is International Talk Like a Pirate Day. Combine the two with Open 60s and you have SOL's annual Pirate prize race - 1759nm through the rum islands of the Caribbean, collecting rum to bring to the rum-parched beaches of Mexico. You can even race in disguise (become an SYC Member and change your boat name for this race only)!
Race #746
NOR from brainaid.de
Open 60 INFO
WX Updates: 0430 / 1030 / 1630 / 2230
Ranking: SYC
ALT. CLIENT:Classic SYCCH-
Race starts: Sep 17th 16:00 Registration Open!
GO TO RACE
Tiree to Cairn of Coli Sprint 2014
This next instalment of the sprint race series sees us flying along the 23NM from Tiree to the Cairn of Coli in a Pick Your Own Course race in 11m ODs. .
Race #741
NOR from brainaid.de
11m OD INFO
WX Updates: 0430 / 1030 / 1630 / 2230
Ranking: SPRCH-SYC
ALT. CLIENT:Classic
RACE CLOSE:Tuesday, September 16 at 0800utc
Race starts: Sep 14th 11:00 Registration Closed
GO TO RACE
Around American Samoa 2014
The first of this months editions of the Sprint Race Championship sees us tackle a 41nm lap of American Samoa in our F18s. .
Race #725
NOR from brainaid.de
F18 INFO
WX Updates: 0430 / 1030 / 1630 / 2230
Ranking: SPRCH - SYC
ALT. CLIENT:Classic
RACING
RACE CLOSE:Monday, September 15 at 1200utc
Race starts: Sep 13th 06:00 Registration Closed
GO TO RACE
Okinawa to Tokai 2014
This time of year sees some good winds in the far west Pacific Ocean. For a change of scenery, join us in a race through the Japanese islands to the mainland.
Race #737
NORfrom brainaid.de
Santa Cruz 52 POLAR
WX Updates: 0430 / 1030 / 1630 / 2230
Ranking: SYC
ALT. CLIENT:Classic
RACING
Race starts: Sep 10th 01:00 Registration Open!
GO TO RACE
Sailonline RTW 2014 - Leg 6 - Fort Lauderdale - Southampton
Welcome to the sixth and final leg of Sailonline's race replicating the record round-the-world race of yacht Steinlager between 1989 and 1990 - this Leg is from Fort Lauderdale, USA to Southampton, England - 3,797nm
Race #730
NOR from brainaid.de
Steinlager 2 POLAR
WX Updates: 0430 / 1030 / 1630 / 2230
RANKING: SYC-OCCH-SRTW
ALT. CLIENT: Classic
RACING
Race starts: Sep 01st 18:00 Registration Open!
GO TO RACE
SYC Ranking
Series
Mobile Client
SYC members have the benefit of access to our mobile/lightweight web client!