Online Sailracing!
Sailonline.org is owned and operated by Sailonline NavSim AB, a not for profit, community-owned company.
Sailonline's mission is to offer a superior internet-based sailing and navigation simulation to the global sailing community, whilst ensuring a future of growth and continuous enhancement to benefit its users through financial viability and long term vision.
Sailonline is free for everyone to play and is supported by SYC Memberships.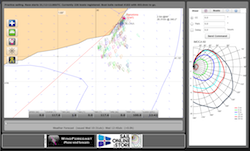 Create your account
News from the blog
Welcome!
Now login with our guest account to view currently running races: Username: guest - Password: guest
PLEASE ONLY REGISTER YOUR OWN USERNAME AND PASSWORD IF YOU INTEND TO RACE.
All times on Sailonline are in UTC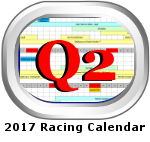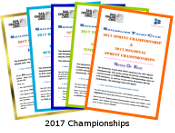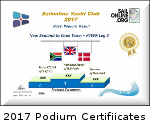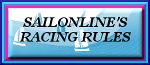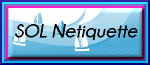 Sailonline is delighted to announce that, we will again be partnering with the prestigious San Diego Yacht Club (SDYC) for the 2017 running of the SoCal 300 race. SDYC has been racing in the waters off San Diego for 130yrs, and in 2016, was the first USA West Coast yacht club to bring virtual sailing navigation to its members and the west coast sailing community.
The SoCal 300 is the third and final ocean race of this year's California Race Week and sees the fleet race a slalom course from Santa Barbara to San Diego, starting on 1 June.

Sailonline will be going head to head with the real fleet – it is intended to bring the tracks of the real racers on-screen – and as we are racing our Santa Cruz 52 polar, there are four direct competitors in the current Entry List – Sin Duda!, Elyxir, Lucky Duck and Prevail.
Sailonline's race is now open for pre-race practice.
Current Entry List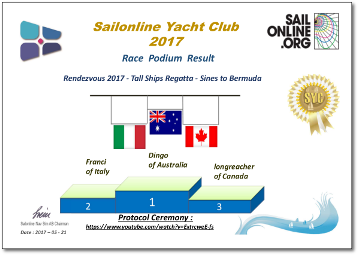 click on results image to see larger
GOOD ONYA Dingo!!!
CONGRATULAZIONI Franci!! CONGRATULATIONS longreacher!
Race Leaderboard
Images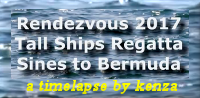 Reports




Commentary
The first Tall Ships event of the year usually signals the arrival of the summer racing season in the N Hemisphere and we race our ships around Europe. Buddied for the 7th year with Sail Training International, 2017 is a very different year as, for the first time, we are crossing the Atlantic not once, but twice in our Clippers. A small fleet of intrepid ships also made the voyage to Bermuda and while our race didn't see us stop in the Canary Islands, it was lovely to see how the real and virtual fleets performed – quite differently in the leg from Sines to the Canaries, but far closer on the Bermudan leg. If we had left the Canaries together, it is even possible that some vessels in the real fleet might have arrived before us!
The Sailonline fleet split into two, a northern and a southern group, and at one point it really seemed as if the southerners, following the traditional traded winds route, would have success, but the unconventional northern option proved ultimately to be the winner. Many congratulations to our first Tall Ships Podium of 2017. Bravo guys!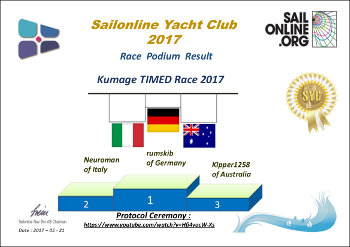 Race Leaderboard
HERZLICHEN GLÜCKWUNSCH rumskib!!!
CONGRATULAZIONI Neuroman!! GOOD ONYA Kipper1258
Commentary
This is a fun race around one of the islands in the archipelago that stretches from Japan almost as far down as Taiwan. Last raced in 2014, this straightforward "left about" island race can, because of interesting winds in the area, be rather tricky to do well in. Not only do you need to choose the optimal time to start, true of all TIMED events, but you must avoid being lulled into thinking that steering simply and infrequently will suffice. To do well you need to be hands-on!
Our excellent podium three didn't all start at the same time, although all of them, like the first 40 placed racers, did start on 12 May. Interestingly, our first and second spots were taken from a start mid-morning that day, but the third podium place was taken off a start some 4hrs later. All very well raced as can be expected. Bravo guys!

Races
Next Race: 00d 00h 00m
---
Current Races:
SoCal 300 2017
Sailonline is delighted to welcome you back to San Diego and this year's SoCal300 race, hosted by San Diego Yacht Club. As we learned last year, we need to be on our toes as there is stiff competition here on the US West coast!
Race #1053
INFO by brainaid.de
Santa Cruz 52 INFO
WX Updates: 0245 / 0845 / 1445 / 2045
Ranking: SYC
ALT. CLIENT:Classic
Race starts: Jun 01st 20:00 Registration Open!
GO TO RACE
Perth-Fremantle ISAF Sprint 2017
To celebrate the running of the 2011 ISAF World Championships in Perth, Australia, SOL organized an overnight offshore race and a Sprint: 65nm in a J-80 sportsboat along the Perth/Freemantle shoreline. 'As the crow flies', the Sprint, which we are re-enacting, crosses Rottnest Island - noteworthy indeed as the island has been identified by BirdLife International as an 'Important Bird Area' and is home to breeding pairs of a number of endangered species.
Race #1049
INFO by brainaid.de
J-80 Particulars
WX Updates:
0430 / 1030 / 1630 / 2230
Ranking:
SPRCH - SUPSOL – SPRR2 - SYC
ALT. CLIENT:Classic
RACE CLOSE: Tuesday, 30 May at 2300utc.
Race starts: May 27th 02:00 Registration Closed
GO TO RACE
Red Dot 2017 - Leg 2 - Greenland to Alaska
Inspired by Matt Rutherford's single handed circumnavigation of the Americas, and proposed by SOLer Renegade, Sailonline is racing the course in 5 legs. This is Leg 2 - 2,099nm from Nuuk, Greenland to Barrow, Alaska.
Race #1029
INFO by brainaid.de
SuperMaxi 100 Particulars
WX Updates:
0430 / 1030 / 1630 / 2230
RANKING: RedDot - SYC
ALT. CLIENT: Classic
Race starts: May 17th 10:00 Registration Open!
GO TO RACE
Rendezvous 2017 - Tall Ships Regatta - Sines to Bermuda
Welcome to the first of three Rendezvous Tall Ships events, where we race our superb Clippers across the Atlantic - a total of 3213nm from Sines, Portugal to Bermuda NOTE:Starts and Finishes in tall ships racing are well offshore to avoid conflict with shipping and shipping lanes.
Race #1031
INFO by brainaid.de
Clipper Particulars
WX Updates:
0430 / 1030 / 1630 / 2230
RANKING: TS-RDV - SYC
ALT. CLIENT: Classic
Race starts: May 01st 17:00 Registration Open!
GO TO RACE
SYC Ranking
Series
Mobile Client
SYC members have the benefit of access to our mobile/lightweight web client!