Online Sailracing!
Sailonline.org is owned and operated by Sailonline NavSim AB, a not for profit, community-owned company.
Sailonline's mission is to offer a superior internet-based sailing and navigation simulation to the global sailing community, whilst ensuring a future of growth and continuous enhancement to benefit its users through financial viability and long term vision.
All Sailonline boats and their properties are purely virtual and do not necessarily reflect real world data.
Sailonline is free for everyone to play and is supported by SYC Memberships.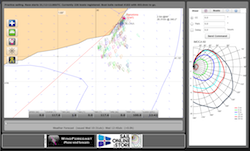 Create your account
News from the blog
Welcome!
Now login with our guest account to view currently running races: Username: guest - Password: guest
PLEASE ONLY REGISTER YOUR OWN USERNAME AND PASSWORD IF YOU INTEND TO RACE.
All times on Sailonline are in UTC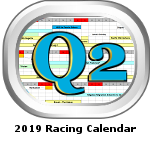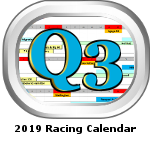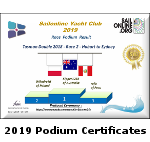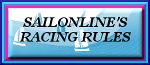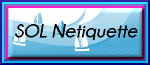 GDPR - General Data Protection Regulations
- Sailonline wishes to reassure all SOLers that it is aware of the regulation changes in relation to the protection of personal data. Sailonline cares about your privacy and will continue to let you control the personal information you provide.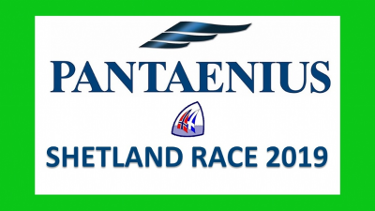 Welcome to the Pantaenius Shetland Race 2019. Once more, Sailonline will be racing with the real fleets for both legs, from Bergen, Norway, to Lerwick, Shetland and back again. Leg 1 starts close to Marsteinen Lighthouse in outer Korsfjorden south of Bergen, on Wednesday 26 June and the return leg to Bergen will start in Lerwick Harbour on Saturday 29 June. The real entry list has a range of boats participating, but Sailonline will be sailing its First 47.7 which should be reasonably in harmony with the real fleets which is a mix of 35-45 footers.
Sailonline races to Shetland (at least) twice a year, so the island group has become a virtual home-from-home in the Northern Hemisphere. Racing in the North Sea at any time of year can be challenging and, with current weather systems being strongly affected by maritime, continental and polar flows, this year's trans-North-Sea races will be interesting for sure! Sailonline's race will open for registration and pre-race practice on Sunday, 23 June.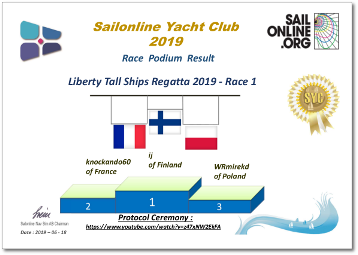 click on results image to see larger
ONNEKSI OLKOON ij!!!
FELICITATIONS knockando60!! GRATULACJE WRmirekd!
Race Leaderboard
Combined Fleet Images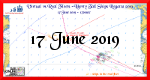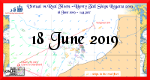 Commentary
The first #TallShips race of the year is always particularly engaging. Those who are ready for the tricky polar of whichever of our tallships we are racing, and those who are new to it are always surprised at the lack of up-wind-ability! The surprise soon fades and the traditional camps of "Love virtual Tallships" and "m'eh" soon appear… usually…. but this year didn't see much grumbling at all! In fact, the only issue was due to the super-light winds inshore leading to the real race organisers revising the IRL (In Real Life) start to the offshore mark which saw the fleet charging past our virtual one (which started off Le Havre as planned). Sailonline has a total of four races in this year's Tall Ships Series and the second of the two races in the The Liberty Tall Ships Regatta is already open for pre-race practice
Virtual Clipper ships flying the flags of 31 nations took part in this, our first race, from the tall ships festival in Rouen/Le Havre to a finish at the Vergoyer SW mark. The real ships then sailed/motored on to the tall ships festival in Scheveningen/Den Haag. The race itself saw nor'easterlies for a fair part of the event, requiring both the real and virtual fleets to tack their way to the finish! Set in the busiest shipping lane in the world, in reality this must have been more than a little fun!
Congratulations as always to our three Tall Ship Captains who steered their ships to our podium! Well done, guys!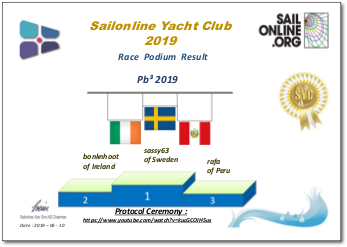 click on results image to see larger
GRATTIS sassy63!!!
MAITH AN FEAR bonknhoot!! FELICIDADES rafa!
Race Leaderboard
Commentary

For several days ahead of the start of this tricky SOL perennial, one forecast after another predicted headwinds of a moderate variety. Plenty of time then for routers to plan and hone their strategy, which required finding the right balance between tacking frequency to get inside the bend of the steadily veering wind and performance loss per executed tack on the one hand, and on the other how far to progress into the bend and take the loss of pressure hit before tacking out again.
And it was sassy63 who read this best of all, emerging with a narrow lead from bonknhoot and rafa when the angles freed half way down the coast, which despite some interesting gybing in to the finish, he defended with aplomb. Expertly sailed, sassy63!
You can follow it all in a Kenza Time Lapse recorded and produced for us by Bimmer.
Time Lapse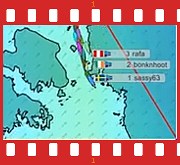 Races
Next Race: 00d 00h 00m
---
Current Races:
Pantaenius Shetland Race 2019 - Leg 1
Welcome back to outer Korsfjorden, Norway, for the first leg of two in
Shetland Race 2019 from Norway to Shetland. This Sailonline mini-series comprises two races across the North Sea and we will be racing against the real fleet in both directions.
Race #1260
INFO from brainaid.de
First 47.7 Particulars
WX Updates:
0430 / 1030 / 1630 / 2230
RANKING: Shetland - SYC
ALT. CLIENT: Classic
Race starts: Jun 26th 08:00 Registration Open!
GO TO RACE
Liberty Tall Ships Regatta 2019 - Race 2
It is time for the second of the two races of The Liberty Tall Ships Regatta 2019 which sees us leave the festival in Scheveningen and race against the real fleet the 291nm to the finish in the Skagerrak, off the Danish coast. The real ships will then sail on to the festival in Aalborg.
NOTE:Starts and Finishes in tall ships racing are offshore to avoid conflict with shipping and shipping lanes.
Race #1250
INFO by brainaid.de
Clipper 240 Particulars
WX Updates:
0430 / 1030 / 1630 / 2230
RANKING: Tall Ships - SYC
ALT. CLIENT: Classic
Race starts: Jun 25th 12:00 Registration Open!
GO TO RACE
Migaloo Migration 2019
Welcome to "Migaloo's Migration".
We will escort Migaloo, the white humpback whale, from his winter quarters near Antarctica, to his summer residence at the northern Great Barrier Reef, in our 125' catamaran.
Enjoy the 3200 NM journey.
PRIZE: SMPF
Race #1261
INFOby brainaid.de
Orange 125' Cat. Particulars
WX Updates:
0430 / 1030 / 1630 / 2230
Ranking:
OCCH-OCQ2-SUPERSOL-SYC
ALT. CLIENT:Classic
Race starts: Jun 19th 15:00 Registration Open!
GO TO RACE
Golden Globe Race 2018 - Leg 2 Storm Bay to Les-Sables d'Olonne
Welcome to Leg 2 of Sailonline's virtual version of the 2018 Golden Globe Race. After a brief respite in Storm Bay, Tasmania, of a minimum of 90 minutes after arrival, we are now racing across the Pacific, round Cape Horn and home to Les-Sables d'Olonne.
DO NOT START TOO EARLY
If you raced Leg 1 then you MUST wait 90 minutes before starting this leg. The penalty for starting Leg 2 before finishing Leg 1 is NO RANKING. The penalty for starting Leg 2 within 90 minutes of finishing Leg 1 is 5x the time you started too early.
Race #1181
INFO by brainaid.de
Rustler 36 PARTICULARS
WX Updates:
0430 / 1030 / 1630 / 2230
Ranking: GGR
ALT. CLIENT:Classic
RACE CLOSE: 30 June 2019 at 2300utc
Race starts: Sep 15th 12:00 Registration Closed
GO TO RACE
SYC Ranking
Series
Mobile Client
SYC members have the benefit of access to our mobile/lightweight web client!