24 November 2019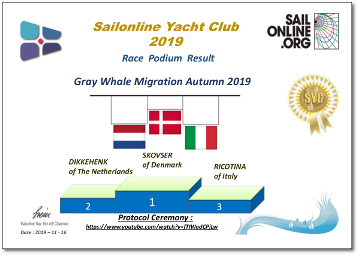 TILLYKKE SKOVSER!!!
GEFELICITEERD DIKKEHENK!! CONGRATULAZIONI RICOTINA!
Race Leaderboard
Reports

Commentary
For the eighth time Sailonline's Race Committee has picked for us the brilliant race following the migration route of the NE Pacific gray whales and this was the fifth time we have undertaken the autumn migration from the gray whale icy feeding grounds north of the Aleutians in the Bering Sea to their warm water Mexican breeding grounds. This time, we were back in our trusty 90ft Monohull which, with the Super Maxi 100, has proved a boat of choice for these migration races. Speedier by far than last year's luxurious Falkun!
The race, as always, felt to be in three parts –Bering Sea to Middleton Island, coast-hugging from Middleton Island to Cape Blanco Offshore mark, and then the free run down to Mexico's Isla Magdalena. Since we last raced, it would have been clear to us, were we there in reality that the condition of the sea for our much slower Gray Whale companions would have been as polluted and plastic strewn as before. Despite increasing awareness of the destructive impact of humanity on our marinelife and the oceans, progress towards recovery remains an almost-impossible dream but one that is, thankfully, pursued with passion by those recognising the future of mankind on our blue planet is dependent upon our helping nature restore its balance.
Gray whales average 5kts an hour and can often be seen stooging around in specific locations on their way south, providing wonderful close-up in-reality whale viewing opportunities,particular for those racers who find themselves taking planned and unintended BBQs ashore and the pursuit of new activities, such as the "Smorca Whale Watching Tours" and "Paddling Whale" (you know who you are!).
No such problems beset our excellent podium three, who fought off tough competition from a fleet flying the flags of 38 different nations, to arrive within minutes of each other. Many congratulations, guys!

Races
Next Race: 00d 00h 00m
---
Current Races:
Yates Cup TIMED Race 2019
Welcome to a replication of the shortened 2017 edition of this Category 3+ race from Auckland around the Hauraki Gulf which, on this occasion is being run in the form of a TIMEDRACE.
Also, we are pleased to introduce you to a brand-new arrival in the Sailonline boathouse, namely the MC 38. Be sure to check out its "Particulars".
Race #1306
RE-REGISTER HERE to race again after finishing a run.
Race #1306
INFOfrom brainaid.de
MC 38 Particulars
WX Updates:
0430 / 1030 / 1630 / 2230
Ranking:
TRQ4-TRCH-SUPSOL-SYC
ALT. CLIENT:Classic
Race starts: Dec 10th 12:00 Registration Open!
GO TO RACE
Fisherman's Friend 2019
A 272nm race in First 40s around the main fishing ports and grounds off Devon and Cornwall. The Western Approaches can be anything but predictable at any time of the year, but in December, with wild weather hurling itself across the Atlantic, and the occasional calm, you will need to be prepared for everything, so pack your foulies!
Race #1304
INFOby brainaid.de
First 40.7 Particulars
WX Updates:
0430 / 1030 / 1630 / 2230.
RANKING: SYC
ALT. CLIENT:Classic
Race starts: Dec 07th 14:00 Registration Open!
GO TO RACE
Christmas(W) to Christmas(E) Island 2019
Welcome to Sailonline's race to Christmas!
5,827nm in Volvo 70s provides a sailing adventure for the run up to the festive season. Our race takes us from Christmas Island in the Indian Ocean to Christmas Island in the Pacific – how many of you knew there were two?! Many routing options so please have fun! Fair winds!
Race #1303
INFO by brainaid.de
Volvo 70_v4 Particulars
WX Updates:
0430 / 1030 / 1630 / 2230
RANKING: OCCH-OCQ4-SUPSOL- SYC
PRIZE: SMPF
ALT. CLIENT: Classic
Race starts: Nov 26th 16:00 Registration Open!
GO TO RACE
SYC Ranking
Series
Mobile Client
SYC members have the benefit of access to our mobile/lightweight web client!