28 March 2018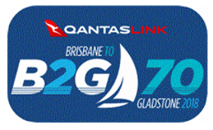 A new buddy-up so we are delighted to announce that Sailonline.org will be partnering for the first time with the Queensland Cruising Yacht Club (QCYC), to bring the QantasLink 70th Brisbane to Gladstone Yacht Race 2018 to armchair navigators around the world. The virtual race starts at the same time as the real race on Good Friday, 30th March at 11:00am local time (0100 UTC) in the waters of Moreton Bay off Brisbane.
First run in 1949, the history of the Brisbane to Gladstone Yacht Race has made it one of Australia's flagship offshore yacht races. It is an icon of Queensland and the highest profile Easter Weekend sporting event.
This year's historic 70th edition of the 308 nautical mile ocean classic will start in Moreton Bay off Shorncliffe, a bayside suburb of Brisbane. The yachts proceed via a mark off Redcliffe, then across the bay to a mark off Tangalooma, Moreton Island, through the North West Channel out to the open ocean, around the top of Fraser Island and Lady Elliot Island and through to the city of Gladstone.
Entrants will include some of the countries best racing yachts such as the Maxi 100 'Black Jack' and 'Ichi Ban', as well as a number of veteran yachts whose names are cemented in Australian yachting history – 'Bumblebee IV', 'Laurabada', 'Wistari' and 'Too Impetuous' to name a few.
First 40 "Mayfair"
The virtual B2G18 boat will have characteristics close to those of a Beneteau First 40 so participants will be able to test their navigational skills against 'Not A Diamond' and 'Mayfair', the two First 40s entered in the real race.
Sailonline's virtual race is now open for registration to allow ample time to practise. At the time of writing, 60 yachts have entered the real race. In cooperation with the Race's tracker provider, YB Tracking, Sailonline will be displaying IRC yachts and a selection of veterans on its virtual racing screen.
2018 Entry List
Livestream of the 2018 Race Start


Races
Next Race: 00d 00h 00m
---
Current Races:
2018 40' Series Championship Race 4 - Auckland to Gisbourne
After a 46 day break it's time to resume our 2018 40' series championship.
Q2 starts with the RAYC "Auckland to Gisbourne Race", 277nm down the E coast of New Zealand's N Island.

The Race Conditions contains NOR, particulars, polars and a list of used boats, and will be updated for each race in 2018, so please read it to avoid disqualification.

40' Series 2018 – Race Conditions (updated)

Race # 1141
INFOfrom brainaid.de
WX Updates:
0430 / 1030 / 1630 / 2230
Ranking:
40CH – SYC
ALT. CLIENT:Classic

Race starts: Apr 27th 02:00 Registration Open!
GO TO RACE
SWR 17/18 Leg 8 - Itajai to Newport
Hopefully you are fully recovered after the brutal leg 7?
All the boats are in tip-top shape, just waiting for you to climb on board for this very interesting leg 8 from Itajai to Newport with several independent hurdles.
Named in order of occurrence:
St Helena High:
The Trade Winds S:
On the beach:
The Doldrums:
The Trade Winds N:
Azores High:
The Westerly Stormtack:

That's it folk's.
Now you know what to expect!!!
Race #1140
INFO from brainaid.de
OD65v3 Particulars
WX Updates: 0430 / 1030 / 1630 / 2230
Ranking: 2017SWR-2018OCCH-2018SUPSOL-2018OCQ2-SYC
PRIZE: SMPF
SOL Classic Client
Race starts: Apr 22nd 17:00 Registration Open!
GO TO RACE
Lisboa TIMED Race 2018
For the fourth year in succession, Sailonline invite you to Lisboa and Setubal for a TIMED race. A long course designed by psail with the AC72 in mind, this year we will take out our more seaworthy 60ft Trimaran, so that performance loss minimalization, although still important, will become less critical, and finding that best (and longer!) period of favourable winds much more so.
RE-REGISTER HERE to race again after finishing a run.
Race #1128
INFO by brainaid.de
60ft Trimaran Particulars
WX Updates:
0430 / 1030 / 1630 / 2230
Ranking:
TRCH-SUPSOL-TRQ2-SYC
ALT CLIENT: Classic
RACE CLOSE: Thursday,
26 April at 2300utc
Race starts: Apr 06th 12:00 Registration Open!
GO TO RACE
Sundance Marine Melbourne Osaka Cup 2018 Double Handed Yacht Race
Welcome to Melbourne for the Sundance Marine Melbourne Osaka Cup 2018 Double Handed Yacht Race - a 5,500 nautical mile 2 handed yacht race and the only one running from the southern hemisphere to the northern hemisphere.
Race #1126
INFO by brainaid.de
Sunfast 3600 Particulars
WX Updates:
0430 / 1030 / 1630 / 2230
Ranking: SYC
ALT. CLIENT:Classic
INTRO BLOGPOST
Race starts: Mar 25th 04:00 Registration Closed
GO TO RACE
SYC Ranking
Series
Mobile Client
SYC members have the benefit of access to our mobile/lightweight web client!