22 November 2021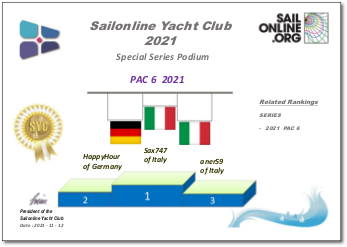 click on results image to see larger
CONGRATULAZIONI Sax747!!!
HERZLICHEN GLÜCKWUNSCH HappyHour!!
CONGRATULAZIONI aner59!
Series Results
Commentary
Without a doubt, Ocean SOLers have been treated to a veritable feast of long distance races and series in 2021. With the ESRW, which took us around the globe whilst 'loosely' hugging the equator in six long legs, wrapped up only a month ago, it is now time to pay our attention to the final results of the PAC6, another six-legged series, this time criss-cross the Pacific, of even longer legs, the PAC6. And in December, of course, our habitual 12-race Ocean Championships (OCCH) concludes with the annual Christmas to Christmas at Christmas race. Don't be surprised to see some of the PAC6 podium return to the podium again for that one, as five of the six PAC6'rs are counting towards the 2021 OCCH.
So, as we did for the ESRW, let's review what we perhaps learned on our voyages, such as… maybe…
a race from New Zealand to Peru is challenging across some very variable weather patterns
a race from Peru to Hawaii, like a race from Panama to Hawaii is mostly downwind, and takes a tediously long time
a race from Hawaii to Japan is also mostly downwind, but doesn't take as long
a race from (northern) Japan to Alaska requires you to negotiate a passage in and out the Bering Sea, which can prove to be topologically quite interesting
a race from Alaska back to Hawaii is as tricky as a race from Wellington to Lima, with the Horse Latitudes providing the unpredictably moving barrier to cross
a race from Hawaii to New Zealand is even more tricky than New Zealand Peru or Alaska Hawaii, crossing the Pacific Doldrums as it does, and then having to deal with the weather system generated by the heat emitter that is New Zealand's North Island.
But what we also learned, if we did not know this already, is that if aner59 doesn't win an ocean series, there's a good chance that he makes the podium, but also and more importantly, that the Italian Online Sailing Academy continues to provide us with a continuous stream of talent, with this time Sax747 showing us how you conquer the Pacific.
Veramente Stupendo, Sax!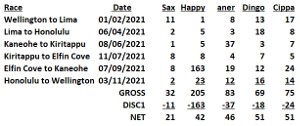 Races
Next Race: 00d 00h 00m
---
Current Races:
Cape Town to Port Elizabeth 2021


Welcome back to Cape Town. Our barely-used C2R74 awaits us for a further outing round the cape where the winds and currents of the Atlantic and Indian Ocean meet. It's 400 miles to Port Elizabeth. As always, it will be challenging!
Race #1530
INFOby brainaid.de
C2R74 PARTICULARS
WX Updates:
0430 / 1030 / 1630 / 2230
Ranking:
SYQ4 - SYCCH - SUPSOL - SYC
Race starts: Dec 07th 16:00 Registration Open!

GO TO RACE
Gray Whale Migration 2021
As temperatures begin to drop in the northern hemisphere, Eastern Pacific Gray Whales, who have spent the summer months in the nutrient rich feeding grounds of the Bering Sea, begin to make their way south to their winter home in the warm conditions off the coast of Mexico. We will be joining them for their 3,886nm migration in our 90ft monohull.
Race #1523
INFO by brainaid.de
90ft Monohull PARTICULARS
WX Updates:
0430 / 1030 / 1630 / 2230
Ranking:
SYC
Race starts: Dec 02nd 19:00 Registration Open!

GO TO RACE
Christmas Is (Pac) to Christmas Is (Ind) 2021
Welcome to Sailonline's annual festive season race for Christmas 2021! This year we will be racing our fabulous VO70_v4 the 5,827nm from Christmas Island in the Pacific to Christmas Island in the Indian Ocean. All islands between our start and finish, including the "island" of Australia are in play so enjoy whichever route you choose!
Race #1522
INFO by brainaid.de
VO70_v4 PARTICULARS
WX Updates:
0430 / 1030 / 1630 / 2230
RANKING:
OCQ4 - OCCH - SUPSOL - SYC
Race starts: Dec 01st 03:00 Registration Open!

GO TO RACE
CCA Delivery Cruising 2021 - Newport to Antigua


Welcome to Sailonline's last virtual cruise of 2021. Departing our sheltered moorings in Newport RI, we are now off to Antigua, via Bermuda some 1572nm distant. You may start at any time after 1800utc on 24 November, to arrive in English Harbour, Antigua before 1800utc on 24 December.
Race #1510
INFO by brainaid.de
Santa Cruise 52 PARTICULARS
Passport Cruise 40 PARTICULARS
WX Updates:
0430 / 1030 / 1630 / 2230
RANKING: NONE
Race starts: Nov 24th 18:00 Registration Open!

GO TO RACE
SYC Ranking
Series
Mobile Client
SYC members have the benefit of access to our mobile/lightweight web client!