21 March 2021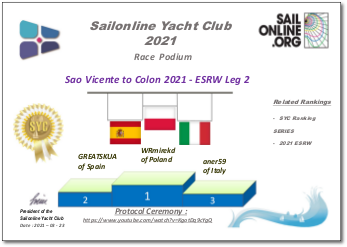 click on results image to see larger
GRATULACJE WRmirekd!!!
FELICIDADES GREATSKUA!! CONGRATULAZIONI aner59!
Race Leaderboard
Reports

Commentary
Leg 2 of the ESRW aka RWWW aka NAAH then, from Sao Vicente on the Cape Verdes to Colon at the mouth of the Panama Canal, although barely shorter at c 3300nm than Leg 1's c 3500nm from Haifa to Sao Vicente, took the first RP65s home a mere 11 days versus the best 17 day passages set for Leg 1. Nothing like fair winds and a fast boat, and thus whilst departing 4 days after a separate SOL fleet of Xp55s had left the Canaries for the Caribbean, our RP65s managed to overtake our Xp55s before reaching the Windward Isles. 10 feet and 5 tonne makes a big difference!
Undoubtedly, having two virtual identities in roughly the same place on two charts enjoying roughly the same weather (not quite – the res for ESRW2 was a rougher 1.5 x 1.5 degrees than the 1 x 1 for the race from Lanzarote) at the same time led to a bit of DC-setting confusion for some, but not the podium of course, led home by WRmirekd, who is rather in the form of his life, as indeed is aner59 who added his P3 here to the P3 he recorded in the Lanzarote Grenada race the day before. Mind you, GREATSKUA also is currently going muy bien, with his P2 adding nicely to his recent victory racing round Indochina. What a podium!

Races
Next Race: 00d 00h 00m
---
Current Races:
Jakob's Birthday BBQ Race 2021
Sailonline had two founders and Jakob, the more senior of the two, has his birthday in April and it is therefore fitting that Sailonline's tradition of celebrating this joyous event by racing like loons around the Stockholm Archipelago is upheld. Please join us in a tricky 30nm race in beautiful Linjet33s from Revengegrundet Lighthouse to a birthday BBQ by Baggensfjärden.
Grattis på födelsedagen Jakob!
Lycka till, alla!!
Race #1462
INFO by brainaid.de
Linjett 33 PARTICULARS
WX Updates:
0430 / 1030 / 1630 / 2230
Ranking: SYC
Race starts: Apr 18th 14:00 Registration will open soon

GO TO RACE
Valletta Sprint 2021
Welcome once again to the Mediterranean and a true SOL perennial. At 588nm in often light Mediterranean airs, to-date no boat – multi or maxi, SOL or IRL – has managed to best the US's Rambler's time of 47:55:03 for this course set during the 2007 Middle Sea Race. This year, we offer you our Orange 125 catamaran, so the record is on!
Race #1458
INFO by brainaid.de
Orange 125 PARTICULARS
WX Updates:
0430 / 1030 / 1630 / 2230
Ranking: SYC
RACE CLOSE: Monday,
April 19 at 2300 UTC.
Race starts: Apr 11th 16:00 Registration Open!

GO TO RACE
Guadeloupe PYOC 2021
And now… SRC presents…. the PYOC of all PYOC! It is less than 3nm from the estuary of Point-a-Pitre on the south coast of Guadeloupe to the shoal bay directly north of it on the other side of the island, but, alas, a buoyed channel that might take you there is blocked midway by a bridge and a marsh, and anyway, on the SOL chart, that channel ain't there at all. So, expect to have to sail at least 62nm in mercifully relatively nippy Seacart 30s, port- or starboard-round, to win this one, and not to show ahead of boats who just came out to watch the start, until you are nearly home.
Race #1457
INFOby brainaid.de
Seacart 30 PARTICULARS
WX Updates:
0430 / 1030 / 1630 / 2230
RANKING:
SPRQ2 - SPRCH - SUPSOL - SYC
RACE CLOSE: Wednesday,
April 14 at 2300 UTC.
Race starts: Apr 10th 16:00 Registration Closed

GO TO RACE
Lima to Honolulu 2021
Welcome to Race 2 in our PAC6 Pacific Ocean racing championship, this a 3780nm leg from Lima to Honolulu in our fast Maxi Trimaran. Hopefully the trade winds will play ball and we should have a speedy trip, with only a small chance of the doldrums testing your light air skills!
PRIZE: SMPF
Race #1461
INFOby brainaid.de
Maxi Trimaran PARTICULARS
WX Updates:
0430 / 1030 / 1630 / 2230
Ranking: PAC6-OCQ2-OCCH-SUPERSOL-SYC
Race starts: Apr 06th 21:00 Registration Open!

GO TO RACE
Cape Horn TIMED Run 2021
Welcome to Chile, welcome to Cape Horn, and welcome to a course round these inhospitable waters. This is a place with plenty of wind and strong currents. Our 161 nm triangular TIMED RUN goes around two groups of small islands that are an important nesting site for a number of southern seabirds. Last raced in 2018, we are back here in our updated IMOCA 60s to attempt the challenge once more in these wild waters!
RE-REGISTER HERE to race again after finishing a run
Race #1463
INFO by brainaid.de
IMOCA 60 v2 PARTICULARS
WX Updates:
0430 / 1030 / 1630 / 2230
RANKING:
TRQ2 - TRCH - SUPSOL - SYC
RACE CLOSE: Sunday,
18 April at 23:00 UTC
Race starts: Apr 05th 12:00 Registration Open!

GO TO RACE
SYC Ranking
Series
Mobile Client
SYC members have the benefit of access to our mobile/lightweight web client!