6 June 2021


Thirty years ago two female sailors from Royal Melbourne Yacht Squadron (RMYS) were inspired to create a women's only regatta after attending the New Zealand Women's regatta. Their goal was to encourage women to get involved in the sport of sailing. This goal is still very much at the heart of the Australian Women's Keelboat Regatta held annually at RMYS.
In 2019 the regatta attracted 40 boats and just under 300 competitors from around Australia and overseas making it the largest women-only keelboat regatta in the world. Non-local competitors generally borrow local boats unless they are close by (i.e. within 200nm). For the 2020 30th anniversary the target was even bigger with plans for 50-60 boats and 400+ competitors, but thanks to the COVID-19 pandemic the event was cancelled, and so was born the "29.5th AWKR" hosted by Sailonline (SOL)!
The entries were flowing in strongly for the 2021 30th anniversary but just two weeks before the event Melbourne was plunged in to a 7 day snap lockdown and it was decided that the event should be POSTPONED until later in the year. Again, Sailonline are delighted to have been again asked by RMYS, to offer Australia's women and all-comers, the opportunity to compete in an online one-day version of the event, helping to promote women in sailing further. So this year the "29.9th AWKR" is being hosted by SOL on June 12th which would have been the opening day of the regatta.
Sailonline's race will open for pre-race practice shortly and it is all free to participate.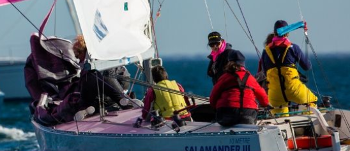 Races
Next Race: 00d 00h 00m
---
Current Races:
ESRW5 Port Noumea to Singapore 2021
For this fifth leg of the ESRW series, we depart the Pacific Ocean and head through a series of tropical seas along the 3937nm between Port Noumea and the busy port of Singapore in our Maxi Trimarans. As a change up to the last leg, there could be a variety of routing options through the many islands and straits that lie between the start and finish lines!
PRIZE: SMPF
Race #1492
INFOby brainaid.de
Maxi Trimaran PARTICULARS
WX Updates:
0430 / 1030 / 1630 / 2230
Ranking: ESRW-OCQ3-OCCH-SUPERSOL-SYC
Race starts: Aug 04th 19:00 Registration Open!

GO TO RACE
Fremantle to Bali 2021
It is time for a revival of one of Australia's iconic races, the 1427 nm long "Fremantle to Bali" race, and it's considered to be a true test of seamanship.
Last raced in 2018 using Finngulf 43s, we will do it this year in Super Maxi 100s which are considerably faster!
Race #1495
INFOby brainaid.de
Super Maxi 100 PARTICULARS
WX Updates:
0430 / 1030 / 1630 / 2230
Ranking: SYC
Race starts: Jul 28th 03:00 Registration Open!

GO TO RACE
Sailonline's Baltic Tall Ships Races 2021 - Leg 3 - Mariehamn to Szczecin



Welcome to the third race of Sailonline's 7-race Tall Ships Series 2021 which is also the final of three virtual Tall Ships races in the Baltic Sea - a race of 250nm in Clippers from Mariehamn, Finland to Szczecin, Poland.
NOTE: Starts and Finishes in tall ships racing are always offshore to avoid conflict with shipping and shipping lanes.
Race #1494
INFO by brainaid.de
Clipper 240 PARTICULARS
WX Updates:
0430 / 1030 / 1630 / 2230
Ranking: TallShips - SYC
RACE CLOSE: Wednesday, 4 August at 2300utc
Race starts: Jul 25th 14:00 Registration Open!

GO TO RACE
Kiritappu to Elfin Cove 2021
We leave the famous wetlands of Kiritappu with their beautiful summer wildflowers and head 2938nm across the northern Pacific in our Volvo70s for this fourth leg of the 2021 PAC6 series. Our destination is Elfin Cove, Alaska. Let's hope one of the twenty odd inhabitants will be there to greet us at the bar!
PRIZE: SMPF
Race #1487
INFOby brainaid.de
Volvo70v4 PARTICULARS
WX Updates:
0430 / 1030 / 1630 / 2230
Ranking: PAC6-OCQ3-OCCH-SUPERSOL-SYC
RACE CLOSE: Saturday,
July 31 at 2300 UTC.
Race starts: Jul 11th 19:00 Registration Closed

GO TO RACE
SYC Ranking
Series
Mobile Client
SYC members have the benefit of access to our mobile/lightweight web client!