10 June 2021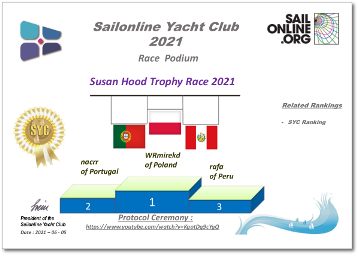 click on results image to see larger
GRATULACKJE WRmirekd!!!
PARABÉNS nacrr!! FELICIDADES rafa!
Race Leaderboard
Reports


Commentary
For some months Sailonline had been working with LOOR (Lake Ontario Offshore Racing) to offer racers three virtual events, representative of the racing available on Lake Ontario. Excitement was building for the first ever race of this new partnership but, unfortunately, as with so much since January 2021, the #COVID19 pandemic had other plans. So it was that at 0100utc on the morning of Saturday 5 June (2000EST on the Lake) a virtual-only version of the classic Susan Hood Trophy Race was raced.
The race itself looked pretty straightforward – with winds appearing relatively stable - unusually so, according to locals familiar with the course and the Lake. Such stable winds, of course, made for a particularly tricky race where trade-offs between manoeuvring and performance loss really came into the mix. As local Canadian racer Scooby said "The wind was consistent, strong enough that there weren't any of the holes so often encountered in this race - especially at Burlington where many have sat for five or six hours. The weather modelling was a great feature, really capturing the feel of being on water. Having the boat course determined by the forecast was my downfall, but that is not a SOL issue, more a napping issue from a first time SOLer!".
Sailonline would like to thank LOOR for trusting us with this first of three races in 2021 and for this new partnership – long may this association continue. For regulars on Sailonline it was a real delight to see such a healthy participation from Canada. A total of 22 Canadian-flagged boats took part in a registered fleet of 129, flying the flags of 27 nations - from now on, sailing on Lake Ontario will be known around the world! Competition for the top spots was fierce, with 20 boats arriving within 10m of the winner.
Congratulations to everyone who took part and completed the race and especially to Sailonline's podium representing Poland, Portugal and Peru.


Races
Next Race: 00d 00h 00m
---
Current Races:
ESRW5 Port Noumea to Singapore 2021
For this fifth leg of the ESRW series, we depart the Pacific Ocean and head through a series of tropical seas along the 3937nm between Port Noumea and the busy port of Singapore in our Maxi Trimarans. As a change up to the last leg, there could be a variety of routing options through the many islands and straits that lie between the start and finish lines!
PRIZE: SMPF
Race #1492
INFOby brainaid.de
Maxi Trimaran PARTICULARS
WX Updates:
0430 / 1030 / 1630 / 2230
Ranking: ESRW-OCQ3-OCCH-SUPERSOL-SYC
Race starts: Aug 04th 19:00 Registration Open!

GO TO RACE
Fremantle to Bali 2021
It is time for a revival of one of Australia's iconic races, the 1427 nm long "Fremantle to Bali" race, and it's considered to be a true test of seamanship.
Last raced in 2018 using Finngulf 43s, we will do it this year in Super Maxi 100s which are considerably faster!
Race #1495
INFOby brainaid.de
Super Maxi 100 PARTICULARS
WX Updates:
0430 / 1030 / 1630 / 2230
Ranking: SYC
Race starts: Jul 28th 03:00 Registration Open!

GO TO RACE
Sailonline's Baltic Tall Ships Races 2021 - Leg 3 - Mariehamn to Szczecin



Welcome to the third race of Sailonline's 7-race Tall Ships Series 2021 which is also the final of three virtual Tall Ships races in the Baltic Sea - a race of 250nm in Clippers from Mariehamn, Finland to Szczecin, Poland.
NOTE: Starts and Finishes in tall ships racing are always offshore to avoid conflict with shipping and shipping lanes.
Race #1494
INFO by brainaid.de
Clipper 240 PARTICULARS
WX Updates:
0430 / 1030 / 1630 / 2230
Ranking: TallShips - SYC
RACE CLOSE: Wednesday, 4 August at 2300utc
Race starts: Jul 25th 14:00 Registration Open!

GO TO RACE
Kiritappu to Elfin Cove 2021
We leave the famous wetlands of Kiritappu with their beautiful summer wildflowers and head 2938nm across the northern Pacific in our Volvo70s for this fourth leg of the 2021 PAC6 series. Our destination is Elfin Cove, Alaska. Let's hope one of the twenty odd inhabitants will be there to greet us at the bar!
PRIZE: SMPF
Race #1487
INFOby brainaid.de
Volvo70v4 PARTICULARS
WX Updates:
0430 / 1030 / 1630 / 2230
Ranking: PAC6-OCQ3-OCCH-SUPERSOL-SYC
RACE CLOSE: Saturday,
July 31 at 2300 UTC.
Race starts: Jul 11th 19:00 Registration Closed

GO TO RACE
SYC Ranking
Series
Mobile Client
SYC members have the benefit of access to our mobile/lightweight web client!