17 February 2021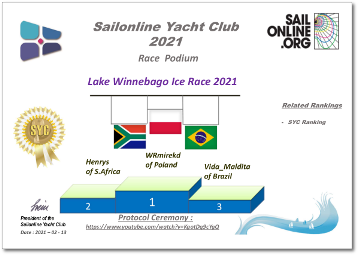 click on results image to see larger
GRATULACJE WRmirekd!!!
CONGRATULATIONS Henrys!! PARABÉNS Vida_Maldita!
Race Leaderboard
Reports


Commentary
Sailonline first came to race on Lake Winnebago after a then-regular SOLer, Bgosh, announced that he was opening a bar and grill at Eureka Landings, just inshore of the Lake and not far from Oshkosh. Back then we didn't have an iceboat so in our Mini 6.5s we imagined what it would be like zooming across the ice, avoiding the fish shanties put up each year by the sturgeon harpoon fishermen. Racing the lake became one of Sailonline's "classic" races – making part of our tradition and, even though he stopped sailing on Sailonline, we'd always raise a virtual glass to Bgosh as we passed by where his bar was. One year he even put the Sailonline race on the giant smartscreen over his bar – fascinating customers that people all over the world at that very moment were pretending to race iceboats on their lake! After that, most years one of his SOL chums would update us on how things were at the bar and so it was with great sadness that we learned this year that Bgosh had succumbed to #COVID19 (more info here), so it was with additional poignance that SOLers old and new raised their virtual glasses to BGosh's memory as they sped at 49kts or so past Eureka Landings! He'd have liked that!
Emerging from the warmth of the NNYC Club House on to the ice at Neenah must be a real shock to the system. Through the Fox River Webcamswe can keep an eye on the actual conditions on the lake. The race is a furious two-laps of Lake Winnebago in our DN Iceboats which have zero performance loss – it really is a skidding round the turns kind of affair – and this year 154 boats registered for the race, flying the flags of 29 different nations. As ever, there were casualties as the pace of the event took its toll on some racers, so the course at close has several boats bbq-ing along the Lake's shoreline. The podium battle was tremendous – the final three top finishers with only 43s between them – and a total of 43 boats finished within 10m of our winner! Congratulations to our 2021 Iceboat Victors!


Races
Next Race: 00d 00h 00m
---
Current Races:
Bora Experience 2021
Visit the Adriatic Sea for Bora Experience 2021.
Bora winds are feared by local sailors and tend to blow most strongly during the winter months, reaching record speeds above 200 km/h (125 mph). In our virtual Seascape 18 we fear not, and you are invited to race from Venice to Dubrovnik, navigating between the islands along the Croatian coast.
Race #1448
INFO by brainaid.de
Seascape 18 PARTICULARS
WX Updates:
0430 / 1030 / 1630 / 2230
Ranking: SYC
Race starts: Feb 27th 16:00 Registration Open!

GO TO RACE
New Hebrides Slalom 2021
Welcome… back to the carved-out coastal backdrop of New Caledonia's opencast nickel mines, for a quick getaway in elegant Italia 14.98's to the islands of the Coral Sea across the Loyaute Basin and on via a mazy zig-zag north to a finish line in exotic Vanuatu's Big Bay. Only 578nm; enjoy!
Race #1425
INFOby brainaid.de
Italia 14.98 Particulars
WX Updates:
0430 / 1030 / 1630 / 2230
Ranking:
SYQ1 - SYCCH - SUPSOL - SYC
Race starts: Feb 23rd 18:00 Registration Open!

GO TO RACE
Lady Barron's Dogs 2021
Top right above Tasmania lies the Furneaux Group and between its main two islands of Cape Barren and Flinders we find Franklin Sound, named after intrepid navigator Sir John Franklin, KCH FRS FLS FRGS, Lieutenant Governor of Van Diemen's Land (Tasmania) from 1837 to 1844, in between his first three and his final and fatal expedition to seek the North West Passage on the other side of the world. Lady Barron is the Group's main town and several of the islets in the Sound are known as Dogs, and so SRC stalwart Renegade invites you to come and 'walk the dogs' – 26nm in MC38s. Woof!
Race #1424
INFO by brainaid.de
MC38 PARTICULARS
WX Updates:
0430 / 1030 / 1630 / 2230
Ranking:
SPRQ1 - SPRCH - SUPSOL - SYC
RACE CLOSE: Thursday,
February 25 at 2300 UTC.
Race starts: Feb 20th 19:00 Registration Closed

GO TO RACE
Pacific NW Inshore 2021
Welcome to our generally biennial 137nm SOL Classic, from Seattle to Vancouver, past historic Port Townsend, home of the famous wooden boat festival, then on past Whale Watch Park where there is often a pod of orca whales to be seen, continuing on round and through the beautiful San Juan Islands Nature Reserve and then up into the Strait of Georgia for a finish in English Bay. This year in J-122s, flying gennakers downwind when the usually fitful nam_awip winds permit!
Race #1447
INFO by brainaid.de
J-122 PARTICULARS
NAM_AWIP WX Updates:
0245 / 0845 / 1445 / 2045
Ranking: SYC
RACE CLOSE: Saturday,
February 27 at 2300 UTC.
Race starts: Feb 16th 17:00 Registration Closed

GO TO RACE
Aland Sea TIMED Race 2021
Norrtalje Segelsallskap, 70km NE of Stockholm was founded in 1920, and time was when the society's season opened with a challenging offshore race from the club line off Flaten island at the mouth of the long and narrow Norrtaljeviken, out onto a triangular course around the Aland Sea, to finish at Simpnas slightly to the north on Bjorko island - some 78nm in total. A fine race that SOL, being from these parts, ran annually up until 2013. Last run in autumn 2018, we return here to race the course again in the form a TIMED RUN in our flashy Club Swan 50s.
RE-REGISTER HERE to race again after finishing a run.
Race #1444
INFO by brainaid.de
Club Swan 50 Particulars
WX Updates:
0430 / 1030 / 1630 / 2230
RANKING:
TRQ1 - TRCH - SUPSOL - SYC
RACE CLOSE: Sunday, 28 February at 23:00 UTC
Race starts: Feb 15th 12:00 Registration Open!

GO TO RACE
CCA Delivery Cruise 1 2021 - Sandwich MA to Halifax NS


The Cruising Club of America invites you to join them on a (virtual) delivery cruise starting from Sandwich, Massachusetts, the oldest town on Cape Cod in the USA to Halifax, Nova Scotia, Canada, some 354nm away. Once we clear the tip of Cape Cod at Race Point our rhumb line course will be 70 deg T for 225nm across the Gulf of Maine to Cape Sable NS, so the best delivery departure window for sparing the crew and gear pounding into a northeast winter gale across Browns Bank will likely be following a frontal passage with strong favorable westerly winds. You may choose one of two boats, both tailored for cruising and new to Sailonline's boathouse, so flip a coin, study their Particulars sheets and make ready! You may start at any time after 1900utc on 8 February 2021 and you must arrive in Halifax by 4 March at 2300utc.
Race #1417
INFO by brainaid.de
Santa Cruise 52 PARTICULARS
Passport Cruise 40 PARTICULARS
WX Updates:
0430 / 1030 / 1630 / 2230
RANKING: NONE
Race starts: Feb 08th 19:00 Registration Open!

GO TO RACE
Haifa to Sao Vicente - 2021 ESRW - Leg 1
Welcome to bonknhoot's alternative round the world race, there where it is wide, in six legs, following the setting sun – the ESRW Equatorial Sailonline Round the World Race; equatorial to differentiate it from more traditional antarctical circumnavigations. Expect then to cross the equator frequently, although on this 3500nm first leg from Haifa to the Cape Verdes in Ker 40s you should probably stay north of it. Being a proper ocean race, there are no intermediate waypoints, but please try to leave Tangiers to port anyway.
Race #1427
INFO by brainaid.de
Ker 40 PARTICULARS
WX Updates:
0430 / 1030 / 1630 / 2230
Ranking: ESRW - SYC
RACE CLOSE: Thursday,
March 4 at 2300 UTC.
Race starts: Feb 05th 16:00 Registration Closed

GO TO RACE
SYC Ranking
Series
Mobile Client
SYC members have the benefit of access to our mobile/lightweight web client!