9 October 2020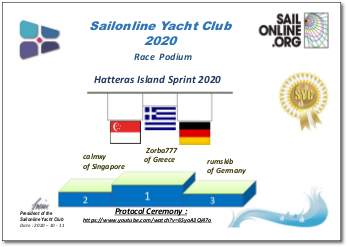 click on results image to see larger
ΣΥΓΧΑΡΗΤΉΡΙΑ Zorba777!!!
CONGRATULATIONS calmxy!!
HERZLICHEN GLÜCKWUNSCH rumskib!
Race Leaderboard
Reports


Commentary
Well that was fun! With only a light and dying underlying synoptic southerly zephyr, wrf modelled us some considerable variation in direction, which one suspects erven the best routing software in the world would have had difficulty analysing 100% correctly, and so it was 'seat-of-the-pants' supported or not by a router, that undoubtedly won the day. Thus, as we headed south west, tacking regularly to keep close to the Hatteras inshore beach, the wind, initially anti-clocking slowly, reversed completely and as we turned the western tip of the island, we were gybing and hardening up onto another beat this time north east and out to sea, for the wind to reverse entirely again, making the eastern end of the line quite favoured, and just about lay-able without putting in an extra gybe.
Read Satori's expansive report and Zorba777's slightly shorter but well-illustrated one under the buttons above. Extraordinary stuff, and apart from deciding how often to tack to hug the beach, judging when to tack and how to curve to your lay-points whilst easing sheets proved quite a challenge, which on this occasion Zorba777 managed best of all for his premier first on Sailonline, just pipping calmxy, who had led for much of the race, with the redoubtable rumskib coming in third. A very fine podium!

Races
Next Race: 00d 00h 00m
---
Current Races:
Two Oceans Doublecross 2020
This race was first designed for Sailonline in 2010 by SOLer Jawz, and now, ten years on, we again invite you to sail our Fox 9.50s the 185nm around Cape Point and twice over the imaginary line demarcating the meeting of the Atlantic and Indian Oceans. Count the number of wrecks of previous vessels both old and new that underestimated the fury of the Cape of Storms! Celebrate your survival at the Tavern of the Seas.
Race #1403
INFO by brainaid.de
Fox 9.50 PARTICULARS
WX Updates:
0430 / 1030 / 1630 / 2230
Ranking: SYC
ALT. CLIENT:Classic
Race starts: Oct 29th 16:00 Registration Open!
HTML5 Client (beta) GO TO RACE
The Odyssey 2020 - Leg 2
Welcome back to the second leg of Sailonline's Virtual Odyssey which takes us from Cape Maleas at the south eastern tip of the Peloponnese across the Mediterranean to the land of the drug-dependent Lotus Eaters, probably Djerba on the Tunisian coast, where Odysseus nearly tarries too long, but gets away in time, only to end up on the southern coast of Sicily near present-day Sciacca, where a one-eyed cyclops named Polyphemus holds terrible sway and has to be dealt with after he has devoured a number of the crew. 850nm of epic adventure; enjoy!
Race #1389
INFOby brainaid.de
Trireme PARTICULARS
WX Updates:
0430 / 1030 / 1630 / 2230
Ranking: SYC - ODY
ALT. CLIENT: Classic
Race starts: Oct 27th 16:00 Registration Open!
HTML5 Client (beta) GO TO RACE
Sailonline's South China Sea Classic 2020
Welcome to the South China Sea and a fun downwind course of 366nm in TP52s from Lantau Island, Hong Kong to the island of Hainan in southern China.
Race #1402
INFO by brainaid.de
TP-52 PARTICULARS
WX Updates:
0430 / 1030 / 1630 / 2230
RANKING:
SYCQ4 - SYCCH - SUPSOL -SYC
ALT. CLIENT: Classic
RACE CLOSE: Thursday, 29 October at 2300utc
Race starts: Oct 23rd 03:15 Registration Closed
HTML5 Client (beta) GO TO RACE
Uruguay to Cascais - 2020 RTW - Leg 4
The last leg of Sailonline's Round the World Race 2020 takes racers from Punta del Este, deep in the South Atlantic, to Portugal's Cascais on the North Atlantic seaboard. More than 5000nm of almost only open water, bar three easily avoidable, well-known island groups and Fernando de Noronha and Madeira, in our much-loved Orange 125ft catamaran for your leisurely enjoyment of only wind, wind and wind and maybe some wine, chat and cheese!
PRIZE: SMPF
Race #1399
INFO from brainaid.de
Orange 125ft Particulars
WX Updates:
0430 / 1030 / 1630 / 2230
Ranking: OCQ4 - OCCH - SUPSOL - SYC - RTW20
ALT. CLIENT:Classic
RACE CLOSE: Thursday,
October 29 at 2300 UTC.
Race starts: Oct 02nd 20:00 Registration Closed
HTML5 Client (beta) GO TO RACE
SYC Ranking
Series
Mobile Client
SYC members have the benefit of access to our mobile/lightweight web client!