19 November 2020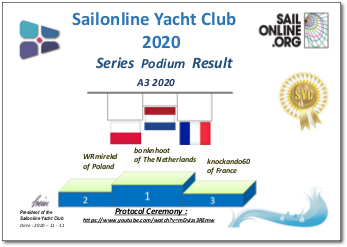 click on results image to see larger
GEFELICITEERD bonknhoot!!!
GRATULACJE WRmirekd!! FELICITATIONS knockando66!
Race Leaderboard
Reports
Commentary
For most of 2020, a fine fleet of SOLers have been racing round Australia, departing from the late and great SOLer Aaron Gage's home Brighton & Seacliff Yacht Club in First 47.7s in early January to return there, after nine gruelling legs, this November, now sailing Volvo 70s, having shredded various other machines in between. In total, 164 Sailonline Yacht Club members flying the club burgee competed in at least one of the legs, but at least double that number of competitors must have been out in one or more legs, as the number of starters regularly exceeded 200, and the number of entrants sometimes 250.
bonknhoot was on very strong and consistent form throughout and had the series won with a race to spare. How he managed that you can read in his extensive report under the button above. Well done, bonk!

Races
Next Race: 00d 00h 00m
---
Current Races:
Cape Town to Port Elizabeth 2020
Welcome back to Cape Town. Our new C2R74 awaits us for a second outing ahead of next month's virtual Cape Town to Rio race. The winds and currents where the Atlantic and Indian Oceans meet are a phenomenal test for all yachties, so this race takes us straight through that zone, teeming also with marine life, for 400 miles to Port Elizabeth. Are you ready to meet this challenge?
Race #1414
INFOby brainaid.de
C2R74 PARTICULARS
WX Updates:
0430 / 1030 / 1630 / 2230
Ranking:
SYCQ4 - SYCCH - SUPSOL - SYC
ALT. CLIENT:Classic
Race starts: Dec 07th 16:00 Registration Open!
HTML5 Client (beta) GO TO RACE
Christmas to Christmas Island 2020
Welcome to Sailonline's race to Christmas 2020! This year we will be racing our fabulous OD65 the 5,827nm from Christmas Island in the Pacific to Christmas Island in the Indian Ocean. All islands between our start and finish, including the "island" of Australia is in play so - enjoy whichever route you choose!
PRIZE: SMPF
Race #1413
INFO by brainaid.de
OD65 v3 PARTICULARS
WX Updates:
0430 / 1030 / 1630 / 2230
RANKING:
OCQ4 - OCCH - SUPSOL - SYC
ALT. CLIENT: Classic
Race starts: Dec 01st 16:00 Registration Open!
HTML5 Client (beta) GO TO RACE
The Odyssey 2020 - Leg 3
Leaving a blinded cyclops behind, Odysseus is immediately blown off course again, now to Pantelleria where Aeolus gifts him a bag of wind for later. Sailing on, he next reaches Telepylos, which could be back on the African coast or present-day Favignana off north west Sicily. Our Leg 3 opts for Favignana, which turns out to be inhabited by Laestryonians who start to eat the crew. To get away, the wind bag is opened too soon and they carene on north to the land of the sorceress Circe, who turns the remaining crew into pigs for a year. But once more they get away, finally in the right direction, passing the Sirens on the coast of present-day Amalfi, to end up in The Underworld, the island Vulcano. 550 exhausting miles of mayhem!
Race #1390
INFOby brainaid.de
Trireme PARTICULARS
WX Updates:
0430 / 1030 / 1630 / 2230
Ranking: SYC - ODY
ALT. CLIENT: Classic
RACE CLOSE: Thursday,
December 10 at 2300 UTC.
Race starts: Nov 27th 17:00 Registration Closed
HTML5 Client (beta) GO TO RACE
SYC Ranking
Series
Mobile Client
SYC members have the benefit of access to our mobile/lightweight web client!