16 June 2020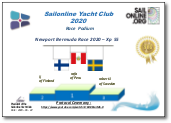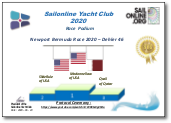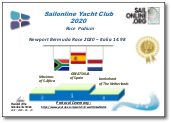 click on results image to see larger
FELICIDADES rafa!!!
ONNITTELUT ij!! GRATTIS robert1!
GOOD JOB Modonnellaw!!!
WELL DONE SlideRule!! WELL DONE QSail!
FELICIDADES GREATSKUA!!!
CONGRATULATIONS Maximus!! GEFELICITEERD bonknhoot!
CONGRATULATIONS midnightexpress!!!
WELL DONE SloanBurns!! PARABÉNS OscarBoteco1!
Race Leaderboard
Reports












Commentary

More than two hundred 'locked-down' IRL Bermuda voyagers doubled Sailonline's usual fleet size to over 500 virtual yachts on the line for the 2020 Virtual NBR, and in four classes. And as you will glean from the many excellent reports you may peruse above, the competition was fierce. There are 14 in total, but two are multi-authored by respectively members of the Mamaroneck Frostbite Association and the Royal Melboune Yacht Squadron. They are well worth a read. Plenty of tips and plenty of humour, from both IRL sailors and veteran SOLors. And there's much more again on the very excellent shared website of the IRL organising yacht clubs, the Cruising Club of America and the Royal Bermuda Yacht club, under the button immediately below.

The race itself was all about how to negotiate a great dearth of wind lying square across the entire racing arena, and it was Peru's rafa, who, by choosing the fastest boat in fleet and the shortest distance (two good ideas!) took line honours, with some fifty sister ships streaming in behind until Spain's GREATSKUA, in the first Italia 14.98 interrupted the Danish design's hegemony. The most intense battling was probably found in the Dehler 46s, the largest fleet, and where three SOL newcomers but experienced IRL navigators took all the podium spots, with Modonnellaw just shading it from SlideRule, both from the USA. The two-handed Sun Fast 3300s were last to come in. In light winds length matters, but the racing was just as fierce as in the other divisions, with the UK's midnightexpress in the end getting the gun. Well sailed all!

Races
Next Race: 00d 00h 00m
---
Current Races:
Virtual AWKR Race 2021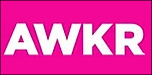 The Australian Women's Keelboat Regatta celebrates and promotes women's sailing in Australia and each year includes a 27nm round the cans race in Port Phillip Bay. This year the Regatta is being postponed due to #COVID19 measures, but Sailonline's Virtual AWKR Race 2021 in First 27s is going ahead - prepare for some excellent Australian competition!
Race #1377
INFO
by brainaid.de
First 27
PARTICULARS
WX Updates:
0430 / 1030 / 1630 / 2230
Ranking: SYC
Race starts:
Jun 12th 01:00
Registration Open!
GO TO RACE
Kaneohe to Kiritappu 2021
It's time to say goodbye to Hawaii and head to leg 3 of the PAC6 Pacific Ocean racing championship. Ahead of us is 3108 nm across the northwest Pacific Ocean from Kaneohe Bay to Kiritappu, Japan. Our Maxi Trimaran's are still undergoing the necessary repairs, so leg 3 we will be racing VO70. Fair winds and see you at the finish line of Kiritappu.
Race #1475
INFO by brainaid.de
VO70_v4 PARTICULARS
WX Updates:
0430 / 1030 / 1630 / 2230
Ranking: SYC - PAC6
Race starts: Jun 08th 22:00 Registration Closed

GO TO RACE
ESRW Honolulu to Port Noumea 2021
Time to stow all warm weather gear as this outing we undertake the 3350nm fourth leg of our fabulous equatorial round the world race (ESRW) from Honolulu across the equator to Port Noumea in our Steinlager 2. We did tell you to bring lots of sunburn cream for this series!
PRIZE: SMPF
Race #1473
INFOby brainaid.de
Steinlager 2 PARTICULARS
WX Updates:
0430 / 1030 / 1630 / 2230
Ranking: ESRW-OCQ2-OCCH-SUPERSOL-SYC
Race starts: Jun 06th 21:00 Registration Open!

GO TO RACE
Vinland Rally 2021


Welcome back to virtual cruising. This time our cruise starts from Reykjavik, Iceland and after calling in at Taliisaq and Nanortaliq in Greenland, and Cartwright Harbor in Labrador, we finish at L'Anse aux Meadows Historic Site, an archaeological site that may well prove to be Leif Erikson's 1001 AD Markland settlement, evidencing Viking arrival in N America. You may start at any time after 1700utc on 20 May, to arrive in l'Anse aux Meadows by 2300utc on 26 June.
Race #1470
INFO by brainaid.de
Santa Cruise 52 PARTICULARS
Passport Cruise 40 PARTICULARS
WX Updates:
0430 / 1030 / 1630 / 2230
RANKING: NONE
Race starts: May 20th 17:00 Registration Open!

GO TO RACE
SYC Ranking
Series
Mobile Client
SYC members have the benefit of access to our mobile/lightweight web client!