2 February 2020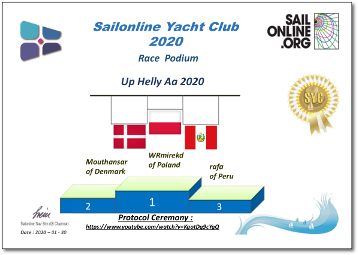 click on results image to see larger
GRATULACJE WRmirekd!!!
TILLYKKE Mouthansar!! FELICIDADES rafa!
Race Leaderboard
Commentary
Sailonline is celebrating a decade of racing in association with Promote Shetland, from Aberdeen on the NE Coast of the Scottish Mainland, to the Up Helly Aa fire festival in Lerwick, Shetland Islands. This year the race began the day before the event, which meant that the fleet, encountering unusually light conditions in the Moray Firth and rounding the Moray mark, were all still racing as the Parade began. Some tremendous footage was livestreamed via Shetland Webcams although race chat was relatively quiet, apart from a couple of fierce Up Helly Aa aficionados!
The fleet remained fairly strung out, as conditions improved a little as it arrived at the slalom section of the race, around Gruney, down to leave Samphrey to port, looping up and around the top of Shetland to dive down again, this time through Bluemull Sound, to skirt Hascosay and enter Lerwick Harbour from the Nort to finish in front of the town.
This entertaining and challenging course requires tremendous stamina to complete without bbq-ing, most of us fail in the endeavour, but our fabulous podium three, along with their immediate followers, are to be congratulated on their success. Congratulations on setting a super example for the rest of us!
As always, Sailonline would like to thank Shetland Tourism for letting us share in the Up Helly Aa experience and promoting our race on their website. This year our fleet was flying the flags of 34 nations, bringing Shetland's fire festival experience truly to all corners of the sailing world!

Race Timelapse by Bimmer (incl. Up Helly Aa song)

Races
Next Race: 00d 00h 00m
---
Current Races:
SSANZ Round North Island Race 2020 - Leg 2
After our first familiarisation leg and a brief stopover in Mangonui, it is time for the toughest leg in this four-race series - a run of 491nm across the top and down the entire West coast of New Zealand's North Island, to the nation's capital, Wellington. Race well!
Race #1324
INFO by brainaid.de
Class 40 Particulars
WX Updates:
0430 / 1030 / 1630 / 2230
Ranking: RNI - SYC
ALT. CLIENT: Classic
Race starts: Feb 23rd 23:00 Registration Open!
New HTML5 Client GO TO RACE
Dondra to Sanya 2020
Rested and recreated after a perhaps longer than anticipated G&T-fuelled stay on the Indian sub-continent's premier holiday island, it is time to muster your OD65's crew and sail on for Sanya at the top of the South China Sea. A tricky passage of c 2500nm generally against the prevailing winds, with one or other Indonesian strait requiring careful navigational attention!
PRIZE: SMPF
Race #1309
INFOby brainaid.de
OD65v3 Particulars
WX Updates:
0430 / 1030 / 1630 / 2230
Ranking:
OCCH - OCQ1 - SUPSOL - SYC
ALT. CLIENT: Classic
RACE CLOSE: Friday,
February 28 at 2300 UTC.
Race starts: Feb 06th 18:00 Registration Closed
New HTML5 Client GO TO RACE
SYC Ranking
Series
Mobile Client
SYC members have the benefit of access to our mobile/lightweight web client!