30 August 2020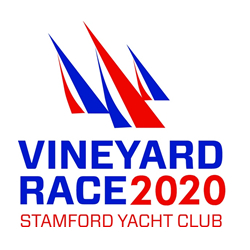 This Labor Day weekend (4-7 September) the Stamford Yacht Club, Connecticut, USA, will be welcoming Sailonline back for the 86th running of the 238-mile Vineyard Race. This will be the 11th consecutive year that Stamford Yacht Club and Sailonline have joined together to offer a virtual Vineyard Race! The course itself can be challenging, with conditions in Long Island Sound strongly influenced by weather systems rolling up the US East Coast and by the strong tidal currents up and down the Sound.
Sailonline will be racing our virtual J/122, a new addition to the boathouse and one associated with Sailonline top performer, bonknhoot. There are two J-122s racing in Class 11 – 'Moxiee' and 'Summer Grace'. Lets see how the virtual fleet can go against them.
Sailonline's race will open shortly for pre-race practice and will start with the real Vineyard fleet on the 4th September at 1705utc.
Stamford Yacht Club has also announced that that Vineyard Race 2020 baseball caps will once again be awarded to the three Sailonline podium placers. Iconic prizes worth racing for and a great memento of success in this classic race.
Current Entry List
Race Tracker

Races
Next Race: 00d 00h 00m
---
Current Races:
Uruguay to Cascais - 2020 RTW - Leg 4
The last leg of Sailonline's Round the World Race 2020 takes racers from Punta del Este, deep in the South Atlantic, to Portugal's Cascais on the North Atlantic seaboard. More than 5000nm of almost only open water, bar three easily avoidable, well-known island groups and Fernando de Noronha and Madeira, in our much-loved Orange 125ft catamaran for your leisurely enjoyment of only wind, wind and wind and maybe some wine, chat and cheese!
PRIZE: SMPF
Race #1399
INFO from brainaid.de
Orange 125ft Particulars
WX Updates:
0430 / 1030 / 1630 / 2230
Ranking: OCQ4 - OCCH - SUPSOL - SYC - RTW20
ALT. CLIENT:Classic
Race starts: Oct 02nd 20:00 Registration Open!
HTML5 Client (beta) GO TO RACE
San Francisco Bay 2020
Many a Sailonline race has started or finished at San Francisco's Golden Gate, but never have we raced inside The Bridge on The Bay. This 27nm sprint corrects that oversight with a fine sight-seeing tour past Alcatraz, Yerba Buena, Brooks and East Marin Island. Our rarely raced Fox 9.50 is your boat of choice. She's a nippy little thing. Enjoy!
Race #1369
INFO by brainaid.de
Fox 9.50 Particulars
NAM_AWIP WX Updates:
0245 / 0845 / 1445 / 2045
Ranking:
SPRCH - SUPSOL - SPRQ3 - SYC
ALT. CLIENT:Classic
RACE CLOSE: Wednesday,
September 30 at 2300 UTC.
Race starts: Sep 26th 19:00 Registration Open!
HTML5 Client (beta) GO TO RACE
A3 2020 Leg 8 - Darwin to Perth
In 2012 Sailonline lost one of its more remarkable racers, Aaron Gage, the creator of the Flash client and all-round awesome human being. In his memory, Tyger created a superb series of races around the island of Australia - the A3 (Agage's Around Australia) Series. This race is Leg 8 of the series - a race of 1860nm in Orange 125ft Catamarans from the laid back north to the booming mining capital and yachting centre of Perth in the south of the state of Western Australia.
Race #1386
INFO from brainaid.de
Orange 125ft Catamaran Particulars
WX Updates:
0430 / 1030 / 1630 / 2230
Ranking: A3 - SYC
ALT CLIENT:Classic
Race starts: Sep 22nd 21:00 Registration Open!
HTML5 Client (beta) GO TO RACE
Foveaux Strait TIMED Race 2020
Welcome to southern New Zealand, and welcome to this TIMED race through the South Island's Foveaux Strait. According to a Maori legend, the strait was created by Kewa the obedient whale when traditional Maori ancestor Kiwa summoned the whale to create a waterway. It is a rough and often treacherous stretch of water. Our 98nm quadrangular course goes around some small islands in the strait. To zoom around these islands in style, we will pull our Seacart 30s out of the shed and let them fly. Enjoy!
RE-REGISTER HERE to race again after finishing a run.
Race #1375
INFO by brainaid.de
Seacart30 Particulars
WX Updates:
0430 / 1030 / 1630 / 2230
RANKING:
TRCH-SUPSOL-TRQ3-SYC
ALT. CLIENT: Classic
RACE CLOSE: Monday,
27 September at 2300utc
Race starts: Sep 14th 12:00 Registration Open!
HTML5 Client (beta) GO TO RACE
Carib Rum Run 2020



Welcome to the Caribbean and Sailonline's 2020 Pirate Name PRIZE race, running with Bart's Bash and ahead of International Talk Like a Pirate Day on 19 September. This is a 1759nm slalom through the rum islands of the Caribbean, for the first time in a Clipper, collecting barrels from the region's distilleries and carrying them to the rum-parched beaches of Cancun, Mexico. If ye scurvy swabs are up ter it, then ye be invited to attire yerselves in a piratical disguise by becoming an SYC Member and requesting to change your boat name for this race only!
Race #1384
INFO from brainaid.de
Clipper 240 Particulars
WX Updates:
0430 / 1030 / 1630 / 2230
Ranking: SYC
ALT. CLIENT:Classic
Race starts: Sep 10th 17:00 Registration Closed
HTML5 Client (beta) GO TO RACE
SYC Ranking
Series
Mobile Client
SYC members have the benefit of access to our mobile/lightweight web client!