9 September 2019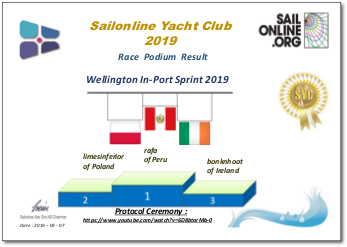 click on results image to see larger
FELICIDADES rafa!!!
GRATULACJE limesinferior!! MAITH AN FEAR bonknhoot!
Race Leaderboard
Reports

Commentary
Twenty-four hours before the start of this little in-port race, it looked like it was going to be one of the shortest ever sprints and a major exercise in pseudo-boathandling on board our Volvo 70 beasts; the challenge being how to keep performance above 92%. But then the weather changed and in any other boat than a 70, a long drifter till the early hours of the European dawn would have been on the cards. Not in our Volvo 70s though, so what we got was a race with a lot of wind strategy and another mighty weather change a half hour after the start, to challenge us further, as we tried to look ahead whilst simultaneously rounding tricky capes and islands. The beauty of wrf modelling superimposed on light air synoptics!
A tricky race then, and all will surely say they made mistakes, expect perhaps rafa, who gave us a near-faultless display of routing and cornering, taking the win by a mere 7 seconds, mind you, from limesinferior, making a welcome return to sol after having been away. Impressive stuff from both solers!!

Races
Next Race: 00d 00h 00m
---
Current Races:
SSANZ Round North Island Race 2020 - Leg 2
After our first familiarisation leg and a brief stopover in Mangonui, it is time for the toughest leg in this four-race series - a run of 491nm across the top and down the entire West coast of New Zealand's North Island, to the nation's capital, Wellington. Race well!
Race #1324
INFO by brainaid.de
Class 40 Particulars
WX Updates:
0430 / 1030 / 1630 / 2230
Ranking: RNI - SYC
ALT. CLIENT: Classic
Race starts: Feb 23rd 23:00 Registration Open!
New HTML5 Client GO TO RACE
Dondra to Sanya 2020
Rested and recreated after a perhaps longer than anticipated G&T-fuelled stay on the Indian sub-continent's premier holiday island, it is time to muster your OD65's crew and sail on for Sanya at the top of the South China Sea. A tricky passage of c 2500nm generally against the prevailing winds, with one or other Indonesian strait requiring careful navigational attention!
PRIZE: SMPF
Race #1309
INFOby brainaid.de
OD65v3 Particulars
WX Updates:
0430 / 1030 / 1630 / 2230
Ranking:
OCCH - OCQ1 - SUPSOL - SYC
ALT. CLIENT: Classic
RACE CLOSE: Friday,
February 28 at 2300 UTC.
Race starts: Feb 06th 18:00 Registration Closed
New HTML5 Client GO TO RACE
SYC Ranking
Series
Mobile Client
SYC members have the benefit of access to our mobile/lightweight web client!