13 November 2019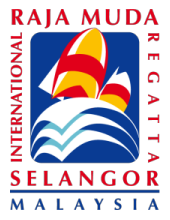 Sailonline is once again returning to Royal Selangor Yacht Club in the virtual version of its Raja Muda International Regatta.
The Raja Muda is the Crown Prince of Selangor, one of nine constitutional monarchies that make up the mainland peninsular territories of the Malaysian Federation. A keen sailor, the Sultan, as he is today, conceived the regatta as a stop-over/feeder to South East Asia's other sailing spectacular, Thailand's Kings Cup. First run in 1989, the Raja Muda has evolved into a full week of racing and entertainment, featuring three overnight passage races, plus 3 days of inshore racing in Penang and Langkawi, all organised by the Royal Selangor Yacht Club in association with the RORC.
Sailonline's virtual yacht on this occasion – racing Leg 1 from Port Klang to Pangkor – is the Beneteau First 44.7. A Beneteau First 44.7, 'Fujin' is entered in this year's race and will be skippered by HH The Raja Muda of Selangor himself. Conditions can be very fickle in the Straits of Mallaca so start practising now.
Sailonline's race is now open for pre-race practice.
Current Entry List


Races
Next Race: 00d 00h 00m
---
Current Races:
Yates Cup TIMED Race 2019
Welcome to a replication of the shortened 2017 edition of this Category 3+ race from Auckland around the Hauraki Gulf which, on this occasion is being run in the form of a TIMEDRACE.
Also, we are pleased to introduce you to a brand-new arrival in the Sailonline boathouse, namely the MC 38. Be sure to check out its "Particulars".
Race #1306
RE-REGISTER HERE to race again after finishing a run.
Race #1306
INFOfrom brainaid.de
MC 38 Particulars
WX Updates:
0430 / 1030 / 1630 / 2230
Ranking:
TRQ4-TRCH-SUPSOL-SYC
ALT. CLIENT:Classic
Race starts: Dec 10th 12:00 Registration Open!
GO TO RACE
Fisherman's Friend 2019
A 272nm race in First 40s around the main fishing ports and grounds off Devon and Cornwall. The Western Approaches can be anything but predictable at any time of the year, but in December, with wild weather hurling itself across the Atlantic, and the occasional calm, you will need to be prepared for everything, so pack your foulies!
Race #1304
INFOby brainaid.de
First 40.7 Particulars
WX Updates:
0430 / 1030 / 1630 / 2230.
RANKING: SYC
ALT. CLIENT:Classic
Race starts: Dec 07th 14:00 Registration Open!
GO TO RACE
Christmas(W) to Christmas(E) Island 2019
Welcome to Sailonline's race to Christmas!
5,827nm in Volvo 70s provides a sailing adventure for the run up to the festive season. Our race takes us from Christmas Island in the Indian Ocean to Christmas Island in the Pacific – how many of you knew there were two?! Many routing options so please have fun! Fair winds!
Race #1303
INFO by brainaid.de
Volvo 70_v4 Particulars
WX Updates:
0430 / 1030 / 1630 / 2230
RANKING: OCCH-OCQ4-SUPSOL- SYC
PRIZE: SMPF
ALT. CLIENT: Classic
Race starts: Nov 26th 16:00 Registration Open!
GO TO RACE
SYC Ranking
Series
Mobile Client
SYC members have the benefit of access to our mobile/lightweight web client!