8 January 2019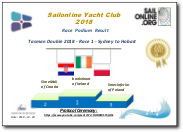 __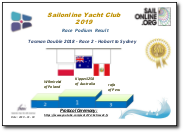 click Leg 1 results to see largerI_____I click Leg 2 results to see larger
GOOD ONYA Kipper1258!!!
GRATULACJE WRmirekd!! MAITH AN FEAR bonknhoot!
Sydney Hobart Leaderboard __ Hobart Sydney Leaderboard
Report

Commentary
Either side of New Year's Eve, the turnout for our annual Tasman Double is always surprisingly strong. How exactly the six-hourly rhythm of our WX updates rhymes at all with the unavoidable late night festivities and resultant long lie-ins is really quite a mystery. Our Leg 1 of course does coincide with the start of the IRL world-reknown Sydney Hobart, and once in Hobart one might as well race the return home. Apart from that, Leg 2 turned out to be the inaugural race of the SYC 12-race 2019 Championship of mid-distance races in high resolution winds when possible. So, more than 200 SOLers reported on the starting line (some only eventually) and some 160 made the return home a week later.
600-odd nautical miles basically all one way, and then in fast boats requiring the WX area to stretch well beyond the racing area so as to not confuse our predictor lines, turned out to be a bit of challenge for the wrfems grib generator, causing glitches at several WX updates, and a few racers were disadvantaged by these stochastic events. See the report by our runner-up on countback for some of the issues that had to be dealt with. Nevertheless, both on the approach into Hobart and on the exit back to Sydney, the vagaries of the light variable winds modelled in Storm Bay provided competitors with some real challenges. In the end, it was Kipper1258 who, by coming in first back into Sydney, won the series overall. A truly impressive display of skill and perseverance and appropriately from an Australian!

Races
Next Race: 00d 00h 00m
---
Current Races:
Van Isle 360 2019 Clockwise
Welcome back to Vancouver and the 525nm delightful course designed by SOLer fastpassage39. This is a tricky race, combining tight channels and open water which our TP 52 will love, and this year we'll do it CLOCKWISE!!!
Race #1238
INFO by brainaid.de
TP 52 Particulars
WX Updates:
0430 / 1030 / 1630 / 2230
Ranking: SYC
ALT. CLIENT:Classic

Race starts: Mar 25th 20:00 Registration Open!
GO TO RACE
Hook Island TIMED Race 2019
The 2nd race of the 2019/Q1 Timed Race Championship is a 64nm race amongst the Aussie Islands between Hook and St Bees in Far East 28R's
RE-REGISTER HERE to race again after finishing a run.
Race #1224
INFO from brainaid.de
Far East 28R Particulars
WX Updates: 0430 / 1030 / 1630 / 2230
Ranking: TRCH – TRQ1 – SUPSOL - SYC
ALT. CLIENT:Classic
RACE CLOSE: 31 March at 2300utc
Race starts: Mar 17th 23:00 Registration Open!
GO TO RACE
Golden Globe Race 2018 - Leg 2 Storm Bay to Les-Sables d'Olonne
Welcome to Leg 2 of Sailonline's virtual version of the 2018 Golden Globe Race. After a brief respite in Storm Bay, Tasmania, of a minimum of 90 minutes after arrival, we are now racing across the Pacific, round Cape Horn and home to Les-Sables d'Olonne.
DO NOT START TOO EARLY
If you raced Leg 1 then you MUST wait 90 minutes before starting this leg. The penalty for starting Leg 2 before finishing Leg 1 is NO RANKING. The penalty for starting Leg 2 within 90 minutes of finishing Leg 1 is 5x the time you started too early.
Race #1181
INFO by brainaid.de
Rustler 36 PARTICULARS
WX Updates:
0430 / 1030 / 1630 / 2230
Ranking: GGR
ALT. CLIENT:Classic
Race starts: Sep 15th 12:00 Registration Open!
GO TO RACE
SYC Ranking
Series
Mobile Client
SYC members have the benefit of access to our mobile/lightweight web client!