15 April 2019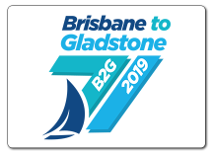 Who can forget the fabulous commentary at the start of last year's B2G with accomplished yachtsmen, David Turton and Grant Cooper, the popular Nic 'Adventures of a Sailor Girl' Douglass and QCYC's very own roving reporter, Jodie Visser. Once again Sailonline.org will be partnering with the Queensland Cruising Yacht Club (QCYC) to bring the Brisbane to Gladstone Yacht Race 2019 to armchair navigators around the world and Dave, Grant, Nic and Jodi will be back doing the start commentary. The virtual race starts at the same time as the real race on Good Friday, 19th April at 11:00am local time (0100 UTC) in the waters of Moreton Bay off Brisbane.
As usual, the 308 nautical mile ocean classic will start in Moreton Bay off Shorncliffe, a bayside suburb of Brisbane. The yachts proceed via a mark off Redcliffe, then across the bay to a mark off Tangalooma, Moreton Island, through the North West Channel out to the open ocean, around the top of Fraser Island and Lady Elliot Island and through to the city of Gladstone.
Entrants will include some of the countries best racing yachts such as the Reichel-Pugh 100 'Black Jack' and the Botin 52 'Ichi Ban', as well as a number of veteran yachts whose names are cemented in Australian yachting history such as the original 'Ragamuffin' and 'Too Impetuous', both veteran Admirals Cup yachts.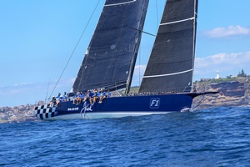 "Black Jack" – picture QCYC
The virtual B2G19 boat will have characteristics close to those of a Super Maxi 100 so participants will be able to test their navigational skills against 'Black Jack'. 'Black Jack' is the updated old 'Alfa Romeo' which was the basis for the Sailonline super maxi 100 polar.
Sailonline's virtual race will open shortly for registration to allow ample time to practise.
In cooperation with the Race's tracker provider, YB Tracking, Sailonline will be displaying a selection of yachts on its virtual racing screen so we can see how we are competing against the 'real' fleet.
2019 Entry List
Livestream of the 2019 Race Start


Races
Next Race: 00d 00h 00m
---
Current Races:
Return from Lindisfarne 2019
In the year 793, a band of Vikings crossed the North Sea to raid Britain. SOL recaptured this voyage in 2012 by sailing the 465nm from Goteborg to Lindisfarne in longships. Having tarried awhile, the raiders returned to Sweden to tell their friends about the good land, the (slightly) shorter winters and the comely Saxon maidens. Thus. it is fitting the SOL fleet this year also returns. It should be an easier passage home!
Race #1274
INFOby brainaid.de
Longship Drake PARTICULARS
WX Updates:
0430 / 1030 / 1630 / 2230
Ranking: SYC
ALT. CLIENT: Classic
Race starts: Sep 23rd 14:00 Registration Open!
GO TO RACE
Silverrudder 2019
Sailonline welcomes you to the fourth "buddy-up" with "Silverrudder - Challenge of the Sea" in the 2019 edition race around the Danish Island of Funen.
With shallow waters and a strong current this close inshore race is truly a challenge. One of three regattas around Funen each year, this race is the only one (and the biggest worldwide) for single handed racing. Will our Seascape 18 be a match for the real fleet's 16 Seascape 18's?
Time will tell!

It is imperative that you read AND understand these special Starting Conditions for Silverrudder 2019
Starting Conditions!!
Race #1283
INFO
from brainaid.de
Seascape 18
Particulars
WX Updates:
0430 / 1030 / 1630 / 2230
Ranking: SYC
ALT. CLIENT
Classic
Race starts:
Sep 20th 08:00
Registration Closed
GO TO RACE
Carib Rum Run 2019
Welcome to the Carribean and Sailonline's 2019 Pirate PRIZE race, run close to International Talk Like a Pirate Day on 19 September. This is a 1759nm slalom through the rum islands of the Caribbean, collecting barrels from the region's distilleries and carrying them to the rum-parched beaches of Cancun, Mexico. If ye scurvy swabs are up ter it, then ye be invited to attire yerselves in a piratical disguise by becoming an SYC Member and requesting to change your boat name for this race only!
Race #1284
INFO from brainaid.de
Orange Cat Particulars
WX Updates:
0430 / 1030 / 1630 / 2230
Ranking:
SYC
ALT. CLIENT:Classic
PRIZE: See Intro Blog
Race starts: Sep 17th 16:00 Registration Open!
GO TO RACE
Wellington to Lima 2019
Have you ever been to Lima in Peru?
Now you've got the chance in this brand-new ocean race with departure from Wellington in New Zealand.
5718 nautical miles awaits us, crossing the mid-Pacific Ocean in a VO70, to the capital of Peru. And when in Lima, don't forget to celebrate your finish with Ceviche, a plate of fresh seafood, accompanied by a bottle of Arequipena Beer.
PRIZE: SMPF
Race #1281
INFOfrom brainaid.de
VO70v4 Particulars
WX Updates:
0430 / 1030 / 1630 / 2230
Ranking: OCCH-OCQ3-SUPSOL-SYC
ALT. CLIENT:Classic
Race starts: Sep 09th 18:00 Registration Open!
GO TO RACE
SYC Ranking
Series
Mobile Client
SYC members have the benefit of access to our mobile/lightweight web client!