15 April 2019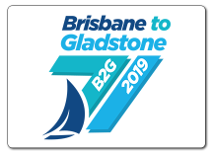 Who can forget the fabulous commentary at the start of last year's B2G with accomplished yachtsmen, David Turton and Grant Cooper, the popular Nic 'Adventures of a Sailor Girl' Douglass and QCYC's very own roving reporter, Jodie Visser. Once again Sailonline.org will be partnering with the Queensland Cruising Yacht Club (QCYC) to bring the Brisbane to Gladstone Yacht Race 2019 to armchair navigators around the world and Dave, Grant, Nic and Jodi will be back doing the start commentary. The virtual race starts at the same time as the real race on Good Friday, 19th April at 11:00am local time (0100 UTC) in the waters of Moreton Bay off Brisbane.
As usual, the 308 nautical mile ocean classic will start in Moreton Bay off Shorncliffe, a bayside suburb of Brisbane. The yachts proceed via a mark off Redcliffe, then across the bay to a mark off Tangalooma, Moreton Island, through the North West Channel out to the open ocean, around the top of Fraser Island and Lady Elliot Island and through to the city of Gladstone.
Entrants will include some of the countries best racing yachts such as the Reichel-Pugh 100 'Black Jack' and the Botin 52 'Ichi Ban', as well as a number of veteran yachts whose names are cemented in Australian yachting history such as the original 'Ragamuffin' and 'Too Impetuous', both veteran Admirals Cup yachts.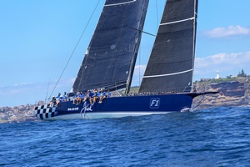 "Black Jack" – picture QCYC
The virtual B2G19 boat will have characteristics close to those of a Super Maxi 100 so participants will be able to test their navigational skills against 'Black Jack'. 'Black Jack' is the updated old 'Alfa Romeo' which was the basis for the Sailonline super maxi 100 polar.
Sailonline's virtual race will open shortly for registration to allow ample time to practise.
In cooperation with the Race's tracker provider, YB Tracking, Sailonline will be displaying a selection of yachts on its virtual racing screen so we can see how we are competing against the 'real' fleet.
2019 Entry List
Livestream of the 2019 Race Start


Races
Next Race: 00d 00h 00m
---
Current Races:
Sailonline's South China Sea Classic 2020
Welcome to the South China Sea and a fun downwind course of 366nm in TP52s from Lantau Island, Hong Kong to the island of Hainan in southern China.
Race #1402
INFO by brainaid.de
TP-52 PARTICULARS
WX Updates:
0430 / 1030 / 1630 / 2230
RANKING:
SYCQ4 - SYCCH - SUPSOL -SYC
ALT. CLIENT: Classic
Race starts: Oct 23rd 03:15 Registration Open!
HTML5 Client (beta) GO TO RACE
PIC Coastal Classic Yacht Race 2020


Kia Ora tatou! Hello everyone and welcome to Auckland on New Zealand's North Island and our annual competition against the racers of the NZ Multihull Yacht Club in the 118nm run from Auckland to Russell in our 60ft trimarans. With endlessly varying conditions, this race up North Island's E Coast can see flat out spinnaker rides, speedy reaching and even dying breezes before sunrise! As always, arriving yachties will find a traditional welcome of bacon butties and rum.
Race #1400
INFO
by brainaid.de
60ft trimaran
PARTICULARS
WX Updates:
0430 / 1030 / 1630 / 2230
Ranking: SYC
ALT. CLIENT:
Classic
Race starts:
Oct 22nd 21:00
Registration Open!
HTML5 Client (beta)
GO TO RACE
Uruguay to Cascais - 2020 RTW - Leg 4
The last leg of Sailonline's Round the World Race 2020 takes racers from Punta del Este, deep in the South Atlantic, to Portugal's Cascais on the North Atlantic seaboard. More than 5000nm of almost only open water, bar three easily avoidable, well-known island groups and Fernando de Noronha and Madeira, in our much-loved Orange 125ft catamaran for your leisurely enjoyment of only wind, wind and wind and maybe some wine, chat and cheese!
PRIZE: SMPF
Race #1399
INFO from brainaid.de
Orange 125ft Particulars
WX Updates:
0430 / 1030 / 1630 / 2230
Ranking: OCQ4 - OCCH - SUPSOL - SYC - RTW20
ALT. CLIENT:Classic
RACE CLOSE: Thursday,
October 29 at 2300 UTC.
Race starts: Oct 02nd 20:00 Registration Closed
HTML5 Client (beta) GO TO RACE
SYC Ranking
Series
Mobile Client
SYC members have the benefit of access to our mobile/lightweight web client!