28 June 2018


Golden Globe Race 2018 – Around the world Alone
Race Start 1000UTC, Sunday, 1 July 2018



The host club for the Golden Globe 2018 Race is
The Royal Nomuka Yacht Club of Tonga
Sailonline.org is pleased to be partnering with the organisers and sponsors of the Golden Globe Race 2018 to bring the virtual version of this mammoth sailing feat to armchair navigators around the world. On the 1st of July the solo round the world non-stop Golden Globe 2018 Race will start from Les Sables-d'Olonne.
This year is the 50th Anniversary of the 1968 ocean classic won by Sir Robin Knox-Johnston in his 32 footer, 'Suhaili'. The GGR18 is an around the world solo race that is totally unique and open to all. There are yacht design limitations, unlike the first Golden Globe, as this is also a salute to Suhaili, but if there were not, it would become just another competition to see who can get the best sponsorship. For this reason Sailonline.org has chosen the Rustler 36 as our virtual boat. This race is something that the average sailing person worldwide (with commitment) can compete in. There are 18 entrants currently include young, old, experienced, amateur, professional, coastal, offshore, cruising and adventurous sailors from 13 countries.
Entrants include some of the world's best known skippers – legends of single-handed sailing.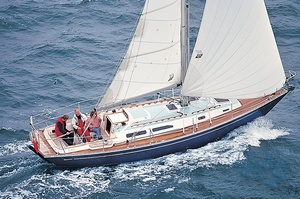 Rustler 36
The virtual GGR18 boat will have characteristics close to those of a Rustler 36 of which there are six yachts entered in the passage race and the main event. Participants in the virtual GGR18 will be able to test their navigational skills against the real Rustler 36s as well as the other yachts in the fleet. Also, with the permission of the race organisers and with the cooperation of YB Tracking, Sailonline.org will display the real fleet on the virtual race screen. This adds a sense of 'reality', competitiveness and involvement in the race.
Sailonline's virtual Golden Globe 2018 Race will open for registration soon to allow ample time to practise. Competing in virtual races on Sailonline is free and no advantage can be gained by buying a better suit of sails or including 'rock star' crew members. This is true one-design racing and a test of skill.
GGR 2018 Entry List


Races
Next Race: 00d 00h 00m
---
Current Races:
SSANZ Round North Island Race 2020 - Leg 1
Welcome to the first of four legs in the awesome SSANZ Round New Zealand race where our virtual fleet of Class 40s will be racing directly against the real fleet via Yellowbrick Tracking. We're starting with a short first hop of 150nm from Auckland to Mangonui.
Race #1319
INFO by brainaid.de
Class 40 Particulars
WX Updates:
0430 / 1030 / 1630 / 2230
Ranking: RNI - SYC
ALT. CLIENT: Classic
Race starts: Feb 22nd 01:00 Registration Open!
New HTML5 Client GO TO RACE
Dondra to Sanya 2020
Rested and recreated after a perhaps longer than anticipated G&T-fuelled stay on the Indian sub-continent's premier holiday island, it is time to muster your OD65's crew and sail on for Sanya at the top of the South China Sea. A tricky passage of c 2500nm generally against the prevailing winds, with one or other Indonesian strait requiring careful navigational attention!
PRIZE: SMPF
Race #1309
INFOby brainaid.de
OD65v3 Particulars
WX Updates:
0430 / 1030 / 1630 / 2230
Ranking:
OCCH - OCQ1 - SUPSOL - SYC
ALT. CLIENT: Classic
RACE CLOSE: Saturday,
February 28 at 2300 UTC.
Race starts: Feb 06th 18:00 Registration Closed
New HTML5 Client GO TO RACE
SYC Ranking
Series
Mobile Client
SYC members have the benefit of access to our mobile/lightweight web client!