14 April 2018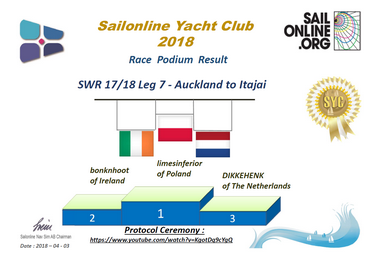 click on results image to see larger
GRATULACJE limesinferior!!! MAITH AN FEAR bonknhoot!!
GEFELICITEERD DIKKEHENK!
Race Leaderboard
Reports


Commentary
The IRL version of this leg will go down in history as the roughest and saddest ever. John Fisher from Team Sun Hung Kai/Scallywag fell overboard and was never recovered. Our thoughts are with John Fisher's family, friend's, and teammates. RIP John.
With a nice dc-able race start in open water north of Auckland at 01:00 UTC (in the middle of the night for Europeans) it immediately turned into a very tough competition to round Cape Colville as fast as possible and then turn south towards the strong winds.
This race had its southern boundary at 70°S, but most of the fleet didn't even reach 60°S, as the "Westerly Stormtrack" kept us north of that.
And what a Stormtrack!
With boat speeds sometimes reaching more than 35 kts the fleet literately flew towards the epic rounding of Cape Horn, followed by the big decision of how to tackle the Falkland Islands. Left, right or in between? Later proven, "right" was the right decision, at least for "limesinferior"
As always, The Falklands claimed its victims in terms of quite a few BBQ's. Approaching Itajai we witnessed a ferocious fight for the win. "limesinferior" took victory after 16 days, 4 hours, 56 minutes, and 16 seconds at sea.
The podium finished within 10 seconds, top ten within 33 seconds and top twenty within 1 minute, 4 seconds, absolutely amazing after 7.100 NM of racing.



Races
Next Race: 00d 00h 00m
---
Current Races:
Van Isle 360 2019 Clockwise
Welcome back to Vancouver and the 525nm delightful course designed by SOLer fastpassage39. This is a tricky race, combining tight channels and open water which our TP 52 will love, and this year we'll do it CLOCKWISE!!!
Race #1238
INFO by brainaid.de
TP 52 Particulars
WX Updates:
0430 / 1030 / 1630 / 2230
Ranking: SYC
ALT. CLIENT:Classic

Race starts: Mar 25th 20:00 Registration Open!
GO TO RACE
Hook Island TIMED Race 2019
The 2nd race of the 2019/Q1 Timed Race Championship is a 64nm race amongst the Aussie Islands between Hook and St Bees in Far East 28R's
RE-REGISTER HERE to race again after finishing a run.
Race #1224
INFO from brainaid.de
Far East 28R Particulars
WX Updates: 0430 / 1030 / 1630 / 2230
Ranking: TRCH – TRQ1 – SUPSOL - SYC
ALT. CLIENT:Classic
RACE CLOSE: 31 March at 2300utc
Race starts: Mar 17th 23:00 Registration Open!
GO TO RACE
Golden Globe Race 2018 - Leg 2 Storm Bay to Les-Sables d'Olonne
Welcome to Leg 2 of Sailonline's virtual version of the 2018 Golden Globe Race. After a brief respite in Storm Bay, Tasmania, of a minimum of 90 minutes after arrival, we are now racing across the Pacific, round Cape Horn and home to Les-Sables d'Olonne.
DO NOT START TOO EARLY
If you raced Leg 1 then you MUST wait 90 minutes before starting this leg. The penalty for starting Leg 2 before finishing Leg 1 is NO RANKING. The penalty for starting Leg 2 within 90 minutes of finishing Leg 1 is 5x the time you started too early.
Race #1181
INFO by brainaid.de
Rustler 36 PARTICULARS
WX Updates:
0430 / 1030 / 1630 / 2230
Ranking: GGR
ALT. CLIENT:Classic
Race starts: Sep 15th 12:00 Registration Open!
GO TO RACE
SYC Ranking
Series
Mobile Client
SYC members have the benefit of access to our mobile/lightweight web client!