15 May 2017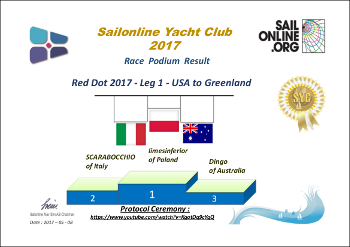 click on results image to see larger
GRATULACJE limesinferior!!!
CONGRATULAZIONI SCARABOCCHIO!! GOOD ONYA Dingo!
Race Leaderboard
Reports



Commentary
The story of Matt Rutherford's solo sail around the America's is the stuff of legend – if you aren't familiar with it, as many might not be, here is the website. It is a remarkable tale. SOLer Renegade thought it would be a fun challenge for Sailonline in our beautiful Super Maxi 100s and as we set sail from Chesapeake, it was truly with a sense of adventure. Yes, we have sailed most of the route before in different races, but this time we are sailing in the wake of true adventure.
Our podium three were among several who, after Cape Breton, were clearly in the running for the top spots and after some "jockeying" for position in top SOLer fashion, our podium was decided. Our winner has written a report for us to see how he arrived first at the finish line. Bravo to our podium three!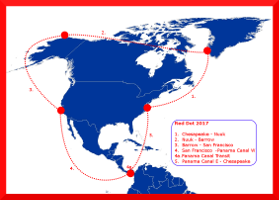 Races
Next Race: 00d 00h 00m
---
Current Races:
Silverrudder - "Challenge of the Sea" 2017
Sailonline welcomes you to the second "buddy-up" with "Silverrudder - Challenge of the Sea" in the 2017 edition race around the Danish Island of Funen.
With shallow waters and a strong current this close inshore race is truly a challenge. One of three regattas around Funen each year, this race is the only one for single handed racing. Will our new X-99'er be a match for the real fleet, including the seventeen X-99'ers?
Time will tell!

It is highly recommended that you read these special circumstances for the start of Silverrudder 2017
Starting Circumstances
Race #1082
INFO
from brainaid.de
X-99 Singlehanded
Particulars
WX Updates:
0430 / 1030 / 1630 / 2230
Ranking: SYC
ALT. CLIENT
Classic
Race starts:
Sep 22nd 10:00
Registration Open!
GO TO RACE
Hauraki TIMED Race 2017
This TIMED race completes SOL's Q3 sojourn on the waters of New Zealand's capital-of-sail. This time we are switching our trusty Young 88s for the more muscular Young11s which on previous occasions have managed to lap the selected 35nm circuit borrowed from SSANZ in less than 4 hours and 35 minutes. Good luck!
RE-REGISTER HERE to race again after finishing a run
Race #1071
INFO by brainaid.de
Young11 POLAR
WX Updates:
0430 / 1030 / 1630 / 2230
RANKING:
TRCH-SUPSOL-TRQ3-SYC
ALT. CLIENT: Classic
RACE CLOSE: Sunday, 1 October at 2300utc
Race starts: Sep 21st 10:00 Registration will open soon
GO TO RACE
CANY-LANEX Offshore Cup 2017
Welcome to the southern shores of the Baltic Sea and the 2017 running of the annual race from Kühlungsborn to/round the lighthouse on the island of Christiansö east of Bornholm and back. Are you up to this challenge? There is a real fleet to beat!
Race #1078
INTRO BLOGPOST
INFO by brainaid.de
X-35 Particulars
WX Updates:
0430 / 1030 / 1630 / 2230
RANKING: SYC
ALT. CLIENT: Classic
Race starts: Sep 18th 07:00 Registration Open!
GO TO RACE
Caribbean Rum Run 2017
Welcome to the 2017 running of Sailonline's annual Pirate PRIZE race run close to International Talk Like a Pirate Day on 19 September. This is a 1759nm slalom through the rum islands of the Caribbean, collecting barrels to bring to the rum-parched beaches of Mexico. If ye scurvy swabs are up ter it, then don a piratical disguise by becoming an SYC Member and requesting to change your boat name for this race only!
Race #1076
INTRO BLOGPOST
INFO from brainaid.de
Open 60 Particulars
WX Updates:
0430 / 1030 / 1630 / 2230
Ranking: SYC
ALT. CLIENT:Classic
PRIZE: SMPF
Race starts: Sep 13th 10:00 Registration Open!
GO TO RACE
Victoria to Maui 2017
The Victoria to Maui International Yacht Race, first contested in 1968, is the pinnacle of Pacific Northwest ocean racing running every two years and the real race organisers are gearing up for the 2018 event. This year, however, Sailonline invites the SOL fleet to run ahead of schedule with this race of 2308nm from Victoria, British Columbia to Hawaii, finishing off Lahaina Maui.
Race #1075
INFOfrom brainaid.de
Riptide 50 Particulars
WX Updates:
0430 / 1030 / 1630 / 2230
Ranking: OCCH–OCQ3-SUPSOL-SYC
ALT. CLIENT:Classic
RACE CLOSE: Thursday, 21 September at 2300utc
Race starts: Sep 05th 18:00 Registration Closed
GO TO RACE
SYC Ranking
Series
Mobile Client
SYC members have the benefit of access to our mobile/lightweight web client!