11 October 2012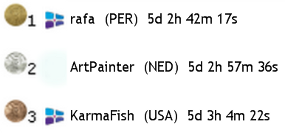 FELICIDADES rafa!!! GEFELICITEERD ArtPainter!!
CONGRATULATIONS KarmaFish!
Sailing in the Persian/Arabian Gulf has always been a real test of expertise as the winds are rarely strong or consistent. For this first running of TheHorn's Black Gold Rush, the fickle and variable nature of the offshore breezes from the coastlines split the fleet almost from the start - some hugging the N shore, others making a more direct track to Khark. At Khark all tracks converged and it was as if the race restarted but, the key difference was in the way those who have romped home read the winds from Khark to Bahrain. Just an extraordinary split of the fleet into two groups - separated by more than 100nm.
A tough race, a tricky race, won by three excellent SOLers! Bravo!
_______________________
Races
Next Race: 00d 00h 00m
---
Current Races:
2017 40' Series Championship Q1&Q2 Boston to Newport Race
It's time for the third of six races in the 40' Q1 and Q2 Championship!
This time we are racing from Boston to Newport.
DON'T RISK DISQUALIFICATION!
There are three boat designs to choose from and each one may NOT be used more than twice during the six race Series, according to the NORof the series
The three boat designs are:
40' Particulars
IMPORTANT:
Before you choose the boat design, log in with the "Guest" boat (Username=guest/Password=guest) so you can view the predicted winds to help you choose the best boat/polar for the upcoming race. Once you have chosen to register a boat design for this race, it cannot be undone!
REMEMBER:
Choosing the same boat design more than twice will get you disqualified from this race!!
View this list to see what boats you've already used:
USED BOATS
Race # 1026
INFOfrom brainaid.de
WX Updates:
0430 / 1030 / 1630 / 2230
Ranking:
40Q1&2CH –SYC
ALT. CLIENT:Classic
Race starts: Mar 30th 10:00 Registration Open!
GO TO RACE
Carcass to Beaver PYOC 2017
Another quick race round the rocks and isles of the Falklands. 55nm as the crow flies, but PYOC and see how best you can get from Carcass to Beaver in your IMOCA60.
Race #1023
INFO by brainaid.de
IMOCA60 Particulars
WX Updates:
0430 / 1030 / 1630 / 2230
Ranking:
SPRCH - SUPSOL - SPRR1 - SYC
ALT. CLIENT: Classic
Race starts: Mar 25th 18:00 Registration Open!
GO TO RACE
A3 2016 - Leg 7 - Cairns to Darwin
SOL's gift to AGage's memory is the A3 - Agage's Around Australia Series. This race is Leg 7 of the series - a race of 1405nm in 60ft trimarans from Cairns, the hub of Australia's tropical holiday zone, to Darwin, the frontier with Asia.
Race #1027
INFO by brainaid.de
60ft Trimaran Particulars
WX Updates:
0430 / 1030 / 1630 / 2230
Ranking: A3 - SYC
ALT. CLIENT:Classic
Race starts: Mar 22nd 02:00 Registration Open!
GO TO RACE
SYC Ranking
Series
Mobile Client
SYC members have the benefit of access to our mobile/lightweight web client!