Board
»
In memoriam
» 2021 Lake Winnebago - Bgosh Memorial
Posted by
NNYC_Scooter






Posts

17

Registered at

2008-02-09 14:52:27




Please join us on February 13th for what has become an annual SOL tradition - the race on Lake Winnebago in Wisconsin USA. I can't recall how many years it has been held by Sailonline but it's been a remarkable run. SOL racers are joined by members of the Neenah Nodaway Yacht Club (NNYC), which races out of two harbors in the Northeast corner of the lake. A number of boat polars have been used, but several years ago members shared live webcams of active iceboat racing taking place on the lake. Thus, the DN iceboat polar was developed and has been used to conduct the race. NNYC members will be online during 2021 race to share stories, history and links to webcams and other resources about the lake and its long sailing history.

This year's Lake Winnebago race will be held in memory of Rob Hessenius or Bgosh as those of in the Sailonline community knew him. Rob's intelligence, humor and wit came across in the chat box during many early Sailonline races. Rob was a Lake Winnebago sailor out of Oshkosh who I met during what I recall to be the first edition of this race, which he had coordinated. We became sailing friends and crew on each other's boats, and I visited him often at his pub, Eureka Landings. Though running his pub limited his chances to race in recent years, Rob had developed lasting friendships with mny SOL races. Rob unexpectedly passed away this past August. He will be missed by the community, and I am sure memories of Bgosh will be shared during the race. I have attached a photo of Rob taken at Eureka Landings.

Please join us on February 13th.

Derek Walker, nee "zowee", aka "NNYC Scooter"

_____________

--- Last Edited by NNYC Scooter at 2021-01-31 04:29:51 ---

Posted by
RainbowChaser






Posts

2655

Registered at

2009-06-14 09:44:50

Dear Derek/zowee/NNYC_Scooter - thank you so much for writing this note. It was very sad to hear of Bgosh's death.

From my first "meeting" him in race chat with an "Oshkosh b'gosh" question - little realising he was in the vicinity IRL, to him opening the Eureka Landings Bar n' Grill and having that year's Lake Winnebago Race showing on a large screen in the bar, he was a larger than life character and I am sure will be sadly missed by his community.

Thank you for letting us know and, absolutely, we'll be remembering him during this year's iceboat race around Lake Winnebago.

_______________

--- Last Edited by

RainbowChaser

at 2021-01-31 14:07:48 ---

Posted by
scallions






Posts

14

Registered at

2010-05-03 13:39:35

So sorry to hear of Bgosh's passing. Condolences to his family and friends.
Such lovely names in that part of the world, Neenah Nodaway, Oshkosh, Eureka Landings and a soler named Bgosh. Always good to have someone local for sol races, makes you feel more engaged in the race. He'll be missed for the Lake Winnebago icerace, good that it'll be in his memory.
Thanks for telling us Scooter.

Posted by
Zorba777






Posts

67

Registered at

2020-06-06 08:22:54

Sorry to hear. I didn't get the chance to get to know Bgosh, but it sounds like a character I would have liked to meet. Will be there for the Lake Winnebago race and look forward to hear some anecdotes.

Posted by
Smo






Posts

80

Registered at

2009-05-02 21:49:04

Have a nice sail to eternity, Bgosh. Hope you will find your Eureka Landings there.

Posted by
Ricos0






Posts

22

Registered at

2008-02-18 03:55:36

I did many all-nighters with Bgosh in the early days of SOL, since the original SOL client didn't have all the bells & whistles like now: you couldn't set DCs so we sailed with partners depending on time zones to keep watch on each other's boats. But we would end up staying up all night anyway partying with each other just because it was so damn fun! Santaclaus was my main partner.

We'll miss you Bgosh/Rob! BTW his name 'Bgosh' came from the slogan for the overalls brand 'Oshkosh', sported by babies, kids and grandpa since the 1970's. Their famous slogan was "Oshkosh b'gosh!"
Please login to post a reply.
Races
Next Race: 00d 00h 00m
---
Current Races:
Cairns to Darwin 2023
This race was originally Leg 7 of the A3 series - AGage's Around Australia, which SOL dedicated to AGage's memory. This time it is the ninth race of the All-Round Championship 2023 Series - 1405nm in Orange 125' Catamaran from Cairns, the hub of Australia's tropical holiday zone, to Darwin, the frontier with Asia.
Race #1724
INFO by brainaid.de
Orange 125' PARTICULARS
WX Updates:
0430 / 1030 / 1630 / 2230
Ranking:
ARQ3 - ARCH - SUPSOL - SYC
Race starts: Sep 21st 05:00 Registration Open!

GO TO RACE
Carib Rum Run 2023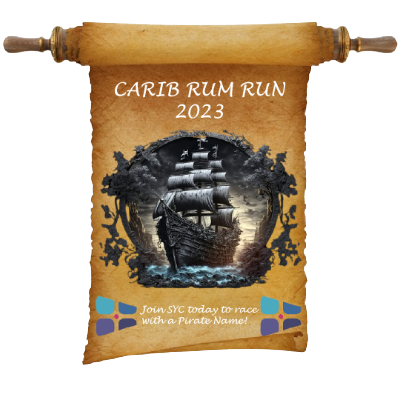 Welcome to the Caribbean and Sailonline's annual Pirate race, running with
International Talk Like a Pirate Day
on 19 September! This is a 1759nm slalom through the rum islands of the Caribbean in our glorious Falkun superyachts! Our mission is to collect barrels from the region's distilleries and carry them to the rum-parched beaches of Cancun, Mexico. Join SYC before race end and ye befuddled scallywags can disguise yer boat for this race only with a pirate name!
Race #1698
INFO
from brainaid.de
Falkun
PARTICULARS
WX Updates:
0430 / 1030 / 1630 / 2230
Ranking: SYC
Race starts:
Sep 16th 15:00
Registration Closed
GO TO RACE
Sinbad Braves the Bay of Bengal 2023
"Sinbad, you sorry sailor, why have you not told me of this great sea, this giant bay, stretching hundreds of thousands of qasbah east of Al-Hindi to fabled lands where tea and rice and rubber is abundant?" and Sinbad replied "Ahh, umm, shall I go have a look. May I take the Judel Vrolijk 62 again, it's going to be a long voyage, perhaps a million and one half qasbah (c 3000nm)? I'll start in Chittagong and follow the coast to the southern tip of the Hindus' land, round Serendip, head east into the vastness of the seas, and if I'm lucky (no pun intended, oh Mighty One) I shall find land again and then head north and see where I end up". "Fair winds, Sinbad", said the Sultan.
Race #1641
INFOby brainaid.de
Judel Vrolijk 62 PARTICULARS
WX Updates:
0430 / 1030 / 1630 / 2230
Ranking: SYC - SVS
Race starts: Sep 13th 08:00 Registration Closed

GO TO RACE
Maryland to Alaska 2023
Welcome to this September edition of 2023 OCCH. This route was first sailed in 2020. At the time it was inspired by Matt Rutherford's single-handed Red Dot Expedition around the Americas in 2012, SOLer Renegade proposing a half-around from Maryland over the North into the Pacific and back through the Panama Canal, in 5 legs, 5 years later. Leg 2 across the North West Passage proved to be particularly challenging and so to create a proper Ocean Race, SRC combined Leg 2 with Leg 1 to give you a race of at least 4000nm from Maryland to Alaska, now to be sailed in our magnificent Archer 78.
PRIZE: SMPF
Race #1719
INFOby brainaid.de
Archer 78 PARTICULARS
WX Updates:
0430 / 1030 / 1630 / 2230
Ranking:
OCQ3 - OCCH - SUPSOL - SYC
RACE CLOSE: Sunday,
October 1 at 2300 UTC.
Race starts: Sep 01st 14:00 Registration Closed

GO TO RACE
SYC Ranking
Series
Mobile Client
SYC members have the benefit of access to our mobile/lightweight web client!