Online Sailracing!
Sailonline.org is owned and operated by Sailonline NavSim AB, a not for profit, community-owned company.
Sailonline's mission is to offer a superior internet-based sailing and navigation simulation to the global sailing community, whilst ensuring a future of growth and continuous enhancement to benefit its users through financial viability and long term vision.
All Sailonline boats and their properties are purely virtual and do not necessarily reflect real world data.
Sailonline is free for everyone to play and is supported by SYC Memberships.
Create your account
News from the blog
Welcome!
Now login with our guest account to view currently running races: Username: guest - Password: guest
PLEASE ONLY REGISTER YOUR OWN USERNAME AND PASSWORD IF YOU INTEND TO RACE.
All times on Sailonline are in UTC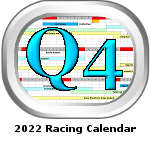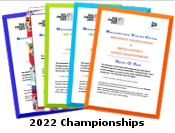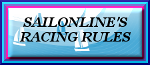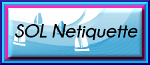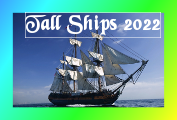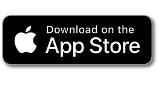 GDPR - General Data Protection Regulations - Sailonline wishes to reassure all SOLers that it is aware of the regulation changes in relation to the protection of personal data. Sailonline cares about your privacy and will continue to let you control the personal information you provide. More info here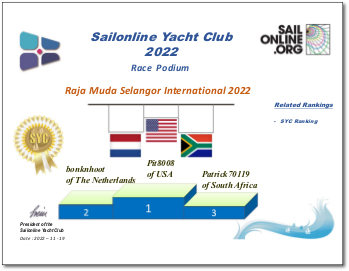 click on results image to see larger
CONGRATULATIONS Pit8008!!!
GEFELICITEERD bonknhoot!! CONGRATULATIONS Patrick70119!
Race Leaderboard
Commentary
We had barely finished the Natuna Sea Race, when it was time to head south across the self-same sea to Port Klang on the Malacca Straits for a buddied with the Royal Selangor Yacht Club first race of their Raja Muda International Regatta week. Exhausted enough as we were from our trials on the Natuna Sea, many of us were grateful it proved to be a shorter more straightforward affair.

All upwind in 10 to 12 knots of breeze, the big question was how far to continue out on starboard tack away from the lighter air under the Malaysia coast, and then after having tacked when to cut in for a finish at the port pin, and the answer only came at the very end. Late it came and late it was and it was Pit8008 who had the answer right, which was only fair given how the Natuna Race had gone for him!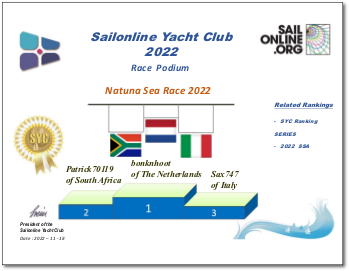 click on results image to see larger
GEFELICITEERD bonknhoot!!!
CONGRATULATIONS Patrick70119!! CONGRATULAZIONI Sax747!
Race Leaderboard
Commentary
Well, the last race on the Seven Seas of Asia was quite the exhausting affair, taking the fleet as it did, four days to get from southern Vietnam to the northern tip of The Philippines' Palawan island, at least another four days to soak downwind through the Sulu Sea and south west along the coast of Borneo to Indonesia's Serasan island, and a final four days or so to cross back to Vietnam across the Natuna Sea to Dong Yen (which confusingly stands at 0.0056 mid-rate as we speak and is worryingly absent on the electronic charts!). Never mind, we continue with a reflection about the wind which was predominantly light and decidedly variable and thus many dogs had their day, and, equally many mares had their night.

Tough stuff then; nevertheless, 124 of the 156 SOLers who made it to the line on November 4 managed to finish within the 21-day time limit, and for the leaders it was close indeed, every year of the cat or day of the dog being cancelled out by a mare or a stallion, but in the end it was bonknhoot who crossed first, a mere 8 seconds ahead of Patrick70119 after 14 nervous nights (and days). As it turned out P1 for bonk (or 2, 3 or 4) was also what he needed to win the Seven Seas overall, provided rafa finished outside the Top 6, which for much of the race was looking unlikely. Quite the race and quite the series!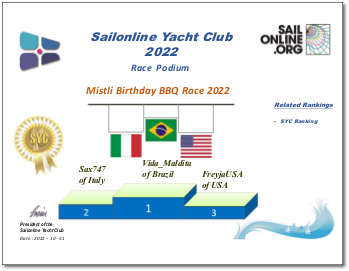 click on results image to see larger
PARABÉNS Vida_Maldita!!!
CONGRATULAZIONI Sax747!! CONGRATULATIONS FreyjaUSA!
Race Leaderboard
Commentary
Unfortunately, your roving reporter was unable to make the starting line for this year's Mistli's Birthday Bash, but more than another hundred did, none of whom were able to report what went on either. But there are several known knowns about this race, such as that it usually pays to keep right out on more open water for the first leg ducking in late to keep Mysingeholm, the first waypoint on the course, to starboard, and that the usually quickest route for the last leg from Oja to Mistli's jetty at Trosa is the shortest one which hugs the southern shores of the approach.

What is also known is that Vida_Maldita loves this race, so much so that he has won it before, but how he managed to put a minute and a half on the fleet for his victory this year, though impressive, we shall never quite know. Awesome SOLing!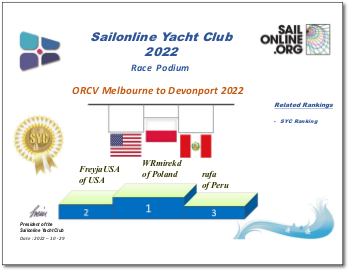 click on results image to see larger
GRATULACJE WRmirekd!!!
CONGRATULATIONS FreyjaUSA!! FELICIDADES rafa!
Race Leaderboard
Commentary
IRL, a storm warning saw this buddied event canned, but at Sailonline, undaunted, 135 virtual SOLers showed on the line off Portsea Pier for the 4 p.m. local time start out the harbour, round Queensland Mark and down to Taz's Devonport.

Strong winds mean steady winds in the virtual world, and the racing was close. Virtually also the only boat failures that one can experience are groundings, which crossing Bass Strait are hard to contrive, and so exactly 110 boats managed to finish before the race officer went home for his tea. Tightly bunched, just 4 seconds separated the first four, HappyHour just missing out on the podium, which was topped on this occasion by WRmirekd, a whole 2 seconds ahead of FreyjaUSA, with rafa a further second adrift. Well done, all!

Races
Next Race: 00d 00h 00m
---
Current Races:
Fremantle to Bali 2022
It is time for a revival of one of Australia's iconic races, the 1427 nm long "Fremantle to Bali" race, and it's considered to be a true test of seamanship.
Last raced in 2021 Super Maxi 100, we will do it this year in a Sun Fast 3300 which is considerably slower!
PRIZE: SMPF
Race #1632
INFOby brainaid.de
Sunfast 3300 PARTICULARS
WX Updates:
0430 / 1030 / 1630 / 2230
Ranking:
OCQ4 - OCCH - SUPSOL - SYC
Race starts: Dec 04th 06:00 Registration Open!

GO TO RACE
Baker Lake Ice Race 2022
Up north, it's Winter, so time to put your skates on, but first you'll have to airfreight them, your carbon spars, your mylar sails and your DN hull to Baker Lake, for a 109nm race, the first of 4 (3 to count) at high speed before the ice melts! Well inside the Arctic Circle, this is a cold, cold place, where the wind is rarely benign. No Performance Loss, so put your goggles on, wrap up well, and try to get round as quick as you can!
Race #1615
INFO by brainaid.de
DN PARTICULARS
WX Updates:
0430 / 1030 / 1630 / 2230
RANKING: DN - SYC
Race starts: Dec 03rd 15:00 Registration will open soon

GO TO RACE
Christmas Is (Pac) to Christmas Is (Ind) 2022
Two waypoints, start and finish, and between them 5827 NM of two oceans. Not much time if we want to sit at the Christmas Eve table. You will need to maintain an average speed of over 10 knots, so prepare your Volvo70s well and choose the best of the many possible routes. Hands up everyone who knew there were TWO Christmas Islands?! OK, maybe you have sailed this Sailonline course before... but it's time to get ready for the 2022 challenge of racing between Christmas Island in the Pacific to Christmas Island in the Indian Ocean! Please have fun! Fair winds!
Race #1629
INFO by brainaid.de
Volvo70 PARTICULARS
WX Updates:
0430 / 1030 / 1630 / 2230
Ranking: SYC
Race starts: Dec 01st 18:00 Registration Open!

GO TO RACE
The Three Kings Race 2022
The Three Kings Offshore Race is a 520 nm challenge, in Farr 38s, from Auckland (Orakei) up and around the Three Kings Islands and then back to Auckland finishing where you started. Manawa Islands (Three Kings) are a group of 13 uninhabited islands about 25 nm northwest of Te Rerenga Wairua aka Cape Reinga. They're also about 250nm due north of Auckland, known also as the world's best diving and fishing locations (although hopefully, you won't be fishing too much during the race, or diving for that matter) and it is just a beautiful yet rugged place that is a must see for anyone who loves the oceans.
Race #1628
INFO by brainaid.de
Farr 38 PARTICULARS
WX Updates:
0430 / 1030 / 1630 / 2230
Ranking: SYC
Race starts: Nov 27th 16:00 Registration Open!

GO TO RACE
Stockholm to St Petersburg 2022
Are you ready to race this course of about 431nm across the Baltic and into the Gulf of Finland, from one great historic city Stockholm to another St Petersburg?
The Gulf of Finland is still ice‑free, so board your J‑122s and prepare. Take care and keep a weather eye. The odd stray submarine or ice‑breaker may need to be avoided.
Race #1627
INFO by brainaid.de
J-122 PARTICULARS
WX Updates:
0430 / 1030 / 1630 / 2230
Ranking:
ARQ4 - ARCH - SUPSOL - SYC
RACE CLOSE: Wednesday,
November 30 at 2300 UTC.
Race starts: Nov 22nd 16:00 Registration Closed

GO TO RACE
SYC Ranking
Series
Mobile Client
SYC members have the benefit of access to our mobile/lightweight web client!