Online Sailracing!
Sailonline.org is owned and operated by Sailonline NavSim AB, a not for profit, community-owned company.
Sailonline's mission is to offer a superior internet-based sailing and navigation simulation to the global sailing community, whilst ensuring a future of growth and continuous enhancement to benefit its users through financial viability and long term vision.
All Sailonline boats and their properties are purely virtual and do not necessarily reflect real world data.
Sailonline is free for everyone to play and is supported by SYC Memberships.
Create your account
News from the blog
Welcome!
Now login with our guest account to view currently running races: Username: guest - Password: guest
PLEASE ONLY REGISTER YOUR OWN USERNAME AND PASSWORD IF YOU INTEND TO RACE.
All times on Sailonline are in UTC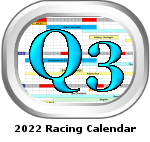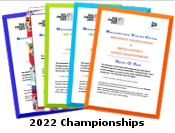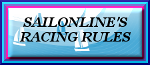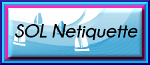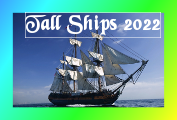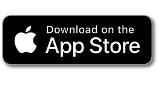 GDPR - General Data Protection Regulations - Sailonline wishes to reassure all SOLers that it is aware of the regulation changes in relation to the protection of personal data. Sailonline cares about your privacy and will continue to let you control the personal information you provide. More info here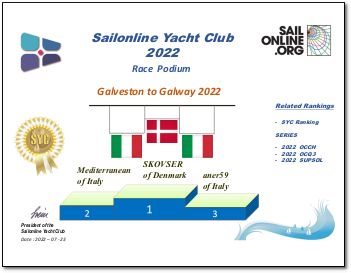 click on results image to see larger
TILLYKKE SKOVSER!!!
CONGRATULAZIONI Mediterranean!! CONGRATULAZIONI aner59!
Race Leaderboard
Commentary
Another ocean race involving 138 yachts has ended. As is usually the case when crossing the Atlantic, this was also full of surprises and twists. Despite this, it did not bring about any significant changes in the general classification of OCCH. We have only passed the halfway point of our struggle and everything is still possible.
The podium was captured by sailors representing the old continent led by the valiant SKOVSER (Denmark), assisted by Mediterranean and aner59 (both Italy).
Well done, congratulations.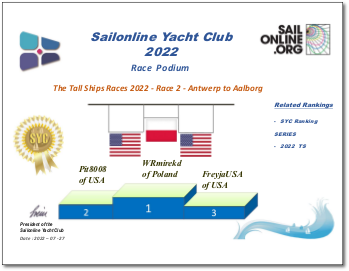 click on results image to see larger
GRATULACJE WRmirekd!!!
CONGRATULATIONS Pit8008!! CONGRATULATIONS FreyaUSA!
Race Leaderboard
Commentary
It took the leaders in this second and final race of our 2022 Tall Ships series in cooperation with Sail Training International a mere 40 hours to over the 500-odd sea miles from Antwerp to Aalborg. She's a tall ship and a fast ship with decent enough upwind angles in her sail-locker to boot and the North Sea barely challenges her, banks, shoals and shallow shores notwithstanding. Round the world is what she was built for; worth considering.

But back in the here and now, it was our Hanseatic master mariner from Gdansk or thereabouts, WRmirekd, who showed the rest of the 117-ship fleet how best to control the myriad yards, lifts, sheets and braces of the square sails, mizzens and top-gallants of the byzantine sail plan. Wonderful!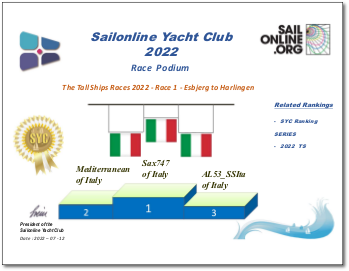 click on results image to see larger
CONGRATULAZIONI Sax747!!!
CONGRATULAZIONI Mediterranean e AL53_SSIta!!!!
Race Leaderboard
Commentary
Having only just reported on the second of our Tall Ships racing this year, your interim reporter realized that nothing, "niente" in fact had as yet been written about its prequel from Esbjerg to Harlingen, earlier in July. "Niente, scuse" an all Italian tri-some triumph featuring a dominant Sax747 coming in a solid seven minutes ahead of Mediterranean and AL53_SSIta, neck-n-neck. Impressive team work!

And although none of our Race 1 All-Italian podium were quite ale to repeat their showing in Race 2, enough was done by AL53_SSIta and Mediterranean to achieve the 1-2 overall, in that order, with the ever-consistent FreyjaUSA just managing to break up the Italian hegemony squeezing in in P3 overall ahead of Sax747, who only had a good but not great race the second time out!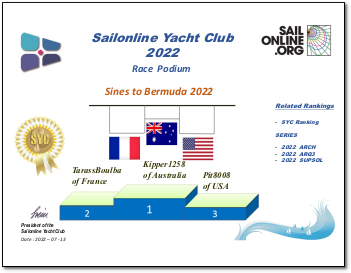 click on results image to see larger
GOOD ONYA Kipper1258!!!
FELICITATIONS TarassBoulba!! CONGRATULATIONS Pit8008!
Race Leaderboard
Commentary
It was one of the longest races of the SOL All Round Championships. In fact, it could easily belong to the ocean racing class. Fortunately, we had Orange 125 fast catamarans at our disposal, which allowed for efficient sailing to the finish line in Bermuda. 119 crews fought for victory on the 3213nm route. In fact, the yachts have covered a bit more.
Kipper1258 turned out to be unbeatable, defeating 3909nm in 8 days 22 hours 56 minutes and 24 seconds, which gave him an average speed on the route of over 18kts. TarassBoulba crossed the finish line with a loss of 28 minutes and 11 seconds. And 11 minutes and 8 seconds after him, Pit8008 completed the podium.
Congratulations to our winners.

Races
Next Race: 00d 00h 00m
---
Current Races:
Java Sea Race 2022
For our penultimate Seven Seas of Asia race, we invite you to venture yet further south – to the Java Sea for a hydration-challenging circa 2200nm race Jakarta to Semarang via Selayar and Belitung, in cracking kinetic Ker 40s. Water-makers will again be mandatory!
Race #1545
INFOby brainaid.de
Ker 40 PARTICULARS
WX Updates:
0430 / 1030 / 1630 / 2230
Ranking: SYC - SSA
Race starts: Aug 20th 06:00 Registration Open!

GO TO RACE
Victoria to Maui 2022
The Victoria to Maui International Yacht Race, first contested in 1968, is the pinnacle of Pacific Northwest ocean racing, running every two years. This year, Sailonline invites the SOL fleet to race the 2300nm course in Delphia 47s, from Victoria, British Columbia to Hawaii, finishing off Lahaina Maui.
PRIZE: SMPF
Race #1596
INFOby brainaid.de
Delphia 47 PARTICULARS
WX Updates:
0430 / 1030 / 1630 / 2230
Ranking:
OCQ3-OCCH-SUPSOL-SYC
Race starts: Aug 09th 19:00 Registration Closed

GO TO RACE
Sailonline's 15th Birthday Balloon Race
Sailonline offers a huge variety of boats to sail in. One of the more unusual ones has got to be SOL's Balloon, which was polarized by past SOLmaster 76Trombones. Notably, the SOL Balloon will actually 'sail' in other directions other than straight downwind, although it will not 'sail' over land or beyond a 'beam reach'. Like in 2013 and 2018, we will be taking the Balloon across the Atlantic from St. John's and 'land' it in the sea off the Cliffs of Moher.
Race #1605
INFO by brainaid.de
SOL Balloon PARTICULARS
WX Updates:
0430 / 1030 / 1630 / 2230
Ranking:
None
RACE CLOSE: Sunday,
August 21 at 2300 UTC.
Race starts: Aug 01st 19:00 Registration Closed

GO TO RACE
SYC Ranking
Series
Mobile Client
SYC members have the benefit of access to our mobile/lightweight web client!