Online Sailracing!
Sailonline.org is owned and operated by Sailonline NavSim AB, a not for profit, community-owned company.
Sailonline's mission is to offer a superior internet-based sailing and navigation simulation to the global sailing community, whilst ensuring a future of growth and continuous enhancement to benefit its users through financial viability and long term vision.
All Sailonline boats and their properties are purely virtual and do not necessarily reflect real world data.
Sailonline is free for everyone to play and is supported by SYC Memberships.
Create your account
News from the blog
Welcome!
Now login with our guest account to view currently running races: Username: guest - Password: guest
PLEASE ONLY REGISTER YOUR OWN USERNAME AND PASSWORD IF YOU INTEND TO RACE.
All times on Sailonline are in UTC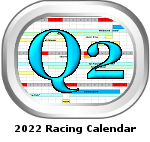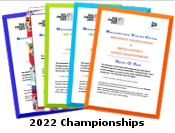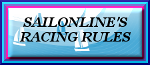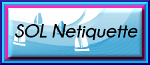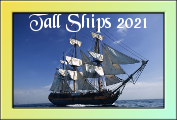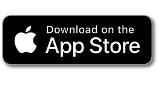 GDPR - General Data Protection Regulations - Sailonline wishes to reassure all SOLers that it is aware of the regulation changes in relation to the protection of personal data. Sailonline cares about your privacy and will continue to let you control the personal information you provide. More info here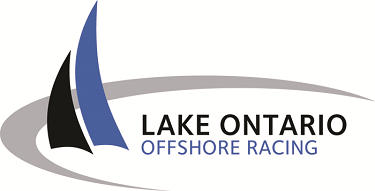 Sailonline is delighted to announce that we are again partnering with Lake Ontario Offshore Racing (LOOR), this year offering you two virtual versions from their popular annual Lake Ontario series. LOOR, like Sailonline, is a not-for-profit organisation, and is run by volunteers drawn from several yacht clubs around Lake Ontario with the aim of delivering the best races throughout the sailing season while also complying with the Clean Regatta rules of Sailors for the Sea.

Sailonline will be racing its Beneteau First 36.7 in both races:
(1) Susan Hood Trophy Race (June): An overnight fully-crewed 75nm circuit around the west end of Lake Ontario. Run annually every year since 1955 (except 2020, of course) the race is affectionately referred to as 'the coolest race on the lake" and offers a brisk opening to the race season in Ontario.
(2) Lake Ontario 300 Challenge (July): A 300 Nautical Mile figure-eight circumnavigation of Lake Ontario. Since 1990, the LO300 has been a main event for offshore racing on the great lakes and as, probably, the longest freshwater race in the world the course vists the Niagara River, the gateway to the St.Lawrence Seaway at Main Duck Island in the Thousand Islands, and a customs-free visit to the American shoreline of Lake Ontario in New York State
Both virtual versions of these real races will open several days before race start to allow practice on-course - the techniques for sailing on Sailonline are the same for all races, so all LOOR members, friends and family are invited to start racing for free on Sailonline as soon as each race opens!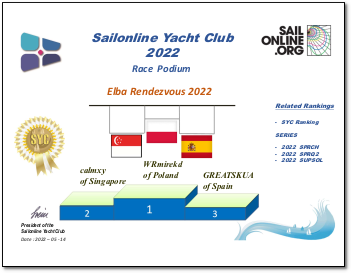 click on results image to see larger
GRATULACJE WRmirekd!!!
CONGRATULATIONS calmxy!! FELICIDADES GREATSKUA!
Race Leaderboard
Reports

Commentary
The first edition of our sprint race on the new route marked on the Golfo Di Follonica took place in fairly stable weather conditions. The change of WX during the course for the first Porto Azzurro buoy could have been a minor problem. However, it was not a course to the wind, so the new WX did not significantly affect the position of the fleet. In this situation, the most important thing was to find a route that would be an ideal compromise between the direction and force of the wind, and to round the buoy accurately. calmxy described it brilliantly in his report. Only WRmirekd did it better than calmxy. It took him 6h31m53s to finish the race, which we can write as the first record for a new route. Third place on the podium after a fierce fight was won by GREATSKUA. There was also a lot of emotions in further positions. Vida_Maldita overtook rafa and Lunch overtook Pit8008 by just 1 second. TOP10 finished the race 1 minute and 3 seconds after the winner.

Well done gentlemen, Congratulations!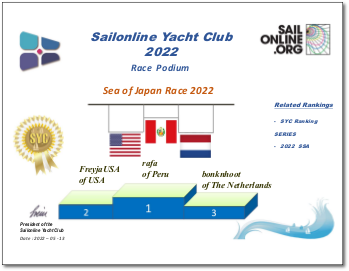 click on results image to see larger
FELICIDADES rafa!!!
CONGRATULATIONS FreyjaUSA!! GEFELICITEERD bonknhoot!
Race Leaderboard
Commentary
Another long and slightly exhausting race was this one, in our Seven Seas of Asia. Tricky conditions out in the Pacific east of Japan over the first few days after the start from Kiritappu gave a bunch of astute SOLers a handy jump on the pack, led by rafa, who made no mistakes the dozen days thereafter.

Try as they did, his pursuers could find no way past, neither through the narrows of the Sumo Strait, nor back upwind up the entire Sea of Japan to Kholmsk. Felicidadas rafa, a masterclass!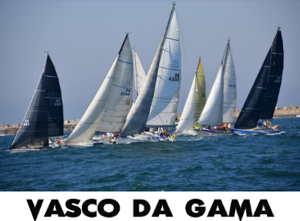 Sailonline is delighted to be partnering with Point Yacht Club for the 2022 version of the South African classic Vasco da Gama Ocean Race. This race is Africa's oldest ocean coastal race and over the years it has been run over courses from Maputo, Mozambique to Port Elizabeth, Durban to Port Elizabeth, and from Durban to East London. Because of #COVID19 restrictions, the 2021 race was a virtual-only affair, but this year expect a real-life wild and woolly downhill sleigh-ride along South Africa's Wild Coast so-named because conditions along the coast are invariably 'beesagtig' and hairy.
While the real fleet will be made up of several boat-types, Sailonline's racers will be racing their Cape 31s , more than 100 of them each delivered in a high box, brand-spanking new, from the virtual Cape Town factory. It is also hoped to bring the tracks of the real yachts, including Sundance and Adios with SOLers WetWing and psadh aboard respectively, on-screen, which will not only add to the sense of competition, but also show how the navigators in the real fleet have to adjust to local conditions.
Sailonline's race will start on Sunday, 22 May 2022 at 08:00 UTC and the race will open for practice this coming Sunday, 15 May, also at 08:00 UTC.



Races
Next Race: 00d 00h 00m
---
Current Races:
Susan Hood Trophy Race 2022


Lake Ontario Offshore Racing (LOOR) welcomes racers to the second virtual Susan Hood Trophy race. This is a 75nm weekender on western Lake Ontario starting and finishing at the Port Credit Yacht Club (PCYC) via Niagara and Burlington, and is one of two that will count towards special Sailonline's LOOR Series medals. As our Beneteau/First 36.7 managed the course so well last year, we shall race her again!
Race #1574
INFOby brainaid.de
First 36.7 PARTICULARS
NAM_AWIP WX Updates:
0245 / 0845 / 1445 / 2045
Ranking: SYC - LOOR
Race starts: Jun 03rd 23:45 Registration Open!

GO TO RACE
Susac X2
Welcome to the beautiful calm waters of the Adriatic Sea for the virtual running of the Susac X2 race which is a real-life race organized by the JK Mornar Sailing Club based in Split, Croatia. Although we, unfortunately, aren't running this magnificent race with the real fleet this year, we hope to make this possible in the coming editions. This amazing race is a total of 91 nautical miles which consists of rounding the beautiful island of Sušac. Our SOLers will be racing around these amazing waters in none other than our great Seascape 18s. Be sure to bring your binoculars for this one as with such beautiful surroundings you will definitely need them!
Race #1586
INFO by brainaid.de
Seascape 18 PARTICULARS
WX Updates:
0430 / 1030 / 1630 / 2230
Ranking: SYC
Race starts: May 27th 14:00 Registration Open!

GO TO RACE
Vasco da Gama Ocean Race 2022


Point Yacht Club welcomes Sailonline to the 2022 running of the classic Vasco da Gama Ocean Race. This race is the oldest established international sailing event in South Africa and traditionally starts in the bay of Maputo, the old Portuguese colonial capital of Mozambique and finishes in Durban. Last year, and now again this year, the race was/will be from Durban to East London - circa 250nm in native Cape 31 speed machines.
Race #1573
INFO by brainaid.de
Cape 31 PARTICULARS
WX Updates:
0430 / 1030 / 1630 / 2230
Ranking:
ARQ2 - ARCH - SUPSOL - SYC
RACE CLOSE: Sunday,
May 29 at 2300 UTC.
Race starts: May 22nd 08:00 Registration Open!

GO TO RACE
San Francisco to New York 2022
Cornelius Vanderbilt, who made his money - that his descendants enjoyed to spend sailing and racing yachts - by recognizing that getting from the East Coast to the West Coast of the USA was best done by rail, would have been more than a little amused to see SOL organizing yacht races over the very route by water he made redundant. It's about 13,000 nautical miles, which compares with less than 3000 statute miles by train! Six years ago, the best SOLers managed to complete the passage from San Francisco to New York in around 36 days, sailing our much-used veteran ocean greyhound, the Super Maxi 100. Time to try again, this time on the VO70. If you aim for a SOG of 18kn, it'll only take you a month.
PRIZE: SMPF
Race #1567
INFO by brainaid.de
VO70_v4 PARTICULARS
WX Updates:
0430 / 1030 / 1630 / 2230
Ranking:
OCQ2 - OCCH - SUPSOL - SYC
Race starts: May 01st 19:00 Registration Closed

GO TO RACE
SYC Ranking
Series
Mobile Client
SYC members have the benefit of access to our mobile/lightweight web client!