26 January 2023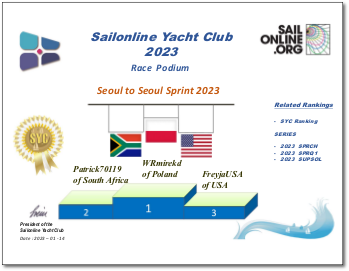 click on results image to see larger
GRATULACJE WRmirekd !!!
CONGRATULATIONS Patrick70119 !! CONGRATULATIONS FreyjaUSA !

Race Leaderboard
Reports

Commentary
The new year came upon us all quite quickly and so did the very first sprint for the year of 2023! Our sailors started the 2023 sprint championship with a brisk race in the bay of the well known city, Seoul, South Korea.

The weather was rather light with the direction not changing too much over the course of the race, however, this didn't stop our sailors from having an extremely exciting race! At first glance of the course and the weather, it seemed like it would be quite a straightforward race around the course, but this was far from the reality! Many of our sailors tried all types of strategies hoping that they could take the top spot, WRmirekd outlines all of this extremely well in his report which is attached above!

The competition was extremely fierce as it always is when it comes to these sprint races, and therefore the leaderboard was changing throughout the entire race, making for some exciting racing! When our sailors went around the final rounding WRmirekd, Patrick70119 and FreyjaUSA were in the top spots and were able to keep their positions all the way to the finish line!

Congratulations to WRmirekd on a phenomenal victory and to Patrick70119 and FreyjaUSA for their well deserved podium positions!

Races
Next Race: 00d 00h 00m
---
Current Races:
Melbourne to Osaka 2023
Welcome to Melbourne for Sailonline's alternative version of the Melbourne to Osaka Double Handed Yacht Race - a 5000 nautical miler. This year again we're racing the RP-66, but the route is unlimited what comes to waypoints. Because the IRL version does not run this year, we took the freedom to make our own route!
It could be a long race, east or west, and of course some doldrums to negotiate!
PRIZE: SMPF
Race #1679
INFO by brainaid.de
RP-66 PARTICULARS
WX Updates:
0430 / 1030 / 1630 / 2230
Ranking:
OCQ2 - OCCH - SUPSOL - SYC
Race starts: Apr 01st 02:00 Registration Open!

GO TO RACE
Sail Around Turkey 2023



This is one of Sailonline's iconic and more challenging races. Our IMOCA 60 Foil high-speed yachts will sail across three seas (Black Sea, Sea of Marmara, Mediterranean Sea) and two beautiful straits (Strait of Istanbul - Bosphorus and Strait of Canakkale - Dardanelles). Altogether 1372 nm of great and demanding sailing from Hopa (the easternmost point of the Turkish Black Sea coast) to Iskenderun (the easternmost point of Turkey's Mediterranean coast). Get ready for a lot of fun; we are waiting for you at the starting line.
Race #1665
INFO by brainaid.de
IMOCA 60 Foil PARTICULARS
WX Updates:
0430 / 1030 / 1630 / 2230
Ranking:
ARQ1 - ARCH - SUPSOL - SYC
Race starts: Mar 21st 15:00 Registration Closed

GO TO RACE
Sinbad Seeks Spices 2023
Having surveyed Arabia, Sinbad Al-SOL'er next invites you to race him on his second of seven epic voyages to every corner of the Indian Ocean and beyond, this time to seek spices in Zanzibar, departing from Xaafun, a trading post on the tip of the Horn of Africa since the days of the Mycenaeans and on through Roman times to the Nights of 1,001 of AL-Sail'or, Al-SOL'er's illustrious ancestor. SOLing by the sun and the stars, aka seat-of-the-pants, the voyage will take you east as far as Praslin island, south as far as Anjouan, to Zanzibar's Unguja for all things spices, but only back as far as Mogidishu – another exhausting 3000nm adventure, this time in Reichel/Pugh 66s.
Race #1637
INFOby brainaid.de
Reichel/Pugh 66 PARTICULARS
WX Updates:
0430 / 1030 / 1630 / 2230
Ranking: SYC - SVS
Race starts: Mar 19th 09:00 Registration Closed

GO TO RACE
SYC Ranking
Series
Mobile Client
SYC members have the benefit of access to our mobile/lightweight web client!