22 January 2022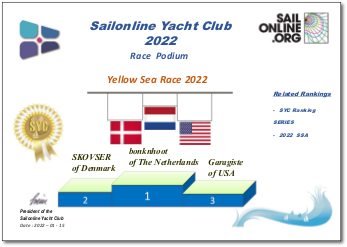 click on results image to see larger
GEFELICITEERD bonknhoot!!!
TILLYKKE SKOVSER!! CONGRATULATIONS Garagiste!
Race Leaderboard
Commentary
A fitful breeze out of the South East greeted the 135 SOLers, who assembled on the line off Tianjin for the start of SOL's first race of this year's new Seven Seas of Asia series, to be immediately confronted with the first of a series of strategic dilemmas – whether to sail free and fast for more pressure in the Yellow Sea's northern Bay of Liaodong or to sail close-hauled and pick a fist shift early for a tack south and better VMC. Perhaps a dozen boats went for the long way round arcing deep into the northern bay to establish a handy lead on the rest of the fleet on clearing the Shandong Peninsula into the Yellow Sea proper. Quite the topography lesson this race!
But with a long long way to go, the topographical learning was far from over and neither was the race, with the next dilemma being whether to keep north or south of Jeju Island off the tip of Korea en route to Yakushima Island off the tip of Japan. This time the northerners ran out of wind more and bonknhoot who had opted for south early doors went into the lead, only to lose it again to Garagiste halfway down the next leg to Japan's remote most southerly Yaeyama island group and the rounding of Taketomi tucked in behind the group's main Ishigaki Island. Alas for Garagiste and many others, another choice presented itself here but only late in the day, and no more than half a dozen, including SKOVSER, bonknoot and Kipper1258 went for the right one – to leave Ishigaki to port before leaving Taketomi to starboard.
Another long leg, mostly upwind in strong winds across the open ocean, followed, and positions changed little. But as the wind fell away approaching Korea, it became clear that an archipelago dodge through the 2000 islands of the South Jeolla prefecture in light airs was going to provide a final challenge to the fleet. Fortunately for all, the wind was kinder on the outer edges of the island maze and most made it to the finish unscathed, which SOL's race designer for this one, bonknhoot, modestly crossed first himself. Next up: the South China Sea – don't miss it!

Races
Next Race: 00d 00h 00m
---
Current Races:
Susac X2
Welcome to the beautiful calm waters of the Adriatic Sea for the virtual running of the Susac X2 race which is a real-life race organized by the JK Mornar Sailing Club based in Split, Croatia. Although we, unfortunately, aren't running this magnificent race with the real fleet this year, we hope to make this possible in the coming editions. This amazing race is a total of 91 nautical miles which consists of rounding the beautiful island of Sušac. Our SOLers will be racing around these amazing waters in none other than our great Seascape 18s. Be sure to bring your binoculars for this one as with such beautiful surroundings you will definitely need them!
Race #1586
INFO by brainaid.de
Seascape 18 PARTICULARS
WX Updates:
0430 / 1030 / 1630 / 2230
Ranking: SYC
Race starts: May 27th 14:00 Registration will open soon

GO TO RACE
Vasco da Gama Ocean Race 2022


Point Yacht Club welcomes Sailonline to the 2022 running of the classic Vasco da Gama Ocean Race. This race is the oldest established international sailing event in South Africa and traditionally starts in the bay of Maputo, the old Portuguese colonial capital of Mozambique and finishes in Durban. Last year, and now again this year, the race was/will be from Durban to East London - circa 250nm in native Cape 31 speed machines.
Race #1573
INFO by brainaid.de
Cape 31 PARTICULARS
WX Updates:
0430 / 1030 / 1630 / 2230
Ranking:
ARQ2 - ARCH - SUPSOL - SYC
Race starts: May 22nd 08:00 Registration Open!

GO TO RACE
San Francisco to New York 2022
Cornelius Vanderbilt, who made his money - that his descendants enjoyed to spend sailing and racing yachts - by recognizing that getting from the East Coast to the West Coast of the USA was best done by rail, would have been more than a little amused to see SOL organizing yacht races over the very route by water he made redundant. It's about 13,000 nautical miles, which compares with less than 3000 statute miles by train! Six years ago, the best SOLers managed to complete the passage from San Francisco to New York in around 36 days, sailing our much-used veteran ocean greyhound, the Super Maxi 100. Time to try again, this time on the VO70. If you aim for a SOG of 18kn, it'll only take you a month.
PRIZE: SMPF
Race #1567
INFO by brainaid.de
VO70_v4 PARTICULARS
WX Updates:
0430 / 1030 / 1630 / 2230
Ranking:
OCQ2 - OCCH - SUPSOL - SYC
Race starts: May 01st 19:00 Registration Closed

GO TO RACE
SYC Ranking
Series
Mobile Client
SYC members have the benefit of access to our mobile/lightweight web client!