16 August 2022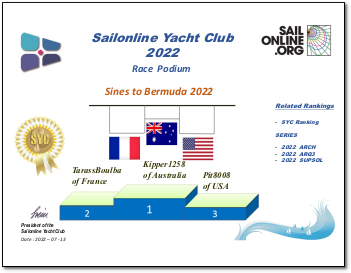 click on results image to see larger
GOOD ONYA Kipper1258!!!
FELICITATIONS TarassBoulba!! CONGRATULATIONS Pit8008!
Race Leaderboard
Commentary
It was one of the longest races of the SOL All Round Championships. In fact, it could easily belong to the ocean racing class. Fortunately, we had Orange 125 fast catamarans at our disposal, which allowed for efficient sailing to the finish line in Bermuda. 119 crews fought for victory on the 3213nm route. In fact, the yachts have covered a bit more.
Kipper1258 turned out to be unbeatable, defeating 3909nm in 8 days 22 hours 56 minutes and 24 seconds, which gave him an average speed on the route of over 18kts. TarassBoulba crossed the finish line with a loss of 28 minutes and 11 seconds. And 11 minutes and 8 seconds after him, Pit8008 completed the podium.
Congratulations to our winners.

Races
Next Race: 00d 00h 00m
---
Current Races:
Tour Down Under 2022
It will be 694nm of killing racing on an amazing route created by SOL'er AGage. In the chat of the first edition of this race, Tyger wrote "Only an Aussie (and a crazy one) with intimate knowledge of these waters could have come up with such a racecourse". Well maybe AGage was a bit crazy, but he was also a genius when he made it, inspired by the great cycling race "Tour Down Under". Instead of bikes we will use fast 60ft Trimarans. So rest well and prepare large amounts of coffee. You will have at least two days without sleep. 😊
Race #1595
INFO by brainaid.de
60ft Trimaran PARTICULARS
WX Updates:
0430 / 1030 / 1630 / 2230
Ranking:
ARQ3 - ARCH - SUPSOL - SYC
Race starts: Sep 25th 02:00 Registration Open!

GO TO RACE
Hong Kong to Auckland 2022
It's time to test your ocean racing skills in a variety of weathers as we head the 6400 NM between Hong Kong and Auckland in a fast Super Maxi 100. We'll be heading from a northern summer to a southern winter so keep plenty of cold weather gear and warm rum on board!
PRIZE: SMPF
Race #1597
INFOby brainaid.de
Super Maxi 100 PARTICULARS
WX Updates:
0430 / 1030 / 1630 / 2230
Ranking:
OCQ3-OCCH-SUPSOL-SYC
RACE CLOSE: Wednesday,
September 28 at 2300 UTC.
Race starts: Sep 01st 04:00 Registration Closed

GO TO RACE
SYC Ranking
Series
Mobile Client
SYC members have the benefit of access to our mobile/lightweight web client!