8 August 2019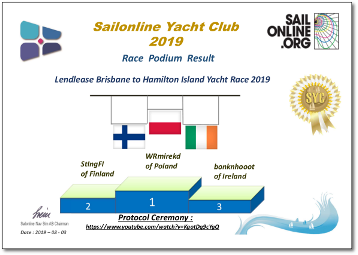 click on results image to see larger
GRATULACJE WRMirekd!!!
ONNEKSI OLKOON StIngFI!! MAITH AN FEAR bonknhoot!
Race Leaderboard
Reports



Commentary
Sailonline was delighted to become the official virtual "buddy" for the inaugural Brisbane to Hamilton Island Yacht Race, sponsored by Lendlease and organised by Royal Queensland Yacht Squadron and what a brilliant race it was! As is now customary with RQYS races, there was a superb livestream and commentary for the start and with the real fleet brought on-screen, it was fun to observe the performance of the real yachts. Their results can be found here
SOLers flying the flags of 28 different nations took part in the race which started at 0100utc which meant that for those in Europe, unless they were dedicated enough to stay up into the early hours of the morning, they were going to have to use delay commands. The Brisbane departure is always tricky and it was clear that several racers decided to delay their start until they were awake rather than find that they had missed a mark and needing to backtrack. To do this is clearly a choice, but it is always better to start with the start of the race and if you are uncertain of your ability to set accurate DCs then simply stop your boat with a TWA=0 at point of your choosing, then when you are able to steer again, you are where you planned to be!
Our top three were clearly made of stern stuff as, all from Europe, they showed us how to race up Australia's Gold Coast! Arriving within moments of each other, this was another brilliantly competitive event. Bravo guys!


Races
Next Race: 00d 00h 00m
---
Current Races:
Sail Around Turkey 2019
Welcome to one of Sailonline's iconic races, where our fleet races the length of the Turkish coastline. This is a 1,372nm race from Hopa (the easternmost point of the Turkish Black Sea coast) to Iskenderun (the easternmost point of Turkey's Mediterranean coast).
Race #1279
INFOfrom brainaid.de
Sailonline_Falkun Particulars
WX Updates:
0430 / 1030 / 1630 / 2230
Ranking: SYC
ALT. CLIENT:Classic
Race starts: Aug 20th 14:00 Registration Open!
GO TO RACE
hmm's Delivery 2019
When, back in 2014, SOLer hmm went to Kiel in Germany and bought himself a very fine First 36.7, it came complete with the challenge of how to get her home to Helsinki, Finland. With summer fast approaching and press-ganging progressing slowly, SOL decided to help out with moral support and in the end nearly 200 SOLers accompanied him and his crew on the 588nm trip. A big success! Today hmm still sails his yacht all summer long on his home waters of the Gulf of Finland. So, five years on, let's re-enact his passage and get over there to join him as fast as we can, in our very quick Ker 40s on this occasion.
Race #1271
INFO by brainaid.de
Ker 40 PARTICULARS
WX Updates:
0430 / 1030 / 1630 / 2230
Ranking:
SYCCH – SYQ3 – SUPSOL – SYC
ALT. CLIENT:Classic
RACE CLOSE: Sunday,
August 25 at 2300 UTC.
Race starts: Aug 15th 14:00 Registration Open!
GO TO RACE
Aden to Goa 2019
Europeans are mainly familiar with the history of how spices arrived in that continent from far away places, but the trade in spices from Goa to Aden predates the modern era as is detailed here. Sailonline is reversing this route and making it an eastbound yacht race of about 1700nm across the Arabian Sea for our 21st century Sunfast yachts! Fair winds and may the aroma of spices bring you safely to your destination!
PRIZE: SMPF
Race #1255
INFOfrom brainaid.de
Sunfast 3600 Particulars
WX Updates:
0430 / 1030 / 1630 / 2230
RANKING:
OCQ3-OCCH-SUPSOL-SYC
ALT. CLIENT: Classic
Race starts: Aug 12th 16:00 Registration Open!
GO TO RACE
SYC Ranking
Series
Mobile Client
SYC members have the benefit of access to our mobile/lightweight web client!