4 August 2019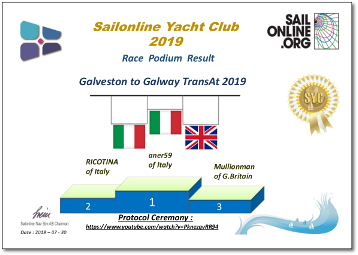 click on results image to see larger
CONGRATULAZIONI aner59!!!
CONGRATULAZIONI RICOTINA !!CONGRATULATIONS Mullionman!
Race Leaderboard
Commentary
When the idea of a race from Galveston to Galway was first suggested, the initial impression was of "just a TransAt" but… how wrong could we have been. The designer, SOLer Renegade, in fact created for us an ocean race of two parts – first, the crossing of the Gulf of Mexico which, in itself is a fairly major achievement, given the winds that arrive from the Atlantic and swirl in a loop around the Gulf, and second, a crossing of the N Atlantic itself. What a great race! It was intended by our SRC (Sailonline Race Committee) to be a 14-18 day race and, such is the accuracy of pre-routing that our first finisher arrived in 14 days 16 hours!
For most SOLers the Gulf of Mexico was a good challenge to begin with – figuring the best way to manage the Florida Keys! The choice was either to thread through the 'Keys or avoid them pretty much altogether. Our leaders immediately showed us that the most direct route was the most efficient! With Florida behind us, the next question was whether to head directly across the Atlantic towards Galway or, head north, hugging E Coast USA and then make a traditional TransAt, taking advantage of both the conventionally prevailing W-E flow of the northern latitudes and, of course, the shorter physical distance. A compromise on this was what chiefly occurred – perhaps with winds reflecting our changing climate, the sea crossings that have been part of history will be altered forever. SOLers are always adventurous spirits so if it were possible to re-create the tracks of our crossing, you would see that pretty much every option was attempted!
In any event, a leading pack soon developed and leaving the bulk of the fleet streaming behind, these Maestros of SOL looked to have the race well in hand – for a long while it seemed as if an all-Italian podium might be on the cards but…. by one second, that full-house was denied! Congratulations must go to our amazing podium three, and special mention to those who, but for a few seconds, might also have been victorious!

Races
Next Race: 00d 00h 00m
---
Current Races:
Sail Around Turkey 2019
Welcome to one of Sailonline's iconic races, where our fleet races the length of the Turkish coastline. This is a 1,372nm race from Hopa (the easternmost point of the Turkish Black Sea coast) to Iskenderun (the easternmost point of Turkey's Mediterranean coast).
Race #1279
INFOfrom brainaid.de
Sailonline_Falkun Particulars
WX Updates:
0430 / 1030 / 1630 / 2230
Ranking: SYC
ALT. CLIENT:Classic
Race starts: Aug 20th 14:00 Registration Open!
GO TO RACE
hmm's Delivery 2019
When, back in 2014, SOLer hmm went to Kiel in Germany and bought himself a very fine First 36.7, it came complete with the challenge of how to get her home to Helsinki, Finland. With summer fast approaching and press-ganging progressing slowly, SOL decided to help out with moral support and in the end nearly 200 SOLers accompanied him and his crew on the 588nm trip. A big success! Today hmm still sails his yacht all summer long on his home waters of the Gulf of Finland. So, five years on, let's re-enact his passage and get over there to join him as fast as we can, in our very quick Ker 40s on this occasion.
Race #1271
INFO by brainaid.de
Ker 40 PARTICULARS
WX Updates:
0430 / 1030 / 1630 / 2230
Ranking:
SYCCH – SYQ3 – SUPSOL – SYC
ALT. CLIENT:Classic
RACE CLOSE: Sunday,
August 25 at 2300 UTC.
Race starts: Aug 15th 14:00 Registration Open!
GO TO RACE
Aden to Goa 2019
Europeans are mainly familiar with the history of how spices arrived in that continent from far away places, but the trade in spices from Goa to Aden predates the modern era as is detailed here. Sailonline is reversing this route and making it an eastbound yacht race of about 1700nm across the Arabian Sea for our 21st century Sunfast yachts! Fair winds and may the aroma of spices bring you safely to your destination!
PRIZE: SMPF
Race #1255
INFOfrom brainaid.de
Sunfast 3600 Particulars
WX Updates:
0430 / 1030 / 1630 / 2230
RANKING:
OCQ3-OCCH-SUPSOL-SYC
ALT. CLIENT: Classic
Race starts: Aug 12th 16:00 Registration Open!
GO TO RACE
SYC Ranking
Series
Mobile Client
SYC members have the benefit of access to our mobile/lightweight web client!