11 May 2018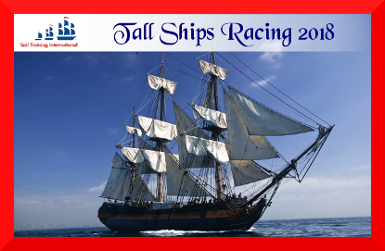 2018 sees the eighth season of Sailonline's association with tall ships races organised by Sail Training International. This year's racing will take us not only around Europe but also into the Far East and the Sailonline series will include all five of the scheduled races. As always we will endeavour to bring a selection of Class A ships on-screen so that we can compare our performance(s)!
This is what we have in store:
The Three Festivals Tall Ships Regatta - starting in May, two races from Liverpool, England, to Dublin, Ireland and then from Dublin to Bordeaux in France.
The Tall Ships Races 2018 - two races in July – Race 1 from Sunderland, England, to Esbjerg, Denmark and Race 2 from Stavanger, Norway, to Harlingen, Netherlands. In between, the real ships will Cruise-In-Company between Esbjerg and Stavanger but shore-hugging our Class A polars is not a good idea so again this year we will be leaving the real tall ships to their meanderings!
SCF Far East Tall Ships Regatta - one race starting at the end of August from Yeosu, S Korea to Vladivostock in Russia.
This virtual sailing experience runs hand in hand with Sail Training International's mission - the development and education of young people through the sail training experience, regardless of nationality, culture, religion, gender or social background. Sail Training International and Sailonline both count heavily on volunteer support with financial gain excluded from the equation.
Navigating a tall ship is a remarkably challenging affair, especially if you are more familiar with modern yachts, and gives a real insight into the true nature of ocean exploration in days gone by, so why not start learning the basics today so you will be ready for your Tall Ships experience!
There are four classes of Tall Ship in the real races, ranging from the biggest Class A Square Rigged ships of more than 40m in length, down to training yachts of 9.14m. Sailonline has developed performance polars based on published data for several different tall ships, and races to compete against Class A ships.
Sailonline's first race will open for practice on Sunday, 20 May.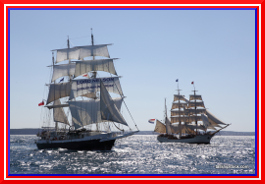 Races
Next Race: 00d 00h 00m
---
Current Races:
Van Isle 360 2019 Clockwise
Welcome back to Vancouver and the 525nm delightful course designed by SOLer fastpassage39. This is a tricky race, combining tight channels and open water which our TP 52 will love, and this year we'll do it CLOCKWISE!!!
Race #1238
INFO by brainaid.de
TP 52 Particulars
WX Updates:
0430 / 1030 / 1630 / 2230
Ranking: SYC
ALT. CLIENT:Classic

Race starts: Mar 25th 20:00 Registration Open!
GO TO RACE
Hook Island TIMED Race 2019
The 2nd race of the 2019/Q1 Timed Race Championship is a 64nm race amongst the Aussie Islands between Hook and St Bees in Far East 28R's
RE-REGISTER HERE to race again after finishing a run.
Race #1224
INFO from brainaid.de
Far East 28R Particulars
WX Updates: 0430 / 1030 / 1630 / 2230
Ranking: TRCH – TRQ1 – SUPSOL - SYC
ALT. CLIENT:Classic
RACE CLOSE: 31 March at 2300utc
Race starts: Mar 17th 23:00 Registration Open!
GO TO RACE
Golden Globe Race 2018 - Leg 2 Storm Bay to Les-Sables d'Olonne
Welcome to Leg 2 of Sailonline's virtual version of the 2018 Golden Globe Race. After a brief respite in Storm Bay, Tasmania, of a minimum of 90 minutes after arrival, we are now racing across the Pacific, round Cape Horn and home to Les-Sables d'Olonne.
DO NOT START TOO EARLY
If you raced Leg 1 then you MUST wait 90 minutes before starting this leg. The penalty for starting Leg 2 before finishing Leg 1 is NO RANKING. The penalty for starting Leg 2 within 90 minutes of finishing Leg 1 is 5x the time you started too early.
Race #1181
INFO by brainaid.de
Rustler 36 PARTICULARS
WX Updates:
0430 / 1030 / 1630 / 2230
Ranking: GGR
ALT. CLIENT:Classic
Race starts: Sep 15th 12:00 Registration Open!
GO TO RACE
SYC Ranking
Series
Mobile Client
SYC members have the benefit of access to our mobile/lightweight web client!