4 February 2018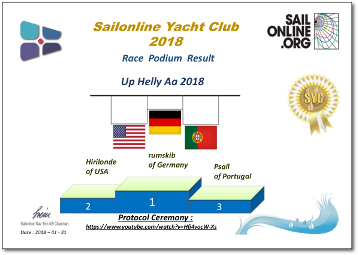 click on results image to see larger
HERZLICHEN GLÜCKWUNSCH rumskib!!!
CONGRATULATIONS Hirilonde!! PARABÉNS psail!
Race Leaderboard
With the eighth running of Sailonline's race to the Up Helly Aa fire festival in Lerwick, Scotland, starting just the day before the festival, there was a new atmosphere in the race as the fleet was very much still racing as the parade and ship-burning took place while we were watching the livestream of the event from 60˚North. There are some fabulous images findable and linked here on the event's website which really capture a sense of just how wild, windy and wet the event was and, of course, how spirits were in no way diminished by the conditions!
Once again Sailonline would like to thank Promote Shetland for letting us share in the Up Helly Aa experience and for promoting our race in their blog.
The race started with reasonable conditions at 1100utc on 29 January, and this meant that most of the Europeans in the race were approaching the turn in the Moray Firth during the night. Many found delightful bbq spots there ahead of the run to Shetland. As ever, after passing the first Shetland mark at Gruney, the circuitous route around the islands until the approach to Lerwick was extremely difficult and so it is that our front runners, all of them, showed tremendous determination to succeed!
With a total of 204 boats registered in the race, flying the flags of 38 nations this was one of the best "global" races to Up Helly Aa in Sailonline's history. Beating tough competition and this most-tricky of courses around Shetland to reach the podium was a tremendous achievement. Congratulations guys!


Races
Next Race: 00d 00h 00m
---
Current Races:
The Three Festivals Tall Ships Regatta 2018 - Race 1
Welcome to the first of two races of The Three Festivals Tall Ships Regatta - a run of 147nm from Liverpool, around the Isle of Man to finish offshore Dublin. A pleasant outing for our elegant Clipper ships.
NOTE:Starts and Finishes in Tall Ships racing are offshore to avoid conflict with shipping and shipping lanes.
Race #1143
INFO by brainaid.de
Clipper 240 Particulars
WX Updates:
0430 / 1030 / 1630 / 2230
RANKING: Tall Ships - SYC
ALT. CLIENT: Classic
Race starts: May 28th 15:00 Registration Open!
GO TO RACE
Aegean Rally 2018
"The International Aegean Sailing Rally is a regatta with a long history, organized every year by the HORC (Hellenic Offshore Racing Club). It is the oldest and most splendid sailing event in Greece and is characterized as a marine Marathon", thus write its organisers, The Hellenic Offshore Racing Club, and in 2015 SOL followed the IRL yachts round for all four legs. Marathon, however, lies too far off the beaten track, so, we, at SOL, much encouraged by the great success of our ouzo-fuelled sprint of January this year, have decided to use another of the 2015 legs for sprinting. This one starts in Athens, then rounds Agios Dimitrios Kythnos for Piperi, to finish at the Temple of Poseidon on the tip of the Attica peninsula.
Race #1138
INFO by brainaid.de
GB90 Particulars
WX Updates:
0430 / 1030 / 1630 / 2230
Ranking:
SPRCH - SPRQ2 - SUPSOL - SYC
ALT. CLIENT:Classic
Race starts: May 26th 16:00 Registration Open!
GO TO RACE
SWR 17/18 Leg 9 - Newport to Cardiff
We are back in the northern hemisphere!
After a good rest in Newport it's time to head for Europe, more specifically Cardiff in Wales
"A smooth trip" you might think, but The Atlantic Ocean can offer many surprises. One of them could be The Azores High, which in the late spring can drift north and block your route to Cardiff.
Consider yourself warned.
Race #1146
INFO from brainaid.de
OD65v3 Particulars
WX Updates: 0430 / 1030 / 1630 / 2230
Ranking: 2017SWR-2018OCCH-2018SUPSOL-2018OCQ2-SYC
PRIZE: SMPF
SOL Classic Client
Race starts: May 20th 18:00 Registration Open!
GO TO RACE
Van Isle 360 2018
Welcome back to Vancouver and the 525nm delightful course designed by SOLer fastpassage39. This is a tricky race, combining tight channels and open water which our TP 52 will love.
Race #1147
INFO by brainaid.de
TP 52 Particulars
WX Updates: 0430 / 1030 / 1630 / 2230
Ranking: SYC
ALT. CLIENT:Classic
Race starts: May 17th 16:00 Registration Open!
GO TO RACE
Tristan TIMED Race 2018
Welcome to the South Atlantic and a challenging 68nm course around the three quaintly and incongruously named islands of the remote outpost known as Tristan da Cunha. The gales may come and go but the sea is everlasting. This is a TIMED race originally designed by NZL_Scotsman.
RE-REGISTER HERE to race again after finishing a run.
Race #1130
INFO by brainaid.de
Farr 38 Particulars
WX Updates:
0430 / 1030 / 1630 / 2230
Ranking:
TRCH-SUPSOL-TRQ2-SYC
ALT CLIENT: Classic RACE CLOSE: Sunday,
27 May at 2300utc
Race starts: May 06th 12:00 Registration Open!
GO TO RACE
SYC Ranking
Series
Mobile Client
SYC members have the benefit of access to our mobile/lightweight web client!