4 February 2018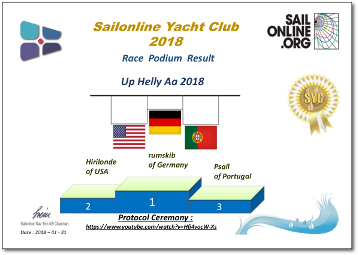 click on results image to see larger
HERZLICHEN GLÜCKWUNSCH rumskib!!!
CONGRATULATIONS Hirilonde!! PARABÉNS psail!
Race Leaderboard
With the eighth running of Sailonline's race to the Up Helly Aa fire festival in Lerwick, Scotland, starting just the day before the festival, there was a new atmosphere in the race as the fleet was very much still racing as the parade and ship-burning took place while we were watching the livestream of the event from 60˚North. There are some fabulous images findable and linked here on the event's website which really capture a sense of just how wild, windy and wet the event was and, of course, how spirits were in no way diminished by the conditions!
Once again Sailonline would like to thank Promote Shetland for letting us share in the Up Helly Aa experience and for promoting our race in their blog.
The race started with reasonable conditions at 1100utc on 29 January, and this meant that most of the Europeans in the race were approaching the turn in the Moray Firth during the night. Many found delightful bbq spots there ahead of the run to Shetland. As ever, after passing the first Shetland mark at Gruney, the circuitous route around the islands until the approach to Lerwick was extremely difficult and so it is that our front runners, all of them, showed tremendous determination to succeed!
With a total of 204 boats registered in the race, flying the flags of 38 nations this was one of the best "global" races to Up Helly Aa in Sailonline's history. Beating tough competition and this most-tricky of courses around Shetland to reach the podium was a tremendous achievement. Congratulations guys!


Races
Next Race: 00d 00h 00m
---
Current Races:
Stockholm to St Petersburg 2018
Welcome to Stockholm - are you ready to race to St Petersburg? Our 431nm course from Sweden to Russia includes a couple of slight detours past Saaremaa and Hoglandet but if you keep a good lookout and avoid stealthy submarines, you should soon be docking your J130s at the home of the world renowned Hermitage Museum!
Race #1114 INFO by brainaid.de J130 Particulars WX UPDATES:
0430 / 1030 / 1630 / 2230 RANKING: SYCALT. CLIENT:Classic
Race starts: Feb 27th 11:00 Registration Open!
GO TO RACE
Perth-Fremantle ISAF Sprint 2018
To celebrate the running of the 2011 ISAF World Championships in Perth, Australia, SOL organized an overnight offshore race and a Sprint: 65nm in a J-80 sportsboat along the Perth/Freemantle shoreline. We have raced the course several times since then. This year, to hurry things up, we're going to do it in an Open 60. Proper sprinting!
Race #1118
INFO at brainaid.de
Open 60 Particulars
WX Updates:
0430 / 1030 / 1630 / 2230
Ranking:
SPRCH - SUPSOL – SRQ1 - SYC
ALT. CLIENT:Classic
Race starts: Feb 24th 03:00 Registration Open!
GO TO RACE
SWR 17/18 Leg 6 - Hong Kong to Auckland
While others have spent the two-week stay in Hong Kong sailing up and down the Zhujiang River and around Hong Kong Island, we have been able to completely relax and spend the days preparing for Leg 6 from Hong Kong to Auckland.
We will (almost) sail the exactly same way back to where we came from and that means another meeting with the Doldrums, which hopefully this time will be kinder to us. But if that does not happen... no one said this SWR 17/18 would be easy!
Race #1113
INFOfrom brainaid.de
The Chart is NOT available for this race !
OD65v3 Particulars
WX Updates:
0430 / 1030 / 1630 / 2230
Ranking:
OCCH-OCQ1-SUPSOL-SWR-SYC
ALT. CLIENT:Classic
Race starts: Feb 07th 05:00 Registration Open!
GO TO RACE
SYC Ranking
Series
Mobile Client
SYC members have the benefit of access to our mobile/lightweight web client!