3 November 2017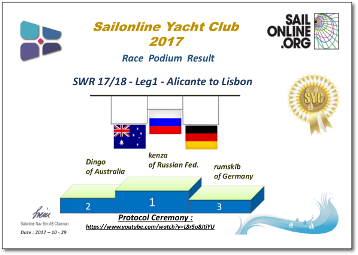 click on results image to see larger
поздравления kenza!!! GOOD ONYA Dingo!! HERZLICHEN GLÜCKWUNSCH rumskib!
Race Leaderboard
Reports


Timelapse Video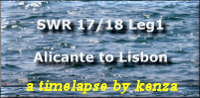 Commentary
Navigating in a race around the world is always a great joy as it was Sailonline's original design purpose and somehow one can just breathe a sigh of relief to be on our way across the oceans again. For those unfamiliar with ocean navigation, this is the perfect opportunity to hone your skills on probably the best online virtual sailing navigation simulator … for FREE! Whether you like increasing the density of the on-screen wind arrows (see Options under the Info Tab) and using Mark I eyeball to identify your best winds, or whether you are a supremo of routing software, searching for the optimal resource for winds and smoothing them to their closest fit with the Sailonline race, this really is a game for everyone. Old, young, aspiring yotties or legends (in reality and/or virtuality) and especially if you find yourself mostly house- or desk-bound, for whatever reason, this is the time to let your imaginations, and skill, roam the oceans and race!
Sailonline's first leg for this year's World Race was something of a sightseeing tour of the Mediterranean, and the choice of course design was met with some perturbation by those who didn't want to delay heading to the Atlantic (see the timelapse!) while others were happy enough to test the mettle of their OD65s in the varied conditions offered by an autumnal Med. With a total of 403 registering to race, flying the flags of 47 nations, this really was a grand introduction to the series.
Our podium, of course, are to be congratulated on their success – it has been some years since Sailonline has seen a leader streak away from the fleet in quite such an accomplished fashion, but it has been done before. Hopefully this signals a new era of even tougher competition at the front! Bravo guys!


Races
Next Race: 00d 00h 00m
---
Current Races:
Yates Cup 2017
RAYC welcomes Sailonline to the 2017 running of this Category 3+ race from Auckland around the Hauraki Gulf and challenges us to pit our skills against the real fleet who use the course as training for larger offshore events.
Race #1093
INFOfrom brainaid.de
Beneteau First 44.7 Particulars
WX Updates: 0430 / 1030 / 1630 / 2230
Ranking: SYC
ALT. CLIENT:Classic
Race starts: Nov 23rd 21:00 Registration Open!
GO TO RACE
Lake Superior Lights 2017
Sailonline loves lighthouses and our classic race around the famous lights of Lake Superior is a grand tour of 572nm . With fickle weather worldwide, this could be interesting!
Race #1092
INFOfrom brainaid.de
First47.7 Particulars
NAM_AWIP WX Updates:
0245 / 0845 / 1445 / 2045
Ranking: SYC
PRIZE: SMPF
ALT. CLIENT: Classic
Race starts: Nov 17th 18:00 Registration Open!
GO TO RACE
Elbetico's Fun Run TIMED Race 2017
This ever popular annual 20nm TIMEDRUN returns to our calendar slightly later in the year than usual. This year, our craft of choice is the SOTO30. Like last year's Class40, the SOTO30 is a close-winded boat and has the additional upwind feature of a constant optimum TWA when the wind goes above Force 4. Chances are these aspects will stand to you, weaving your way up the mud flats of the upper reaches of the Huelva delta.
RE-REGISTER HERE to race again after finishing a run
Race #910
INFO by brainaid.de
SOTO30 Particulars
WX Updates:
0430 / 1030 / 1630 / 2230
RANKING:
TRCH-SUPSOL-TRQ4-SYC
ALT. CLIENT: Classic
RACE CLOSE: Sunday,
19 November at 2300utc
Race starts: Nov 10th 16:00 Registration Open!
GO TO RACE
SWR 17/18 Leg 2 - Lisbon to Cape Town
The second of eleven legs of the 2017/18 Sailonline World Race takes us from Lisbon to Cape Town!
In this leg we must catch the Trade Winds, avoid the Azores High, pick the thinnest spot in the Doldrums to go through, then avoid the St. Helena High and catch the Westerly Storm Track that will get us to Cape Town
The southern race boundary has been set at 51°S to mark the Antarctic Ice Exclusion Zone
Race #1095
INFOfrom brainaid.de
OD65v3 Particulars
WX Updates: 0430 / 1030 / 1630 / 2230
Ranking: OCCH-OCQ4-SUPSOL-SWR-SYC
ALT. CLIENT:Classic
Race starts: Nov 05th 14:00 Registration Open!
GO TO RACE
SYC Ranking
Series
Mobile Client
SYC members have the benefit of access to our mobile/lightweight web client!