1 March 2017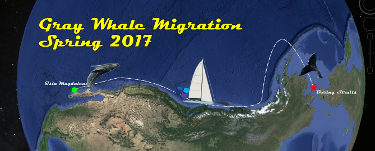 click on image to see larger
Welcome to the 2017 running of this epic 4000nm trip following the route taken by the gray whale in its annual spring migration from Mexico to the Bering Sea. This race was originally designed by RainbowChaser, and first run in 2010 – it is intended to celebrate the remarkable life cycle and migration route of the Gray Whale. There is a great deal of information and background contributed in-Forum here.
In 2013, 2014, 2015 and 2016 we followed the autumn swim down from the icy north to the warm and shallow breeding grounds in the lagoons off Baja California. This time as in 2010 and 2011 we are racing the Spring "mother and calf route" from Mexico up to the Bering Sea.
Reports of plastic pollution being more prevalent than fish in the oceans within decades are on the increase from reputable sources – beachcombing even a square metre produces bags-full of plastic waste – and our precious marine life is more than just endangered with many dead and dying animals being washed up with their stomachs full of plastic which, in the case of balloons and plastic bags, have been mistaken for food, such as jellyfish. So as you race this wonderful migration back to the traditional gray whale feeding grounds in the north Pacific and Bering Sea, please take a moment to consider both the natural and the manmade dangers that beset momma and baby gray whales.
Gray Whale Facts



Races
Next Race: 00d 00h 00m
---
Current Races:
The Tall Ships Races 2017 - Race 1 - Halmstad to Kotka
Welcome to the first of the three races in this year's European Tall Ships Races - a race of XXXm from S Sweden to E Finland. The ships leave the festival in Halmstad and make their way to the race start, off the S Coast of Sweden, for a race to Kotka close to Finland's border with Russia NOTE:Starts and Finishes in tall ships racing are offshore to avoid conflict with shipping and shipping lanes.
Race #1061
INFO by brainaid.de
Barque 90 Particulars
WX Updates:
0430 / 1030 / 1630 / 2230
RANKING: Tall Ships - SYC
ALT. CLIENT: Classic
Race starts: Jul 03rd 13:00 Registration will open soon
GO TO RACE
A3 2016 - Leg 9 - Perth to Adelaide
SOL's gift to AGage's memory is the A3 - Agage's Around Australia Series. This race is Leg 9, the last in the series - a race of 1300nm in VO70v4s from the appropriately named Gage Roads off Fremantle to Adelaide. Let us race with Aaron's spirit back to Adelaide.
Race #1060
INFO by brainaid.de
VO70v4 Particulars
WX Updates: 0430 / 1030 / 1630 / 2230
Ranking: A3/SYC
ALT. CLIENTClassic
Race starts: Jun 25th 10:00 Registration Open!
GO TO RACE
2017 40' Series Championship Q1&Q2 Singapore Visit
It's time for the sixth of six races in the 40' Q1 and Q2 Championship!
Welcome to Indonesia and a 365 NM race in one of the 40' available for your choice, from the Island of Natuna Besar to Singapore Harbor. This regatta is based on the course of the Singapore In-Port race back in 2009.
DON'T RISK DISQUALIFICATION!
There are three boat designs to choose from and each one may NOT be used more than twice during the six race Series, according to the NORof the series
The three boat designs are:
40' Particularsand their official polars are here, just recently uploaded by "sailonline":
40' Polars(as a zip file)
IMPORTANT:
Before you choose the boat design, log in with the "Guest" boat (Username=guest/Password=guest) so you can view the predicted winds to help you choose the best boat/polar for the upcoming race. Once you have chosen to register a boat design for this race, it cannot be undone!
REMEMBER:
Choosing the same boat design more than twice will get you disqualified from this race!!
View this list to see what boats you've already used:
USED BOATS
Race # 1059
INFOfrom brainaid.de
WX Updates:
0430 / 1030 / 1630 / 2230
Ranking:
40Q1&2CH –SYC
ALT. CLIENT:Classic
RACE CLOSE: Wednesday, June 28 at 15:00:00 UTC
Race starts: Jun 23rd 02:00 Registration Closed
GO TO RACE
Red Dot 2017 - Leg 3 - Alaska to San Francisco
Inspired by Matt Rutherford's single handed circumnavigation of the Americas, and proposed by SOLer Renegade, Sailonline is racing the course in 5 legs. This is Leg 3 - 2,954nm from Barrow, Alaska to San Francisco, California.
Race #1030
INFO by brainaid.de
SuperMaxi 100 Particulars
WX Updates:
0430 / 1030 / 1630 / 2230
RANKING: OCCH - OCQ2 - SUPSOL - RedDot - SYC
ALT. CLIENT: Classic
PRIZE: SMPF
Race starts: Jun 11th 18:00 Registration Open!
GO TO RACE
SYC Ranking
Series
Mobile Client
SYC members have the benefit of access to our mobile/lightweight web client!