1 December 2017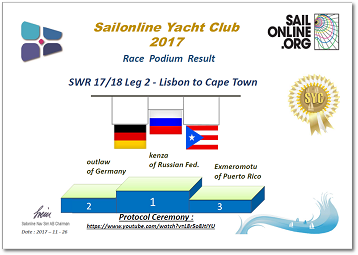 click on results image to see larger
поздравления kenza!!! HERZLICHEN GLÜCKWUNSCH outlaw!! Felicidades Exmeromotu!
Race Leaderboard
Timelapse Video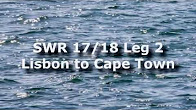 Commentary
Navigating in a race around the world is always a great joy as it was Sailonline's original design purpose and somehow one can just breathe a sigh of relief to be on our way across the oceans again. For those unfamiliar with ocean navigation, this is the perfect opportunity to hone your skills on probably the best online virtual sailing navigation simulator … for FREE! Whether you like increasing the density of the on-screen wind arrows (see Options under the Info Tab) and using Mark I eyeball to identify your best winds, or whether you are a supremo of routing software, searching for the optimal resource for winds and smoothing them to their closest fit with the Sailonline race, this really is a game for everyone. Old, young, aspiring yotties or legends (in reality and/or virtuality) and especially if you find yourself mostly house- or desk-bound, for whatever reason, this is the time to let your imaginations, and skill, roam the oceans and race!
The course for Leg 2 of our World Race clearly showed that Fernando de Noronha was not a waypoint. Suddenly all possibilities were open, and many were tempted by the opportunity to go along the African east coast as a shortcut to Cape Town, but once again the old saying "West is Best" showed to be true.
Then came the big decision on how best to pass the doldrums, and again the old saying "between 26 and 30 degrees" turned out to be true.
SOLer Alexandria described it very accurately in a post in Sailonline's Facebook Group, when he said:
"The longitude at which crossing the doldrums has to be chosen carefully. Too far east (ie east of 025 ° W), and you are likely to fall prey to winds or not more than 8 knots, or be forced to sail SW to WSW. Too far west (say, west of 029 ° W) and you might end up sailing higher and slower than those east of you, even though the wind angle tends to back somewhat as you go to the west after exiting the doldrums. "
This passage brought many pretty close to Fernando de Noronha and from there it was just about finding the Westerly Stormtrack and aiming for Cape Town and The African Coast Pack was left to sweat.
And then kenza won again!
His victory this time was only by 4 minutes, yet after a distance sailed of nearly 7000nm this was nice. The top ten boats arrived at the finish line within 10 minutes 16 seconds. Impressive after a 21-day race. With 471 boats participating in the race, flying the flags of 28 nations, our podium has earned all respect possible.



Races
Next Race: 00d 00h 00m
---
Current Races:
Auckland Noumea Yacht Race 2018
Welcome to Auckland, New Zealand and Royal Akarana Yacht Club for the start of the virtual Auckland Noumea Yacht Race 2018. This race is one of four concurrent races and rallies departing from Brisbane, Sydney and Melbourne at a similar time. Join our run across the Pacific to Noumea - 983 nm in TP52s should be a blast!
Race #1148
INFO by brainaid.de
TP 52 Particulars
WX Updates:
0430 / 1030 / 1630 / 2230
RANKING: SYC
ALT. CLIENT: Classic
Race starts: Jun 02nd 01:00 Registration Open!
GO TO RACE
SoCal 300 2018
Sailonline is delighted to welcome you back to San Diego, California Race Week and the 2018 SoCal300 race, hosted by San Diego Yacht Club. As we have learned from experience, we need to race our SC52s pretty smartly to remain in contention with the real fleet here on the US West coast!
Race #1133
INFO by brainaid.de
Santa Cruz 52 Particulars
WX Updates:
0245 / 0845 / 1445 / 2045
Ranking: SYC
ALT. CLIENT:Classic
Race starts: May 31st 19:00 Registration Open!
GO TO RACE
The Three Festivals Tall Ships Regatta 2018 - Race 1
Welcome to the first of two races of The Three Festivals Tall Ships Regatta - a run of 147nm from Liverpool, around the Isle of Man to finish offshore Dublin. A pleasant outing for our elegant Clipper ships.
NOTE:Starts and Finishes in Tall Ships racing are offshore to avoid conflict with shipping and shipping lanes.
Race #1143
INFO by brainaid.de
Clipper 240 Particulars
WX Updates:
0430 / 1030 / 1630 / 2230
RANKING: Tall Ships - SYC
ALT. CLIENT: Classic
Race starts: May 28th 15:00 Registration Open!
GO TO RACE
Aegean Rally 2018
"The International Aegean Sailing Rally is a regatta with a long history, organized every year by the HORC (Hellenic Offshore Racing Club). It is the oldest and most splendid sailing event in Greece and is characterized as a marine Marathon", thus write its organisers, The Hellenic Offshore Racing Club, and in 2015 SOL followed the IRL yachts round for all four legs. Marathon, however, lies too far off the beaten track, so, we, at SOL, much encouraged by the great success of our ouzo-fuelled sprint of January this year, have decided to use another of the 2015 legs for sprinting. This one starts in Athens, then rounds Agios Dimitrios Kythnos for Piperi, to finish at the Temple of Poseidon on the tip of the Attica peninsula.
Race #1138
INFO by brainaid.de
GB90 Particulars
WX Updates:
0430 / 1030 / 1630 / 2230
Ranking:
SPRCH - SPRQ2 - SUPSOL - SYC
ALT. CLIENT:Classic
RACE CLOSE: Tuesday,
May 29 at 2300 UTC.
Race starts: May 26th 16:00 Registration Open!
GO TO RACE
SWR 17/18 Leg 9 - Newport to Cardiff
We are back in the northern hemisphere!
After a good rest in Newport it's time to head for Europe, more specifically Cardiff in Wales
"A smooth trip" you might think, but The Atlantic Ocean can offer many surprises. One of them could be The Azores High, which in the late spring can drift north and block your route to Cardiff.
Consider yourself warned.
Race #1146
INFO from brainaid.de
OD65v3 Particulars
WX Updates: 0430 / 1030 / 1630 / 2230
Ranking: 2017SWR-2018OCCH-2018SUPSOL-2018OCQ2-SYC
PRIZE: SMPF
SOL Classic Client
Race starts: May 20th 18:00 Registration Open!
GO TO RACE
SYC Ranking
Series
Mobile Client
SYC members have the benefit of access to our mobile/lightweight web client!