11 August 2017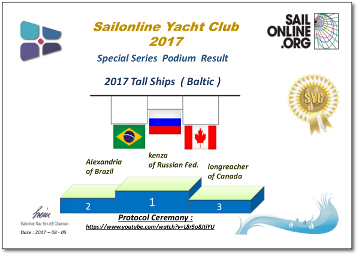 click on results image to see larger
Поздравляю kenza !!!
PARABÉNS Alexandria!! CONGRATULATIONS longreacher!
Series Leaderboard
Race Results Blogposts



Commentary
We have come to the end of our Tall Ships racing in Europe for 2017 and we owe a big "thank you" to Sail Training International for another year of excellent buddy-racing. Bringing Class A ships on-screen and tracking their progress is a real bonus for Sailonline's racing, creating as it does a real sense of interactivity with the real ships and the festivals they are taking part in.
For possibly the first year, there seemed to be a real recognition of the way in which tall ships perform – set against our usual repertoire of mono- and multi-hull yachts, these grand ladies of the oceans, representing an era of maritime exploration, remind us of the difficult conditions faced by those early navigators. As we lolled, almost becalmed at times, we could begin to understand the frustrations this must have caused on-board in an era without satellite communications, where voyages lasted not just weeks but months.
Many congratulations to our wonderful podium – to win any tall ships race on Sailonline is a pretty remarkable achievement, but to finish on the podium at the end of a series is just excellent. Very well done guys!


Races
Next Race: 00d 00h 00m
---
Current Races:
2017 40' Series Championship Q3&Q4 - Lord Howe
Welcome to the final 6th of 6 races in this season (Q3/Q4) of our 40' series!
We will use the iconic 412nm racecourse from Gosford to Lord Howe Island.
The island is considered one of the most beautiful islands in the Pacific - one of just four island groups to be inscribed on UNESCO's World Heritage list for the global significance of its natural beauty and heritage. Located in the Tasman Sea between Australia and New Zealand, administratively it is part of the Australian state of New South Wales.

HOW TO BE DISQUALIFIED!!
READ THIS !!!!

Race # 1099
INFOfrom brainaid.de
WX Updates:
0430 / 1030 / 1630 / 2230
Ranking:
40CQ3&4 - SYC
ALT. CLIENT:Classic

RACE CLOSE:Monday, 18 December at 02:00 UTC
Race starts: 十二月 14th 02:00 Registration Closed
GO TO RACE
SWR 17/18 Leg 3 - Cape Town to Melbourne
This, the third of eleven legs of the 2017/18 Sailonline World Race, takes us from Cape Town to Melbourne!
After departing Cape Town in probably light winds and passing Cape of Good Hope, the keyword is "The Westerly Stormtrack" and to catch that, the weather will take us deep down south through the "Roaring Forties" and beyond, and then blow us toward Melbourne.
The southern race boundary has been set at 60°S to mark the Antarctic Ice Exclusion Zone, which will, hopefully, give us a clear run.
Race #1101
INFOfrom brainaid.de
OD65v3 Particulars
WX Updates: 0430 / 1030 / 1630 / 2230
Ranking: OCCH-OCQ4-SUPSOL-SWR-SYC
ALT. CLIENT:Classic
Race starts: 十二月 10th 12:00 Registration Open!
GO TO RACE
Christmas to Christmas Islands 2017
Having discovered that there is more than one Christmas Island some years ago, each year in the run up to the festive season, Sailonline races from the Pacific island to the Indian Ocean one - a distance of 5,837nm. The choice of route is entirely up to you! Fair winds!
Race #1098
INFO by brainaid.de
Super Maxi 100 Particulars
WX Updates:
0430 / 1030 / 1630 / 2230
RANKING: NONE
ALT. CLIENT: Classic
Race starts: 十二月 02nd 02:00 Registration Closed
GO TO RACE
SYC Ranking
Series
Mobile Client
SYC members have the benefit of access to our mobile/lightweight web client!