13 April 2017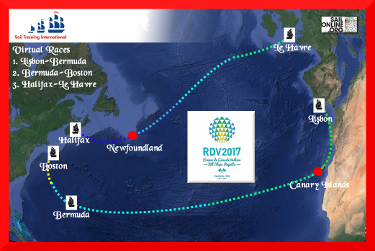 This is the seventh season that Sailonline will be associated with tall ships races organised by Sail Training International. This year's events will shortly begin with the remarkable Rendez-Vous 2017 Tall Ships Regatta. Sailonline will begin its programme of transatlantic tall ships races in Sines (Race 2 for the real ships) racing the Sailonline Clipper ship polar. The real fleet will be making a stopover in the Canary Islands, but in a bid to remain competitive with the fastest members of the real fleet, Sailonline will be sailing by the islands and continuing on to Bermuda. From Bermuda we head to Boston, where we leave the real ships to visit many ports in N America. Finally we rejoin the real fleet for a race back to Europe from Halifax, Nova Scotia.
Sailonline's virtual sailing experience runs hand in hand with Sail Training International's mission - the development and education of young people through the sail training experience, regardless of nationality, culture, religion, gender or social background. Sail Training International and Sailonline both count heavily on volunteer support with financial gain excluded from the equation.
If you have never sailed on a tall ship, then your experience of navigating one on Sailonline will genuinely bring you a sense of how challenging it was for those who explored our oceans in days gone by. This is a wonderful opportunity to dive into the world of tall ships and tall ship racing and we hope you will join us. You can start by registering now (it's free!) and learning the basics of racing on the Sailonline navsim platform so you will be ready for your Clipper.
There are four classes of Tall Ship in the real races, ranging from the biggest Class A Square Rigged ships of more than 40m in length, down to training yachts of 9.14m. Sailonline has developed performance polars based on published data for several tall ships, and races to compete against Class A ships.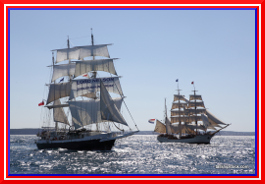 Races
Next Race: 00d 00h 00m
---
Current Races:
2017 40' Series Championship Q3&Q4 - Lord Howe
Welcome to the final 6th of 6 races in this season (Q3/Q4) of our 40' series!
We will use the iconic 412nm racecourse from Gosford to Lord Howe Island.
The island is considered one of the most beautiful islands in the Pacific - one of just four island groups to be inscribed on UNESCO's World Heritage list for the global significance of its natural beauty and heritage. Located in the Tasman Sea between Australia and New Zealand, administratively it is part of the Australian state of New South Wales.

HOW TO BE DISQUALIFIED!!
READ THIS !!!!

Race # 1099
INFOfrom brainaid.de
WX Updates:
0430 / 1030 / 1630 / 2230
Ranking:
40CQ3&4 - SYC
ALT. CLIENT:Classic

RACE CLOSE:Monday, 18 December at 02:00 UTC
Race starts: Dec 14th 02:00 Registration Closed
GO TO RACE
SWR 17/18 Leg 3 - Cape Town to Melbourne
This, the third of eleven legs of the 2017/18 Sailonline World Race, takes us from Cape Town to Melbourne!
After departing Cape Town in probably light winds and passing Cape of Good Hope, the keyword is "The Westerly Stormtrack" and to catch that, the weather will take us deep down south through the "Roaring Forties" and beyond, and then blow us toward Melbourne.
The southern race boundary has been set at 60°S to mark the Antarctic Ice Exclusion Zone, which will, hopefully, give us a clear run.
Race #1101
INFOfrom brainaid.de
OD65v3 Particulars
WX Updates: 0430 / 1030 / 1630 / 2230
Ranking: OCCH-OCQ4-SUPSOL-SWR-SYC
ALT. CLIENT:Classic
Race starts: Dec 10th 12:00 Registration Open!
GO TO RACE
Christmas to Christmas Islands 2017
Having discovered that there is more than one Christmas Island some years ago, each year in the run up to the festive season, Sailonline races from the Pacific island to the Indian Ocean one - a distance of 5,837nm. The choice of route is entirely up to you! Fair winds!
Race #1098
INFO by brainaid.de
Super Maxi 100 Particulars
WX Updates:
0430 / 1030 / 1630 / 2230
RANKING: NONE
ALT. CLIENT: Classic
Race starts: Dec 02nd 02:00 Registration Closed
GO TO RACE
SYC Ranking
Series
Mobile Client
SYC members have the benefit of access to our mobile/lightweight web client!