13 April 2017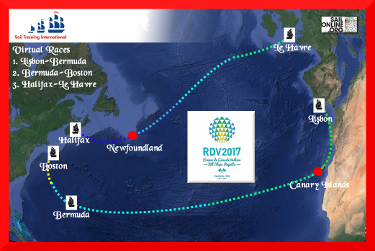 This is the seventh season that Sailonline will be associated with tall ships races organised by Sail Training International. This year's events will shortly begin with the remarkable Rendez-Vous 2017 Tall Ships Regatta. Sailonline will begin its programme of transatlantic tall ships races in Sines (Race 2 for the real ships) racing the Sailonline Clipper ship polar. The real fleet will be making a stopover in the Canary Islands, but in a bid to remain competitive with the fastest members of the real fleet, Sailonline will be sailing by the islands and continuing on to Bermuda. From Bermuda we head to Boston, where we leave the real ships to visit many ports in N America. Finally we rejoin the real fleet for a race back to Europe from Halifax, Nova Scotia.
Sailonline's virtual sailing experience runs hand in hand with Sail Training International's mission - the development and education of young people through the sail training experience, regardless of nationality, culture, religion, gender or social background. Sail Training International and Sailonline both count heavily on volunteer support with financial gain excluded from the equation.
If you have never sailed on a tall ship, then your experience of navigating one on Sailonline will genuinely bring you a sense of how challenging it was for those who explored our oceans in days gone by. This is a wonderful opportunity to dive into the world of tall ships and tall ship racing and we hope you will join us. You can start by registering now (it's free!) and learning the basics of racing on the Sailonline navsim platform so you will be ready for your Clipper.
There are four classes of Tall Ship in the real races, ranging from the biggest Class A Square Rigged ships of more than 40m in length, down to training yachts of 9.14m. Sailonline has developed performance polars based on published data for several tall ships, and races to compete against Class A ships.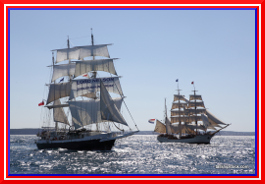 Races
Next Race: 00d 00h 00m
---
Current Races:
Stockholm to St Petersburg 2018
Welcome to Stockholm - are you ready to race to St Petersburg? Our 431nm course from Sweden to Russia includes a couple of slight detours past Saaremaa and Hoglandet but if you keep a good lookout and avoid stealthy submarines, you should soon be docking your J130s at the home of the world renowned Hermitage Museum!
Race #1114 INFO by brainaid.de J130 Particulars WX UPDATES:
0430 / 1030 / 1630 / 2230 RANKING: SYCALT. CLIENT:Classic
Race starts: Feb 27th 11:00 Registration Open!
GO TO RACE
Perth-Fremantle ISAF Sprint 2018
To celebrate the running of the 2011 ISAF World Championships in Perth, Australia, SOL organized an overnight offshore race and a Sprint: 65nm in a J-80 sportsboat along the Perth/Freemantle shoreline. We have raced the course several times since then. This year, to hurry things up, we're going to do it in an Open 60. Proper sprinting!
Race #1118
INFO at brainaid.de
Open 60 Particulars
WX Updates:
0430 / 1030 / 1630 / 2230
Ranking:
SPRCH - SUPSOL – SRQ1 - SYC
ALT. CLIENT:Classic
Race starts: Feb 24th 03:00 Registration Open!
GO TO RACE
SWR 17/18 Leg 6 - Hong Kong to Auckland
While others have spent the two-week stay in Hong Kong sailing up and down the Zhujiang River and around Hong Kong Island, we have been able to completely relax and spend the days preparing for Leg 6 from Hong Kong to Auckland.
We will (almost) sail the exactly same way back to where we came from and that means another meeting with the Doldrums, which hopefully this time will be kinder to us. But if that does not happen... no one said this SWR 17/18 would be easy!
Race #1113
INFOfrom brainaid.de
The Chart is NOT available for this race !
OD65v3 Particulars
WX Updates:
0430 / 1030 / 1630 / 2230
Ranking:
OCCH-OCQ1-SUPSOL-SWR-SYC
ALT. CLIENT:Classic
Race starts: Feb 07th 05:00 Registration Open!
GO TO RACE
SYC Ranking
Series
Mobile Client
SYC members have the benefit of access to our mobile/lightweight web client!