9 September 2012
RESULTS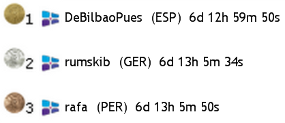 FELICIDADES DeBilbaoPues!!! HERZLICHEN GLÜCKWUNSCH rumskib!! BRAVO rafa!
In recent weeks the E Atlantic has been windy with tough sailing conditions. SOL arrived for the first running of its "Lighthouses" race and the wind dropped, the sun came out and conditions became more suited to cruising than racing. This did not, somehow, affect SOL's podium and the top finishers who just raced ahead, as if effortlessly - the mark of true skill! Very well done guys - the rest of the fleet who are still "sightseeing" can only wonder how you did it!
RACE INFO
Hi SOL sailors,
We have a nice race set up for you across the English Channel and The Celtic Sea. Although lighthouses seem of less importance nowadays with all the modern communication and positioning equipment on board. Lighthouses still provide safety and a low tech way of getting a good sense of your position.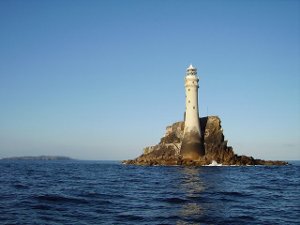 Image of the Fastnet Rock, with the lighthouse Carraig Aonair.
In this race we pass some of them on the shores of France, England and Ireland. The race is approximately 965 nm long and is raced in class 40 type boats.
As a reference we have a link to a site displaying all of them in more detail.
For the French lighthouses look here
map
images
For the South of England look here
map
images
And for the Irish lighthouses have a look here
map
images
Enjoy the race!
________________________
Races
Next Race: 00d 00h 00m
---
Current Races:
Stockholm to St Petersburg 2018
Welcome to Stockholm - are you ready to race to St Petersburg? Our 431nm course from Sweden to Russia includes a couple of slight detours past Saaremaa and Hoglandet but if you keep a good lookout and avoid stealthy submarines, you should soon be docking your J130s at the home of the world renowned Hermitage Museum!
Race #1114 INFO by brainaid.de J130 Particulars WX UPDATES:
0430 / 1030 / 1630 / 2230 RANKING: SYCALT. CLIENT:Classic
Race starts: Feb 27th 11:00 Registration Open!
GO TO RACE
Perth-Fremantle ISAF Sprint 2018
To celebrate the running of the 2011 ISAF World Championships in Perth, Australia, SOL organized an overnight offshore race and a Sprint: 65nm in a J-80 sportsboat along the Perth/Freemantle shoreline. We have raced the course several times since then. This year, to hurry things up, we're going to do it in an Open 60. Proper sprinting!
Race #1118
INFO at brainaid.de
Open 60 Particulars
WX Updates:
0430 / 1030 / 1630 / 2230
Ranking:
SPRCH - SUPSOL – SRQ1 - SYC
ALT. CLIENT:Classic
Race starts: Feb 24th 03:00 Registration Open!
GO TO RACE
SWR 17/18 Leg 6 - Hong Kong to Auckland
While others have spent the two-week stay in Hong Kong sailing up and down the Zhujiang River and around Hong Kong Island, we have been able to completely relax and spend the days preparing for Leg 6 from Hong Kong to Auckland.
We will (almost) sail the exactly same way back to where we came from and that means another meeting with the Doldrums, which hopefully this time will be kinder to us. But if that does not happen... no one said this SWR 17/18 would be easy!
Race #1113
INFOfrom brainaid.de
The Chart is NOT available for this race !
OD65v3 Particulars
WX Updates:
0430 / 1030 / 1630 / 2230
Ranking:
OCCH-OCQ1-SUPSOL-SWR-SYC
ALT. CLIENT:Classic
Race starts: Feb 07th 05:00 Registration Open!
GO TO RACE
SYC Ranking
Series
Mobile Client
SYC members have the benefit of access to our mobile/lightweight web client!