30 September 2012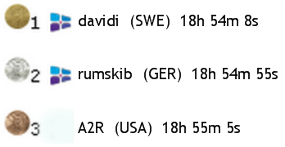 GRATTIS davidi!!! HERZLICHEN GLÜCKWUNSCH rumskib!! CONGRATULATIONS A2R!
The first running of Schakel's Round Hong Kong Race saw, probably, as many bbqs and curious courses as a Swedish archipelago race. In reasonably stable wind conditions, the relatively straightforward beginning and middle sections made one forget the tricky (for DCs) finishing one! So our podium and all top finishers are to be heartily congratulated on their determination and stamina for grabbing the top honours. Very well done guys!
____________________________
Races
Next Race: 00d 00h 00m
---
Current Races:
Iceberg Dodge TIMED Race 2014
Climate change may have opened up some of the Arctic Ocean but these fjords are filled with as much ice as ever. Finding open water may not be required in our virtual world, but expect storms with deep blue calm inbetween. This is a TIMED race. We sail in our Linjett 33s on a course designed by NZL_Scotsman.
RE-REGISTER HERE to race again after finishing a run
Race #715
NORfrom brainaid.de
Linjett 40 POLAR
WX Updates: 0430 / 1030 / 1630 / 2230.
RANKING: TRCH-SYC
ALT. CLIENT: Classic
REGISTRATION CLOSE: Tuesday, 29 July at 1000utc
RACE CLOSE:Tuesday, 29 July at 2200utc
Race starts: Hei 23rd 10:00 Registration will open soon
GO TO RACE
Agage's 100 Race 2014
SOL's gift to the memory of AGage was a year long series of races circumnavigating Australia. This was the final sprint of that memorial and now being raced to mark the 2nd anniversary of the too-sudden end to the life of this remarkable SOLer. These were Aaron's homewaters - he was a total competitor so... race to win!
Race #709
NOR from brainaid.de
SOTO 30 POLAR
WX Updates: 0430 / 1030 / 1630 / 2230
Ranking: SYC
ALT. CLIENT:Classic
RACING
Race starts: Hei 19th 20:00 Registration Closed
GO TO RACE
The Tall Ships Races 2014 - Cruise in Company - Fredrikstad to Bergen
Welcome to the second event of this year's European Tall Ships Races - a Cruise in Company for the real fleet, but a race of 303nm for Sailonline in Clippers from Fredrikstad to Bergen NOTE:Starts and Finishes in tall ships racing are offshore to avoid conflict with shipping and shipping lanes.
Race #707
NORfrom brainaid.de
Clipper 240 POLAR
WX Updates: 0430 / 1030 / 1630 / 2230
RANKING: TALLS-SYC
ALT. CLIENT: Classic
RACING
Race starts: Hei 15th 14:00 Registration Closed
GO TO RACE
Sailonline RTW 2014 - Leg 5 - Punta del Este to Fort Lauderdale
Welcome to the fifth leg of Sailonline's race in the footsteps of Steinlager's Whitbread RTW Race of 1989/1990 - this Leg is from Punta del Este, Uruguay to Fort Lauderdale, USA - 5,300 mile, crossing the equator!
Race #716
NOR from brainaid.de
Steinlager 2 POLAR
WX Updates: 0430 / 1030 / 1630 / 2230
RANKING: SYC-OCCH-SRTW
ALT. CLIENT: Classic
RACING
Race starts: Hei 08th 09:00 Registration Open!
GO TO RACE
SYC Ranking
Series
Mobile Client
SYC members have the benefit of access to our mobile/lightweight web client!