27 September 2012
RESULTS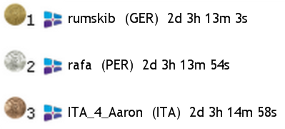 HERZLICHEN GLUCKWUNSCH rumskib!!! FELICIDADES rafa!! CONGRATULAZIONI ITA_4_Aaron!
Good onya Podiers! That was a fantastic finish after a superbly contested race with 20 boats home in the first half-hour. No quarter given and 100% effort all the way - just as Aaron would have wanted it. This has been an excellent start to what is going to be a truly memorable series of races, each of which, thanks to their designer, Tyger, will stand happily on their own two feet to make individual races for the future.
RACE INFO:
It's time to start our circumnavigation of Australia in memory of and tribute to SOLer AGage.
AGage gave us his race, Agage's Tour Downunder. Our gift to his memory is the 9-leg A3 - Agage's Around Australia Series. This race is Leg 1 of the series and is a 468nm race across the south east corner of mainland Australia. This area is the confluence of three weather patterns: an icy cold blast from the south west off Antarctica and the Southern Ocean, south east from the Tasman Sea and north west off the hot deserts of central Australia. Weather systems move west to east and Melbourne usually gets Adelaide's weather 2 days later. Be prepared to experience all weather systems during the race.
Starting offshore AGage's club in suburban Adelaide and finishing in Melbourne's Port Phillip just off Royal Melbourne Yacht Squadron, this race is designed to highlight the fact that AGage sailed an Aust Lightweight Sharpie, an evolution of the 12 sq mtr Sharpie last seen in the Olympic Games in 1956 in Melbourne, while SOL's finish is at RMYS - the yachting HQ for the 1956 games.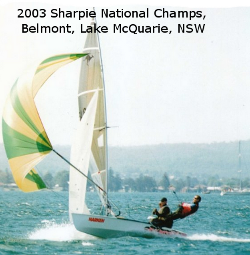 Message from Aaron's Family
___________________________
Races
Next Race: 00d 00h 00m
---
Current Races:
The Tall Ships Races 2015 - Race 1 - Belfast to Aalesund
Welcome to the second of the four events in Sailonline's 2015 Tall Ships Series. This is the first of this year's European Tall Ships Races - a race of 598nm from Belfast in Northern Ireland to Aalesund in Norway NOTE:Starts and Finishes in tall ships racing are offshore to avoid conflict with shipping and shipping lanes.
Race #840
Chart by brainaid.de
90m Barque POLAR
WX Updates: 0430 / 1030 / 1630 / 2230
RANKING: Tall Ships - SYC
ALT. CLIENT: Classic
Race starts: Jul 06th 09:00 Registration Open!
GO TO RACE
Groote PYOC Sprint 2015
The 1st race of the Q3 Sprint race Championship is a 29nm PYOC race around the island of Groote Eylandt in the Gulf of Carpentaria, on Australia's northern coast
Race #847
Chart from brainaid.de
60 ft Trimaran INFO
WX Updates: 0430 / 1030 / 1630 / 2230
Ranking: SPRCH - SUPSOL – SRQ3 - SYC
ALT. CLIENT:Classic
Race starts: Jul 04th 23:00 Registration Open!
GO TO RACE
Tristan TIMED Race 2015
We take a 68nm tour of this remote outpost in the South Atlantic. The gales may come and go but the sea is everlasting. This is the second running of the TIMED race designed by NZL_Scotsman
RE-REGISTER HERE to race again after finishing a run
Race #848
Chart by brainaid.de
TP52 INFO
WX Updates: 0430 / 1030 / 1630 / 2230
Ranking: TRCH-SUPSOL-TRQ3-SYC
ALT. CLIENT:Classic
RACE CLOSE: 12 July at 2300utc
Race starts: Jul 03rd 16:00 Registration Open!
GO TO RACE
Cape Town to Hobart 2015
The winds of the Southern Oceans and riding the circumpolar current is one of the toughest challenges ever to face ocean racers. Thanks to the realism of our navsim, this 5,440nm race from Cape Town, South Africa, to Hobart, Tasmania, will be a real test of wind navigation skill. Are you up to the challenge?
Race #849
Chart from brainaid.de
IMOCA 60 INFO
WX Updates: 0430 / 1030 / 1630 / 2230
Ranking: OCCH-SUPSOL-OCQ3-SYC
ALT. CLIENT: Classic
Race starts: Jul 01st 10:00 Registration Open!
GO TO RACE
SYC Ranking
Series
Mobile Client
SYC members have the benefit of access to our mobile/lightweight web client!