27 September 2012
RESULTS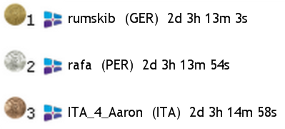 HERZLICHEN GLUCKWUNSCH rumskib!!! FELICIDADES rafa!! CONGRATULAZIONI ITA_4_Aaron!
Good onya Podiers! That was a fantastic finish after a superbly contested race with 20 boats home in the first half-hour. No quarter given and 100% effort all the way - just as Aaron would have wanted it. This has been an excellent start to what is going to be a truly memorable series of races, each of which, thanks to their designer, Tyger, will stand happily on their own two feet to make individual races for the future.
RACE INFO:
It's time to start our circumnavigation of Australia in memory of and tribute to SOLer AGage.
AGage gave us his race, Agage's Tour Downunder. Our gift to his memory is the 9-leg A3 - Agage's Around Australia Series. This race is Leg 1 of the series and is a 468nm race across the south east corner of mainland Australia. This area is the confluence of three weather patterns: an icy cold blast from the south west off Antarctica and the Southern Ocean, south east from the Tasman Sea and north west off the hot deserts of central Australia. Weather systems move west to east and Melbourne usually gets Adelaide's weather 2 days later. Be prepared to experience all weather systems during the race.
Starting offshore AGage's club in suburban Adelaide and finishing in Melbourne's Port Phillip just off Royal Melbourne Yacht Squadron, this race is designed to highlight the fact that AGage sailed an Aust Lightweight Sharpie, an evolution of the 12 sq mtr Sharpie last seen in the Olympic Games in 1956 in Melbourne, while SOL's finish is at RMYS - the yachting HQ for the 1956 games.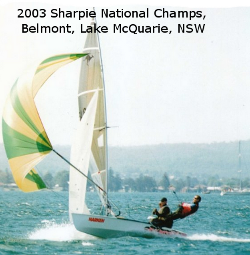 Message from Aaron's Family
___________________________
Races
Next Race: 00d 00h 00m
---
Current Races:
Abel T. Appreciation Race 2016
In December 1642 after a particularly difficult and rough voyage, the Dutch seafarer and explorer, Abel Tasman, made landfall at a spot he named Staten Landt, believing he had arrived on the coast of Argentina. In fact, he had arrived in modern-day New Zealand. Out of love and respect for this brilliant seaman, Sailonline is retracing his route from Tasmania to New Zealand.
Race #995
INFO from brainaid.de
Steinlager 2Particulars
WX Updates:
0430 / 1030 / 1630 / 2230
Ranking: SYC
ALT. CLIENT:Classic
Race starts: 十二月 04th 21:00 Registration Open!
GO TO RACE
Christmas to Christmas 2016
Hands up everyone who knew there were TWO Christmas Islands?! OK, maybe you have sailed this Sailonline course before, but this time the race area has been expanded to the south to make it possible to go through the Bass Strait and even south of Tasmania... so, it's time to get ready for the 2016 challenge of racing the 5,837nm between Christmas Island in the Pacific to Christmas Island in the Indian Ocean!
Race #994
INFO by brainaid.de
OD65v3: Particulars
WX Updates:
0430 / 1030 / 1630 / 2230
RANKING: OCCH-OCQ4-SUPSOL-SYC
ALT. CLIENT: Classic
Race starts: 十二月 03rd 20:00 Registration Open!
GO TO RACE
Key Lime Pie-gatta 2016
Rum runners, conch fritters and shrimp Po-boys await as we sail one of the most amazing series of islets in the world in our Mini6.5s. 2010's special rules remain in force: no shoes (all!) and no shirts (ladies exempt).
Race #982
INFOby brainaid.de
Mini6.50 Particulars
WX Updates:
0430 / 1030 / 1630 / 2230
Ranking: SYC
ALT. CLIENT: Classic
Race starts: 十二月 01st 18:00 Registration Open!
GO TO RACE
SYC Ranking
Series
Mobile Client
SYC members have the benefit of access to our mobile/lightweight web client!