2 September 2012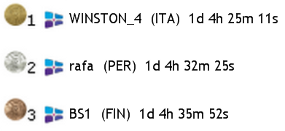 CONGRATULAZIONI WINSTON_4!!! FELICIDADES rafa!! ONNEA BS1!
With interesting winds in Long Island Sound at the start, the SOL fleet immediately split into two groups. One heading for the N shore, the other for the stronger winds off the S shore. After a few hours, though, the entire fleet encountered an obstacle, the Cloud server datacenter had a power outage, but within an hour, racing resumed and, oddly enough, put the SOL fleet much more in the mix with the real Vineyard fleet! It was a tricky race overall this year, but SOL's podium rose to the challenge to grab the top spots! Bravo!
IRL Vineyard Results
RACE INFO:
The Stamford Yacht Club, Connecticut, USA, welcomes Sailonline to the 78th running of their 238-mile Vineyard Race. Run at the end of the summer sailing season it takes racers from the western part of Long Island Sound out to Massachusetts and back. Because of the configuration of Long Island Sound and the time of year racers face a variety of weather conditions and strong tidal currents. and local knowledge proves invaluable. Sailonline will again be giving the real racers stiff competition to see who rounds the Buzzards Bay buoy first.
Since the first Vineyard Race in 1932 there have been many celebrated entrants - the record time for the race is held by Stamford Yacht Club's Reichel/Pugh 66, Blue Yankee, with 20 hours, 20 minutes and 15 seconds set in 2007. This year's entry list includes the 90 foot Rambler and the 80-foot Donnybrook. It should be a good year for records to fall.
Race Tracker
Area Webcam Map
_____________________
Races
Next Race: 00d 00h 00m
---
Current Races:
The Tall Ships Races 2017 - Race 2 - Turku to Klaipeda
Welcome to the second of the three races in this year's European Tall Ships Races - a race of 313nm from Finland to Lithuania The ships leave the festival in Turku and from the offshore start race to Klaipeda
NOTE:Starts and Finishes in tall ships racing are offshore to avoid conflict with shipping and shipping lanes.
Race #1064
INFO by brainaid.de
Barque 90 Particulars
WX Updates:
0430 / 1030 / 1630 / 2230
RANKING: Tall Ships - SYC
ALT. CLIENT: Classic
Race starts: Jul 24th 11:00 Registration Open!
GO TO RACE
2017 40' Series Championship Q3&Q4 Naples Triangle
The SECOND season for 2017 40' Series Championship (Q3&Q4) has begun!
Welcome to the Tyrrhenian Sea and a 350nm race in one of the 40' available for your choice, from Naples to Capri Island in a triangular course rounding the islands of Ustica and Stromboli.
Watch out for volcano lava and ashes at the Stromboli !!!!
DON'T RISK DISQUALIFICATION!
There are three boat designs to choose from and each one may NOT be used more than twice during the six race Series, according to the NOR of the series
The three boat designs are:
40' Particulars and their official polars are here, just recently uploaded by "sailonline":
40' Polars(as a zip file)
IMPORTANT:
Before you choose the boat design, log in with the "Guest" boat (Username=guest/Password=guest) so you can view the predicted winds to help you choose the best boat/polar for the upcoming race. Once you have chosen to register a boat design for this race, it cannot be undone!
REMEMBER:
Choosing the same boat design more than twice in the series might get you disqualified!!
Race # 1063
INFOfrom brainaid.de
WX Updates:
0430 / 1030 / 1630 / 2230
Ranking:
40Q3&4CH –SYC
ALT. CLIENT: Classic
Race starts: Jul 19th 10:00 Registration Open!
GO TO RACE
Red Dot Leg 4 - San Francisco to Panama
Continuing our circumnavigation of N America, inspired by Matt Rutherford's single handed triumph, and proposed by SOLer Renegade, Sailonline is now racing Leg 4, 3130nm from San Francisco to Panama.
Race #1043
INFO by brainaid.de
SuperMaxi 100 Particulars
WX Updates:
0430 / 1030 / 1630 / 2230
RANKING: OCCH-OCQ3-SUPSOL-RedDot-SYC
ALT. CLIENT: Classic
PRIZE: SMPF
Race starts: Jul 09th 18:00 Registration Open!
GO TO RACE
SYC Ranking
Series
Mobile Client
SYC members have the benefit of access to our mobile/lightweight web client!