2 September 2012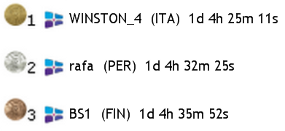 CONGRATULAZIONI WINSTON_4!!! FELICIDADES rafa!! ONNEA BS1!
With interesting winds in Long Island Sound at the start, the SOL fleet immediately split into two groups. One heading for the N shore, the other for the stronger winds off the S shore. After a few hours, though, the entire fleet encountered an obstacle, the Cloud server datacenter had a power outage, but within an hour, racing resumed and, oddly enough, put the SOL fleet much more in the mix with the real Vineyard fleet! It was a tricky race overall this year, but SOL's podium rose to the challenge to grab the top spots! Bravo!
IRL Vineyard Results
RACE INFO:
The Stamford Yacht Club, Connecticut, USA, welcomes Sailonline to the 78th running of their 238-mile Vineyard Race. Run at the end of the summer sailing season it takes racers from the western part of Long Island Sound out to Massachusetts and back. Because of the configuration of Long Island Sound and the time of year racers face a variety of weather conditions and strong tidal currents. and local knowledge proves invaluable. Sailonline will again be giving the real racers stiff competition to see who rounds the Buzzards Bay buoy first.
Since the first Vineyard Race in 1932 there have been many celebrated entrants - the record time for the race is held by Stamford Yacht Club's Reichel/Pugh 66, Blue Yankee, with 20 hours, 20 minutes and 15 seconds set in 2007. This year's entry list includes the 90 foot Rambler and the 80-foot Donnybrook. It should be a good year for records to fall.
Race Tracker
Area Webcam Map
_____________________
Races
Next Race: 00d 00h 00m
---
Current Races:
Hormuz TIMED Race 2015
The Strait of Hormuz in reality is busy, with shipping and military vessels. For Sailonline however races here with impunity, nothing is off limits! This is a TIMED race designed by NZL_Scotsman
RE-REGISTER HERE to race again after finishing a run
Race #874
NOR from brainaid.de
GB90 INFO
WX Updates: 0430 / 1030 / 1630 / 2230
Ranking: TRCH-SUPSOL-TRQ4-SYC
ALT. CLIENT:Classic
RACE CLOSE:Sunday, 18 October at 2300utc
Race starts: Oct 09th 12:00 Registration Open!
GO TO RACE
Gray Whale Migration - Autumn 2015
This autumn Sailonline is racing the iconic 90ft Monohull to replicate the 4000nm epic journey made by the gray whale every year, from the waters of the Bering Sea to its breeding grounds off the Mexican coastline. Can you match the skill of these great navigators?
Race #869
NOR from brainaid.de
90ft Monohull INFO
WX Updates: 0430 / 1030 / 1630 / 2230
Ranking: OCQ4 - SYC
ALT. CLIENT:Classic
Race starts: Oct 06th 20:00 Registration Open!
GO TO RACE
BA-Rio 2015
Bemvindo/Bienvenidos to SOLer zero's Class 40 BA_Rio Race 2015. This is the replica of a classic triennial race of 1,118nm between Buenos Aires, Argentina, and Rio de Janeiro, Brazil, first run in 1947.
Race #868
NOR from brainaid.de
Class 40POLAR
WX Updates: 0430 / 1030 / 1630 / 2230
Ranking: SYC
ALT. CLIENT: Classic
Race starts: Oct 03rd 18:00 Registration Open!
GO TO RACE
SYC Ranking
Series
Mobile Client
SYC members have the benefit of access to our mobile/lightweight web client!