19 September 2012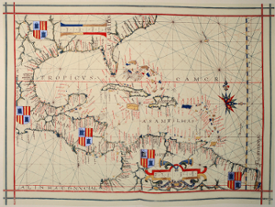 Nautical chart of Portuguese cartographer Fernão Vaz Dourado (c. 1520 - c. 1580), part of a nautical atlas drawn in 1575 and now kept in the British Museum, London
AHOY SOLers! Welcome to SOL's 2012 Carib Rum Run - a fast and furious race round the rum distilleries of the Caribbean in hurricane season! Held around the time of International Talk Like a Pirate Day (September 19) the Carib Rum Run is SOL's way of entering into a virtual festival of rum and pirates!!
This year prizes will be awarded to the podium of - 12m SYC Membership/extension to the winner, 6m SYC Membership/extension to second place, and a 3m SYC Membership/extension to third place.
Join the SYC and Sail a Pirate Boat:
SYC Members only may change or modify their SOL boatname to something more piratical for the duration of this race! Post a name-change request in the SYC Forum thread or ask a SOL Admin in Carib Rum Run chat after the race has opened!! Changes will be made on a first-come first-served basis! The List of changes will be maintained in the SYC Forum thread. The boatname change for this one race will not change your login credentials or affect your SYC rankings.
Useful Links:
Talk Like a Pirate.com
How to Talk Like a Pirate
Get a Pirate Name
___________________________
Races
Next Race: 00d 00h 00m
---
Current Races:
2018 40' Series Championship Race 4 - Auckland to Gisbourne
After a 46 day break it's time to resume our 2018 40' series championship.
Q2 starts with the RAYC "Auckland to Gisbourne Race", 277nm down the E coast of New Zealand's N Island.

The Race Conditions contains NOR, particulars, polars and a list of used boats, and will be updated for each race in 2018, so please read it to avoid disqualification.

40' Series 2018 – Race Conditions (updated)

Race # 1141
INFOfrom brainaid.de
WX Updates:
0430 / 1030 / 1630 / 2230
Ranking:
40CH – SYC
ALT. CLIENT:Classic

Race starts: Apr 27th 02:00 Registration Open!
GO TO RACE
SWR 17/18 Leg 8 - Itajai to Newport
Hopefully you are fully recovered after the brutal leg 7?
All the boats are in tip-top shape, just waiting for you to climb on board for this very interesting leg 8 from Itajai to Newport with several independent hurdles.
Named in order of occurrence:
St Helena High:
The Trade Winds S:
On the beach:
The Doldrums:
The Trade Winds N:
Azores High:
The Westerly Stormtack:

That's it folk's.
Now you know what to expect!!!
Race #1140
INFO from brainaid.de
OD65v3 Particulars
WX Updates: 0430 / 1030 / 1630 / 2230
Ranking: 2017SWR-2018OCCH-2018SUPSOL-2018OCQ2-SYC
PRIZE: SMPF
SOL Classic Client
Race starts: Apr 22nd 17:00 Registration Open!
GO TO RACE
Sundance Marine Melbourne Osaka Cup 2018 Double Handed Yacht Race
Welcome to Melbourne for the Sundance Marine Melbourne Osaka Cup 2018 Double Handed Yacht Race - a 5,500 nautical mile 2 handed yacht race and the only one running from the southern hemisphere to the northern hemisphere.
Race #1126
INFO by brainaid.de
Sunfast 3600 Particulars
WX Updates:
0430 / 1030 / 1630 / 2230
Ranking: SYC
ALT. CLIENT:Classic
INTRO BLOGPOST
Race starts: Mar 25th 04:00 Registration Closed
GO TO RACE
SYC Ranking
Series
Mobile Client
SYC members have the benefit of access to our mobile/lightweight web client!