19 September 2012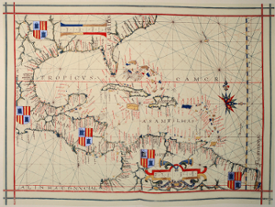 Nautical chart of Portuguese cartographer Fernão Vaz Dourado (c. 1520 - c. 1580), part of a nautical atlas drawn in 1575 and now kept in the British Museum, London
AHOY SOLers! Welcome to SOL's 2012 Carib Rum Run - a fast and furious race round the rum distilleries of the Caribbean in hurricane season! Held around the time of International Talk Like a Pirate Day (September 19) the Carib Rum Run is SOL's way of entering into a virtual festival of rum and pirates!!
This year prizes will be awarded to the podium of - 12m SYC Membership/extension to the winner, 6m SYC Membership/extension to second place, and a 3m SYC Membership/extension to third place.
Join the SYC and Sail a Pirate Boat:
SYC Members only may change or modify their SOL boatname to something more piratical for the duration of this race! Post a name-change request in the SYC Forum thread or ask a SOL Admin in Carib Rum Run chat after the race has opened!! Changes will be made on a first-come first-served basis! The List of changes will be maintained in the SYC Forum thread. The boatname change for this one race will not change your login credentials or affect your SYC rankings.
Useful Links:
Talk Like a Pirate.com
How to Talk Like a Pirate
Get a Pirate Name
___________________________
Races
Next Race: 00d 00h 00m
---
Current Races:
Traverse City Traverse 2016
Welcome to Michigan and a tricky lake race in the waters off Traverse City. Designed by SOLer A2 this race features the picturesque Bays, Harbours, Islands & Peninsulas of the Upper Lake Michigan region encompassing both Michigan & Wisconsin.
Race #946
INFO by brainaid.de
Super Maxi 100 Boat Info
WX Updates: 0430 / 1030 / 1630 / 2230
Ranking: SYC
ALT. CLIENT:Classic
Race starts: Jun 27th 17:00 Registration Open!
GO TO RACE
Tiree to Coll PYOC Sprint 2016
According to islands ferry operator, Caledonia McBrayne, Tiree is the "Hawaii of the North". A likely story, but with the midge forecast up to Level 5 on the mainland, what odds; let us believe and get offshore to enjoy some surf and sun sprinting 28nm from its western shores to the eastern end of adjacent Coll. Mind the breakers and the guillemots on the rocks!
Race #943
INFO by brainaid.de
Mini 6.5 Boat Info
WX Updates: 0430 / 1030 / 1630 / 2230
Ranking: SRQ2 - SPRCH - SUPSOL – SYC
ALT. CLIENT:Classic
Race starts: Jun 25th 08:00 Registration Open!
GO TO RACE
Gibraltar TIMED Race 2016
Welcome to a brilliant TIMED RACE introducing Sailonline's new SuperYacht Falkun. Our race is set at the legendary gateway to the Mediterranean Sea. We begin in the Atlantic and race our most glamorous of yachts to the coasts of Africa and Europe and then on into the Mediterranean.
RE-REGISTER HERE to race again after finishing a run
Race #928
INFOby brainaid.de
Falkun Boat Info
WX Updates: 0430 / 1030 / 1630 / 2230.
RANKING: TRCH-SUPSOL-TRQ2-SYC
ALT. CLIENT: Classic
REGISTRATION CLOSE: Sunday, 26 June at 2200utc
RACE CLOSE: Sunday, 26 June at 2300utc
Race starts: Jun 17th 12:00 Registration Open!
GO TO RACE
SYC Ranking
Series
Mobile Client
SYC members have the benefit of access to our mobile/lightweight web client!