19 September 2012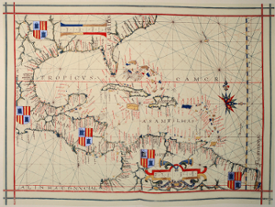 Nautical chart of Portuguese cartographer Fernão Vaz Dourado (c. 1520 - c. 1580), part of a nautical atlas drawn in 1575 and now kept in the British Museum, London
AHOY SOLers! Welcome to SOL's 2012 Carib Rum Run - a fast and furious race round the rum distilleries of the Caribbean in hurricane season! Held around the time of International Talk Like a Pirate Day (September 19) the Carib Rum Run is SOL's way of entering into a virtual festival of rum and pirates!!
This year prizes will be awarded to the podium of - 12m SYC Membership/extension to the winner, 6m SYC Membership/extension to second place, and a 3m SYC Membership/extension to third place.
Join the SYC and Sail a Pirate Boat:
SYC Members only may change or modify their SOL boatname to something more piratical for the duration of this race! Post a name-change request in the SYC Forum thread or ask a SOL Admin in Carib Rum Run chat after the race has opened!! Changes will be made on a first-come first-served basis! The List of changes will be maintained in the SYC Forum thread. The boatname change for this one race will not change your login credentials or affect your SYC rankings.
Useful Links:
Talk Like a Pirate.com
How to Talk Like a Pirate
Get a Pirate Name
___________________________
Races
Next Race: 00d 00h 00m
---
Current Races:
Iceland TIMED Race 2016
Welcome to a fast-paced TIMEDrace in Orange Cats off Iceland - 150nm for you to race as often as you like over the coming weeks - volcano watching optional!
RE-REGISTER HERE to race again after finishing a run
Race #932
INFO by brainaid.de
Orange Cat POLAR
WX Updates: 0430 / 1030 / 1630 / 2230
RANKING: TRCH-SUPSOL-TRQ2-SYC
ALT. CLIENT: Classic
RACE CLOSE:Sunday, 15 May at 2300utc
Race starts: May 06th 12:00 Registration Open!
GO TO RACE
Van Isle 360 2016
Welcome back to Vancouver and the 525nm delightful course designed by SOLer fastpassage39. This is a tricky race, combining tight channels and open water which our SOTO 30s will love.
Race #931
INFO by brainaid.de
SOTO30 POLAR
WX Updates: 0430 / 1030 / 1630 / 2230
Ranking: SYC
ALT. CLIENT:Classic
PRIZE: SMPF
Race starts: May 02nd 17:00 Registration Open!
GO TO RACE
Viking Longship Race to Iceland 2016
Draken Harald Hårfagre is a replica viking longship about to sail from Norway to America. In celebration of this magnificent endeavour, Sailonline is racing the first leg, from Haugesund, Norway, to Reykjavik, Iceland in our own Longship. Let us sail in the wake of history on this epic adventure!
Race #929
INFO from brainaid.de
Longship DrakePOLAR
WX Updates: 0430 / 1030 / 1630 / 2230
Ranking: SYC
ALT. CLIENT:Classic
Race starts: Apr 24th 13:00 Registration Open!
GO TO RACE
SYC Ranking
Series
Mobile Client
SYC members have the benefit of access to our mobile/lightweight web client!