3 October 2012
RESULTS: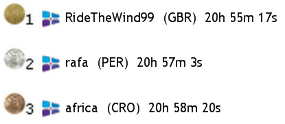 CONGRATULATIONS RideTheWind99!!! FELICIDADES rafa!! ČESTITAMO africa!
Yet again this course has proved to be extremely challenging and the three SOLers, all SYC Members, who have grabbed the podium are experienced and canny sailors in the best tradition and it is great to see the three of them win through. Not that they had it all their own way, despite many bbqs along the course, within 30 minutes of RideTheWind crossing the line, 35 other boats had also done so! Excellent SOling guys!
RACE INFO: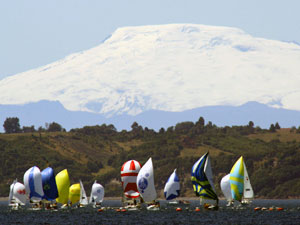 (pic of Chiloe Regatta)
Welcome to Chiloé, Chile!
Chiloé means "Place of Seagulls" and is the second largest island of America, after Tierra del Fuego. The Chiloé Archipielago is made up of the "Isla Grande de Chiloé", The Big Chiloé Island, and more than 40 little islands, with a total surface of 9,000 square kilometers.
Two very different landscapes can be found in Chiloé. In the west the coastline is rough and the big waves and strong winds from the Pacific punish the land. In the east, by contrast, the coast is much more attractive, with a lot of fjords and a peaceful interior sea. However, the climate in Chiloé is strange and it is not unusual to have fours seasons in one day. Many channels can be found surrounding the myriad of little islands and the currents can be ferocious. A characteristic of Chiloé is the great tide differences, of several meters between the low and the high tide.
The people of Chiloe are very friendly and always give a warm welcome to visitors. Good racing SOLers!
_________________________________
Races
Next Race: 00d 00h 00m
Current Races:
Scandinavian Tour 1 - Finland
Jepsom invites you to the first of three legs in the "three-different-boats competition" he designed for SOL in 2011. This is a 631nm race in cold water in small but fast IMOCA 60s. We sail - hopefully without ice!! - from Hamina, south-east Finland all the way up to Kemi close to the Swedish border.
Race #679
NOR from brainaid.de
IMOCA 60 INFO
WX Updates: 0430 / 1030 / 1630 / 2230
Ranking: STCS-SYC
ALT. CLIENT Classic
Race starts: Apr 24th 16:00 Registration Open!
GO TO RACE
Flinders Island TIMED Race
This TIMED RACE takes us around Flinders Island, an Aussie paradise between Tasmania and the mainland. However we won't have time to admire the flora and fauna as we rocket round in our V070_V4s on the 106nm loop. Thanks to NZL_Scotsman for the course.
RE-REGISTER HERE to race again after finishing a run
Race #672
NOR from brainaid.de
VO70v4 INFO
WX Updates: 0430 / 1030 / 1630 / 2230.
RANKING: TRCH-SYC
ALT. CLIENT: Classic
RACING
REGISTRATION CLOSE: April 29 at 2100utc
RACE CLOSE: April 30 at 0900utc
Race starts: Apr 23rd 21:00 Registration Open!
GO TO RACE
Cape Town - Abu Dhabi
A challenging race across 5,227nm of the Indian Ocean from Cape Town, South Africa, to Abu Dhabi, UAE. Keep your VO70 safe from pirates off the Somali coast, don't beach on your way through the Hormuz Strait and you will find a truly warm welcome awaiting you in Abu Dhabi!
Race #680
NOR from brainaid.de
VO70 v4 INFO
WX Updates: 0430 / 1030 / 1630 / 2230
Ranking: OCCH-SYC
ALT. CLIENT Classic
RACING
Race starts: Apr 21st 09:00 Registration Open!
GO TO RACE
Sailonline RTW 2014 - Leg 3 - Australia to New Zealand
Welcome to the third leg of Sailonline's race in the footsteps of Steinlager's Whitbread RTW Race of 1989/1990 - this Leg is from Fremantle, Australia to Auckland, New Zealand - 3,013nm
Race #669
NOR from brainaid.de
Steinlager 2 POLAR
WX Updates: 0430 / 1030 / 1630 / 2230
RANKING: SYC-SRTW
ALT. CLIENT: Classic
RACING
RACE CLOSE:Saturday, 26 April at 0600utc
Race starts: Apr 04th 06:00 Registration Closed
GO TO RACE
SYC Ranking
Series
Mobile Client
SYC members have the benefit of access to our mobile/lightweight web client!