3 October 2012
RESULTS: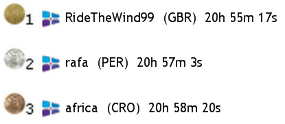 CONGRATULATIONS RideTheWind99!!! FELICIDADES rafa!! ČESTITAMO africa!
Yet again this course has proved to be extremely challenging and the three SOLers, all SYC Members, who have grabbed the podium are experienced and canny sailors in the best tradition and it is great to see the three of them win through. Not that they had it all their own way, despite many bbqs along the course, within 30 minutes of RideTheWind crossing the line, 35 other boats had also done so! Excellent SOling guys!
RACE INFO: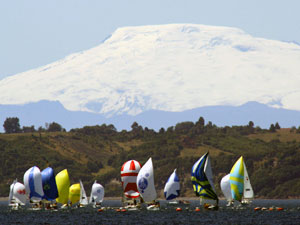 (pic of Chiloe Regatta)
Welcome to Chiloé, Chile!
Chiloé means "Place of Seagulls" and is the second largest island of America, after Tierra del Fuego. The Chiloé Archipielago is made up of the "Isla Grande de Chiloé", The Big Chiloé Island, and more than 40 little islands, with a total surface of 9,000 square kilometers.
Two very different landscapes can be found in Chiloé. In the west the coastline is rough and the big waves and strong winds from the Pacific punish the land. In the east, by contrast, the coast is much more attractive, with a lot of fjords and a peaceful interior sea. However, the climate in Chiloé is strange and it is not unusual to have fours seasons in one day. Many channels can be found surrounding the myriad of little islands and the currents can be ferocious. A characteristic of Chiloé is the great tide differences, of several meters between the low and the high tide.
The people of Chiloe are very friendly and always give a warm welcome to visitors. Good racing SOLers!
_________________________________
Races
Next Race: 00d 00h 00m
---
Current Races:
RTWR 2016 - Leg 2 - Uruguay to New Zealand
The second leg of Sailonline's wrong-way Round the World Race 2016 sees the fleet navigating its way from Punta del Este,Uruguay, down the South Atlantic and across the Pacific to Auckland, New Zealand. For your transit from ocean-to-ocean you may leave Tierra del Fuego to port or to starboard, as you please.
Race #972
INFO from brainaid.de
VO70 Particulars
WX Updates:
0430 / 1030 / 1630 / 2230
Ranking: SYC - SUPSOL - OCQ4 - OCCH - RTWR
ALT. CLIENT:Classic
PRIZE: SMPF
Race starts: Oct 02nd 13:00 Registration Open!
GO TO RACE
Koshiki PYOC Sprint 2016
The seas off Nagasaki have quite a smattering of islands or shima's, and hence are proving to be a popular arena for PYOC SOL Sprints. The Koshiki group is a case in point, and thus we return there within a year of our last visit to this time joust in SOTO 30s.
Race #962
INFOby brainaid.de
SOTO 30 Particulars
WX Updates:
0430 / 1030 / 1630 / 2230
RANKING:
SPRCH-SUPSOL-SRQ3-SYC
ALT CLIENT: Classic
RACE CLOSE: Wednesday, 28 September at 2300utc
Race starts: Sep 24th 23:00 Registration Closed
GO TO RACE
Carib Rum Run 2016
Rum is a pirate's drink. September 19 is International Talk Like a Pirate Day. Combine the two with Open 60s and what do you have? Why, 'tis Sailonline's annual Pirate PRIZE race - 1759nm through the rum islands of the Caribbean, collecting rum to bring to the rum-parched beaches of Mexico. Race in disguise by becoming an SYC Member and changing your boat name for this race only!
Race #969
INFO from brainaid.de
Open 60 Particulars
WX Updates:
0430 / 1030 / 1630 / 2230
Ranking: SYC
ALT. CLIENT:Classic
Race starts: Sep 19th 17:00 Registration Open!
GO TO RACE
SYC Ranking
Series
Mobile Client
SYC members have the benefit of access to our mobile/lightweight web client!