3 October 2012
RESULTS: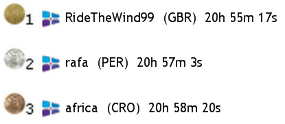 CONGRATULATIONS RideTheWind99!!! FELICIDADES rafa!! ČESTITAMO africa!
Yet again this course has proved to be extremely challenging and the three SOLers, all SYC Members, who have grabbed the podium are experienced and canny sailors in the best tradition and it is great to see the three of them win through. Not that they had it all their own way, despite many bbqs along the course, within 30 minutes of RideTheWind crossing the line, 35 other boats had also done so! Excellent SOling guys!
RACE INFO: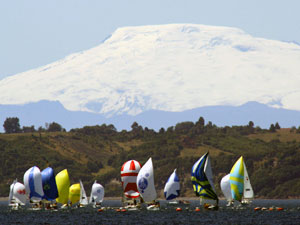 (pic of Chiloe Regatta)
Welcome to Chiloé, Chile!
Chiloé means "Place of Seagulls" and is the second largest island of America, after Tierra del Fuego. The Chiloé Archipielago is made up of the "Isla Grande de Chiloé", The Big Chiloé Island, and more than 40 little islands, with a total surface of 9,000 square kilometers.
Two very different landscapes can be found in Chiloé. In the west the coastline is rough and the big waves and strong winds from the Pacific punish the land. In the east, by contrast, the coast is much more attractive, with a lot of fjords and a peaceful interior sea. However, the climate in Chiloé is strange and it is not unusual to have fours seasons in one day. Many channels can be found surrounding the myriad of little islands and the currents can be ferocious. A characteristic of Chiloé is the great tide differences, of several meters between the low and the high tide.
The people of Chiloe are very friendly and always give a warm welcome to visitors. Good racing SOLers!
_________________________________
Races
Next Race: 00d 00h 00m
---
Current Races:
Stockholm to St Petersburg 2018
Welcome to Stockholm - are you ready to race to St Petersburg? Our 431nm course from Sweden to Russia includes a couple of slight detours past Saaremaa and Hoglandet but if you keep a good lookout and avoid stealthy submarines, you should soon be docking your J130s at the home of the world renowned Hermitage Museum!
Race #1114 INFO by brainaid.de J130 Particulars WX UPDATES:
0430 / 1030 / 1630 / 2230 RANKING: SYCALT. CLIENT:Classic
Race starts: Feb 27th 11:00 Registration Open!
GO TO RACE
Perth-Fremantle ISAF Sprint 2018
To celebrate the running of the 2011 ISAF World Championships in Perth, Australia, SOL organized an overnight offshore race and a Sprint: 65nm in a J-80 sportsboat along the Perth/Freemantle shoreline. We have raced the course several times since then. This year, to hurry things up, we're going to do it in an Open 60. Proper sprinting!
Race #1118
INFO at brainaid.de
Open 60 Particulars
WX Updates:
0430 / 1030 / 1630 / 2230
Ranking:
SPRCH - SUPSOL – SRQ1 - SYC
ALT. CLIENT:Classic
Race starts: Feb 24th 03:00 Registration Open!
GO TO RACE
SWR 17/18 Leg 6 - Hong Kong to Auckland
While others have spent the two-week stay in Hong Kong sailing up and down the Zhujiang River and around Hong Kong Island, we have been able to completely relax and spend the days preparing for Leg 6 from Hong Kong to Auckland.
We will (almost) sail the exactly same way back to where we came from and that means another meeting with the Doldrums, which hopefully this time will be kinder to us. But if that does not happen... no one said this SWR 17/18 would be easy!
Race #1113
INFOfrom brainaid.de
The Chart is NOT available for this race !
OD65v3 Particulars
WX Updates:
0430 / 1030 / 1630 / 2230
Ranking:
OCCH-OCQ1-SUPSOL-SWR-SYC
ALT. CLIENT:Classic
Race starts: Feb 07th 05:00 Registration Open!
GO TO RACE
SYC Ranking
Series
Mobile Client
SYC members have the benefit of access to our mobile/lightweight web client!