26 October 2012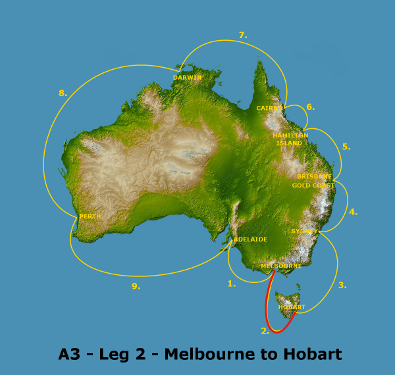 RESULTS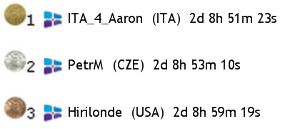 CONGRATULAZIONI ITA_4_Aaron!!! GRATULUJEME PetrM!! CONGRATULATIONS Hirilonde!
Aaron (AGage) used to sail with 100% intensity, until he fell asleep, and so the SOL fleet is dividing itself into two - those who give 100% and reap the rewards and those who sleep. It is nice to think, then, that we are all a little like Aaron. The forecast winds for this leg weren't nearly as interesting as those the fleet encountered so many were lulled into thinking it was a fairly straightforward affair - MEL to HOB - but it was anything but! With 34 boats arriving in the first hour, the competition for a top spot was intense. BRAVO podium!
RACE INFO:
It's time for Leg 2 of SOL's race around Australia in memory of and tribute to SOLer AGage.
Australian yacht races seem to have great pubs at the start and finish and this race is no exception. The legendary Portsea Pub just happens to overlook the Portsea Pier and is a great spot to watch the start. If you have Google Earth, zoom in and check it out.
This is a IRL race run by the Ocean Racing Club of Victoria starting on the 27th of December each year.
Arguably Australia's most physically challenging ocean race, the Melbourne to Hobart Westcoaster turned 40 in 2011. So it is the same age as AGage.
The race starts off the Portsea Pier in the south of Port Phillip Bay. The course takes the boats out of Port Phillip Heads, across Bass Strait, then down the rugged west coast of Tasmania, around the Southernmost tip of Australia, past Maatsuyker Island, before heading up the Derwent River to the finish in Hobart.
Weather patterns will be similar to Leg1 so be prepared to beat into a cold south westerly blast or have the kite flying in a nor-wester.
The ORCV say this is a race run for yachties by yachties. It presents an amazing challenge to the participants and is run with a level of spirit and camaraderie not often seen. There are no "fat wallet" boats here, just great sailors working hard. The sort of race AGage would enjoy.
/Tyger
___________________________
Races
Next Race: 00d 00h 00m
---
Current Races:
Auckland Noumea Yacht Race 2018
Welcome to Auckland, New Zealand and Royal Akarana Yacht Club for the start of the virtual Auckland Noumea Yacht Race 2018. This race is one of four concurrent races and rallies departing from Brisbane, Sydney and Melbourne at a similar time. Join our run across the Pacific to Noumea - 983 nm in TP52s should be a blast!
Race #1148
INFO by brainaid.de
TP 52 Particulars
WX Updates:
0430 / 1030 / 1630 / 2230
RANKING: SYC
ALT. CLIENT: Classic
Race starts: Jun 02nd 01:00 Registration Open!
GO TO RACE
SoCal 300 2018
Sailonline is delighted to welcome you back to San Diego, California Race Week and the 2018 SoCal300 race, hosted by San Diego Yacht Club. As we have learned from experience, we need to race our SC52s pretty smartly to remain in contention with the real fleet here on the US West coast!
Race #1133
INFO by brainaid.de
Santa Cruz 52 Particulars
WX Updates:
0245 / 0845 / 1445 / 2045
Ranking: SYC
ALT. CLIENT:Classic
Race starts: May 31st 19:00 Registration Open!
GO TO RACE
The Three Festivals Tall Ships Regatta 2018 - Race 1
Welcome to the first of two races of The Three Festivals Tall Ships Regatta - a run of 147nm from Liverpool, around the Isle of Man to finish offshore Dublin. A pleasant outing for our elegant Clipper ships.
NOTE:Starts and Finishes in Tall Ships racing are offshore to avoid conflict with shipping and shipping lanes.
Race #1143
INFO by brainaid.de
Clipper 240 Particulars
WX Updates:
0430 / 1030 / 1630 / 2230
RANKING: Tall Ships - SYC
ALT. CLIENT: Classic
Race starts: May 28th 15:00 Registration Open!
GO TO RACE
Aegean Rally 2018
"The International Aegean Sailing Rally is a regatta with a long history, organized every year by the HORC (Hellenic Offshore Racing Club). It is the oldest and most splendid sailing event in Greece and is characterized as a marine Marathon", thus write its organisers, The Hellenic Offshore Racing Club, and in 2015 SOL followed the IRL yachts round for all four legs. Marathon, however, lies too far off the beaten track, so, we, at SOL, much encouraged by the great success of our ouzo-fuelled sprint of January this year, have decided to use another of the 2015 legs for sprinting. This one starts in Athens, then rounds Agios Dimitrios Kythnos for Piperi, to finish at the Temple of Poseidon on the tip of the Attica peninsula.
Race #1138
INFO by brainaid.de
GB90 Particulars
WX Updates:
0430 / 1030 / 1630 / 2230
Ranking:
SPRCH - SPRQ2 - SUPSOL - SYC
ALT. CLIENT:Classic
RACE CLOSE: Tuesday,
May 29 at 2300 UTC.
Race starts: May 26th 16:00 Registration Open!
GO TO RACE
SWR 17/18 Leg 9 - Newport to Cardiff
We are back in the northern hemisphere!
After a good rest in Newport it's time to head for Europe, more specifically Cardiff in Wales
"A smooth trip" you might think, but The Atlantic Ocean can offer many surprises. One of them could be The Azores High, which in the late spring can drift north and block your route to Cardiff.
Consider yourself warned.
Race #1146
INFO from brainaid.de
OD65v3 Particulars
WX Updates: 0430 / 1030 / 1630 / 2230
Ranking: 2017SWR-2018OCCH-2018SUPSOL-2018OCQ2-SYC
PRIZE: SMPF
SOL Classic Client
Race starts: May 20th 18:00 Registration Open!
GO TO RACE
SYC Ranking
Series
Mobile Client
SYC members have the benefit of access to our mobile/lightweight web client!