26 October 2012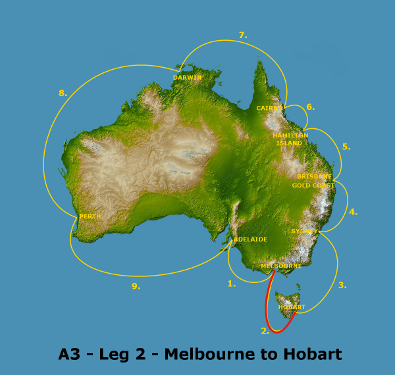 RESULTS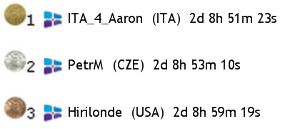 CONGRATULAZIONI ITA_4_Aaron!!! GRATULUJEME PetrM!! CONGRATULATIONS Hirilonde!
Aaron (AGage) used to sail with 100% intensity, until he fell asleep, and so the SOL fleet is dividing itself into two - those who give 100% and reap the rewards and those who sleep. It is nice to think, then, that we are all a little like Aaron. The forecast winds for this leg weren't nearly as interesting as those the fleet encountered so many were lulled into thinking it was a fairly straightforward affair - MEL to HOB - but it was anything but! With 34 boats arriving in the first hour, the competition for a top spot was intense. BRAVO podium!
RACE INFO:
It's time for Leg 2 of SOL's race around Australia in memory of and tribute to SOLer AGage.
Australian yacht races seem to have great pubs at the start and finish and this race is no exception. The legendary Portsea Pub just happens to overlook the Portsea Pier and is a great spot to watch the start. If you have Google Earth, zoom in and check it out.
This is a IRL race run by the Ocean Racing Club of Victoria starting on the 27th of December each year.
Arguably Australia's most physically challenging ocean race, the Melbourne to Hobart Westcoaster turned 40 in 2011. So it is the same age as AGage.
The race starts off the Portsea Pier in the south of Port Phillip Bay. The course takes the boats out of Port Phillip Heads, across Bass Strait, then down the rugged west coast of Tasmania, around the Southernmost tip of Australia, past Maatsuyker Island, before heading up the Derwent River to the finish in Hobart.
Weather patterns will be similar to Leg1 so be prepared to beat into a cold south westerly blast or have the kite flying in a nor-wester.
The ORCV say this is a race run for yachties by yachties. It presents an amazing challenge to the participants and is run with a level of spirit and camaraderie not often seen. There are no "fat wallet" boats here, just great sailors working hard. The sort of race AGage would enjoy.
/Tyger
___________________________
Races
Next Race: 00d 00h 00m
---
Current Races:
2017 40' Series Championship Q1&Q2 Florida Rum Runners Regatta
It's time for the fifth of six races in the 40' Q1 and Q2 Championship!
Welcome to Florida and a 400nm race in one of the 40' available for your choice, from St. Lucie inlet to Paradise Island Bahamas and back to Jupiter Inlet, Florida. This regatta is loosely based on the course of the 2010 Nassau Cup.
DON'T RISK DISQUALIFICATION!
There are three boat designs to choose from and each one may NOT be used more than twice during the six race Series, according to the NORof the series
The three boat designs are:
40' Particularsand their official polars are here, just recently uploaded by "sailonline":
40' Polars(as a zip file)
IMPORTANT:
Before you choose the boat design, log in with the "Guest" boat (Username=guest/Password=guest) so you can view the predicted winds to help you choose the best boat/polar for the upcoming race. Once you have chosen to register a boat design for this race, it cannot be undone!
REMEMBER:
Choosing the same boat design more than twice will get you disqualified from this race!!
View this list to see what boats you've already used:
USED BOATS
Race # 1052
INFOfrom brainaid.de
WX Updates:
0430 / 1030 / 1630 / 2230
Ranking:
40Q1&2CH –SYC
ALT. CLIENT:Classic
Race starts: May 05th 18:00 Registration Open!
GO TO RACE
Red Dot 2017 - Leg 1 - USA to Greenland
Inspired by Matt Rutherford's single handed circumnavigation of the Americas and proposed by SOLer Renegade, Sailonline is racing the course in 5 legs. This is Leg 1, 2,021nm from Chesapeake, Maryland, USA to Nuuk, Greenland.
Race #1028
INFO by brainaid.de
SuperMaxi 100 Particulars
WX Updates:
0430 / 1030 / 1630 / 2230
RANKING: RedDot - SYC
ALT. CLIENT: Classic
Race starts: May 02nd 10:00 Registration Open!
GO TO RACE
Rendezvous 2017 - Tall Ships Regatta - Sines to Bermuda
Welcome to the first of three Rendezvous Tall Ships events, where we race our superb Clippers across the Atlantic - a total of 3213nm from Sines, Portugal to Bermuda NOTE:Starts and Finishes in tall ships racing are well offshore to avoid conflict with shipping and shipping lanes.
Race #1031
INFO by brainaid.de
Clipper Particulars
WX Updates:
0430 / 1030 / 1630 / 2230
RANKING: TS-RDV - SYC
ALT. CLIENT: Classic
Race starts: May 01st 17:00 Registration Open!
GO TO RACE
Chile Islands RTI Sprint 2017
Across the Canal Puyuhuapi from Puerto Cines on the Chilean mainland lies the Parque Nacional Isla Magdelena, and further west across the Canal Moraleda from Magdelena lie the islands of the Chonos Archipelago. We find ourselves in vari-charted waters here, with the mapping between physical islands and their names not 1:1 but rather some:some. It's only 26nm but you could get lost! Good luck.
Race #1048
INFOby brainaid.de
SOTO 30 Particulars
WX Updates:
0430 / 1030 / 1630 / 2230
RANKING:
SPRCH-SUPSOL-SPRR2-SYC
ALT CLIENT: Classic
PRIZE: SMPF
Race starts: Apr 29th 18:00 Registration Open!
GO TO RACE
Bay to Bay Race 2017
Welcome again to the clear sheltered waters of the Great Sandy Strait surrounded by the World Heritage listed Fraser Island. The overnight party at Garry's Anchorage will have fresh fish, prawns and crabs on the menu washed down with cold local beer and rum from the famous Bundaberg Rum Distillery a few miles up the coast.
Race #1045
INFO from brainaid.de
J-80 Particulars
WX Updates:
0430 / 1030 / 1630 / 2230
Ranking: SYC
ALT. CLIENT:Classic
RACE CLOSE: Monday, 1 May at 2300utc
Race starts: Apr 29th 00:10 Registration Closed
GO TO RACE
Cape Town to Lisbon - Leg 4
In the fourth leg of Sailonline's wrong-way Round the World Race 2016 we will meet the challenge of crossing "The Doldrums"on our way from Cape Town in the southern hemisphere to Lisbon in the northern; a route proven very hard to predict.
Race #1037
INFOfrom brainaid.de
VO70v4 Particulars
WX Updates:
0430 / 1030 / 1630 / 2230
Ranking: OCCH–OCQ2-SUPSOL-RTWR-SYC
ALT. CLIENT:Classic
Race starts: Apr 04th 10:00 Registration Closed
GO TO RACE
Melbourne to Osaka 2017 - Prelude 2
Welcome to the 5,500nm race from Melbourne, Australia, in the Southern hemisphere, to Osaka, Japan, in the Northern hemisphere.
This is the 2017 Prelude to the main event which will run in reality in 2018. This is your virtual opportunity to test navigation and routing skills!
Race #1036
INFO from brainaid.de
Class 40 Pariculars
WX Updates: 0430 / 1030 / 1630 / 2230
Ranking: SYC
ALT CLIENT:Classic
PRIZE: SMPF
Race starts: Apr 01st 22:00 Registration Closed
GO TO RACE
SYC Ranking
Series
Mobile Client
SYC members have the benefit of access to our mobile/lightweight web client!