25 October 2012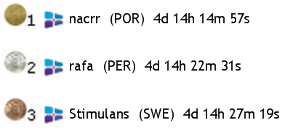 PARABÉNS nacrr!!! FELICIDADES rafa!! GRATTIS Stimulans!
During Ecker 1 many thought that the sail eastwards from Kalamata to Alanya would be relatively straightforward but, once again, the Wind Gods decided to thwart us mere mortals and throw a series of shifty and curling wind patterns our way. Watching the tracks cross and recross each other, the fleet divide and re-divide, shows just how difficult this second leg was. We therefore must acknowledge the hard-won victory for the three SYC Members who gained the podium with the fleet stretched out behind! Bravo guys!
_______________________
Races
Next Race: 00d 00h 00m
---
Current Races:
Iceland TIMED Race 2016
Welcome to a fast-paced TIMEDrace in Orange Cats off Iceland - 150nm for you to race as often as you like over the coming weeks - volcano watching optional!
RE-REGISTER HERE to race again after finishing a run
Race #932
INFO by brainaid.de
Orange Cat POLAR
WX Updates: 0430 / 1030 / 1630 / 2230
RANKING: TRCH-SUPSOL-TRQ2-SYC
ALT. CLIENT: Classic
RACE CLOSE:Sunday, 15 May at 2300utc
Race starts: May 06th 12:00 Registration will open soon
GO TO RACE
Van Isle 360 2016
Welcome back to Vancouver and the 525nm delightful course designed by SOLer fastpassage39. This is a tricky race, combining tight channels and open water which our SOTO 30s will love.
Race #931
INFO by brainaid.de
SOTO30 POLAR
WX Updates: 0430 / 1030 / 1630 / 2230
Ranking: SYC
ALT. CLIENT:Classic
PRIZE: SMPF
Race starts: May 02nd 17:00 Registration Open!
GO TO RACE
Viking Longship Race to Iceland 2016
Draken Harald Hårfagre is a replica viking longship about to sail from Norway to America. In celebration of this magnificent endeavour, Sailonline is racing the first leg, from Haugesund, Norway, to Reykjavik, Iceland in our own Longship. Let us sail in the wake of history on this epic adventure!
Race #929
INFO from brainaid.de
Longship DrakePOLAR
WX Updates: 0430 / 1030 / 1630 / 2230
Ranking: SYC
ALT. CLIENT:Classic
Race starts: Apr 24th 13:00 Registration Open!
GO TO RACE
Melbourne to Osaka Prelude 2016
Welcome to a 5,500nm race from Melbourne, Australia, in the Southern hemisphere, to Osaka, Japan, in the Northern hemisphere – this is the 2016 Prelude to the main event which will run in reality in 2018. This is your virtual opportunity to test navigation and routing skills!
Race #924
INFO from brainaid.de
Class 40 INFO
WX Updates: 0430 / 1030 / 1630 / 2230
Ranking: SYC - SUPSOL - OCQ2 - OCCH
ALT. CLIENT:Classic
PRIZE: SMPF
RACE CLOSE: Friday, 6 May at 0900utc
Race starts: Apr 03rd 09:00 Registration Closed
GO TO RACE
SYC Ranking
Series
Mobile Client
SYC members have the benefit of access to our mobile/lightweight web client!