25 October 2012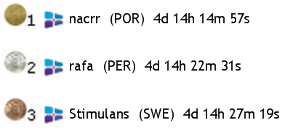 PARABÉNS nacrr!!! FELICIDADES rafa!! GRATTIS Stimulans!
During Ecker 1 many thought that the sail eastwards from Kalamata to Alanya would be relatively straightforward but, once again, the Wind Gods decided to thwart us mere mortals and throw a series of shifty and curling wind patterns our way. Watching the tracks cross and recross each other, the fleet divide and re-divide, shows just how difficult this second leg was. We therefore must acknowledge the hard-won victory for the three SYC Members who gained the podium with the fleet stretched out behind! Bravo guys!
_______________________
Races
Next Race: 00d 00h 00m
---
Current Races:
TransAt TIMED Race 2015
It has been some years since Sailonline hosted a TIMED race across the Atlantic, and those who remember the last race will recall the extraordinary walls of windholes that confronted the fleet at that time. Let's see how things play this time! The TIMED option permits you to race once OR to race more than once, if time permits!
RE-REGISTER HERE to race again after finishing a run
Race #864
NORfrom brainaid.de
GB90 INFO
WX Updates: 0430 / 1030 / 1630 / 2230.
RANKING: TRCH-SUPSOL-TRQ3-SYC
ALT. CLIENT: Classic
RACE CLOSE: Wednesday, 30 September at 2300utc
Race starts: Sep 06th 16:00 Registration will open soon
GO TO RACE
SSANZ Safety at Sea Two-Handed Triple Series 2015 - Race 3
Welcome to the third and final race of this year's SSANZ Triple Series on the waters off Auckland, New Zealand. This is the Baltic 50, and again Sailonline will be racing against members of the Young 88 Association!
Race #863
Chart from brainaid.de
Young 88 POLAR
WX Updates: 0430 / 1030 / 1630 / 2230
Ranking: SSANZ 2015 -SYC
ALT. CLIENT Classic
Race starts: Sep 04th 21:10 Registration Open!
GO TO RACE
The Vineyard Race 2015
The Stamford Yacht Club welcomes Sailonline to its 2015 running of The Vineyard Race. The course runs from Stamford to Buzzard's Bay Light near Martha's Vineyard Island and back again, leaving Block Island to starboard. Sail against the real fleet in your Santa Cruz 52.
Race #860
NORfrom brainaid.de
Santa Cruz 52 POLAR
WX Updates: 0430 / 1030 / 1630 / 2230
Ranking: SYC - SYQ3 -SYCCH - SUPSOL
ALT. CLIENT:Classic
Race starts: Sep 04th 17:00 Registration Open!
GO TO RACE
SYC Ranking
Series
Mobile Client
SYC members have the benefit of access to our mobile/lightweight web client!