2 July 2012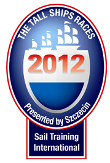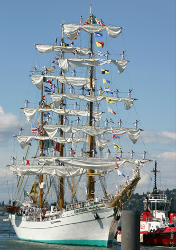 For a second year, SOL is delighted to participate virtually in The Tall Ships Races 2012, presented by Szczecin, organised by Sail Training International. This year's races will be held in European waters.
After reading about these beautiful historic ships and seeing them in movies and on television, few of us have seen one in reality. Now, however, you have the chance to sail one and make navigational decisions in real wind conditions. That will surely bring surprises while offering a total educational experience, both for sailors of modern boats and for 'wannabe' Salts of all ages.
This experience runs parallel to Sail Training International's mission - the development and education of young people through the sail training experience, regardless of nationality, culture, religion, gender or social background. Sail Training International and SOL both count heavily on volunteer support with financial gain excluded from the equation.
There are four classes of Tall Ship in the real races, ranging from the biggest Class A Square Rigged ships of more than 40m in length, through to the smallest sloop. SOL this year will be sailing a Class A Tall Ship, a 90m Barque with a performance polar derived from published data.
The virtual races will follow the real race schedule.
Race 1 will put to sea from St Malo, France on 8 July and the race to Lisbon, Portugal starts offshore on 9 July.
Race 2 will leave Lisbon for Cadiz, Spain, on 22 July.
The Cruise-in-Company will leave Cadiz for A Coruna, Spain, on 29 July.
Race 3 will leave A Coruna for Dublin, Ireland, on 13 August.
Check out the
Races Forum Thread
. _____________________________
Races
Next Race: 00d 00h 00m
---
Current Races:
Baker Lake 2016
It's been less than a month since we packed up our DN's on the shores of Lake Khovsgol to ship them half way round the world to Baker Lake in the vastness of Canada's Nunavut province. Thank goodness, the airport here is a bit closer to our venue for our second ice race of the Winter. Well inside the Arctic Circle, this is a cold, cold place, where the wind is rarely benign. Wrap up well, and try to get round as quick as you can. The moon is full, so no need for nav or floodlights!
Race #986
INFO by brainaid.de
DN PARTICULARS
WX Updates:
0430 / 1030 / 1630 / 2230
RANKING:
SPRCH-SUPSOL-SRQ4-SYC
ALT. CLIENT:Classic
Race starts: Dec 10th 23:00 Registration will open soon
GO TO RACE
Hormuz TIMED Race 2016
Strait of Hormuz is a really busy and congested waters with shipping and military vessels. For Sailonline however, racing here is with impunity, nothing is off limits!!
This is a TIMEDrace designed by NZL Scotsman
RE-REGISTER HEREto race again after finishing a run
Race #1000
Infofrom brainaid.de
GB90 Particulars
WX Updates:
0430 / 1030 / 1630 / 2230
Ranking:
TRCH-SUPSOL-TRQ4-SYC
ALT. CLIENT:Classic
RACE CLOSE: Sunday, November 18 at 2300utc
Race starts: Dec 09th 16:00 Registration will open soon
GO TO RACE
Abel T. Appreciation Race 2016
In December 1642 after a particularly difficult and rough voyage, the Dutch seafarer and explorer, Abel Tasman, made landfall at a spot he named Staten Landt, believing he had arrived on the coast of Argentina. In fact, he had arrived in modern-day New Zealand. Out of love and respect for this brilliant seaman, Sailonline is retracing his route from Tasmania to New Zealand.
Race #995
INFO from brainaid.de
Steinlager 2Particulars
WX Updates:
0430 / 1030 / 1630 / 2230
Ranking: SYC
ALT. CLIENT:Classic
Race starts: Dec 04th 21:00 Registration Open!
GO TO RACE
Christmas to Christmas 2016
Hands up everyone who knew there were TWO Christmas Islands?! OK, maybe you have sailed this Sailonline course before, but this time the race area has been expanded to the south to make it possible to go through the Bass Strait and even south of Tasmania... so, it's time to get ready for the 2016 challenge of racing the 5,837nm between Christmas Island in the Pacific to Christmas Island in the Indian Ocean!
Race #994
INFO by brainaid.de
OD65v3: Particulars
WX Updates:
0430 / 1030 / 1630 / 2230
RANKING: OCCH-OCQ4-SUPSOL-SYC
ALT. CLIENT: Classic
Race starts: Dec 03rd 20:00 Registration Open!
GO TO RACE
Key Lime Pie-gatta 2016
Rum runners, conch fritters and shrimp Po-boys await as we sail one of the most amazing series of islets in the world in our Mini6.5s. 2010's special rules remain in force: no shoes (all!) and no shirts (ladies exempt).
Race #982
INFOby brainaid.de
Mini6.50 Particulars
WX Updates:
0430 / 1030 / 1630 / 2230
Ranking: SYC
ALT. CLIENT: Classic
RACE CLOSE: Friday, 9 December at 1800utc
Race starts: Dec 01st 18:00 Registration Closed
GO TO RACE
SYC Ranking
Series
Mobile Client
SYC members have the benefit of access to our mobile/lightweight web client!