2 July 2012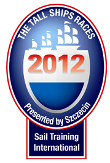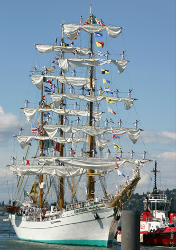 For a second year, SOL is delighted to participate virtually in The Tall Ships Races 2012, presented by Szczecin, organised by Sail Training International. This year's races will be held in European waters.
After reading about these beautiful historic ships and seeing them in movies and on television, few of us have seen one in reality. Now, however, you have the chance to sail one and make navigational decisions in real wind conditions. That will surely bring surprises while offering a total educational experience, both for sailors of modern boats and for 'wannabe' Salts of all ages.
This experience runs parallel to Sail Training International's mission - the development and education of young people through the sail training experience, regardless of nationality, culture, religion, gender or social background. Sail Training International and SOL both count heavily on volunteer support with financial gain excluded from the equation.
There are four classes of Tall Ship in the real races, ranging from the biggest Class A Square Rigged ships of more than 40m in length, through to the smallest sloop. SOL this year will be sailing a Class A Tall Ship, a 90m Barque with a performance polar derived from published data.
The virtual races will follow the real race schedule.
Race 1 will put to sea from St Malo, France on 8 July and the race to Lisbon, Portugal starts offshore on 9 July.
Race 2 will leave Lisbon for Cadiz, Spain, on 22 July.
The Cruise-in-Company will leave Cadiz for A Coruna, Spain, on 29 July.
Race 3 will leave A Coruna for Dublin, Ireland, on 13 August.
Check out the
Races Forum Thread
. _____________________________
Races
Next Race: 00d 00h 00m
---
Current Races:
Koshiki PYOC Sprint 2016
The seas off Nagasaki have quite a smattering of islands or shima's, and hence are proving to be a popular arena for PYOC SOL Sprints. The Koshiki group is a case in point, and thus we return there within a year of our last visit to this time joust in SOTO 30s.
Race #962
INFOby brainaid.de
SOTO 30 Particulars
WX Updates:
0430 / 1030 / 1630 / 2230
RANKING:
SPRCH-SUPSOL-SRQ3-SYC
ALT CLIENT: Classic
Race starts: Sep 24th 23:00 Registration Open!
GO TO RACE
Silverrudder Challenge of the Sea 2016
Welcome to Sailonline's first racing of Silverrudder Challenge of the Sea around the Danish Island of Fyn. With shallow waters and a strong current this close inshore race is truly a challenge. One of three regattas around Fyn each year, this race is the only one for single handed racing. Will our new First 36.7s be a match for the real fleet? Time will tell!
Race #973
INFO from brainaid.de
First 36.7 Particulars
WX Updates:
0430 / 1030 / 1630 / 2230
Ranking: SYC
ALT. CLIENT Classic
RACE CLOSE: Monday, 26 September at 2300utc
Race starts: Sep 23rd 08:00 Registration Closed
GO TO RACE
Carib Rum Run 2016
Rum is a pirate's drink. September 19 is International Talk Like a Pirate Day. Combine the two with Open 60s and what do you have? Why, 'tis Sailonline's annual Pirate PRIZE race - 1759nm through the rum islands of the Caribbean, collecting rum to bring to the rum-parched beaches of Mexico. Race in disguise by becoming an SYC Member and changing your boat name for this race only!
Race #969
INFO from brainaid.de
Open 60 Particulars
WX Updates:
0430 / 1030 / 1630 / 2230
Ranking: SYC
ALT. CLIENT:Classic
Race starts: Sep 19th 17:00 Registration Open!
GO TO RACE
Beru to Bora Bora 2016
Welcome to the islands of the Pacific, whose original migrants arrived from Indonesia and reached as far as Hawaii and beyond. This Sailonline race, designed by SOLer Dingo, is a 2219nm segment of those original migration routes, and takes us from Beru Island in Kiribati to Bora Bora in Tahiti. As you enjoy the luxury of your GB90, spare a thought for those crossing these waters long ago in simple outriggers.
Race #971
INFO from brainaid.de
GB90 Particulars
WX Updates:
0430 / 1030 / 1630 / 2230
Ranking: OCCH-SUPSOL-OCQ3-SYC
ALT. CLIENT: Classic
PRIZE: SMPF
RACE CLOSE: Sunday, 25 September at 2300utc
Race starts: Sep 12th 21:00 Registration Closed
GO TO RACE
SYC Ranking
Series
Mobile Client
SYC members have the benefit of access to our mobile/lightweight web client!