2 July 2012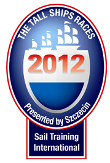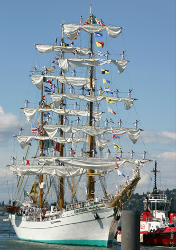 For a second year, SOL is delighted to participate virtually in The Tall Ships Races 2012, presented by Szczecin, organised by Sail Training International. This year's races will be held in European waters.
After reading about these beautiful historic ships and seeing them in movies and on television, few of us have seen one in reality. Now, however, you have the chance to sail one and make navigational decisions in real wind conditions. That will surely bring surprises while offering a total educational experience, both for sailors of modern boats and for 'wannabe' Salts of all ages.
This experience runs parallel to Sail Training International's mission - the development and education of young people through the sail training experience, regardless of nationality, culture, religion, gender or social background. Sail Training International and SOL both count heavily on volunteer support with financial gain excluded from the equation.
There are four classes of Tall Ship in the real races, ranging from the biggest Class A Square Rigged ships of more than 40m in length, through to the smallest sloop. SOL this year will be sailing a Class A Tall Ship, a 90m Barque with a performance polar derived from published data.
The virtual races will follow the real race schedule.
Race 1 will put to sea from St Malo, France on 8 July and the race to Lisbon, Portugal starts offshore on 9 July.
Race 2 will leave Lisbon for Cadiz, Spain, on 22 July.
The Cruise-in-Company will leave Cadiz for A Coruna, Spain, on 29 July.
Race 3 will leave A Coruna for Dublin, Ireland, on 13 August.
Check out the
Races Forum Thread
. _____________________________
Races
Next Race: 00d 00h 00m
---
Current Races:
Melbourne to Osaka 2017 - Prelude 2
Welcome to the 5,500nm race from Melbourne, Australia, in the Southern hemisphere, to Osaka, Japan, in the Northern hemisphere.
This is the 2017 Prelude to the main event which will run in reality in 2018. This is your virtual opportunity to test navigation and routing skills!
Race #1036
INFO from brainaid.de
Class 40 Pariculars
WX Updates: 0430 / 1030 / 1630 / 2230
Ranking: SYC
PRIZE: SMPF
Race starts: Apr 01st 22:00 Registration Open!
GO TO RACE
2017 40' Series Championship Q1&Q2 Boston to Newport Race
It's time for the third of six races in the 40' Q1 and Q2 Championship!
This time we are racing from Boston to Newport.
DON'T RISK DISQUALIFICATION!
There are three boat designs to choose from and each one may NOT be used more than twice during the six race Series, according to the NORof the series
The three boat designs are:
40' Particulars
IMPORTANT:
Before you choose the boat design, log in with the "Guest" boat (Username=guest/Password=guest) so you can view the predicted winds to help you choose the best boat/polar for the upcoming race. Once you have chosen to register a boat design for this race, it cannot be undone!
REMEMBER:
Choosing the same boat design more than twice will get you disqualified from this race!!
View this list to see what boats you've already used:
USED BOATS
Race # 1026
INFOfrom brainaid.de
WX Updates:
0430 / 1030 / 1630 / 2230
Ranking:
40Q1&2CH –SYC
ALT. CLIENT:Classic
Race starts: Mar 30th 10:00 Registration Open!
GO TO RACE
A3 2016 - Leg 7 - Cairns to Darwin
SOL's gift to AGage's memory is the A3 - Agage's Around Australia Series. This race is Leg 7 of the series - a race of 1405nm in 60ft trimarans from Cairns, the hub of Australia's tropical holiday zone, to Darwin, the frontier with Asia.
Race #1027
INFO by brainaid.de
60ft Trimaran Particulars
WX Updates:
0430 / 1030 / 1630 / 2230
Ranking: A3 - SYC
ALT. CLIENT:Classic
Race starts: Mar 22nd 02:00 Registration Open!
GO TO RACE
SYC Ranking
Series
Mobile Client
SYC members have the benefit of access to our mobile/lightweight web client!