2 July 2012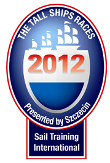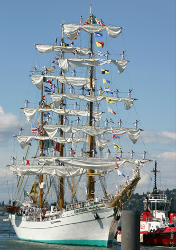 For a second year, SOL is delighted to participate virtually in The Tall Ships Races 2012, presented by Szczecin, organised by Sail Training International. This year's races will be held in European waters.
After reading about these beautiful historic ships and seeing them in movies and on television, few of us have seen one in reality. Now, however, you have the chance to sail one and make navigational decisions in real wind conditions. That will surely bring surprises while offering a total educational experience, both for sailors of modern boats and for 'wannabe' Salts of all ages.
This experience runs parallel to Sail Training International's mission - the development and education of young people through the sail training experience, regardless of nationality, culture, religion, gender or social background. Sail Training International and SOL both count heavily on volunteer support with financial gain excluded from the equation.
There are four classes of Tall Ship in the real races, ranging from the biggest Class A Square Rigged ships of more than 40m in length, through to the smallest sloop. SOL this year will be sailing a Class A Tall Ship, a 90m Barque with a performance polar derived from published data.
The virtual races will follow the real race schedule.
Race 1 will put to sea from St Malo, France on 8 July and the race to Lisbon, Portugal starts offshore on 9 July.
Race 2 will leave Lisbon for Cadiz, Spain, on 22 July.
The Cruise-in-Company will leave Cadiz for A Coruna, Spain, on 29 July.
Race 3 will leave A Coruna for Dublin, Ireland, on 13 August.
Check out the
Races Forum Thread
. _____________________________
Races
Next Race: 00d 00h 00m
---
Current Races:
Falmouth Royal Greenwich Tall Ships Regatta 2014
Welcome to the fourth and final race of Sailonline's 2014 Tall Ships series. You will be sailing in the wakes of history as you race your Barque 90 the 286nm from Falmouth in Cornwall to Greenwich near London NOTE:Starts and Finishes in tall ships racing are offshore to avoid conflict with shipping and shipping lanes.
Race #731
NOR from brainaid.de
Barque 90m INFO
WX Updates: 0430 / 1030 / 1630 / 2230
RANKING: TALLS-SYC
ALT. CLIENT: Classic
Race starts: Aug 31st 15:00 Registration Open!
GO TO RACE
The Vineyard Race 2014
The Stamford Yacht Club welcomes Sailonline to its 80th running of The Vineyard Race. The course runs from Stamford to Buzzard's Bay Light near Martha's Vineyard Island and back again, leaving Block Island to starboard. Sail against the real fleet in your Santa Cruz 52.
Race #735
NORfrom brainaid.de
Santa Cruz 52 POLAR
WX Updates: 0430 / 1030 / 1630 / 2230
Ranking: SYCCH-SYC
ALT. CLIENT:Classic
Race starts: Aug 29th 16:00 Registration Open!
GO TO RACE
Super Mac Race
In reality the Super Mac is a 530 NM race held every 10 years and last run in 2009. It starts with the annual Chicago to Mackinac race fleet and just continues down Lake Huron to Port Huron. This leaves the competitors in position to start the annual Port Huron to Mackinac Race a couple of weeks' later. Spanning the Great Lakes of Michigan and Huron, this is one of the most challenging fresh water races in the world, so launch your trusty First 40.7 and lets get racing!
Race #728
NOR from brainaid.de
First 40.7 INFO
WX Updates: 0430 / 1030 / 1630 / 2230
Ranking: SYC
ALT. CLIENT:Classic
RACING
Race starts: Aug 21st 15:00 Registration Closed
GO TO RACE
Maui to Mazatlan 2014
Surfing Hawaii builds a mighty thirst and SOLers are now racing 2790nm to Mexico in TP52s, home of tequila and mojitos! .
Race #719
NOR from brainaid.de
TP52 INFO
WX Updates: 0430 / 1030 / 1630 / 2230
Ranking: OCCH-SYC
ALT. CLIENT:Classic
RACING
Race starts: Aug 11th 21:00 Registration Closed
GO TO RACE
SYC Ranking
Series
Mobile Client
SYC members have the benefit of access to our mobile/lightweight web client!