2 July 2012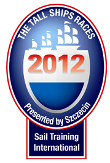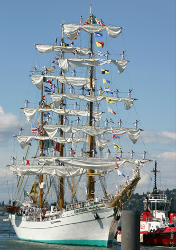 For a second year, SOL is delighted to participate virtually in The Tall Ships Races 2012, presented by Szczecin, organised by Sail Training International. This year's races will be held in European waters.
After reading about these beautiful historic ships and seeing them in movies and on television, few of us have seen one in reality. Now, however, you have the chance to sail one and make navigational decisions in real wind conditions. That will surely bring surprises while offering a total educational experience, both for sailors of modern boats and for 'wannabe' Salts of all ages.
This experience runs parallel to Sail Training International's mission - the development and education of young people through the sail training experience, regardless of nationality, culture, religion, gender or social background. Sail Training International and SOL both count heavily on volunteer support with financial gain excluded from the equation.
There are four classes of Tall Ship in the real races, ranging from the biggest Class A Square Rigged ships of more than 40m in length, through to the smallest sloop. SOL this year will be sailing a Class A Tall Ship, a 90m Barque with a performance polar derived from published data.
The virtual races will follow the real race schedule.
Race 1 will put to sea from St Malo, France on 8 July and the race to Lisbon, Portugal starts offshore on 9 July.
Race 2 will leave Lisbon for Cadiz, Spain, on 22 July.
The Cruise-in-Company will leave Cadiz for A Coruna, Spain, on 29 July.
Race 3 will leave A Coruna for Dublin, Ireland, on 13 August.
Check out the
Races Forum Thread
. _____________________________
Races
Next Race: 00d 00h 00m
---
Current Races:
The Tall Ships Races 2015 - Race 1 - Belfast to Aalesund
Welcome to the second of the four events in Sailonline's 2015 Tall Ships Series. This is the first of this year's European Tall Ships Races - a race of 598nm from Belfast in Northern Ireland to Aalesund in Norway NOTE:Starts and Finishes in tall ships racing are offshore to avoid conflict with shipping and shipping lanes.
Race #840
Chart by brainaid.de
90m Barque POLAR
WX Updates: 0430 / 1030 / 1630 / 2230
RANKING: Tall Ships - SYC
ALT. CLIENT: Classic
Race starts: Jul 06th 09:00 Registration Open!
GO TO RACE
Groote PYOC Sprint 2015
The 1st race of the Q3 Sprint race Championship is a 29nm PYOC race around the island of Groote Eylandt in the Gulf of Carpentaria, on Australia's northern coast
Race #847
Chart from brainaid.de
60 ft Trimaran INFO
WX Updates: 0430 / 1030 / 1630 / 2230
Ranking: SPRCH - SUPSOL – SRQ3 - SYC
ALT. CLIENT:Classic
Race starts: Jul 04th 23:00 Registration Open!
GO TO RACE
Tristan TIMED Race 2015
We take a 68nm tour of this remote outpost in the South Atlantic. The gales may come and go but the sea is everlasting. This is the second running of the TIMED race designed by NZL_Scotsman
RE-REGISTER HERE to race again after finishing a run
Race #848
Chart by brainaid.de
TP52 INFO
WX Updates: 0430 / 1030 / 1630 / 2230
Ranking: TRCH-SUPSOL-TRQ3-SYC
ALT. CLIENT:Classic
RACE CLOSE: 12 July at 2300utc
Race starts: Jul 03rd 16:00 Registration Open!
GO TO RACE
Cape Town to Hobart 2015
The winds of the Southern Oceans and riding the circumpolar current is one of the toughest challenges ever to face ocean racers. Thanks to the realism of our navsim, this 5,440nm race from Cape Town, South Africa, to Hobart, Tasmania, will be a real test of wind navigation skill. Are you up to the challenge?
Race #849
Chart from brainaid.de
IMOCA 60 INFO
WX Updates: 0430 / 1030 / 1630 / 2230
Ranking: OCCH-SUPSOL-OCQ3-SYC
ALT. CLIENT: Classic
Race starts: Jul 01st 10:00 Registration Open!
GO TO RACE
SYC Ranking
Series
Mobile Client
SYC members have the benefit of access to our mobile/lightweight web client!