6 August 2012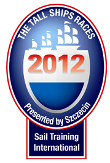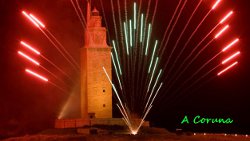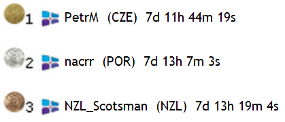 GRATULUJEME PetrM!!! PARABÉNS nacrr!! CONGRATULATIONS NZL_Scotsman!
One of the most difficult of courses to run, it is likely that SOL will not race a Cruise-in-Company in the future - to attempt to sail a tall ship against the prevailing wind can be soul destroying and a huge amount of work. Historically, ships picked when to sail to benefit from the winds so all credit must go to SOL's podium who, in spite of the monumental challenge, rose to the occasion and sailed into Coruna ahead of the rest of us. Impressive sailing guys!
26-29 July - Tall Ships Festival in Cadiz
Cruise in Company - Cadiz to A Coruna - 29 July @1700utc
The Cadiz Festival and Bicentenary is celebrating not only Cadiz's long sea-faring history but also two hundred years of the current Spanish constitution. Visit regatacadiz2012.es for all the local events information.
The Cruise in Company
A race for SOLers but a leisurely cruise up the coastline for the real Tall Ships - a chance, with crew exchanges, to see how other nations sail and live aboard - destination A Coruna.
There are four classes of Tall Ship and this year SOL is sailing a Class A Tall Ship, a 90m Barque with a performance polar derived from published data. Go into the Entry List to see who our competitors are.
Races
Next Race: 00d 00h 00m
---
Current Races:
A3 2016 - Leg 4 - Sydney to Gold Coast
SOL's gift to AGage's memory is the A3 - Agage's Around Australia Series. This race is Leg 4 of the series - a 385nm run in TP52s from Sydney to the Gold Coast, replicating the course of the famous race organised by the Cruising Club of Australia in July each year.
Race #987
INFO by brainaid.de
TP-52 Particulars
WX Updates:
0430 / 1030 / 1630 / 2230
Ranking: A3 - SYC
ALT. CLIENT:Classic
Race starts: Oct 25th 20:00 Registration will open soon
GO TO RACE
Puerto Aguirre PYOC Sprint 2016
We return to the myriad islands off the coast of mainland Chile, this time to a group directly south of the Parque Nacional Isla Magdelena, scattered about the impoverished fishing village of Puerto Aguirre on Isla Las Huichas. Your race is from north to south through or round these islands; take your pick.
Race #978
INFOby brainaid.de
Ostar 35 Particulars
WX Updates:
0430 / 1030 / 1630 / 2230
RANKING:
SPRCH-SUPSOL-SRQ4-SYC
ALT CLIENT: Classic
Race starts: Oct 22nd 17:00 Registration Open!
GO TO RACE
PIC Coastal Classic Yacht Race 2016
With the N Hemisphere sailing season virtually over, racing in New Zealand never stops and as we head into summer here, it is time for the running of this year's iconic N Island coastal race from Auckland to Russell in memory of Steve Alloway, SOLer NZL_yachtyakka.
Race #984
INFO by brainaid.de
Young 11mod Particulars
WX Updates:
0430 / 1030 / 1630 / 2230
Ranking: SYC
ALT. CLIENT:Classic
Race starts: Oct 20th 20:45 Registration Open!
GO TO RACE
Lisboa TIMED Race 2016
This will be the third time that Sailonline is hosting this race, designed by psail, and featuring our very own AC72, this year with a modified polar, to remove the inconsistencies that obtained from psail's and bonknhoot's original interpolation of the limited data issued by the AC 2003 Principal Race Officer in connection with penalties determination. This is a TIMED race, which means you get multiple chances to try out the ramifications of the revisions. Be careful though, the polar remains a handling challenge with major stall-out potential!
Re-register hereto race again after finishing a run
Race #980
INFOby brainaid.de
AC72 Particulars
WX Updates:
0430 / 1030 / 1630 / 2230
Ranking:
TRCH-SUPSOL-TRQ4-SYC
ALT CLIENT: Classic
REGISTRATION CLOSE: 23 October at 2200utc
RACE CLOSE: 23 October at 2300utc
Race starts: Oct 14th 16:00 Registration Open!
GO TO RACE
RTWR 2016 - Leg 2 - Uruguay to New Zealand
The second leg of Sailonline's wrong-way Round the World Race 2016 sees the fleet navigating its way from Punta del Este,Uruguay, down the South Atlantic and across the Pacific to Auckland, New Zealand. For your transit from ocean-to-ocean you may leave Tierra del Fuego to port or to starboard, as you please.
Race #972
INFO from brainaid.de
VO70 Particulars
WX Updates:
0430 / 1030 / 1630 / 2230
Ranking: SYC - SUPSOL - OCQ4 - OCCH - RTWR
ALT. CLIENT:Classic
PRIZE: SMPF
Race starts: Oct 02nd 13:00 Registration Open!
GO TO RACE
SYC Ranking
Series
Mobile Client
SYC members have the benefit of access to our mobile/lightweight web client!