6 August 2012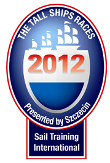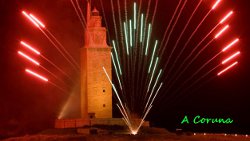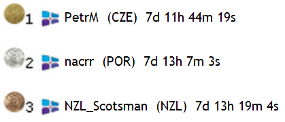 GRATULUJEME PetrM!!! PARABÉNS nacrr!! CONGRATULATIONS NZL_Scotsman!
One of the most difficult of courses to run, it is likely that SOL will not race a Cruise-in-Company in the future - to attempt to sail a tall ship against the prevailing wind can be soul destroying and a huge amount of work. Historically, ships picked when to sail to benefit from the winds so all credit must go to SOL's podium who, in spite of the monumental challenge, rose to the occasion and sailed into Coruna ahead of the rest of us. Impressive sailing guys!
26-29 July - Tall Ships Festival in Cadiz
Cruise in Company - Cadiz to A Coruna - 29 July @1700utc
The Cadiz Festival and Bicentenary is celebrating not only Cadiz's long sea-faring history but also two hundred years of the current Spanish constitution. Visit regatacadiz2012.es for all the local events information.
The Cruise in Company
A race for SOLers but a leisurely cruise up the coastline for the real Tall Ships - a chance, with crew exchanges, to see how other nations sail and live aboard - destination A Coruna.
There are four classes of Tall Ship and this year SOL is sailing a Class A Tall Ship, a 90m Barque with a performance polar derived from published data. Go into the Entry List to see who our competitors are.
Races
Next Race: 00d 00h 00m
---
Current Races:
The Vineyard Race 2014
The Stamford Yacht Club welcomes Sailonline to its 80th running of The Vineyard Race. The course runs from Stamford to Buzzard's Bay Light near Martha's Vineyard Island and back again, leaving Block Island to starboard. Sail against the real fleet in your Santa Cruz 52.
Race #735
NORfrom brainaid.de
Santa Cruz 52 POLAR
WX Updates: 0430 / 1030 / 1630 / 2230
Ranking: SYCCH-SYC
ALT. CLIENT:Classic
Race starts: Aug 29th 16:00 Registration Open!
GO TO RACE
Super Mac Race
In reality the Super Mac is a 530 NM race held every 10 years and last run in 2009. It starts with the annual Chicago to Mackinac race fleet and just continues down Lake Huron to Port Huron. This leaves the competitors in position to start the annual Port Huron to Mackinac Race a couple of weeks' later. Spanning the Great Lakes of Michigan and Huron, this is one of the most challenging fresh water races in the world, so launch your trusty First 40.7 and lets get racing!
Race #728
NOR from brainaid.de
First 40.7 INFO
WX Updates: 0430 / 1030 / 1630 / 2230
Ranking: SYC
ALT. CLIENT:Classic
RACING
Race starts: Aug 21st 15:00 Registration Closed
GO TO RACE
Seoul to Seoul 2014
We may not dare to sail here IRL but in our virtual world we can explore the sea in Korea. This is a TIMED race designed by NZL_Scotsman of 70nm which we will sail in our 125ft Orange catamarans.
RE-REGISTER HERE to race again after finishing a run
Race #726
NORfrom brainaid.de
125ft Orange catamaran INFO
WX Updates: 0430 / 1030 / 1630 / 2230.
RANKING: TRCH-SYC
ALT. CLIENT: Classic
REGISTRATION CLOSE: Wednesday, 27 August at 0600utc
RACE CLOSE:Wednesday, 27 August at 1800utc
RACING
Race starts: Aug 20th 18:00 Registration Closed
GO TO RACE
Maui to Mazatlan 2014
Surfing Hawaii builds a mighty thirst and SOLers are now racing 2790nm to Mexico in TP52s, home of tequila and mojitos! .
Race #719
NOR from brainaid.de
TP52 INFO
WX Updates: 0430 / 1030 / 1630 / 2230
Ranking: OCCH-SYC
ALT. CLIENT:Classic
RACING
Race starts: Aug 11th 21:00 Registration Closed
GO TO RACE
SYC Ranking
Series
Mobile Client
SYC members have the benefit of access to our mobile/lightweight web client!