6 August 2012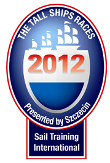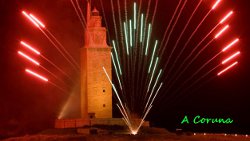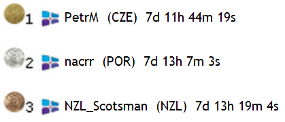 GRATULUJEME PetrM!!! PARABÉNS nacrr!! CONGRATULATIONS NZL_Scotsman!
One of the most difficult of courses to run, it is likely that SOL will not race a Cruise-in-Company in the future - to attempt to sail a tall ship against the prevailing wind can be soul destroying and a huge amount of work. Historically, ships picked when to sail to benefit from the winds so all credit must go to SOL's podium who, in spite of the monumental challenge, rose to the occasion and sailed into Coruna ahead of the rest of us. Impressive sailing guys!
26-29 July - Tall Ships Festival in Cadiz
Cruise in Company - Cadiz to A Coruna - 29 July @1700utc
The Cadiz Festival and Bicentenary is celebrating not only Cadiz's long sea-faring history but also two hundred years of the current Spanish constitution. Visit regatacadiz2012.es for all the local events information.
The Cruise in Company
A race for SOLers but a leisurely cruise up the coastline for the real Tall Ships - a chance, with crew exchanges, to see how other nations sail and live aboard - destination A Coruna.
There are four classes of Tall Ship and this year SOL is sailing a Class A Tall Ship, a 90m Barque with a performance polar derived from published data. Go into the Entry List to see who our competitors are.
Races
Next Race: 00d 00h 00m
---
Current Races:
A3 2016 - Leg 9 - Perth to Adelaide
SOL's gift to AGage's memory is the A3 - Agage's Around Australia Series. This race is Leg 9, the last in the series - a race of 1300nm in VO70v4s from the appropriately named Gage Roads off Fremantle to Adelaide. Let us race with Aaron's spirit back to Adelaide.
Race #1060
INFO by brainaid.de
VO70v4 Particulars
WX Updates: 0430 / 1030 / 1630 / 2230
Ranking: A3/SYC
ALT. CLIENTClassic
Race starts: Jun 25th 10:00 Registration Open!
GO TO RACE
2017 40' Series Championship Q1&Q2 Singapore Visit
It's time for the sixth of six races in the 40' Q1 and Q2 Championship!
Welcome to Indonesia and a 365 NM race in one of the 40' available for your choice, from the Island of Natuna Besar to Singapore Harbor. This regatta is based on the course of the Singapore In-Port race back in 2009.
DON'T RISK DISQUALIFICATION!
There are three boat designs to choose from and each one may NOT be used more than twice during the six race Series, according to the NORof the series
The three boat designs are:
40' Particularsand their official polars are here, just recently uploaded by "sailonline":
40' Polars(as a zip file)
IMPORTANT:
Before you choose the boat design, log in with the "Guest" boat (Username=guest/Password=guest) so you can view the predicted winds to help you choose the best boat/polar for the upcoming race. Once you have chosen to register a boat design for this race, it cannot be undone!
REMEMBER:
Choosing the same boat design more than twice will get you disqualified from this race!!
View this list to see what boats you've already used:
USED BOATS
Race # 1059
INFOfrom brainaid.de
WX Updates:
0430 / 1030 / 1630 / 2230
Ranking:
40Q1&2CH –SYC
ALT. CLIENT:Classic
RACE CLOSE: Wednesday, June 28 at 15:00:00 UTC
Race starts: Jun 23rd 02:00 Registration Closed
GO TO RACE
Red Dot 2017 - Leg 3 - Alaska to San Francisco
Inspired by Matt Rutherford's single handed circumnavigation of the Americas, and proposed by SOLer Renegade, Sailonline is racing the course in 5 legs. This is Leg 3 - 2,954nm from Barrow, Alaska to San Francisco, California.
Race #1030
INFO by brainaid.de
SuperMaxi 100 Particulars
WX Updates:
0430 / 1030 / 1630 / 2230
RANKING: OCCH - OCQ2 - SUPSOL - RedDot - SYC
ALT. CLIENT: Classic
PRIZE: SMPF
Race starts: Jun 11th 18:00 Registration Open!
GO TO RACE
SYC Ranking
Series
Mobile Client
SYC members have the benefit of access to our mobile/lightweight web client!