6 August 2012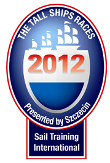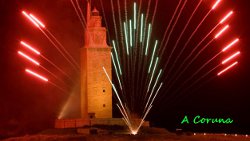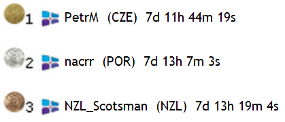 GRATULUJEME PetrM!!! PARABÉNS nacrr!! CONGRATULATIONS NZL_Scotsman!
One of the most difficult of courses to run, it is likely that SOL will not race a Cruise-in-Company in the future - to attempt to sail a tall ship against the prevailing wind can be soul destroying and a huge amount of work. Historically, ships picked when to sail to benefit from the winds so all credit must go to SOL's podium who, in spite of the monumental challenge, rose to the occasion and sailed into Coruna ahead of the rest of us. Impressive sailing guys!
26-29 July - Tall Ships Festival in Cadiz
Cruise in Company - Cadiz to A Coruna - 29 July @1700utc
The Cadiz Festival and Bicentenary is celebrating not only Cadiz's long sea-faring history but also two hundred years of the current Spanish constitution. Visit regatacadiz2012.es for all the local events information.
The Cruise in Company
A race for SOLers but a leisurely cruise up the coastline for the real Tall Ships - a chance, with crew exchanges, to see how other nations sail and live aboard - destination A Coruna.
There are four classes of Tall Ship and this year SOL is sailing a Class A Tall Ship, a 90m Barque with a performance polar derived from published data. Go into the Entry List to see who our competitors are.
Races
Next Race: 00d 00h 00m
---
Current Races:
The Tall Ships Races 2015 - Race 1 - Belfast to Aalesund
Welcome to the second of the four events in Sailonline's 2015 Tall Ships Series. This is the first of this year's European Tall Ships Races - a race of 598nm from Belfast in Northern Ireland to Aalesund in Norway NOTE:Starts and Finishes in tall ships racing are offshore to avoid conflict with shipping and shipping lanes.
Race #840
Chart by brainaid.de
90m Barque POLAR
WX Updates: 0430 / 1030 / 1630 / 2230
RANKING: Tall Ships - SYC
ALT. CLIENT: Classic
Race starts: Jul 06th 09:00 Registration Open!
GO TO RACE
Groote PYOC Sprint 2015
The 1st race of the Q3 Sprint race Championship is a 29nm PYOC race around the island of Groote Eylandt in the Gulf of Carpentaria, on Australia's northern coast
Race #847
Chart from brainaid.de
60 ft Trimaran INFO
WX Updates: 0430 / 1030 / 1630 / 2230
Ranking: SPRCH - SUPSOL – SRQ3 - SYC
ALT. CLIENT:Classic
Race starts: Jul 04th 23:00 Registration Open!
GO TO RACE
Tristan TIMED Race 2015
We take a 68nm tour of this remote outpost in the South Atlantic. The gales may come and go but the sea is everlasting. This is the second running of the TIMED race designed by NZL_Scotsman
RE-REGISTER HERE to race again after finishing a run
Race #848
Chart by brainaid.de
TP52 INFO
WX Updates: 0430 / 1030 / 1630 / 2230
Ranking: TRCH-SUPSOL-TRQ3-SYC
ALT. CLIENT:Classic
RACE CLOSE: 12 July at 2300utc
Race starts: Jul 03rd 16:00 Registration Open!
GO TO RACE
Cape Town to Hobart 2015
The winds of the Southern Oceans and riding the circumpolar current is one of the toughest challenges ever to face ocean racers. Thanks to the realism of our navsim, this 5,440nm race from Cape Town, South Africa, to Hobart, Tasmania, will be a real test of wind navigation skill. Are you up to the challenge?
Race #849
Chart from brainaid.de
IMOCA 60 INFO
WX Updates: 0430 / 1030 / 1630 / 2230
Ranking: OCCH-SUPSOL-OCQ3-SYC
ALT. CLIENT: Classic
Race starts: Jul 01st 10:00 Registration Open!
GO TO RACE
SYC Ranking
Series
Mobile Client
SYC members have the benefit of access to our mobile/lightweight web client!