6 August 2012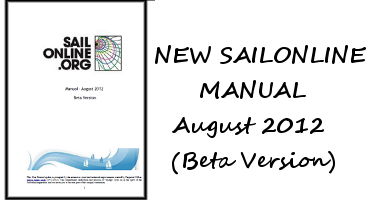 The late, great SOLer and Technical Wizard AGage created our Beta client thereby bringing a stupendously extensive functionality to our already brilliant online sail-racing navigation simulator.
Such functionality can only flourish and be fully used if there is an equally thorough Manual to accompany it.
Thanks to SOLer ShamrockPirate SOL can now make available a new Beta Version Manual - August 2012
Foreign language translations of this Manual (or a summary of it) are now needed so, please would any SOLer interested in creating a form of the Manual to help their fellow countrymen please let us know by emailing admin@sailonline.org. You will be of course be provided with the English document to form a basis of your translation efforts.
Update: 03aug:
A Spanish guide is now available (gracias to Anchoilla con DeBilbaoPues, Galleguita, Maritronco y Muelle).
A Portuguese version is in work (obrigado nacrr)
An Italian version is in work (grazie WINSTON_4) ______________________
Races
Next Race: 00d 00h 00m
---
Current Races:
Abel T. Appreciation Race 2016
In December 1642 after a particularly difficult and rough voyage, the Dutch seafarer and explorer, Abel Tasman, made landfall at a spot he named Staten Landt, believing he had arrived on the coast of Argentina. In fact, he had arrived in modern-day New Zealand. Out of love and respect for this brilliant seaman, Sailonline is retracing his route from Tasmania to New Zealand.
Race #995
INFO from brainaid.de
Steinlager 2Particulars
WX Updates:
0430 / 1030 / 1630 / 2230
Ranking: SYC
ALT. CLIENT:Classic
Race starts: Dec 04th 21:00 Registration Open!
GO TO RACE
Christmas to Christmas 2016
Hands up everyone who knew there were TWO Christmas Islands?! OK, maybe you have sailed this Sailonline course before, but this time the race area has been expanded to the south to make it possible to go through the Bass Strait and even south of Tasmania... so, it's time to get ready for the 2016 challenge of racing the 5,837nm between Christmas Island in the Pacific to Christmas Island in the Indian Ocean!
Race #994
INFO by brainaid.de
OD65v3: Particulars
WX Updates:
0430 / 1030 / 1630 / 2230
RANKING: OCCH-OCQ4-SUPSOL-SYC
ALT. CLIENT: Classic
Race starts: Dec 03rd 20:00 Registration Open!
GO TO RACE
Key Lime Pie-gatta 2016
Rum runners, conch fritters and shrimp Po-boys await as we sail one of the most amazing series of islets in the world in our Mini6.5s. 2010's special rules remain in force: no shoes (all!) and no shirts (ladies exempt).
Race #982
INFOby brainaid.de
Mini6.50 Particulars
WX Updates:
0430 / 1030 / 1630 / 2230
Ranking: SYC
ALT. CLIENT: Classic
Race starts: Dec 01st 18:00 Registration Open!
GO TO RACE
SYC Ranking
Series
Mobile Client
SYC members have the benefit of access to our mobile/lightweight web client!