6 August 2012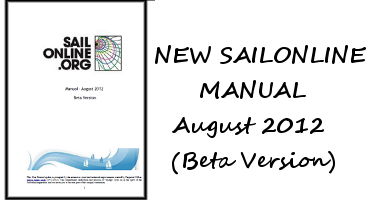 The late, great SOLer and Technical Wizard AGage created our Beta client thereby bringing a stupendously extensive functionality to our already brilliant online sail-racing navigation simulator.
Such functionality can only flourish and be fully used if there is an equally thorough Manual to accompany it.
Thanks to SOLer ShamrockPirate SOL can now make available a new Beta Version Manual - August 2012
Foreign language translations of this Manual (or a summary of it) are now needed so, please would any SOLer interested in creating a form of the Manual to help their fellow countrymen please let us know by emailing admin@sailonline.org. You will be of course be provided with the English document to form a basis of your translation efforts.
Update: 03aug:
A Spanish guide is now available (gracias to Anchoilla con DeBilbaoPues, Galleguita, Maritronco y Muelle).
A Portuguese version is in work (obrigado nacrr)
An Italian version is in work (grazie WINSTON_4) ______________________
Races
Next Race: 00d 00h 00m
---
Current Races:
RTWR 2016 - Leg 2 - Uruguay to New Zealand
The second leg of Sailonline's wrong-way Round the World Race 2016 sees the fleet navigating its way from Punta del Este,Uruguay, down the South Atlantic and across the Pacific to Auckland, New Zealand. For your transit from ocean-to-ocean you may leave Tierra del Fuego to port or to starboard, as you please.
Race #972
INFO from brainaid.de
VO70 Particulars
WX Updates:
0430 / 1030 / 1630 / 2230
Ranking: SYC - SUPSOL - OCQ4 - OCCH - RTWR
ALT. CLIENT:Classic
PRIZE: SMPF
Race starts: 十月 02nd 13:00 Registration Open!
GO TO RACE
3CR - Caen Channel Craic 2016
This 975nm course, first run in 2011, this time introducing SOLers to their new Ker 40, mixes challenging coastal sailing through the Solent with a tricky triangular course across the Irish Sea before finishing in Normandy.
Race #976
INFO from brainaid.de
Ker 40 Particulars
WX Updates:
0430 / 1030 / 1630 / 2230
Ranking: SYC
ALT. CLIENT:Classic
Race starts: 十月 01st 12:00 Registration will open soon
GO TO RACE
Koshiki PYOC Sprint 2016
The seas off Nagasaki have quite a smattering of islands or shima's, and hence are proving to be a popular arena for PYOC SOL Sprints. The Koshiki group is a case in point, and thus we return there within a year of our last visit to this time joust in SOTO 30s.
Race #962
INFOby brainaid.de
SOTO 30 Particulars
WX Updates:
0430 / 1030 / 1630 / 2230
RANKING:
SPRCH-SUPSOL-SRQ3-SYC
ALT CLIENT: Classic
RACE CLOSE: Wednesday, 28 September at 2300utc
Race starts: 九月 24th 23:00 Registration Closed
GO TO RACE
Carib Rum Run 2016
Rum is a pirate's drink. September 19 is International Talk Like a Pirate Day. Combine the two with Open 60s and what do you have? Why, 'tis Sailonline's annual Pirate PRIZE race - 1759nm through the rum islands of the Caribbean, collecting rum to bring to the rum-parched beaches of Mexico. Race in disguise by becoming an SYC Member and changing your boat name for this race only!
Race #969
INFO from brainaid.de
Open 60 Particulars
WX Updates:
0430 / 1030 / 1630 / 2230
Ranking: SYC
ALT. CLIENT:Classic
Race starts: 九月 19th 17:00 Registration Closed
GO TO RACE
SYC Ranking
Series
Mobile Client
SYC members have the benefit of access to our mobile/lightweight web client!