6 August 2012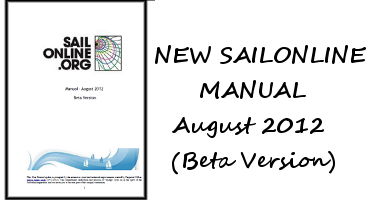 The late, great SOLer and Technical Wizard AGage created our Beta client thereby bringing a stupendously extensive functionality to our already brilliant online sail-racing navigation simulator.
Such functionality can only flourish and be fully used if there is an equally thorough Manual to accompany it.
Thanks to SOLer ShamrockPirate SOL can now make available a new Beta Version Manual - August 2012
Foreign language translations of this Manual (or a summary of it) are now needed so, please would any SOLer interested in creating a form of the Manual to help their fellow countrymen please let us know by emailing admin@sailonline.org. You will be of course be provided with the English document to form a basis of your translation efforts.
Update: 03aug:
A Spanish guide is now available (gracias to Anchoilla con DeBilbaoPues, Galleguita, Maritronco y Muelle).
A Portuguese version is in work (obrigado nacrr)
An Italian version is in work (grazie WINSTON_4) ______________________
Races
Next Race: 00d 00h 00m
---
Current Races:
Iceberg Dodge TIMED Race 2014
Climate change may have opened up some of the Arctic Ocean but these fjords are filled with as much ice as ever. Finding open water may not be required in our virtual world, but expect storms with deep blue calm inbetween. This is a TIMED race. We sail in our Linjett 33s on a course designed by NZL_Scotsman.
RE-REGISTER HERE to race again after finishing a run
Race #715
NORfrom brainaid.de
Linjett 40 POLAR
WX Updates: 0430 / 1030 / 1630 / 2230.
RANKING: TRCH-SYC
ALT. CLIENT: Classic
REGISTRATION CLOSE: Tuesday, 29 July at 1000utc
RACE CLOSE:Tuesday, 29 July at 2200utc
Race starts: Jul 23rd 10:00 Registration will open soon
GO TO RACE
The Tall Ships Races 2014 - Cruise in Company - Fredrikstad to Bergen
Welcome to the second event of this year's European Tall Ships Races - a Cruise in Company for the real fleet, but a race of 303nm for Sailonline in Clippers from Fredrikstad to Bergen NOTE:Starts and Finishes in tall ships racing are offshore to avoid conflict with shipping and shipping lanes.
Race #707
NORfrom brainaid.de
Clipper 240 POLAR
WX Updates: 0430 / 1030 / 1630 / 2230
RANKING: TALLS-SYC
ALT. CLIENT: Classic
RACING
Race starts: Jul 15th 14:00 Registration Closed
GO TO RACE
Sailonline RTW 2014 - Leg 5 - Punta del Este to Fort Lauderdale
Welcome to the fifth leg of Sailonline's race in the footsteps of Steinlager's Whitbread RTW Race of 1989/1990 - this Leg is from Punta del Este, Uruguay to Fort Lauderdale, USA - 5,300 mile, crossing the equator!
Race #716
NOR from brainaid.de
Steinlager 2 POLAR
WX Updates: 0430 / 1030 / 1630 / 2230
RANKING: SYC-OCCH-SRTW
ALT. CLIENT: Classic
RACING
Race starts: Jul 08th 09:00 Registration Open!
GO TO RACE
SYC Ranking
Series
Mobile Client
SYC members have the benefit of access to our mobile/lightweight web client!