6 August 2012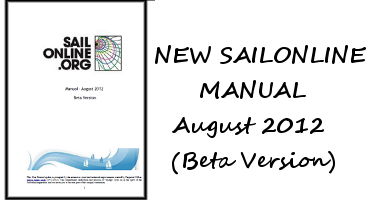 The late, great SOLer and Technical Wizard AGage created our Beta client thereby bringing a stupendously extensive functionality to our already brilliant online sail-racing navigation simulator.
Such functionality can only flourish and be fully used if there is an equally thorough Manual to accompany it.
Thanks to SOLer ShamrockPirate SOL can now make available a new Beta Version Manual - August 2012
Foreign language translations of this Manual (or a summary of it) are now needed so, please would any SOLer interested in creating a form of the Manual to help their fellow countrymen please let us know by emailing admin@sailonline.org. You will be of course be provided with the English document to form a basis of your translation efforts.
Update: 03aug:
A Spanish guide is now available (gracias to Anchoilla con DeBilbaoPues, Galleguita, Maritronco y Muelle).
A Portuguese version is in work (obrigado nacrr)
An Italian version is in work (grazie WINSTON_4) ______________________
Races
Next Race: 00d 00h 00m
Current Races:
Hawaiian ZigZag 2013
Not for the faint hearted, sail from one Hawaiian island to the next. We give you the Seacart 30 and the weather. Your challenge is to get to Niihau without breaking either the boat or your spirit!
Race #638 NOR / POLAR
WX Updates: 0430 / 1030 / 1630 / 2230
Ranking: SYC/SYC Week
ALT. CLIENT:Classic
Race starts: Dec 17th 18:00 Registration will open soon
GO TO RACE
Gasparilla Raid 2013
Follow in the steps of Jose Gaspar, the legendary Floridian Pirate, in a 90ft monohull - raid the treasure ship, evade capture by running to Isla Perez and then head for home - a total of 1106nm.
Race #636 NOR / POLAR
WX Updates: 0430 / 1030 / 1630 / 2230
Ranking: SYC/SYC Week
ALT. CLIENT:Classic
RACING
Race starts: Dec 10th 18:00 Registration Open!
GO TO RACE
Christmas to Christmas Race 2013
'tis the month before Christmas and all through SOL, not a SOLer is stirring, except those getting their VO70s ready to race the 5,837nm between Christmas Island in the Pacific to Christmas Island in the Indian Ocean in the VO70v4s!
Race #534 NOR/POLAR
WX Updates: 0430 / 1030 / 1630 / 2230
Ranking: SYC/SYC Ocean
ALT. CLIENT:Classic
STATUS:RACING
Race starts: Nov 26th 20:00 Registration Open!
GO TO RACE
SYC Ranking
Series
Mobile Client
SYC members have the benefit of access to our mobile/lightweight web client!