6 August 2012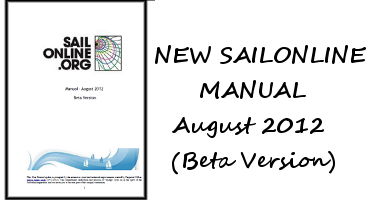 The late, great SOLer and Technical Wizard AGage created our Beta client thereby bringing a stupendously extensive functionality to our already brilliant online sail-racing navigation simulator.
Such functionality can only flourish and be fully used if there is an equally thorough Manual to accompany it.
Thanks to SOLer ShamrockPirate SOL can now make available a new Beta Version Manual - August 2012
Foreign language translations of this Manual (or a summary of it) are now needed so, please would any SOLer interested in creating a form of the Manual to help their fellow countrymen please let us know by emailing admin@sailonline.org. You will be of course be provided with the English document to form a basis of your translation efforts.
Update: 03aug:
A Spanish guide is now available (gracias to Anchoilla con DeBilbaoPues, Galleguita, Maritronco y Muelle).
A Portuguese version is in work (obrigado nacrr)
An Italian version is in work (grazie WINSTON_4) ______________________
Races
Next Race: 00d 00h 00m
---
Current Races:
A3 2016 - Leg 4 - Sydney to Gold Coast
SOL's gift to AGage's memory is the A3 - Agage's Around Australia Series. This race is Leg 4 of the series - a 385nm run in TP52s from Sydney to the Gold Coast, replicating the course of the famous race organised by the Cruising Club of Australia in July each year.
Race #987
INFO by brainaid.de
TP-52 Particulars
WX Updates:
0430 / 1030 / 1630 / 2230
Ranking: A3 - SYC
ALT. CLIENT:Classic
Race starts: Oct 25th 20:00 Registration will open soon
GO TO RACE
Puerto Aguirre PYOC Sprint 2016
We return to the myriad islands off the coast of mainland Chile, this time to a group directly south of the Parque Nacional Isla Magdelena, scattered about the impoverished fishing village of Puerto Aguirre on Isla Las Huichas. Your race is from north to south through or round these islands; take your pick.
Race #978
INFOby brainaid.de
Ostar 35 Particulars
WX Updates:
0430 / 1030 / 1630 / 2230
RANKING:
SPRCH-SUPSOL-SRQ4-SYC
ALT CLIENT: Classic
Race starts: Oct 22nd 17:00 Registration Open!
GO TO RACE
PIC Coastal Classic Yacht Race 2016
With the N Hemisphere sailing season virtually over, racing in New Zealand never stops and as we head into summer here, it is time for the running of this year's iconic N Island coastal race from Auckland to Russell in memory of Steve Alloway, SOLer NZL_yachtyakka.
Race #984
INFO by brainaid.de
Young 11mod Particulars
WX Updates:
0430 / 1030 / 1630 / 2230
Ranking: SYC
ALT. CLIENT:Classic
Race starts: Oct 20th 20:45 Registration Open!
GO TO RACE
Lisboa TIMED Race 2016
This will be the third time that Sailonline is hosting this race, designed by psail, and featuring our very own AC72, this year with a modified polar, to remove the inconsistencies that obtained from psail's and bonknhoot's original interpolation of the limited data issued by the AC 2003 Principal Race Officer in connection with penalties determination. This is a TIMED race, which means you get multiple chances to try out the ramifications of the revisions. Be careful though, the polar remains a handling challenge with major stall-out potential!
Re-register hereto race again after finishing a run
Race #980
INFOby brainaid.de
AC72 Particulars
WX Updates:
0430 / 1030 / 1630 / 2230
Ranking:
TRCH-SUPSOL-TRQ4-SYC
ALT CLIENT: Classic
REGISTRATION CLOSE: 23 October at 2200utc
RACE CLOSE: 23 October at 2300utc
Race starts: Oct 14th 16:00 Registration Open!
GO TO RACE
RTWR 2016 - Leg 2 - Uruguay to New Zealand
The second leg of Sailonline's wrong-way Round the World Race 2016 sees the fleet navigating its way from Punta del Este,Uruguay, down the South Atlantic and across the Pacific to Auckland, New Zealand. For your transit from ocean-to-ocean you may leave Tierra del Fuego to port or to starboard, as you please.
Race #972
INFO from brainaid.de
VO70 Particulars
WX Updates:
0430 / 1030 / 1630 / 2230
Ranking: SYC - SUPSOL - OCQ4 - OCCH - RTWR
ALT. CLIENT:Classic
PRIZE: SMPF
Race starts: Oct 02nd 13:00 Registration Open!
GO TO RACE
SYC Ranking
Series
Mobile Client
SYC members have the benefit of access to our mobile/lightweight web client!