27 August 2012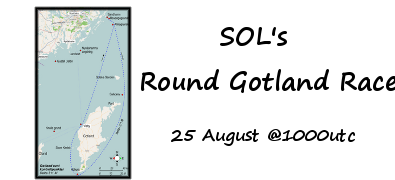 RESULTS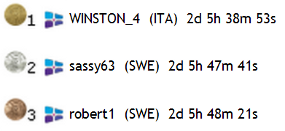 CONGRATULAZIONI WINSTON_4!!! GRATTIS sassy63!! GRATTIS robert1!
As ever, those SOLers with knowledge and a willingness to forego sleep found themselves at the front of the leading group and just when it seemed that the podium was decided, SOLer PLOUF turned for the finish and in the end arrived just 10 seconds behind 3rd place! Well done. The top 10 all arrived within 30 minutes and for those of us with hours to go, the instructions to those starting their celebrating is to tell the Sandhamns Värdshus to stay open so we can all celebrate the end of European Summer and this traditional SOL race!
RACE INFO
In July this year, SOLers Jepsom and Jeroen sailed an X-35, Xperia, in the real KSSS AF Offshore Race - fondly and familiarly known as the Gotland Runt because from leaving Sandhamn the course takes us in a circle around the Baltic island of Gotland.
Sailonline, hopefully with input from both SOLers, will be sailing the traditional course this coming Saturday, 25 August. We hope to have you join us!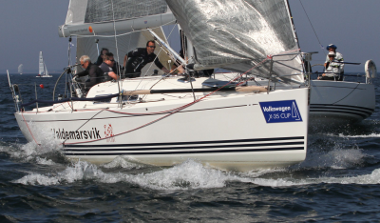 ___________________________
Races
Next Race: 00d 00h 00m
---
Current Races:
Hormuz TIMED Race 2016
Strait of Hormuz is a really busy and congested waters with shipping and military vessels. For Sailonline however, racing here is with impunity, nothing is off limits!!
This is a TIMEDrace designed by NZL Scotsman
RE-REGISTER HEREto race again after finishing a run
Race #1000
Infofrom brainaid.de
GB90 Particulars
WX Updates:
0430 / 1030 / 1630 / 2230
Ranking:
TRCH-SUPSOL-TRQ4-SYC
ALT. CLIENT:Classic
RACE CLOSE: Sunday, November 18 at 2300utc
Race starts: Dec 09th 16:00 Registration will open soon
GO TO RACE
Abel T. Appreciation Race 2016
In December 1642 after a particularly difficult and rough voyage, the Dutch seafarer and explorer, Abel Tasman, made landfall at a spot he named Staten Landt, believing he had arrived on the coast of Argentina. In fact, he had arrived in modern-day New Zealand. Out of love and respect for this brilliant seaman, Sailonline is retracing his route from Tasmania to New Zealand.
Race #995
INFO from brainaid.de
Steinlager 2Particulars
WX Updates:
0430 / 1030 / 1630 / 2230
Ranking: SYC
ALT. CLIENT:Classic
Race starts: Dec 04th 21:00 Registration Open!
GO TO RACE
Christmas to Christmas 2016
Hands up everyone who knew there were TWO Christmas Islands?! OK, maybe you have sailed this Sailonline course before, but this time the race area has been expanded to the south to make it possible to go through the Bass Strait and even south of Tasmania... so, it's time to get ready for the 2016 challenge of racing the 5,837nm between Christmas Island in the Pacific to Christmas Island in the Indian Ocean!
Race #994
INFO by brainaid.de
OD65v3: Particulars
WX Updates:
0430 / 1030 / 1630 / 2230
RANKING: OCCH-OCQ4-SUPSOL-SYC
ALT. CLIENT: Classic
Race starts: Dec 03rd 20:00 Registration Open!
GO TO RACE
Key Lime Pie-gatta 2016
Rum runners, conch fritters and shrimp Po-boys await as we sail one of the most amazing series of islets in the world in our Mini6.5s. 2010's special rules remain in force: no shoes (all!) and no shirts (ladies exempt).
Race #982
INFOby brainaid.de
Mini6.50 Particulars
WX Updates:
0430 / 1030 / 1630 / 2230
Ranking: SYC
ALT. CLIENT: Classic
RACE CLOSE: Friday, 9 December at 1800utc
Race starts: Dec 01st 18:00 Registration Closed
GO TO RACE
SYC Ranking
Series
Mobile Client
SYC members have the benefit of access to our mobile/lightweight web client!