27 August 2012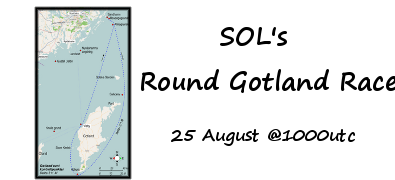 RESULTS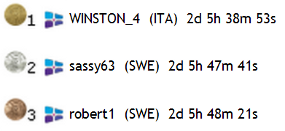 CONGRATULAZIONI WINSTON_4!!! GRATTIS sassy63!! GRATTIS robert1!
As ever, those SOLers with knowledge and a willingness to forego sleep found themselves at the front of the leading group and just when it seemed that the podium was decided, SOLer PLOUF turned for the finish and in the end arrived just 10 seconds behind 3rd place! Well done. The top 10 all arrived within 30 minutes and for those of us with hours to go, the instructions to those starting their celebrating is to tell the Sandhamns Värdshus to stay open so we can all celebrate the end of European Summer and this traditional SOL race!
RACE INFO
In July this year, SOLers Jepsom and Jeroen sailed an X-35, Xperia, in the real KSSS AF Offshore Race - fondly and familiarly known as the Gotland Runt because from leaving Sandhamn the course takes us in a circle around the Baltic island of Gotland.
Sailonline, hopefully with input from both SOLers, will be sailing the traditional course this coming Saturday, 25 August. We hope to have you join us!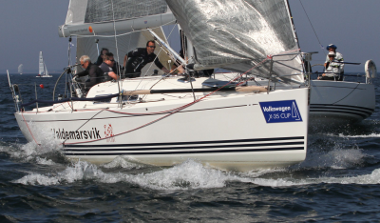 ___________________________
Races
Next Race: 00d 00h 00m
---
Current Races:
Audi Hong Kong to Vietnam Race 2015
RHKYC welcomes SOLers back to Hong Kong and the 2015 running of the classic biennial race to Vietnam - 674nm across the S China Sea in TP52s
Race #870
NOR from brainaid.de
TP 52 POLAR
WX Updates: 0430 / 1030 / 1630 / 2230
Ranking: SYCCH - SUPSOL - SYQ4 - SYC
ALT. CLIENT:Classic
Race starts: Okt 15th 05:15 Registration Open!
GO TO RACE
Hormuz TIMED Race 2015
The Strait of Hormuz in reality is busy, with shipping and military vessels. For Sailonline however races here with impunity, nothing is off limits! This is a TIMED race designed by NZL_Scotsman
RE-REGISTER HERE to race again after finishing a run
Race #874
NOR from brainaid.de
GB90 INFO
WX Updates: 0430 / 1030 / 1630 / 2230
Ranking: TRCH-SUPSOL-TRQ4-SYC
ALT. CLIENT:Classic
RACE CLOSE:Sunday, 18 October at 2300utc
Race starts: Okt 09th 12:00 Registration Open!
GO TO RACE
Gray Whale Migration - Autumn 2015
This autumn Sailonline is racing the iconic 90ft Monohull to replicate the 4000nm epic journey made by the gray whale every year, from the waters of the Bering Sea to its breeding grounds off the Mexican coastline. Can you match the skill of these great navigators?
Race #869
NOR from brainaid.de
90ft Monohull INFO
WX Updates: 0430 / 1030 / 1630 / 2230
Ranking: OCQ4 - SYC
ALT. CLIENT:Classic
Race starts: Okt 06th 20:00 Registration Open!
GO TO RACE
BA-Rio 2015
Bemvindo/Bienvenidos to SOLer zero's Class 40 BA_Rio Race 2015. This is the replica of a classic triennial race of 1,118nm between Buenos Aires, Argentina, and Rio de Janeiro, Brazil, first run in 1947.
Race #868
NOR from brainaid.de
Class 40POLAR
WX Updates: 0430 / 1030 / 1630 / 2230
Ranking: SYC
ALT. CLIENT: Classic
Race starts: Okt 03rd 18:00 Registration Closed
GO TO RACE
SYC Ranking
Series
Mobile Client
SYC members have the benefit of access to our mobile/lightweight web client!