27 August 2012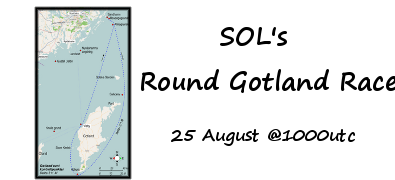 RESULTS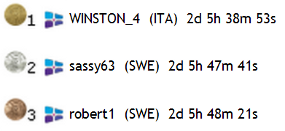 CONGRATULAZIONI WINSTON_4!!! GRATTIS sassy63!! GRATTIS robert1!
As ever, those SOLers with knowledge and a willingness to forego sleep found themselves at the front of the leading group and just when it seemed that the podium was decided, SOLer PLOUF turned for the finish and in the end arrived just 10 seconds behind 3rd place! Well done. The top 10 all arrived within 30 minutes and for those of us with hours to go, the instructions to those starting their celebrating is to tell the Sandhamns Värdshus to stay open so we can all celebrate the end of European Summer and this traditional SOL race!
RACE INFO
In July this year, SOLers Jepsom and Jeroen sailed an X-35, Xperia, in the real KSSS AF Offshore Race - fondly and familiarly known as the Gotland Runt because from leaving Sandhamn the course takes us in a circle around the Baltic island of Gotland.
Sailonline, hopefully with input from both SOLers, will be sailing the traditional course this coming Saturday, 25 August. We hope to have you join us!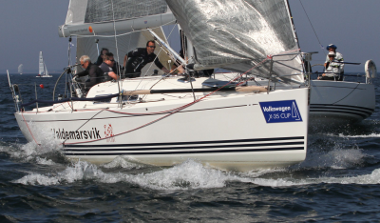 ___________________________
Races
Next Race: 00d 00h 00m
---
Current Races:
2017 40' Series Championship Q3&Q4 - Hawaiian Zig Zag
Welcome to the 3rd of 6 races in this season (Q3/Q4) of our 40' series!
This time we will use "Jaws" Hawaiian Zig Zag course for our race.
Shifting winds, beaches, rocks and headlands, zig and zag; 430nm not for the faint hearted! Your challenge is to get your choice of 40' to Niihau without breaking either the boat or your spirit.

HOW TO BE DISQUALIFIED!!
READ THIS…

Race # 1081
INFOfrom brainaid.de
WX Updates:
0430 / 1030 / 1630 / 2230
Ranking:
40CQ3&4 –SYC
ALT. CLIENT:Classic

Race starts: Sep 27th 02:00 Registration Open!
GO TO RACE
Silverrudder - "Challenge of the Sea" 2017
Sailonline welcomes you to the second "buddy-up" with "Silverrudder - Challenge of the Sea" in the 2017 edition race around the Danish Island of Funen.
With shallow waters and a strong current this close inshore race is truly a challenge. One of three regattas around Funen each year, this race is the only one for single handed racing. Will our new X-99'er be a match for the real fleet, including the seventeen X-99'ers?
Time will tell!

It is highly recommended that you read these special circumstances for the start of Silverrudder 2017
Starting Circumstances
Race #1082
INFO
from brainaid.de
X-99 Singlehanded
Particulars
WX Updates:
0430 / 1030 / 1630 / 2230
Ranking: SYC
ALT. CLIENT
Classic
Race starts:
Sep 22nd 10:00
Registration Closed
GO TO RACE
Hauraki TIMED Race 2017
This TIMED race completes SOL's Q3 sojourn on the waters of New Zealand's capital-of-sail. This time we are switching our trusty Young 88s for the more muscular Young11s which on previous occasions have managed to lap the selected 35nm circuit borrowed from SSANZ in less than 4 hours and 35 minutes. Good luck!
RE-REGISTER HERE to race again after finishing a run
Race #1071
INFO by brainaid.de
Young11 Particulars
WX Updates:
0430 / 1030 / 1630 / 2230
RANKING:
TRCH-SUPSOL-TRQ3-SYC
ALT. CLIENT: Classic
RACE CLOSE: Sunday, 1 October at 2300utc
Race starts: Sep 21st 10:00 Registration Open!
GO TO RACE
Caribbean Rum Run 2017
Welcome to the 2017 running of Sailonline's annual Pirate PRIZE race run close to International Talk Like a Pirate Day on 19 September. This is a 1759nm slalom through the rum islands of the Caribbean, collecting barrels to bring to the rum-parched beaches of Mexico. If ye scurvy swabs are up ter it, then don a piratical disguise by becoming an SYC Member and requesting to change your boat name for this race only!
Race #1076
INTRO BLOGPOST
INFO from brainaid.de
Open 60 Particulars
WX Updates:
0430 / 1030 / 1630 / 2230
Ranking: SYC
ALT. CLIENT:Classic
PRIZE: SMPF
RACE CLOSE: Monday, 25 September at 2300utc
Race starts: Sep 13th 10:00 Registration Closed
GO TO RACE
SYC Ranking
Series
Mobile Client
SYC members have the benefit of access to our mobile/lightweight web client!