27 August 2012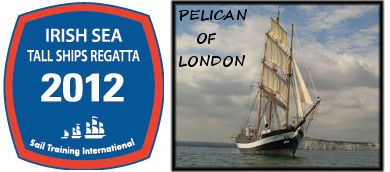 Dublin, Ireland - Thursday 23rd to Sunday 26th August
Liverpool, UK - Thursday 30th August - Sunday 2nd September
RESULTS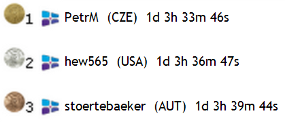 GRATULUJEME PetrM!!! CONGRATULATIONS hew565!! HERZLICHEN GLÜCKWUNSCH stoertebaeker!
With news that the real fleet was sheltering in Dun Laoghaire due to forecast strong winds in the Irish Sea. SOLers set off on-course with thoughts of tall-ship-surfing in mind. A tricky course, thanks John_Hector!, saw an excellent downwind start but the tricky choice of waypoints meant that many beached overnight. Ships zigzagged their way up and down the SOL rankings until it became clear - those for whom tall-ship sailing seems second nature had found their way to the front. Great sailing guys! The last of the 2012 summer Tall Ships races has ended with a bang and folks wanting more!

Dublin Slideshow
RACE INFO
Hard on the heels of the Tall Ships Races 2012, a group of tall ships are going to take part in a time-on-course race, starting on Sunday 26 August, after which they will sail on to arrive in Liverpool for a four-day festival. The fleet will be berthed in Canning Dock and Albert Dock with the largest ships probably alongside Liverpool Cruise Terminal.
Sailonline will be sailing its own version of this time-on-course race - former Race Director of Sail Training International, SOLer John_Hector, has created a 148nm course for SOL based on the start, finish and some of the waypoints of the real race.

Dublin Webcam
Yellowbrick Tracker
_________________________
Races
Next Race: 00d 00h 00m
---
Current Races:
Falmouth Royal Greenwich Tall Ships Regatta 2014
Welcome to the fourth and final race of Sailonline's 2014 Tall Ships series. You will be sailing in the wakes of history as you race your Barque 90 the 286nm from Falmouth in Cornwall to Greenwich near London NOTE:Starts and Finishes in tall ships racing are offshore to avoid conflict with shipping and shipping lanes.
Race #731
NOR from brainaid.de
Barque 90m INFO
WX Updates: 0430 / 1030 / 1630 / 2230
RANKING: TALLS-SYC
ALT. CLIENT: Classic
Race starts: Aug 31st 15:00 Registration Open!
GO TO RACE
The Vineyard Race 2014
The Stamford Yacht Club welcomes Sailonline to its 80th running of The Vineyard Race. The course runs from Stamford to Buzzard's Bay Light near Martha's Vineyard Island and back again, leaving Block Island to starboard. Sail against the real fleet in your Santa Cruz 52.
Race #735
NORfrom brainaid.de
Santa Cruz 52 POLAR
WX Updates: 0430 / 1030 / 1630 / 2230
Ranking: SYCCH-SYC
ALT. CLIENT:Classic
Race starts: Aug 29th 16:00 Registration Open!
GO TO RACE
Super Mac Race
In reality the Super Mac is a 530 NM race held every 10 years and last run in 2009. It starts with the annual Chicago to Mackinac race fleet and just continues down Lake Huron to Port Huron. This leaves the competitors in position to start the annual Port Huron to Mackinac Race a couple of weeks' later. Spanning the Great Lakes of Michigan and Huron, this is one of the most challenging fresh water races in the world, so launch your trusty First 40.7 and lets get racing!
Race #728
NOR from brainaid.de
First 40.7 INFO
WX Updates: 0430 / 1030 / 1630 / 2230
Ranking: SYC
ALT. CLIENT:Classic
RACING
Race starts: Aug 21st 15:00 Registration Closed
GO TO RACE
Maui to Mazatlan 2014
Surfing Hawaii builds a mighty thirst and SOLers are now racing 2790nm to Mexico in TP52s, home of tequila and mojitos! .
Race #719
NOR from brainaid.de
TP52 INFO
WX Updates: 0430 / 1030 / 1630 / 2230
Ranking: OCCH-SYC
ALT. CLIENT:Classic
RACING
Race starts: Aug 11th 21:00 Registration Closed
GO TO RACE
SYC Ranking
Series
Mobile Client
SYC members have the benefit of access to our mobile/lightweight web client!