25 August 2012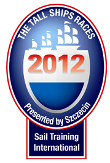 SERIES RESULTS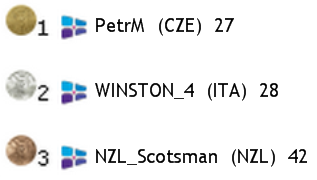 GRATULUJEME PetrM!!! CONGRATULAZIONI WINSTON_4!! CONGRATULATIONS NZL_Scotsman!
This was the second year that SOL participated virtually in The Tall Ships Races 2012, presented by Szczecin, organised by Sail Training International. With this year's races held in European waters and the SOL Tall Ship of choice being a 90m Barque, we knew we were in for challenging times.
SOLers give various terms to the extreme upwind tacking angles of these beautiful vessels - zipper tracks, zigzagging, teeth tracks - but in all cases progress is difficult... for most of us. There are, however, some SOLers who appear to have tall ships sailing in their very natures. When fickle winds ruin the best laid plans of those of us not so blessed, these born-to-sail-tall-ships guys just streak away and put hours between them and the majority of the fleet. SOL's Series Podium three are in this category. Very nicely done guys! Look out though - next year we will be hot on your heels!
_____________________________
Races
Next Race: 00d 00h 00m
---
Current Races:
Lake Winnebago NNYC Race 2016
Welcome once again to the waters of the Neenah-Nodaway YC as the club embarks on its 152nd year of organised sailing sport. This time of year, of course, those waters tend to be in the solid phase – well that's the top few inches anyway – and in the past SOL has conveniently deleted this condition from the virtual reality shared with our hosts. This year, however, we will ignore the real world no longer and will race in DN ice yachts, a class almost as venerable as the NNYC, having first seen the light of day as the result of a competition organised by the Detroit News in 1937. Because average speeds across the ice are likely to exceed 40kn, we shall lap the lake twice. Performance Loss will NOT apply to our iceboat this time!
Race #898
INFOby brainaid.de
DN iceboat POLAR
WX Updates: 0245 / 0845 / 1445 / 2045
Ranking: SYC
ALT. CLIENT:Classic
RACE CLOSE: Tuesday, 9 February at 1000utc
Race starts: Feb 06th 16:00 Registration Closed
GO TO RACE
Sea Lion TIMED Race 2016
Blow the cobwebs away in a TIMED race in the S Atlantic. The distance: 117nm. As this is a TIMED challenge let's see who can get the best time!!
Re-register here to race again after finishing a run
Race #904
INFO from brainaid.de
Orange 125ft Catamaran INFO
WX Updates: 0430 / 1030 / 1630 / 2230
Ranking: TRCH - SUPSOL - TRQ1 - SYC
ALT. CLIENT: Classic
REGISTRATION CLOSE: Sunday, 14 February at 2200utc
RACE CLOSE: Sunday, 14 February at 2300utc
Race starts: Feb 05th 12:00 Registration Open!
GO TO RACE
San Francisco to New York Ocean Race 2016
Cornelius Vanderbilt, who made his money - that his descendants enjoyed to spend sailing and racing yachts - by recognizing that getting from the East Coast to the West Coast of the USA was best done by rail, would been more than a little amused to see SOL organizing yacht races over the very route by water he made redundant. It's about 13,000 nautical miles, which compares with less than 3000 statute miles by train! Three years ago, the best SOLers managed to complete the passage from New York to San Francisco in 40 days, sailing our much-used veteran ocean greyhound, the Maxi 100. Time to return. If you aim for a SOG of 18kn, it'll only take you a month.
Race #900
INFO from brainaid.de
Super Maxi 100 POLAR
WX Updates: 0430 / 1030 / 1630 / 2230
Ranking: SYC - SUPSOL - OCQ1 - OCCH
ALT. CLIENT:Classic
Race starts: Jan 11th 20:00 Registration Open!
GO TO RACE
SYC Ranking
Series
Mobile Client
SYC members have the benefit of access to our mobile/lightweight web client!