25 August 2012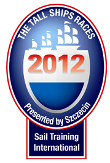 SERIES RESULTS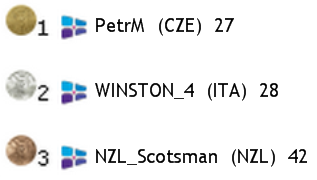 GRATULUJEME PetrM!!! CONGRATULAZIONI WINSTON_4!! CONGRATULATIONS NZL_Scotsman!
This was the second year that SOL participated virtually in The Tall Ships Races 2012, presented by Szczecin, organised by Sail Training International. With this year's races held in European waters and the SOL Tall Ship of choice being a 90m Barque, we knew we were in for challenging times.
SOLers give various terms to the extreme upwind tacking angles of these beautiful vessels - zipper tracks, zigzagging, teeth tracks - but in all cases progress is difficult... for most of us. There are, however, some SOLers who appear to have tall ships sailing in their very natures. When fickle winds ruin the best laid plans of those of us not so blessed, these born-to-sail-tall-ships guys just streak away and put hours between them and the majority of the fleet. SOL's Series Podium three are in this category. Very nicely done guys! Look out though - next year we will be hot on your heels!
_____________________________
Races
Next Race: 00d 00h 00m
---
Current Races:
Melbourne to Osaka 2017 - Prelude 2
Welcome to the 5,500nm race from Melbourne, Australia, in the Southern hemisphere, to Osaka, Japan, in the Northern hemisphere.
This is the 2017 Prelude to the main event which will run in reality in 2018. This is your virtual opportunity to test navigation and routing skills!
Race #1036
INFO from brainaid.de
Class 40 Pariculars
WX Updates: 0430 / 1030 / 1630 / 2230
Ranking: SYC
ALT CLIENT:Classic
PRIZE: SMPF
Race starts: Apr 01st 22:00 Registration Open!
GO TO RACE
Alaska RTI Sprint 2017
Having only just recovered from following the gray whales 1000s of miles as they migrated North to the Bering Strait from their calving lagoons off Baja California, we change yachts and track back a little to the islands of the Aleutian Peninsula, for a quick zig-zaggy 53 mile sprint. Have fun; the weather is improving daily.
Race #1034
INFOby brainaid.de
Finngulf 43 Particulars
WX Updates:
0430 / 1030 / 1630 / 2230
Ranking:
SPRR1 - SPRCH - SUPSOL – SYC
ALT. CLIENT: Classic
Race starts: Apr 01st 18:00 Registration Open!
GO TO RACE
2017 40' Series Championship Q1&Q2 Boston to Newport Race
It's time for the third of six races in the 40' Q1 and Q2 Championship!
This time we are racing from Boston to Newport.
DON'T RISK DISQUALIFICATION!
There are three boat designs to choose from and each one may NOT be used more than twice during the six race Series, according to the NORof the series
The three boat designs are:
40' Particulars
IMPORTANT:
Before you choose the boat design, log in with the "Guest" boat (Username=guest/Password=guest) so you can view the predicted winds to help you choose the best boat/polar for the upcoming race. Once you have chosen to register a boat design for this race, it cannot be undone!
REMEMBER:
Choosing the same boat design more than twice will get you disqualified from this race!!
View this list to see what boats you've already used:
USED BOATS
Race # 1026
INFOfrom brainaid.de
WX Updates:
0430 / 1030 / 1630 / 2230
Ranking:
40Q1&2CH –SYC
ALT. CLIENT:Classic
Race starts: Mar 30th 10:00 Registration Open!
GO TO RACE
A3 2016 - Leg 7 - Cairns to Darwin
SOL's gift to AGage's memory is the A3 - Agage's Around Australia Series. This race is Leg 7 of the series - a race of 1405nm in 60ft trimarans from Cairns, the hub of Australia's tropical holiday zone, to Darwin, the frontier with Asia.
Race #1027
INFO by brainaid.de
60ft Trimaran Particulars
WX Updates:
0430 / 1030 / 1630 / 2230
Ranking: A3 - SYC
ALT. CLIENT:Classic
RACE CLOSE: Friday, 31 March at 2300utc
Race starts: Mar 22nd 02:00 Registration Closed
GO TO RACE
SYC Ranking
Series
Mobile Client
SYC members have the benefit of access to our mobile/lightweight web client!