25 August 2012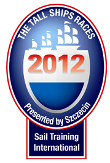 SERIES RESULTS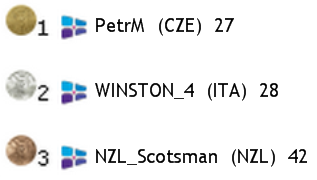 GRATULUJEME PetrM!!! CONGRATULAZIONI WINSTON_4!! CONGRATULATIONS NZL_Scotsman!
This was the second year that SOL participated virtually in The Tall Ships Races 2012, presented by Szczecin, organised by Sail Training International. With this year's races held in European waters and the SOL Tall Ship of choice being a 90m Barque, we knew we were in for challenging times.
SOLers give various terms to the extreme upwind tacking angles of these beautiful vessels - zipper tracks, zigzagging, teeth tracks - but in all cases progress is difficult... for most of us. There are, however, some SOLers who appear to have tall ships sailing in their very natures. When fickle winds ruin the best laid plans of those of us not so blessed, these born-to-sail-tall-ships guys just streak away and put hours between them and the majority of the fleet. SOL's Series Podium three are in this category. Very nicely done guys! Look out though - next year we will be hot on your heels!
_____________________________
Races
Next Race: 00d 00h 00m
---
Current Races:
Red Dot Leg 4a - the Panama Canal
Rather than rounding S America as Matt Rutherford did in his single handed circumnavigation of the Americas, SOLer Renegade is offering us a short-cut via the Panama Canal. This TIMED race will NOT count towards the series result, but we hope you will enjoy attempting to gain Sailonline's Ditch Honours Badge
Re-register here to race again after finishing a run.
Race #1046
INFO by brainaid.de
SuperMaxi 100 Particulars
WX Updates:
0430 / 1030 / 1630 / 2230
RANKING: None
ALT. CLIENT: ClassicRACE CLOSE: Wednesday, 23 August at 2300utc
Race starts: Aug 10th 18:00 Registration Open!
GO TO RACE
Lisboa TIMED race 2017
This will be the fourth time that Sailonline is hosting this race, designed by psail, and this time we are going to race with our 60' Trimaran.
This is a TIMEDrace, which means you get multiple chances to try out the performance of the trimaran.
Re-register hereto race again after finishing a run
Race #1070
INFOby brainaid.de
60' Trimaran Particulars
WX Updates:
0430 / 1030 / 1630 / 2230
Ranking:
TRCH-TRQ3- SUPSOL-SYC
ALT CLIENT: Classic
RACE CLOSE: Sunday, August 20 at 23:00 UTC
Race starts: Aug 10th 10:00 Registration Open!
GO TO RACE
Rendezvous 2017 - Tall Ships Regatta - Halifax to Le Havre
Welcome to the third and final ocean race in this year's Rendezvous Tall Ships events. Racing our Clippers back to Europe our course from Halifax to Le Havre is 2471nm of classic TransAt. NOTE:Starts and Finishes in tall ships racing are well offshore to avoid conflict with shipping and shipping lanes.
Race #1033
INFO by brainaid.de
Clipper Particulars
WX Updates:
0430 / 1030 / 1630 / 2230
RANKING: Tall Ships - SYC
ALT. CLIENT: Classic
PRIZE: SMPF
Race starts: Aug 01st 20:00 Registration Open!
GO TO RACE
SYC Ranking
Series
Mobile Client
SYC members have the benefit of access to our mobile/lightweight web client!