25 August 2012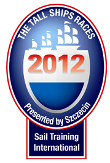 SERIES RESULTS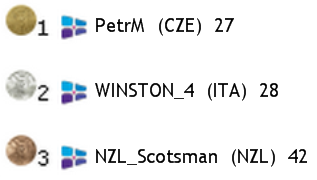 GRATULUJEME PetrM!!! CONGRATULAZIONI WINSTON_4!! CONGRATULATIONS NZL_Scotsman!
This was the second year that SOL participated virtually in The Tall Ships Races 2012, presented by Szczecin, organised by Sail Training International. With this year's races held in European waters and the SOL Tall Ship of choice being a 90m Barque, we knew we were in for challenging times.
SOLers give various terms to the extreme upwind tacking angles of these beautiful vessels - zipper tracks, zigzagging, teeth tracks - but in all cases progress is difficult... for most of us. There are, however, some SOLers who appear to have tall ships sailing in their very natures. When fickle winds ruin the best laid plans of those of us not so blessed, these born-to-sail-tall-ships guys just streak away and put hours between them and the majority of the fleet. SOL's Series Podium three are in this category. Very nicely done guys! Look out though - next year we will be hot on your heels!
_____________________________
Races
Next Race: 00d 00h 00m
---
Current Races:
Falmouth Royal Greenwich Tall Ships Regatta 2014
Welcome to the fourth and final race of Sailonline's 2014 Tall Ships series. You will be sailing in the wakes of history as you race your Barque 90 the 286nm from Falmouth in Cornwall to Greenwich near London NOTE:Starts and Finishes in tall ships racing are offshore to avoid conflict with shipping and shipping lanes.
Race #731
NOR from brainaid.de
Barque 90m INFO
WX Updates: 0430 / 1030 / 1630 / 2230
RANKING: TALLS-SYC
ALT. CLIENT: Classic
Race starts: Aug 31st 15:00 Registration Open!
GO TO RACE
The Vineyard Race 2014
The Stamford Yacht Club welcomes Sailonline to its 80th running of The Vineyard Race. The course runs from Stamford to Buzzard's Bay Light near Martha's Vineyard Island and back again, leaving Block Island to starboard. Sail against the real fleet in your Santa Cruz 52.
Race #735
NORfrom brainaid.de
Santa Cruz 52 POLAR
WX Updates: 0430 / 1030 / 1630 / 2230
Ranking: SYCCH-SYC
ALT. CLIENT:Classic
Race starts: Aug 29th 16:00 Registration Open!
GO TO RACE
Super Mac Race
In reality the Super Mac is a 530 NM race held every 10 years and last run in 2009. It starts with the annual Chicago to Mackinac race fleet and just continues down Lake Huron to Port Huron. This leaves the competitors in position to start the annual Port Huron to Mackinac Race a couple of weeks' later. Spanning the Great Lakes of Michigan and Huron, this is one of the most challenging fresh water races in the world, so launch your trusty First 40.7 and lets get racing!
Race #728
NOR from brainaid.de
First 40.7 INFO
WX Updates: 0430 / 1030 / 1630 / 2230
Ranking: SYC
ALT. CLIENT:Classic
RACING
RACE CLOSE:Friday, August 29 at 1500utc
Race starts: Aug 21st 15:00 Registration Closed
GO TO RACE
Maui to Mazatlan 2014
Surfing Hawaii builds a mighty thirst and SOLers are now racing 2790nm to Mexico in TP52s, home of tequila and mojitos! .
Race #719
NOR from brainaid.de
TP52 INFO
WX Updates: 0430 / 1030 / 1630 / 2230
Ranking: OCCH-SYC
ALT. CLIENT:Classic
RACING
RACE CLOSE:Sunday, August 31 at 2100utc
Race starts: Aug 11th 21:00 Registration Closed
GO TO RACE
SYC Ranking
Series
Mobile Client
SYC members have the benefit of access to our mobile/lightweight web client!